Arbor City Hotel Review London
We spent 5 nights in London, the purpose of our trip was to watch Bruno Mars and the London Marathon. Our first stay was at the Sunborn Yacht Hotel as it was close to the O2 Arena. We then changed hotels and stayed for 3 nights at the Arbor City Hotel. We chose this hotel as we wanted to stay in the heart of the East End and we were not disappointed.
Welcome and reception at the Arbor City Hotel
Check in time is at 2 pm we arrived early. The reception staff were very polite and kindly took our bags while we waited for our room to be ready.
Our room at the Arbor City Hotel
We stayed in a Club Double Room number 201. First impressions were 'oh this is small' but actually it was perfect for our stay. The access to our room was via the stair well which felt a bit strange but not a problem. The room was nicely furnished, and the bed very comfortable with a large TV opposite.
The shower and bath was a decent size, with a heated towel rail and a drawer full of extra towels under the sink. The Arbor complimentary toiletries were excellent too.
A small fridge was available below the tea and coffee facilities, and a hotel safe which was big enough for a laptop.
There was a large desk area with plenty of plug sockets and a large mirror, a hair dryer was available in the drawer. The wardrobe wasn't huge but did have plenty of hangers, there were also ironing facilities if you needed it.
We were told that some rooms have a landmark view, unfortunately ours didn't, it looked out onto a car park, but we were not bothered.
There is a sports bar in the hotel so if you don't want to miss out on your sport of choice you don't have to go very far.
The hotel does have the new Marco's New York Italian by Marco Pierre White so if you fancied a treat it is literally on your doorstep. Breakfast was available at an additional price, however we chose to eat out.
WiFi
WiFi was free and available throughout the hotel and in our room.
Location and how to get to the Arbor City Hotel
The Arbor City Hotel was very easy to find. We arrived via the tube at Aldgate East Station and it was 4 minutes walk to the hotel. Do make sure you take exit 3 or 4 out of the tube as this brings you out nearer the hotel. You will be on Whitechapel High Street then turn left into Osbourn Street.
The location of the Arbor City Hotel is excellent. Only 15 minutes walk to Tower Bridge, turn left out of the hotel then right down Whitechapel High Street, and 5 minutes walk to Brick Lane, turn right out of the hotel and keep straight, where you will find brilliant street art and the best curries!
We were advised to go to the Aladin restaurant which was ok, however the best curry we had was at Eastern Eye Balti House, it really was superb.
If you turn left out of the hotel entrance and walk the short distance to Whitechapel High Street, look across the road and you will see the Aldgate Coffee House. We ate there twice, for breakfast and lunch and could not fault it. The prices were very reasonable for London and there was good WiFi too.
If you turn left up the Whitechapel High Street and walk for 10 minutes you will find the Blind Beggar pub, famous for the murder of gangster George Cornel by Ronnie Kray in 1966. This was seen to be the beginning of the end of the Kray Twins hold over the East End. We enjoyed a drink here while we waited for our room to be ready.
We really enjoyed our stay at the Arbor City Hotel, the standard of the hotel is excellent and it is in an ideal location for exploring London. We would definitely stay here again, and highly recommend it.
This post contains affiliate links, which means we may receive a commission if you click a link and purchase something that we have recommended. While clicking these links won't cost you any extra money, they will help us keep this site up and running.
For some of our favourite things that we always take travelling, do check out our
Pin it!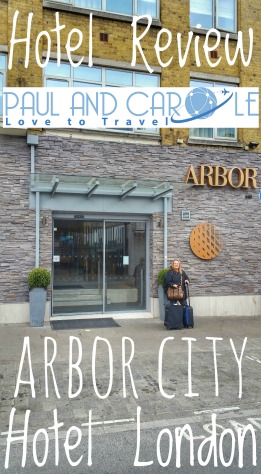 If you enjoyed this post please follow Paul and Carole Loves to Travel on:
Love travel? Come and join the Feet do Travel Community and #TheWeeklyPostcard get more inspiration from like minded travel bloggers!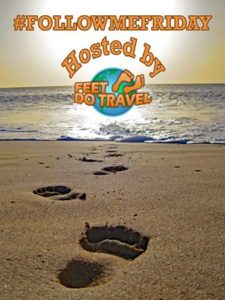 You can read all our other hotel reviews here on our