Bangkok Thailand – what to do and what and not to do!
We have now visited 6 times and love getting to know the city better each time. Bangkok is a crazy vibrant city but can be quite intimidating on your first visit, here are some tips on what to do and not to do!
Getting around the city of Bangkok
For such a vast city getting around Bangkok is relatively simple. It has a Skytrain (BTS) which is easy to navigate and operates between 6am and midnight. To get a ticket go to the kiosk tell the kiosk operator where you are going and they will give you the correct change to put in the machines opposite.
Bangkok taxi's are easily available and can be reasonable, although ensure that it is a metered taxi and the meter is on. If the meter is not on make sure you you agree a price before you get in. Travelling by taxi is fine though can be very slow due to the volume of traffic, so ensure you have enough time allocated.
Tuk tuks can be great fun, we have used them a few times and had a particular fun journey through Chinatown racing with our friends, but do make sure you agree your price before you get in and read the scam section below.
There is a hop on hop off boat that goes up and down the river which is a fun way to get around. There are areas on the the boats where only monks have priority to stand so just be aware of that. Motorbike taxi's are also available and very cheap but we have never been brave enough to use them!
Save to Pinterest for future Reference
Where to go for awesome views of the Bangkok Skyline
For an awesome view of the Bangkok city sky line head to Lebua at State Tower Hotel and go up to the Sky Bar.
It is on the 63rd floor and is now famous for the Hangovertini, which was created for the cast of The Hangover Part II while they were filming at lebua. Get off at Saphan Taksin BTS stop and look up and you will see the dome of the hotel it is approximately a 10 minute walk. The drinks are expensive, they work out about £10 each but it was so worth it for the view.
Another Bangkok bar with a view is the Zoom bar on the 40th floor of the Anantara
Sathorn Hotel, the nearest BTS being Chong Nonsi. Normally the prices for drinks on the menu are 200 baht (£4) bottled beer or pint of Chang, wine 250 baht (£5) a glass but go during happy hour (530pm-8pm) and you get 2 for the price of 1 so great value and a fab view.
Food and Drink in Bangkok
So many options however one of our favourites is Cabbages and Condoms, which can be found on Soi 12 Sukhumvit, with the nearest BTS being Asok. Great restaurant that proceeds go towards promoting better understanding and acceptance of family planning and have a better access to education. Most of the decor is made up of condoms, including the mannequin greeting visitors at the entrance. Free condoms are given out at the end of the meal.
Cheap Charlies After 35 years on Soi 11 Sukhumvit this bar has now moved to make way for a new development. It can now be found under The Beacon Place on Soi Sukhumvit 50 a five minute walk from On Nut BTS. Great bar with great prices, get there early if you want a seat, opens at 6pm. We have now visited 3 times and have always had a fab time always meeting some wonderful and bizarre characters!
Live music and entertainment in Bangkok
Whilst we stayed at the Chatrium Riverside Hotel, we discovered Asiatique a great place for a night out on the Chao Phraya river with plenty of shopping, eating and drinking options. We sat at a little bar on the corner by the main stage and had a JD bucket – 350 baht and vodka and lime soda 250 baht. There is also a Ferris Wheel which is 600 baht and has fantastic views.
The reason we keep going back to Thailand is the people, it certainly lives up to it's name of the land of the smiles.
What not to do in Bangkok
However, a few things to be aware of. Thai people do not like confrontation so always deal with any difficulties in a polite manner and do not lose your temper. Always be respectful. If confrontation is necessary, it is extremely important to do it in private, not in front of other people. Thais are much more sensitive to "Saving face", which is very important in Thai culture. There is never a hurry about anything so don't expect things to be the same as in the UK, the culture is very relaxed.




It is normal practice to barter, for example, if an item is priced 500 baht, you should start to offer to pay half of the price, the shop assistant will then give you a calculator and you will go back and forward until a price is agreed. Rule of thumb is pay what your happy to pay and if it is not the price you want to pay just smile and walk away.
Bangkok is a great city to visit, but just like most cities there are some unsavoury characters who will try and take advantage. Do not be put off with the following information, it is just to ensure you don't fall for it.
Common Bangkok scams are –
You are approached by a smart dressed Thai man/women around the major tourist attractions, or at BTS stations who will inform you that the palace (or whatever is close by) is closed or it is a bank holiday. They will then offer to take you to another similar place for a very cheap price. This will then lead onto stops at a gem shop and possible tourist shops which will then lead to a hard sell. We were approached on our way to the MBK shopping centre by a well dressed Thai gentleman, he was saying that the MBK was closed and that he would take us to another shopping centre. We politely refused his help and carried on walking to find MBK was open for business as usual. Never believe that anywhere is closed until you see the ticket office at the attraction you are visiting.
Tuk tuk's are great fun but make sure you negotiate the price before you get in and do not succumb to any scams involving stopping off at their family houses or jewellery shops as above. If this happens just ask them to stop get out, pay and walk away.
If out of curiosity you visit Patpong market all bars on the ground floor have set drink prices, you will be approached by many individuals showing you very interesting menu's. The general rule is to not go to the unmarked upstair bars, as we have heard stories of after one drink, when the check arrives it can be 2000 baht (£40) including lady drinks that you are unaware of agreeing to, this will need to be paid before you leave.
Be aware of these scams and don't let it spoil your visit. We really enjoy our visits to Bangkok, and will no doubt visit again!
Useful Links –
Find more information about Thailand here.
---
Planning a land based holiday, flights, bucket list trip, cruise or honeymoon then we recommend using Dan Hammond of GoCruise&Travel who you can be contacted here by email – dan@gocruise.uk.com and telephone 01622 891895 and via their website here.
He has found us some great deals and using a travel agent takes all the anxiety away of booking and coordinating complicated itineraries.
Complete this form for a free quote and no obligation enquiry.
---
Find our favourite travel accessories in our Amazon Shop.
Book your hotels with Booking.com.
---
Get answers to any of your travel or hotel related questions
Follow us on Instagram and send a message or Like and comment on our Facebook Page
and find us on Twitter here too.
You can also sign up for our newsletter by completing the box on our home page.
We are an Amazon Affiliate and this post contains affiliate links which means we may receive a commission if you click a link. While clicking these links won't cost you any extra money, they will help us keep this site up and running!
---
If you enjoyed this post please follow Paul and Carole Loves to Travel on:
Love travel? Come and join the Feet do Travel Community on Facebook and connect with us!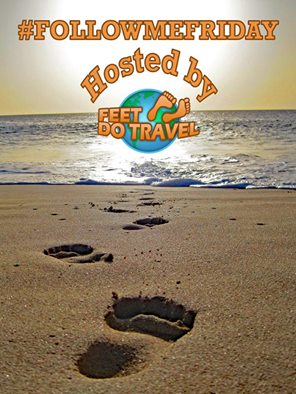 This post is also part of #TheWeeklyPostcard where travel bloggers share their post, come over and check it out!