Our first CMV Marco Polo Cruise Ship experience – Will we cruise with CMV again?
We have just have returned our first CMV cruise on the Marco Polo Cruise Ship, a 3 night Festive Dublin Cruise. Here we describe our daily experiences so you can see if we would cruise on the Marco Polo again and if a cruise with CMV would be for you.
Day 1 of our CMV Marco Polo Experience
We left our home city of Gloucester and within 40 minutes we were at the dock in Avonmouth. Embarkation was smooth and we were on the ship within 30 minutes
We headed straight to our cabin 623 on Amundsen Deck which was bigger than expected. Our quirky cabin has a slight slope that leads to twin beds which were separated by a large set of drawers. There is no option of putting together as a double, however we are only in here for 3 nights so not a problem. Loads of storage space was available and a also safe. The en suite bathroom is a regular cruise size with toiletries provided. Our cabin has a picture window with an obstructed view, we actually look out under the stairs onto the Promenade Deck which was fine. Tea and coffee is available though you have do have to pay for the bottled water.

Out to explore the CMV Marco Polo and our first stop was the Captain"s Club where we met our friends, we were travelling in a group of 8. The Captain's Club is a large lounge with comfortable seating. All inclusive isn't available for this trip but to be honest the bar prices were not too bad. Beers reasonable from £2.80, wine is £5.60-£6 though disappointingly there was not any Sauvignion Blanc white wine on board and cocktails are £4.85.
We had lunch in the main Waldorf restaurant which was buffet style. Good selection of hot and cold food with waiter service for drinks.
We decided to go to Scott's Bar which is situated on Amundsen Deck right at the back of the ship and take part in the quiz. Between us we got 10 out of 20 which was not very good, but felt better when we found out the winning score was only 11!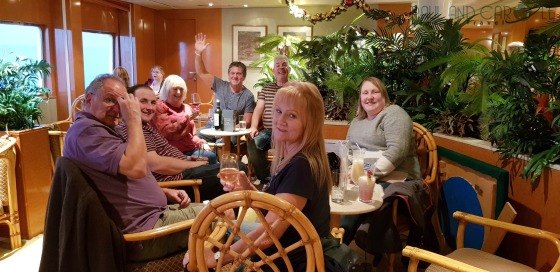 Next stop was the Palm Garden on Magellan Deck, a quiet area where we just sat and chatted and watched the coast of the UK go by.
There are fixed times for dining in the Waldorf restaurant and we chose early sitting which was at 6pm. The eight of us were allocated table 18 which was fine, tables are close together but there was enough room. Our spring roll starter was delicious and the Thai Beef Salad that followed was spectacular. Mains of pork and pasta carbonara were very good, and the after eight mousse and cheese and biscuits went down very well.

Back to Scott's Bar for some easy listening music with the Marco Polo Duo. The ratio of bar waiters to passengers at this time didn't seem adequate and we eventually served our drinks. Showtime was at 2100 in the Marco Polo Show Lounge where we took our seats. Service was very prompt but not surprisingly as we counted over 10 bar waiters, considering there were only 2 in Scott's Bar with a similar amount of passengers then maybe the allocation should be reviewed. The sound in this lounge doesn't seem the best and after a disjointed show, we returned to Scott's Bar.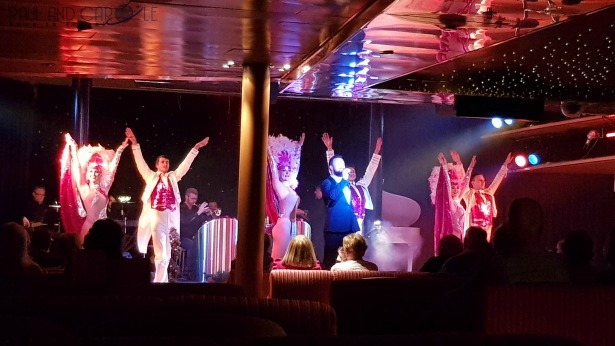 Here there was a game show on called Rock the Room where the audience was split into two. Paul's knowledge of music helped our team but unfortunately we still lost but it was great fun!
The singers from the Show performed individually in the Cabaret and this seemed to showcase their vocal talents a lot better than the show and we were really impressed. This seems to be the party area of the ship and we enjoyed a fun night with good music and the dance floor was packed!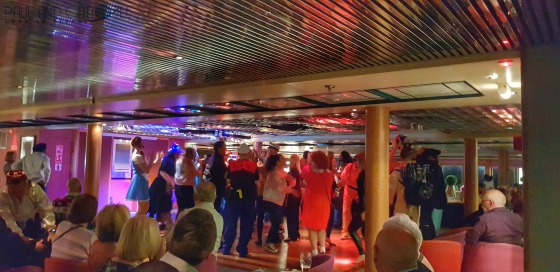 Between 2300 to 2330 snacks are served around the lounges. Trays of food are brought to the areas and served. Snacks included chicken satay, calamari, sweetcorn fritter, and samosas which were all very tasty!
Our first day had come to an end and we headed off to bed.
Day 2 of our CMV Marco Polo Experience
After being rocked to sleep we had a little lie in then went straight to the Marco's for a buffet breakfast. Really good hot and cold selection available and we enjoyed sausage, beans and a bacon butty.
Our niece Nat and her husband Al joined us and explained that they had ordered room service for breakfast, they are staying in a standard inside cabin with no tea and coffee facilities. Their continental breakfast arrived however all that was on the tray was a teapot full of hot water, some sugar but no tea or coffee which was a bit odd. Our other friends Dick and Sal had better luck and enjoyed their full continental breakfast that arrived in their cabin!
We arrived in Dublin Dock this morning and surprisingly the sun was shining. A free double decker shuttle was provided by CMV dropped us off by Oscar Wilde's old house in the centre of Dublin. The journey took about 20 minutes in total.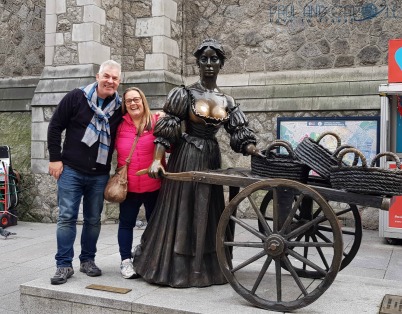 We spent the afternoon exploring Dublin by foot, lovely parks and lots of shopping to be had and we eventually found the famous Grafton Street. You could use a dublin bus if you were visiting but we wanted to stretch our legs. Amusingly we spotted a pub called the Hairy Lemon and then we arrived at the famous Temple bar with some live Irish Music. As expected prices were not cheap with a pint of Guinness €5.90, wine was €7 and a fantastic Irish Coffee was €10.50! We had a really fun afternoon.
The dry weather lasted until about 5 pm and then the rain started so we headed back to the ship.
Dinner in the Waldorf restaurant was another excellent meal, wild mushroom soup and seafood salad to start, leg of lamb and Tikka Masala curry for our mains, celebration cake and cheese and biscuits for dessert. Service by Nixen our waiter was fabulous too!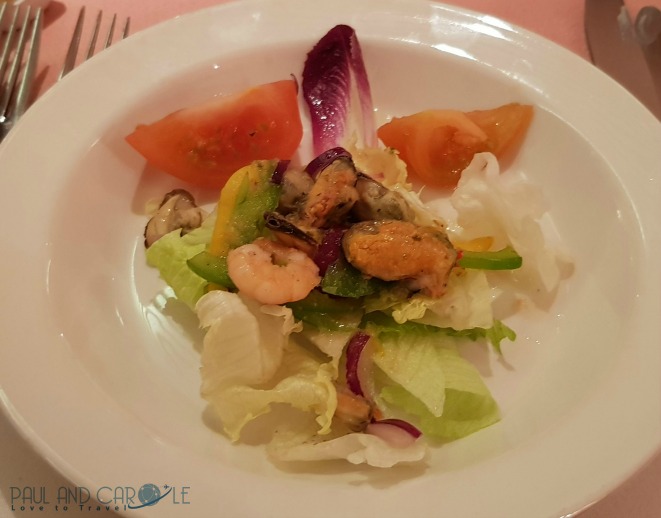 Drinks in the Captain's Club accompanied by the pianist was a very civilised start to the evening and we enjoyed some fun banter with our friends. Up to Scotts Bar for the quiz and we scored a dismal 9 out of 20!
Dublin Dockyard is a very busy port and we spent some time ship spotting, no other cruise ships in but lots of tankers, cranes, and a P&O ferry. It was fascinating watching the tugs pushing the huge tankers into place.
Live entertainment continued in Scotts bar from a singer who performed some Rod Stewart classics. Tired after a fun day, we were making our way to our cabin when the snack tray arrived and we couldn't resist a small piece of chicken, spring roll and a fish finger! Contented we headed off to bed.

Day 3 of our CMV Marco Polo Experience
Up for breakfast in the Marco's buffet restaurant. Cooked breakfast, pate on toast and good to see they also had marmite! Feeling pleasantly stuffed we popped next door to the Captain's Club for the morning general knowledge quiz and got our best score so far with 13!
The sun was shining so we spent some time out on the open decks completing our video tours and then explored the different cabins that our party were staying in.
Sail away from Dublin was at 1100. Just before this happened the Captain made an announcement to let us know that we would be expecting some rough seas on our return journey across the Irish Sea. The initial sail away was pleasant and we enjoyed some lunch again in Marcos. A delicious celeriac and apple soup with fresh crusty bed, lamb curry and paprika chicken in red wine sauce went down well.
After lunch we enjoyed some Irish and Columbus Coffees in the Captain's Club which were a lot cheaper than in Dublin and just chilled while watching the coast of Ireland go by.
The Captain's prediction was not wrong and by 3pm we were experiencing a 3 metre swell which made for an interesting view and a challenge to walk around the ship. All feeling a bit ropey we decided an afternoon nap would be the best thing to do. Lying on our bed we found the best position was on our front with one knee bent up so we didn't roll off! That worked well and we were soon asleep.
After a couple of hours we woke to find the conditions had not improved and trying to pack our case proved to be very entertaining. Eventually done it was time for dinner, not feeling too hungry and still a bit odd we decided to head to the Wardorf restaurant to meet our friends. 3 were sat at the table but unfortunately 3 didn't feel able to come out of their cabin.
Nixon again provided exceptional service and we enjoyed butternut squash soup, seafood gratin, tenderloin beef and duck in orange sauce which did make us feel a lot better. An old cruise tradition is the Baked Alaska Parade and it was so good to see CMV still do this. A fun parade was enjoyed by all!
Following dinner we thought the best place to sit was in the Columbus Lounge which seemed the most central and that worked well as there did seem to be less movement. We really liked the Columbus Lounge, comfortable seats, great service, a magnificent globe and a television screen for us geeks who like to look at maps, facts and figures. The shops were just to the side so we had a quick wonder and came out with a tube of Pringles for our friend who had been craving ready salted crisps. Shops on ships are not cheap and €4 for a tube of Pringles was a bit over the top, though they did go down very well!
By 2200 the sea seemed a little calmer so we made our way to Scotts Bar for the quiz our best effort yet with 18 out of 21 but we still didn't win! Scott's wasn't so busy tonight but the cabaret by the show team went down well and we finished the evening with a nightcap of Bailey's.
We returned to our cabin before midnight to put our case out for our disembarkation tomorrow. We were rocked back to sleep as we sailed up the Bristol Channel.
Disembarkation and our thoughts of our first CMV Marco Polo Experience
The disembarkation process was really easy our colour suitcases were called and we walked straight of the ship and were in our car in 10 minutes.
Our short cruise on the CMV Marco Polo had come to an end. Watch our video to see our final thoughts and whether we would cruise with CMV again.
Related Videos and Reading –
Our complete Marco Polo Cruise Ship Review is here.
We have cruised 15 times so do check out our Cruises page for more cruise ship reviews and tours.
Here is our video showing you around our Superior Outside Cabin –
If you enjoyed our post please do share it!
Pin it!
Let's get social! Come and follow us on social media –
To follow our journey and get more travelling information and tips, do sign up for our Newsletter here!
[mc4wp_form id="1523″]
This post does contain affiliate links, which means we may receive a commission if you click a link. While clicking these links won't cost you any extra money, they will help us keep this site up and running.