Fred Olsen Braemar Cruise Ship Review
With just 929 passengers and 400 crew its one of the smallest ships we have ever cruised on, in fact it's the shortest ship in the Fred Olsen Fleet. So is bigger better or small but perfectly formed the way to go? Here is our Fred Olsen Braemar Cruise Ship Review.
So lets start at the very top of the ship and work our way down.
Upper sun deck on the Braemar Cruise Ship
This is for the serious sun worshippers situated one deck up from the pool area. You can access it via the observatory or by a staircase at the end of the pool deck. There are lots of sunbeds, is much quieter than the sun deck and has stunning views over the bow of the ship. There is a golf net for practising your long drives too.
Marquee Deck 8 – Sun Deck Braemar Cruise Ship
For a ship of its size the sun deck was much bigger than we expected. There were more than enough sun beds to go around, which all had a lovely thick padded mattress on them, and were really comfortable. The sun deck has two swimming pools, a paddling pool and two whirl pools. One of the pools had signs stating that it was for adults only but this was never policed which we found a little disappointing but overall we were very impressed. It was never very busy and there were no sunbed hoggers on board which was great. We love cruising but somethings do make us mad, find what drives us crazy in this video here.
Marquee bar
Situated between the pool bar and the adult swimming pool this is a seating area with large sofas and square tables. Its a great place to sit if lying on a sun bed is not your thing or to cool off with a drink from the bar. If you fancy a snack there is a light lunch menu that changes daily that includes fish and chips, salads, burgers and even a traditional ploughman's lunch. This was all included in our cruise fare. We do have to say the bar service here was quite slow, we found it much quicker to go to the bar rather than wait for the waiter service, but the food came out really quickly.
Grampian Restaurant
Classed as one of the two main dining rooms the Grampian offers you a slightly more exclusive dining experience. Smaller table sizes and lovely sea views it really is a nice place to eat. If this is your designated restaurant you will be allocated a table for your evening al la carte meal. They also offer breakfast and lunch with the option of buffet or waiter service which is open to everybody. One tip for eating here for breakfast or lunch is when you go into the restaurant try to get a table as far round to the right as possible as this is where the buffet is situated .
Observatory Bar
This was our favourite indoor place on the ship with stunning 180 degree panoramic views over the front of the ship. Lots of comfortable seating and our favourite staff member Thitaree bringing you your drinks it was a great place to be day or night. With regular performances by Jason playing classical music on the the piano it was as close to the perfect lounge as we have found. If you needed more persuading it's also the home of the classic Fred Olsen afternoon tea. With silver service waiting staff this was a real treat, dainty finger sandwiches, scrumptious cakes and a selection of fresh warm scones with lashings of clotted cream and jam all washed down with a wonderful selection of teas from the famous Taylor's of Harrogate. It does cost a additional £8.95 per person but we felt it was well worth it.
Lido Deck 6 on the Braemar Cruise Ship
Palms Cafe
Less formal than the two main dining rooms open for breakfast, lunch, self service afternoon tea, dinner and the late night supper club. Always lots of choice and one of the things we liked was despite the fact that it's a buffet restaurant there are still waiters looking after you. Getting your tea coffee and any other drinks you might want during your meal, nothing was to much trouble. Just outside the Palms is a really nice decked area that over looks the back of the ship where you can dine Al Fresco.
Pin for Future Reference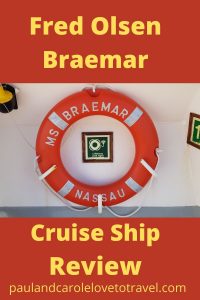 The Grill.
Situated at the rear of the Palms cafe this lovely outside decked area is the only speciality restaurant on the ship. Weather permitting its open in the evenings between 6.30 and 9.00 and does offer some of the best views you'll find anywhere on the ship. We didn't eat here but did see some of the food on offer and have to say it looked pretty impressive and at £20 per person seemed like very good value
Lounge deck 5
The promenade
This is many peoples including Carole's favourite part of the ship and the Braemar does not disappoint. A full wrap around deck with plenty of seating for you to sit and enjoy the view or for a rest if you've been power walking. Lots of people seem to ask this question so for the athletes among you four laps equals one mile. If you want to stop for some refreshments there is a lovely area at the back of the ship with comfortable chairs and sofas. With easy access to the Coral club, you can grab a drink and cool off in between laps.
The Bow
We've never given the bow of a ship a paragraph of its own in any of our previous cruise ship blogs but the bow on the Braemar truly deserves one. With easy access from the promenade it is one of the best places on the ship for early morning sail ins and a great place to capture those sunsets and sunrises while at sea. It also allows you to have that special "king of the world" moment!
Neptune lounge
Seating 450 people the Neptune is the main show lounge. It has small sofas or swivel chairs all with small round tables in front. With three levels joined together by a sloping walkway its excellent for people with mobility issues as there are no steps to negotiate.
We watched some excellent shows in here with the highlights being a brilliant Queen tribute show by the Fred Olsen show team. There was also an operatic performance by Britain's got talent finalist Faith Tucker who put in such a moving performance it had some of the audience in tears. Before the main show every night the Neptune also hosts the evening dance date with music by the Braemar orchestra. Its a bit like a tea dance where they run through various dances and if you haven't got a dance partner they even provide that for you as well. There are 3 or 4 men and 1 lady who happily step in as your partner meaning no one has to miss out. Fred Olsen really does like to look after the solo cruiser. Our only criticism of this lounge would be that if you sit to the right hand side of the stage it's virtually impossible to get out while a show is in progress.
Morning light pub
Leather chesterfield style sofas and comfortable high back chairs are a plenty in the Morning Light Pub. With a large model ship and lots of nautically themed paintings including one of Fred Olsen and his brothers, it really has got that pub at sea feel to it. Jerry and his staff were very efficient and kept our drinks topped up, delivered with bar snacks including peanuts , twiglets and Bombay mix. Jonathon Kelly the resident pub singer entertains you throughout the day and night with all your favourite tunes. This is an excellent place for a pre show drink or a quieter alternative to the entertainment in the coral club.
Casino on the Braemar Cruise Ship
There isn't a casino on board, just two gaming tables which offer, black jack and roulette. There are no fruit machines or bandits. Found between the morning light and the bookmark cafe despite it being small it always seemed popular.
The Library
With seating for around 40 people this was a real nice place if reading is your thing. Lots of high back chairs and tables a sofa and with a centre piece of a large round glass table with a giant coloured head on it. See photo as it's much easier than trying to describe it, we've never seen anything quite like it before! A semi circular bookcase containing a ample amount of books is tucked away in the corner plus a glass cabinet full of board games. There was also a glass box for depositing of your old books for sanitisation which we thought was a great idea.
The Bookmark cafe
If speciality coffees or hand crafted cakes and chocolates are your thing you will love the bookmark cafe. Lots of comfortable seating and always very popular in the mornings. It did seem like the perfect place for some quiet relaxation. Boxes of speciality chocolates are also available gift wrapped making a lovely present for the chocolate lovers you have left at home.
Atrium
Set over 5 floors it may not have the the glitz and glamour of some cruise ships. It does however boast is a 25 metre high mural depicting a man looking out to sea at a tall ship, Maybe it's Fred Olsen himself .
The Coral club
Best described as a smaller version of the Neptune lounge. Set on two levels with plenty of comfortable seats again no stairs or steps between levels so very wheelchair friendly. A coral themed carpet covers the whole floor space apart from a shell shaped dance floor. Quizzes (very Hard) bingo and general talks during the day with house band Funky Blue belting a wide array of top tunes taking you into the night. They also have one or two shows from the show team and cruise director Nick which were excellent.
Deck 4
Thistle restaurant
This is the main dining room providing breakfast and lunch. There is a small selection off the menu or you can choose to help yourself to the very wide selection available from the buffet. Dinner has two sittings 6.15 and 8.30 and this comes in the form of a five course a la  carte menu. Because its fixed sittings you get the same table and the same waiters every night which we really like. You really get to know your waiters and we had lots of fun banter with ours. The service and food in here was excellent throughout. One thing you must look out for is the amazing Fred Olsen seafood buffet lunch. We've been to far more cruise ship buffets than we should have and this is one of the most spectacular spreads we have ever seen at a ship's buffet.
Cabins on the Braemar Cruise Ship
We stayed in an outside obstructed view cabin, but also had the opportunity to have a look around an inside and balcony cabin. In this video we show you around all 3 of these types of cabins.
WiFi Packages available on board Fred Olsen Cruise Lines
Some people like to disconnect whilst on holiday but some like us need to have WiFi. In this video we describe the different WiFi Packages and costs that were available during our cruise, prices correct at August 2019.
The Fred Olsen Cruise line on board App
Video tour and review of the Braemar Cruise Ship
Our Verdict of the Braemar Cruise Ship
The Braemar was everything we had hoped it would be and more and delivered on every level. From the food and entertainment to the staff and cleanliness of the ship it was all top drawer,But are favourite thing about the ship was the outside spaces which they have utilised perfectly , we will definitely be back!
Further Reading and Videos –
We had the pleasure of spending a day on the Balmoral Cruise Ship whilst it was docked in Southampton. You can read our blog review here and take a video tour of this lovely ship here.
Save to Pinterest for Future Reference!
Make sure you follow us on social media here so we can take you along on our future travels and experiences!
This post does contain affiliate links, which means we may receive a commission if you click a link. While clicking these links won't cost you any extra money, they will help us keep this site up and running.