House sit in Abbeymead Gloucester with Darcey, Missy and Yoshi
We were asked to house sit in Abbeymead in Gloucester, to look after two dogs and a bearded dragon.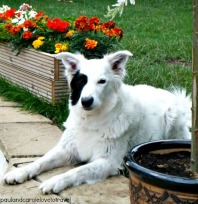 The Pets ? Darcey and Missy two adorable border collies and a bearded dragon called Yoshi. Both dogs loved playing with the football and Missy being a little younger than Darcey had bundles of energy. The weather was warm and dry during our house sit and we spent hours in the large garden playing with the balls, and generally enjoying the sunshine.
This was our first experience of looking after a bearded dragon, but Yoshi didn't prove to be much trouble at all. He needed to be nice and warm under his lamp and we learn't that he loved mealworms and lettuce. He was allowed out of his cage loved sitting on the warm plugs behind the TV.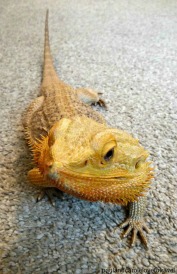 The Property A lovely 4 bedroomed detached house with a large conservatory leading out to a very large garden. The house was decorated to a high standard, with a modern kitchen, dining room and large lounge area with TV. The bedroom was really comfortable and had a large bathroom with a huge shower. It was a lovely property and we had a very comfortable stay.
The Location The house sit was in Abbeymead, which is a suburb of our home city of Gloucester. An area we do know but didn't know well. It was great to explore the alleys when we were out walking the dogs and found some great shortcuts to our friends house.
Reference from Darcey and Missy's owners

?Thanks for taking care of our home and pets whilst we were away.

As well as looking after our 2 Border Collies, (Missy and Darcey)spoiling them with walks and attention, Yoshi the Bearded Dragon was well cared for.

During our absence, Paul & Carole liaised with the Boiler engineer, and rescued our gazebo from disaster during stormy winds! Many many Thanks.
Do check out our profile on www.trustedhousesitters.com and if you would like us to house sit for you then please do get in touch.
Back to Housesitting England