Khao Lak, Thailand – 8 things to do by Paul and Carole
We stayed at the Centara Seaview Hotel for 2 weeks at the end of our trip to Thailand. We really enjoyed our time in Khao Lak so here are 8 things that you could do if you are visiting this area.
1 –
Visit Bang Niang Night Market in Khao Lak
Head to the Bang Niang Night market, situated at the north end of Khao Lak. it opens at 4pm and happens every Monday, Wednesday, Thursday and Saturday (do check though as this may change) It is a really large market that has so many food and drinks options and lots of shopping too.
If you need the toilets there are some to the left that you have to pay 20 baht or if you head to the right there are a few bars that have toilets in too. We visited twice while we were here, it has a great vibe and the food was delicious. We didn't do a huge amount of shopping as it did seem expensive in comparison to our previous visits to Thailand.
2.
Visit the Tsunami Museum in Khao Lak
On the other side of the road from the Bang Niang Market is the Khao Lak's International Tsunami Museum showing the devastating effects of the 2004 Tsunami.
Right next to the museum, the remains of the Thai navy boat 813, it shows how powerful the waves that hit the coast in Khao Lak were, this large steel vessel was carried almost two kilometres inland! It is a stark reminder of how cruel nature can be.
3. –
Get a Massage in Khao Lak
There are plenty of massage shops to choose from in Khao Lak. All with similar prices, 300 baht for a foot massage which is so much cheaper than in England A treat we enjoyed nearly every other day!
4 –
Discover the Beaches in Khao Lak
The coast line in Khao Lak is stunning and lined with a selection of beaches.
Take a stroll and admire the beautiful sands and take a dip when it gets too warm! We spent a lot of time on the beaches here, directly in front of our hotel was Nang Thong beach, White Beach and Memory beach were further north but in easy reach in a Songthaew.
Watching the sun go down with a beer in hand was one of our favourite things to do.
5.
Listen to Live Music in Khao Lak
We found two bars on the main road, that had live music one called the Monkey Bar which had a three piece house band who performed a wide choice of music from the 60's through to the modern day. They were really good for a sing a long! Drink prices were reasonable here and the service excellent.
Another bar further up the road was the Happy Snapper. Here the house band was a five piece that played more modern music and also had jam nights for those that wanted to join in. Comfortable surroundings but the drinks were expensive.
If you're a lover of 70's music especially Boney M then do visit the Khao Lak Beer Garden. All drinks were 100 baht and you can listen to non stop cheesy tunes! A bowl of dried broad beans were given with each round which were an acquired taste!
If you are looking for party central then Khao Lak is not for you. We enjoyed our time here but everything does close down by midnight -1am. There were a few nights we could of partied on but could not find anywhere open.
6.
Experience Ice cream Thai Style in Khao Lak
We normally buy our ice cream by the scoop so was fascinated how the ice cream was made here! Take a look
7.
Get your fix of home cooking and sport in Khao Lak
Paul is a Spurs fan so we always have to suss out where he can catch the match. We were recommended Walkers Inn which we found at the lower end of Khao Lak. With multiple screens, showing English premiership football, and also rugby.
This is also where we got our English food fix. We love Thai food but after a while we do crave gravy. Seeing pasty with chips and gravy, pork loin chops and proper english bangers on the menu made us very happy! We were not disappointed, the food was spot on.
8.
Visit the Similan Islands in Khao Lak
This was one of the reasons we wanted to visit this part of Thailand, as a visit to the Similan Islands has been on our bucket list for some time. We booked a speedboat day trip with WoW Andaman. The organisation was excellent and the speedboat was not crowded.
Our first stop was island 4, there were only a few other boats in and it was idyllic. This was just what we had imagined it was like white sands and crystal clear waters.
The trip involved two snorkeling stops, the water was so clear and we saw a good variety of fish including Dory from Finding Nemo, unfortunately we didn't see Nemo!
We headed to Island 8 for lunch, unfortunately it seemed that everyone had the same idea and our piece of paradise was spoilt. Our idyllic empty beaches were now swarming with tourists. The powdery white sand of Island 4 had now been replaced with pebbly rough sand and hoards of loud excited visitors.
Do be aware that when you get on the speedboat you will be asked to put your shoes / flip flops into a big trug. We presumed this trug would be put on the boat but it was not. Luckily we had put our water shoes in our bag, but our friends had not. Walking on the hot sand and pebbly beach 8 was painful and not for the faint hearted!
We are glad that we visited these beautiful islands, but would plan a trip differently now that we know. We would of happily taken a packed lunch so that we avoided island 8 and spent more time on the smaller and beautiful island 4. So it is worth looking at all options when considering a trip. We have heard that the Surin Islands which are slightly further away are not so overrun with tourists, however, we have not had personal experience of this.
Another trip to consider from Khao Lak is a visit to the Khao Sok National Park. A stunning part of Thailand which can be reached in under 2 hours.
So there you have it, our 8 ideas of what to do when visiting Khao Lak. We really enjoyed our stay here, and had a great holiday exploring this part of the world.
If you have found this post useful we would appreciate some shares on social media. Have you been to Khao Lak? Is there anything we have missed? Do let us know in the comments below.
Check out our other Thailand Posts Here
This post contains affiliate links, which means we may receive a commission if you click a link and purchase something that we have recommended. While clicking these links won't cost you any extra money, they will help us keep this site up and running.




Do visit our Travel Accessories Page to see some of our  recommendations.
You can now book hotels through our website using our affiliate partner Booking.com. Just visit our hotel booking page and search Booking.com. There is no extra cost to you and you will be helping us too!
Pin it!
Love travel? Come and join the Feet do Travel community and #TheWeeklyPostcard and find some more travel inspiration!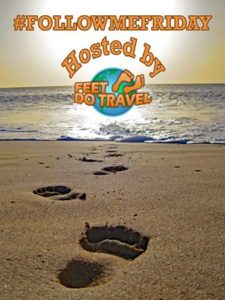 If you enjoyed this post please follow Paul and Carole Loves to Travel on: