Las Palmas Cruise Port Information
We sailed to Las Palmas in Gran Canaria on our cruise on the Independence of the Seas. Here are a few tips to spend the day and not be too far away from the ship to ensure you are back for sail away!
Where is Las Palmas?
Gran Canaria is one of the Canary Islands located in the Atlantic Ocean, 100 kilometres (62 miles) west of Morocco southern border. Las Palmas is the capital of Gran Canaria, and lies on the north east coast.
Where does the cruise ship dock in Las Palmas?
The port of Las Palmas initially looked pretty industrial, however, we were so glad we got up early for sail in as the sunrise was stunning.
We docked at the Santa Catalina Cruise Ship Port which is within walking distance of Las Palmas centre. We travelled with our Dad's one of whom uses a mobility scooter, this sometimes can cause difficulties when areas are cobbled and uneven. However, the pavements were flat and easy to navigate so we were able to explore the streets right through to the beach area.
Where can you find free Wifi in Las Palmas?
We didn't see Wifi readily advertised and the bar we stopped at did not have it. However, we did find it on the top floor of the El Muelle Shopping Centre in Mcdonald's. We didn't want to spend anything in Mcdonalds, so we just sat at a table that had just been vacated but had the trays were still there. It looked like we had finished our meal and used their free wifi for a good 30 minutes. It was a popular spot for a lot of the cruise ship crew too!
What is in walking distance?
If you walk straight towards the buildings past the shopping centre and carry straight on you will arrive at a lovely beach, Playa de Las Canteras. It has a natural offshore lava reef which acts as a wavebreak so the waters are always calm and with the year round warm weather it is a very popular spot.
It really was an excellent beach, clean and well maintained, with being over 2kms long there is plenty of space and even had a special area for wheelchairs which was really good to see.
There are numerous places to eat and drink all along the esplanade. We had wine, beer and coffee for the four of us and it was less than 10 euros.
We parked ourselves at one of the many beachside cafes and spent a few hours people watching. It really was a good find.
Is there shopping in Las Palmas?
The cruise ship docks within 5 minutes walk of the El Muelle Shopping Centre you can't miss it. In this medium size shopping centre you will find a variety of shops, restaurants and a cinema. As we walked through the town there were other shopping options too.
We really enjoyed our afternoon out exploring Las Palmas, particularly the beach as we were expecting dark volcanic sand but were pleasantly surprised with the beautiful and unspoilt beach.
Las Palmas was a great port of call and we had excellent weather, apparently it only gets 10cms of rain per year! We believe we will definitely be back in the future!
Thanks for reading!
Have you been to Las Palmas? is there anything else you would recommend for cruisers who are only in port for a short time? We would love to hear your thoughts on the comments below.
This post contains affiliate links, which means we may receive a commission if you click a link and purchase something that we have recommended. While clicking these links won't cost you any extra money, they will help us keep this site up and running.
You can now book hotel stay with our stay with our affiliate partner Booking.com through our website. Just visit our hotel booking page or use the search box below, there is no extra cost to you and you will be helping us too!
If you enjoyed this post please follow Paul and Carole Loves to Travel on:
Please Pin for future reference….
Come and join the Feet do Travel Community on Facebook, we are a really friendly bunch!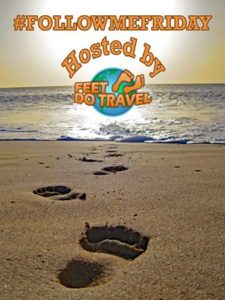 This post is part of a link-up #TheWeeklyPostcard. Feel free to click on the picture below for more inspiration from like minded travel bloggers!