Marella Cruises – The Exchange
The Exchange is hidden away on deck 8 of the Marella Voyager and in all our cruises we have never experienced anything quite like it!
Marella Cruises have bought a new venue to their newest ship the Marella Voyager and it is a great addition to Marella Cruises entertainment!
The Exchange is an adults only venue which is entered through a pair of classic English red telephone boxes. Once inside the phone boxes you have to dial a specific number, you are then asked some very strange questions and then you must give a secret password to get in. All the details you need are delivered to your cabin just a couple of hours before your visit to the Exchange!
Once inside the Exchange you'll be greeted by some unusual but very entertaining characters who tell stories, sing songs and have some very saucy banter with the crowd. Audience participation is positively encouraged!

It's very reminiscent of a 1930's speak easy, and we absolutely loved it. It costs £14.95 per person and this does include 3 speciality cocktails that are exclusive to the Exchange, booking is absolutely essential.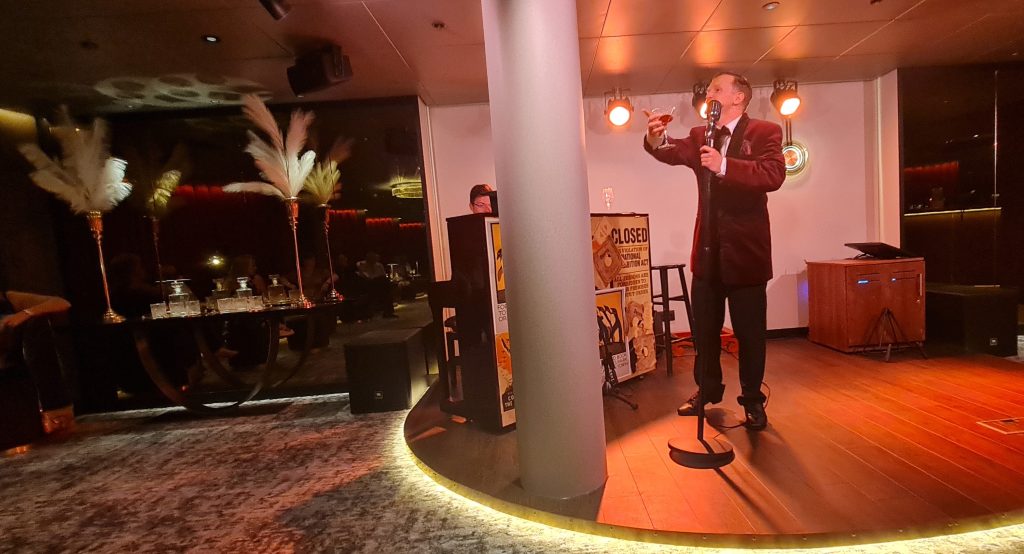 The nights you have to book and pay for are called the Lock In and the Heist, other nights are free and are on a first come first serve basis. There is entertainment on these nights but it's all down to the luck of the draw what this entertainment will be.
We had a fabulous night at the Exchange on the Marella Voyager Cruise Ship and definitely recommend that you book early as it is very popular. We don't want to give anymore away but if you do get a chance to go and see it, you definitely should!
You can book via you Marella Cruise Control once your booking has been made, or you can book as soon as you get on board.
For more information about the Marella Voyager you can watch our Vlog Series here and book your next Marella Cruise here
Further Reading –
If you want to know what cruising with Marella is like then we have lots more information on our Marella and TUI page here and on our You Tube Channel too.

Useful Links
Click here for more Marella Cruises Blog Posts and Videos
---
Do you want early access to our You Tube Videos, be the first to know when we book a cruise and have access to lots of other perks?
Join our Patreon Community here
Planning a land based holiday, flights, bucket list trip, cruise or honeymoon then we recommend using Dan Hammond of GoCruise&Travel who you can be contacted here by email – dan@gocruise.uk.com and telephone 01622 891895 or just complete our booking form here.
He has found us some great deals and using a travel agent takes all the anxiety away of booking and coordinating complicated itineraries.
---
Find our favourite travel accessories in our Amazon Shop.
Book your hotels with Booking.com.
---
Follow us on Instagram  or Like and comment on our Facebook Page
and find us on Twitter here too.
This post contains affiliate links which means we may receive a commission if you click a link. While clicking these links won't cost you any extra money, they will help us keep this site up and running!