Marella Voyager Cabin Reviews and Tours
We cruised on the maiden voyage of Marella Cruises newest ship Marella Voyager. We spent 7 nights on board cruising from Palma, Majorca to France, Italy and Spain.
During this cruise we stayed in a balcony junior suite, and also had the privilege of looking around an inside, outside and a  standard balcony cabins.
In this Marella Voyager cabin post we have included all the videos of these categories of cabins so you can see which one would be the best for you. So let's start with the balcony junior suite.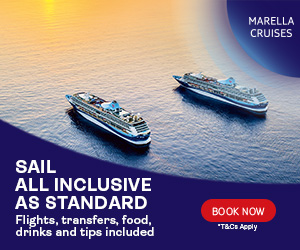 Junior Balcony Suite Review and Tour
In this video we show you all the features of balcony junior suite 10062. We discuss the position on the ship, show you all the facilities in this suite, the balcony and fabulous hammock and also discuss the premier service included when you book this type of Marella Voyager cabin
Outside Cabin Review and Tour
Ann and Colin, two of our lovely subscribers let us have a look around their outside cabin on deck 4, 4079 so we could show you what facilities to expect if you book an outside cabin on the Marella Voyager.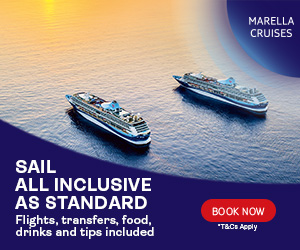 Inside Cabin Review and Tour
We were given access to have a look around an inside cabin on deck 5 – cabin 5018 so we could show you what facilities to expect if you book an inside cabin on the Marella Voyager.
Balcony Cabin Review and Tour
We were given access to have a look around a balcony cabin on deck 8 – cabin 8180 so do come and have a look around to see if this Marella Voyager cabin would suit you!
So now you have seen these four categories of cabins on the Marella Voyager we hope you have all the information you need to make an informed choice of the right Marella Voyager cabin for you on your next cruise.
Book your next Marella Cruise here
Further Reading –
If you want to know what cruising with Marella is like then we have lots more information on our Marella and TUI page here and on our You Tube Channel too.

Useful Links
Click here for more Marella Cruises Blog Posts and Videos
---
Do you want early access to our You Tube Videos, be the first to know when we book a cruise and have access to lots of other perks?
Join our Patreon Community here
Planning a land based holiday, flights, bucket list trip, cruise or honeymoon then we recommend using Dan Hammond of GoCruise&Travel who you can be contacted here by email – dan@gocruise.uk.com and telephone 01622 891895 or just complete our booking form here.
He has found us some great deals and using a travel agent takes all the anxiety away of booking and coordinating complicated itineraries.
---
Find our favourite travel accessories in our Amazon Shop.
Book your hotels with Booking.com.
---
Follow us on Instagram  or Like and comment on our Facebook Page
and find us on Twitter here too.
This post contains affiliate links which means we may receive a commission if you click a link. While clicking these links won't cost you any extra money, they will help us keep this site up and running!