Petra – Shore Excursion Guide
Our Rose Red City Excursion on the Marella Discovery Cruise Ship
Petra has been on our bucket list for a long time. We recently cruised the Red Sea on the Marella Discovery Cruise Ship and one of the ports of call on this trip was Aqaba in Jordan. This gave us the opportunity of visiting Petra, one of the seven wonders of the modern world. In this blog we share our experience, and give tips on making the most of your visit too.
Getting to Petra
First things first, if you are travelling to to this part of the world and are thinking of this excursion it is extremely popular so booking early is highly recommended.
We paid for an organised tour with Marella before we boarded the cruise called The Rose Red City Tour which was very simple to book online.
We were on the coach at 0730 in Aqaba ready for our 2 hour journey to Petra. Our guide told us that we would be stopping around the halfway point for a comfort break. True to his word we stopped after about an hour at a small bizarre type indoor market that sold all sorts of trinkets and local art. It also had a small coffee bar and most importantly very clean toilets. After a quick mooch around the market we were back on the road.
The terrain was very rugged to say the least and we were told that the Matt Damon film The Martian had used this location for some of its Mars scenery. After a cheeky nap on the bus we arrived in Petra and headed straight for the entrance.

Entering Petra
We had a very informative guide and before we started our descent he gathered us around a map to show us where we were going and what he would like us to do during the the trip. It was a long walk until we were moving through the sandstone canyons of Al Siq.
At the entrance to Petra you will be greeted by local horsemen offering horse rides to the bottom of the canyon. This is included in your ticket price but you are expected to give a tip at the end of your journey. Other options for your journey into Petra are horse drawn carriages or large golf style carts but these do come at an extra cost. We are not advocates of using animals to transport people but we do have to say that all the horses looked very well looked after and were rotated on a regular basis giving them plenty of rest. However, it still wouldn't be our choice.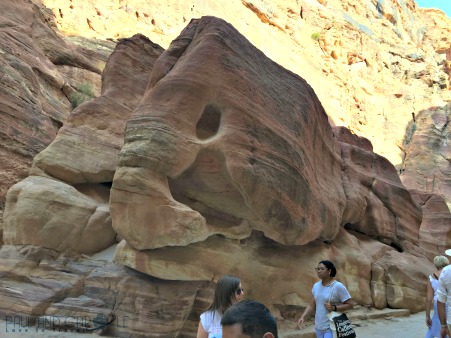 The Treasury at Petra
Once into the canyon every corner we turned revealed more and more spectacular scenery. From natural shapes carved into the sandstone by years of flash floods and erosion to the steps caves and ledges carved by man to protect what lies below. The scenery was spectacular and after about 4 kms the amazing Al Khazneh, The Treasury appeared and what a sight it was! Believed to be around 3000 years old it is 45 metres high it was originally built as a mausoleum or crypt and was heavily featured in the 1989 film Indiana Jones and the Last Crusade. It became known as the treasury in the early 19th century because local Bedouins believed it contained treasure hidden inside the crypts.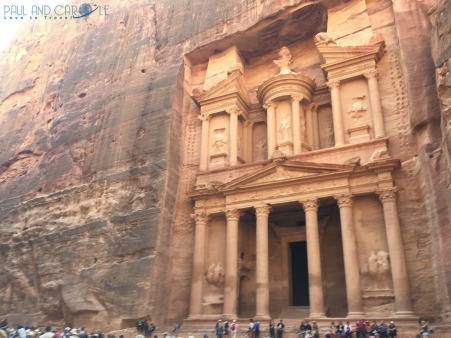 It was extremely busy to say the least but to be fair it was a good thing as it gave you perspective of how massive this place is. The more you looked at this incredible feat of human achievement the more little details revealed themselves. With the help of our guide explaining what each carving meant and the dimensions of individual features it really was mind blowing, Perspective was soon restored when a very handsome man who appeared to be wearing eyeliner tried to sell us a camel ride which we politely declined.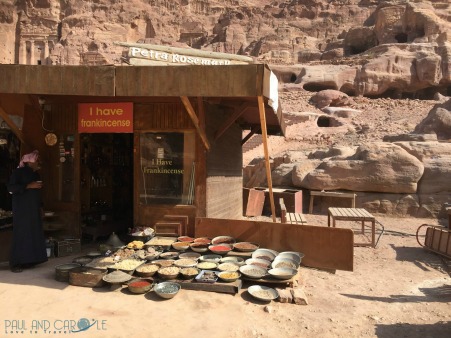 Rose Red City
Our guide then escorted us further down through the mountains towards the monastery where there were lots more carvings and caves cut into the sandstone ravines. It got the name Rose Red city because of the colour of the sandstone from which it is carved. This area was originally the capital city of the Nabataeans who were arabs who inhabited the area in pre Roman times. This leads on to The monastery which is a separate excursion to the one we went on and does require you to climb a further 800 uneven steps to access it so it really isn't for the faint hearted.
It was a 4km walk down but felt twice as long walking back up and it was starting to get a lot busier as more groups were arriving. More horses more carriages and carts ferrying people up and down meant you had to keep your wits about you. Our guide had told us on the way down to only look at what was in front of you, this was a great tip as on the way back up the scenery looked totally different, it was like having two excursions for the price of one.

It really was a hard walk on the way back up as it was a constant upward slope back to the entrance. By the time we were back when we started we were so hot and tired. Included in this excursion was lunch at a local hotel. By the time we reached the hotel our bodies were really feeling the strain. After an excellent meal we dragged our aching limbs back to the coach and must admit slept most of the way back to the ship!
This trip was a once in a lifetime opportunity and even though we have tried to sum up what it was like words and pictures it will never truly do it justice. However, what we can do is pass on this advise, sensible walking shoes/trainers are essential, plenty of suncream, its very hot, keep hydrated again its very hot, and a hat yes you've guessed it, its really hot!
We have just worked out that in total we have walked over 6 miles on uneven terrain and in 30° heat, but we both agree it has been so worth it!
We have also created a series of Vlogs for our Red Sea cruise and this one includes the excursion to Petra.
Visit our cruise port destinations page for more inspiration!
Save to Pinterest for Future Reference!

Useful Links –
Planning a land based holiday, flights, bucket list trip, cruise or honeymoon then we recommend using Dan Hammond of GoCruise&Travel who you can be contacted here by email – dan@gocruise.uk.com and telephone 01622 891895 and via their website here.
He has found us some great deals and using a travel agent takes all the anxiety away of booking and coordinating complicated itineraries.
 Complete this form for a free quote and no obligation enquiry.
---
Join our Patreon Community here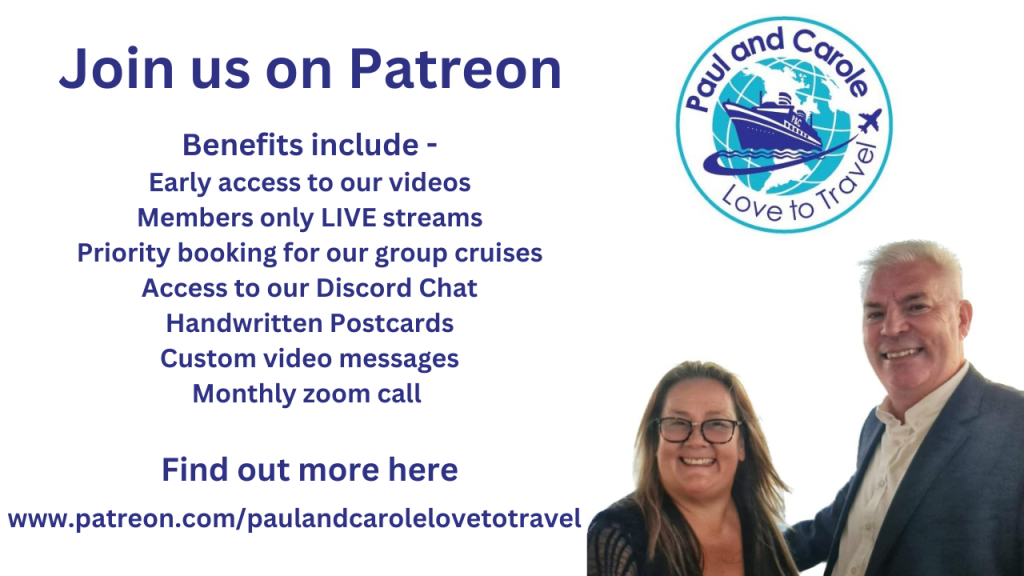 ---
Find our favourite travel, cruise and motorhome accessories in our Amazon Shop.
Browse and book your Marella Cruise here.
Book your hotels with Booking.com. here.
---
Get answers to any of your travel or cruise related questions
Follow us on Instagram and send a message or Like and comment on our Facebook Page
and find us on Twitter here too.
You can also sign up for our newsletter by completing the box on our home page.
We are an Amazon Affiliate and this post contains affiliate links which means we may receive a commission if you click a link. While clicking these links won't cost you any extra money, they will help us keep this site up and running!