P&O Oceana Cruise Ship Review
We spent a week on the P&O Oceana Cruise Ship cruising the English channel and north sea visiting Rotterdam in the Netherlands and Hamburg in Germany. Here is our Oceana Cruise Ship review. Unfortunately Oceana is no longer with the P&O fleet, however this post and the accompanying videos will show you what cruising with P&O is really like.
Oceana Cruise Ship Facts
Built in the year 2000, it was originally the Ocean Princess and was named by film stars Ali Macgraw and Ryan O'neal. In 2002 the Oceana joined the P&O fleet and was officially named the following year by Princess Anne and her daughter Zara Tindall. It has a maximum passenger capacity of 2272 and 889 crew. There are 11 passenger accessible decks and we start our review right at the top on deck 15.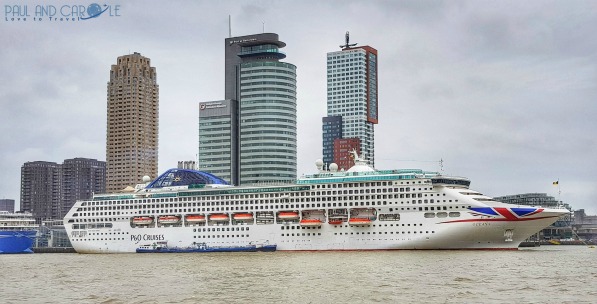 Deck 15 – Oceana Cruise Ship – Sky Deck
Sports Area
The sports area is partially covered with a large box containing sports equipment including basket balls, tennis rackets,hoola hoops, and cricket bats. There is a basketball hoop, cricket wickets and a small football goal. This area was very quiet during our cruise as we were cruising the north sea in February during storm Dennis!
Deck 14 – Oceana Cruise Ship – Sun Deck
The Plaza
The Plaza is the buffet restaurant on the Oceana Cruise Ship. Open from 06:30 until 10:30 for breakfast, 10:30 until 11:45 for brunch, 12:00 until 15:00 for lunch, 15:00 until 17:00 for afternoon snacks, 17:00 until 17:30 for children's teas, 18:00 until 21:30 for buffet dinner and 10:30 until 02:00 for late snacks, so you will certainly never go hungry!
The Plaza buffet restaurant is situated right at the front of the ship with beautiful sea views, it gets very busy at breakfast and lunch but was quieter during the evening, The evening dinner buffet had a theme every night, Indian, Chinese, Asian fusion and Mexican just to name a few, and there was also a carvery section available. The choice of desserts did not disappoint either, great british classics such as jam roly poly, rhubarb crumble and apple pie were readily available, plus a great choice of pastries such as eclairs and profiteroles. It really was a bad place to be if you are watching your waistline! We do have to say that both the standard and choice of food was excellent.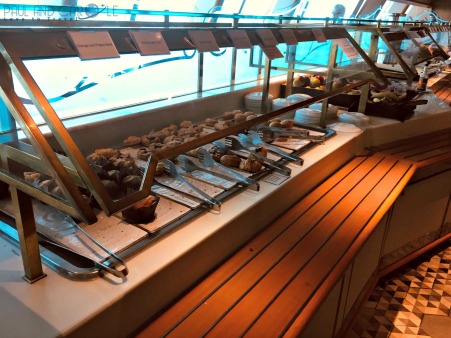 The Terrace Bar
Found at the aft of the ship by the whirlpool spa, due to the very poor weather we encountered during our cruise, this area was unfortunately closed. However, it looked a great space and we know we would of spent a lot of time here with the views over the aft of the ship.
Deck 12 – Oceana Cruise Ship – Lido Deck
The Lido deck and the outside bars were spacious with lots of seating some of which are under cover. With views across the pool area and out to sea it would be really popular on a warmer cruise, unfortunately it was a little chilly cruising the north sea!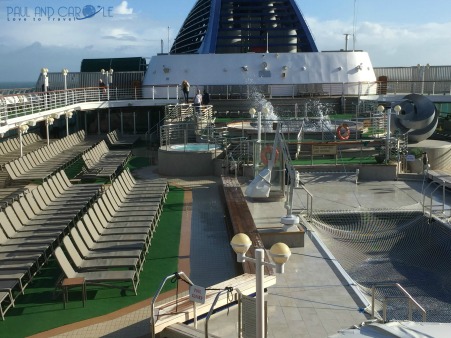 Deck 11 – A Deck and our Balcony Cabin
Our Cabin A305 was on the starboard side and towards the front of the ship, it was about a thirty second walk to the lifts. We were very happy with our cabin even when we had a flooding issue with our bathroom. Unfortunately, the flush one morning wouldn't turn off which subsequently caused our bathroom to flood, however, the staff dealt with it very promptly and we were very impressed with how P&O dealt with this issue.
Here is our balcony cabin video review.
On this deck there is also a small self service laundry room. Consisting of two washers and dryers plus two irons and ironing boards, we thought this was a great idea and was used regularly. We are sure on a longer cruise it would be something we would definitely utilize.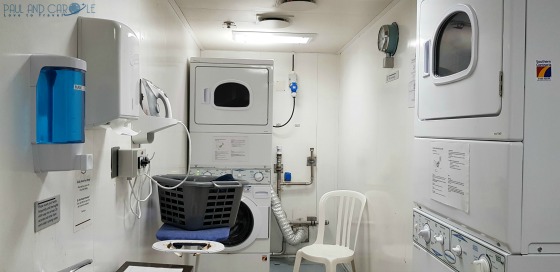 Right at the other end of the corridor there is a door that takes you out onto a small sun deck that many people never managed to find, it really was a nice little spot and perfect for a sailaway!
Deck 10 – B Deck and John and Jan's Accessible Cabin
My Dad John and Sister Jan were allocated an Accessible/Adapted cabin due to John using a mobility scooter. Here is a review and tour of this type of cabin.
Deck 8 – Oceana Cruise Ship – D Deck
Winners bar and Monte Carlo Casino
For a ship of this size the casino was bigger than we expected, plenty of live gaming tables and a good selection of fruit machines. Very popular throughout the day and night. This was also the home of the sports bar showing live premier league, champions league and europa league football. If your a football fan and you want a seat make sure you get there early! Winners Bar is also a live music venue.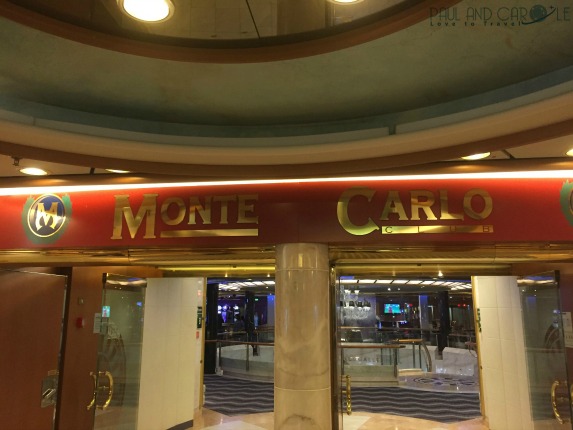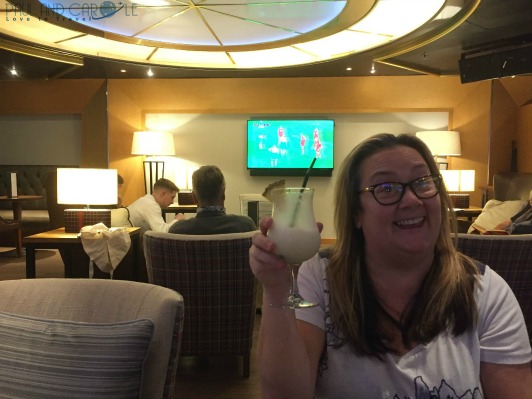 Cafe Jardin
This small mediterranean themed restaurant offers something a bit different, with beautiful views over the atrium and exceptional service. Open for breakfast from 07:00 until 10:30, lunch from 11:00 until 17:00 and at 18:00 until 21:30 turns into a speciality restaurant.
The menus offered breakfast paninis and soft poached eggs to fresh fruit and buttermilk pancakes, and a good selection of pastries. Lunchtime dishes included steak sandwiches, mozzarella burgers, and thin crust pizzas and the best selection of cakes anywhere on the ship.
Breakfast and lunch are included in your package but dinner is at an additional cost of £8.50 per person. You do have to book, and with a choice of seven different starters and eight main courses there is certainly something for everyone. Choices ranging from macaroni soup, a venetian seafood board and king scallops to start, with mains of slow cooked blade of beef, chicken parmigiana and white crab and prawn risotto. The desserts were outstanding and you could choose three, tiramisu, baked ricotta cheesecake and lemon and blackberry tart to pistachio semifreddo, summer berry tartufo and gelato drizzled with coffee liqueur. This was a lovely dining experience and well worth the very small cover charge.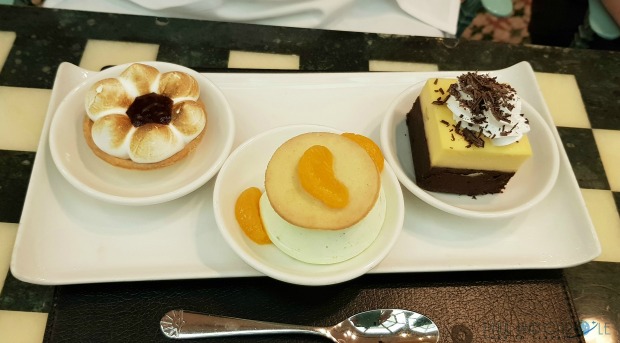 Deck 7 – Oceana Cruise Ship – Prom Deck
Promenade
If you have been following us for a while you will know that Carole loves a good promenade deck!
The Oceana promenade deck did not disappoint. A full wrap around deck with 3.2 laps making a mile. Wide and spacious in parts with plenty of seating giving you lots of opportunities to sit and enjoy the sea views weather permitting.
Starlights
Best described as a theatre and entertainments lounge rolled into one, this featured guest speakers, some of the latest cinema releases or just a quiet place to sit in the day. In the evening there were a variety of shows, including guest singers, and production shows by the entertainments team which were of an excellent standard.
This is a very wheelchair friendly lounge with no steps allowing access to the front rows with ease, there is also a waiter bar service available.
However we do have two criticisms of this lounge, once a show has started they turn the house lights down completely making it pitch black and the seating has a row of swivel seats with small tables alternated with a fixed row sofa style seating so only half the audience has somewhere to put their drink. There is nowhere near enough space between the rows of seats making a it very difficult to access the sofa style seats once someone has sat in the seats in front.
We did see some excellent shows in here but unless you got to the lounge at least 30 minutes prior to the show starting it was very hard to get a seat that you could access.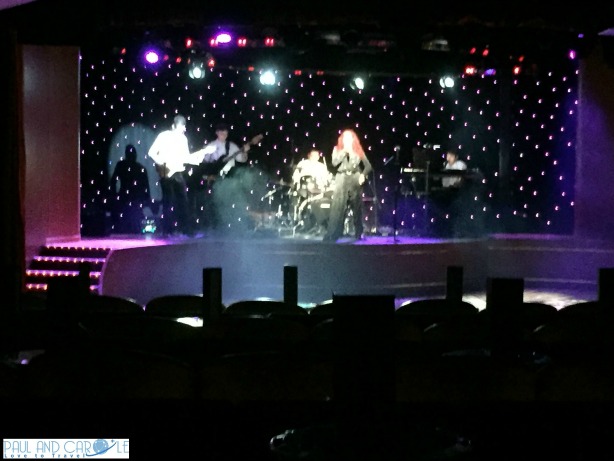 Library
With plenty of seating and a comprehensive collection of books and board games, A lovely area to relax if peace and quiet is your thing.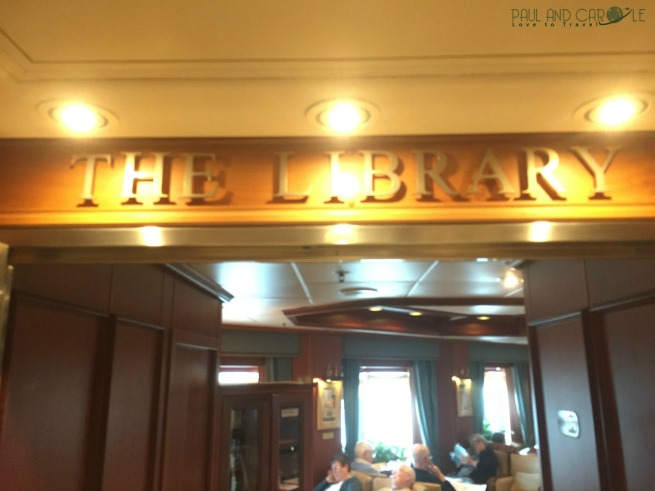 Le Club
When your feeling like your having a great evening and you don't want it to end then head for Le Club. Featuring live music and DJ's in to the early hours this funky old school nightclub really ticked all the boxes. It is also used for art discussions and auctions during the day.
Magnums
If your after a cocktail or a glass of something bubbly this small adult only lounge is ideal. It is quieter than the other bar's and is a great place for a pre show drink.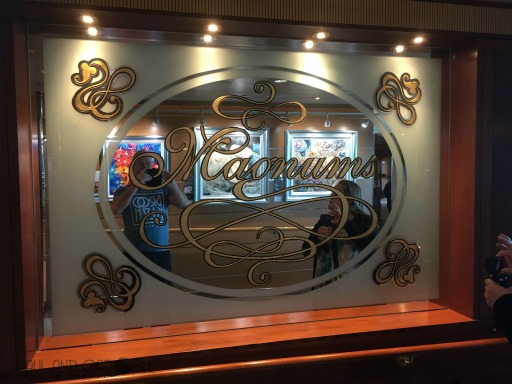 Tiffany's
It is a quiet bar overlooking the atrium, we purchased our drinks package from here, it costs £39.95 per person per day. This covers you for all drinks up to £6.95 and also gives you a 20% discount on any drinks over £6.95, It's also the home of Costa coffee but this does come at a extra cost unless you are on the all inclusive drinks package.
Yacht and Compass Pub
This is your local pub at sea, from quizzes to karaoke, live music and game shows, and even live sports this place has something for everybody. Situated right next to footlights it is ideal for a pre show drink, The service here was excellent and with our favourite waiter Marvin (pictured below) looking after us, this was definitely our regular spot!
Footlights Theatre
A proper old school theatre with twice nightly entertainment shows and some of the latest cinema releases. With waiter services and small tables that fold away in to your seat its ideal if you want to enjoy a drink during the show. There are lots of steps so not wheelchair friendly but there are two small areas at the back of the theatre for people in wheelchairs and their carers. As previously mentioned we were very impressed with the standard of entertainment on the Oceana Cruise Ship, we were also lucky to see the Astonishing Show which was brilliant!
Deck 6 – Oceana Cruise Ship – E Deck
Adriatic Restaurant
This is the main dining room for passengers on fixed dining, with two sittings per night it's very similar to the Ligurian restaurant in layout. We were on anytime dining in the Ligurian restaurant so the only time we came in here was for video purposes but it did look a great option if you like to dine at the same time every night.
Shops
A good selection of shops on board from your designer handbags and jewellery to your first aid needs, souvenirs and crisps!
Deck 5 – Oceana Cruise Ship – F Deck
Reception
If you've seen our Oceana Vlogs series (link at beginning of post) you will know we had a flooding issue in our cabin but we have to say the staff at reception dealt with our problems in a friendly and professional manner and always made us feel that nothing was too much trouble. The added bonus is if you have to wait to speak to a staff member you get to admire the lovely atrium at the same time.
Atrium
Set over four decks with glass elevators marble staircases and a stained glass ceiling the Oceana atrium is up there with the best of them. Every time we walked through we spotted something new, it really is a lovely place to spend some time enjoying a cocktail or just relaxing quietly during the day.
Explorers Bar
The perfect place for a pre dinner drink, if you are on anytime dining in the Ligurian Restaurant, situated right in the heart of the beautiful atrium. This is where Carole discovered her new favourite cocktail the raspberry creme brulee martini, it really was delicious!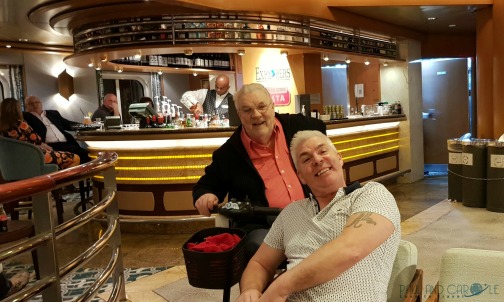 Ligurian Restaurant
This is the main dining room if you have booked any time dining, nicely laid out with a fair space between the tables, we must admit that one night in here the service was particularly slow but generally the service was good and the food was excellent. If you do require a specific table and its not available they will give you a pager allowing you to go back to the Explorers Bar for another cocktail until your table is ready. On selected days the Ligurian is also open for breakfast and lunch.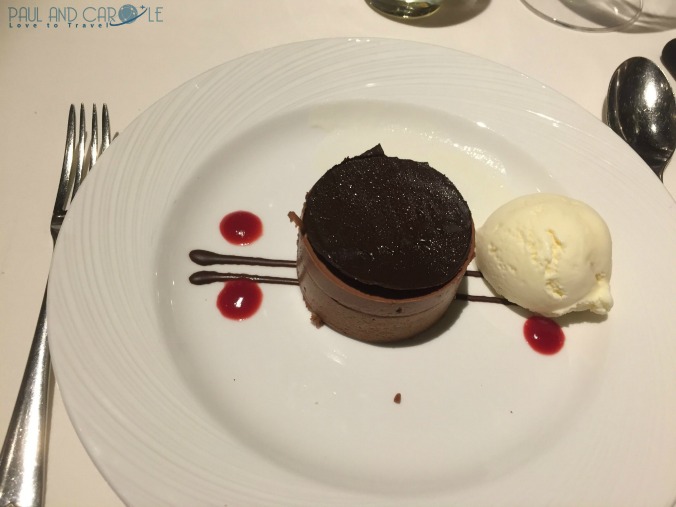 Conclusion
Our overall opinion of the Oceana is that we loved it. The ship is very wheelchair friendly which is a must for us when travelling with my dad, it has made excellent use of the outside spaces with a lovely wrap around promenade being the icing on the cake. The food we experienced throughout the ship was excellent, the service apart from one isolated incident was also top notch, We loved not only the standard but also the variety of the entertainment and our cabin was practical and extremely comfortable.
We thoroughly enjoyed our time on the P&O Oceana and cant wait to sail on her again.
If you would like to hear us discuss our experience on board the Oceana then do watch video review here.
For more information about P&O Oceana Cruise Ship check out their website here.
This post does contain affiliate links, which means we may receive a commission if you click a link. While clicking these links won't cost you any extra money, they will help us keep this site up and running.