5 Reasons Why You Should Book a Cruise Holiday
My love for a cruise holiday began over 30 years ago when I had the opportunity to work as a nurse on Celebrity Cruises, however it took me many years to talk Paul into trying this type of holiday. He eventually succumbed and we took our first cruise on the Navigator of the Seas in 2009, since this time we have cruised 20 times and know that we will continue to cruise as long as our budget and health allows.
We still speak to lots of people who feel exactly the same as Paul did and will not consider a cruise holiday. We have put this post together to explain why you should consider going on a cruise holiday, and see if this type of holiday would be for you.
Waking up in a different location every day
Even though you are visiting many destinations you only have to unpack once on a cruise holiday. Waking up in a new country or destination is really exciting and still amazes us. I particularly love watching the sail in which is often early in the morning, however it is sometimes difficult to drag Paul out of bed!
Fine dining with exceptional service
We can't afford to eat regularly at really expensive restaurants at home so we really enjoy the fine dining that is available on board.
Some people worry that they will have to dine with strangers but this is not the case unless you choose to do so. We prefer to have a table to ourselves, however, on times we have shared and had a fabulous evening. We have met some excellent people who we are still in touch with today.
A cruise holiday gives you the opportunity to try foods that you have never tried before, and if it is not to your taste the waiters will not be offended and get you something else to try.
The service we have received in the dining rooms has been superb and we do enjoy getting to know the dining room staff. It feels quite special to be cared for by such attentive staff who remember your names and what your preferences are. The attention to detail is second to none.
Pin for Future Reference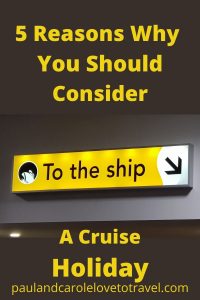 Excellent Live Entertainment
Whether you enjoy classical, singing, dancing, ice skating, acrobatics, magicians, west end types shows or street parties, they can all be found on cruise ships.
We have seen some fantastic acts over the years including Jimmy James, Darren Day, and an excellent Queen tribute act called The Bohemians. There really is a variety of entertainment to suit the majority or people.
Spectacular sunrises and sunsets
There is something quite special about the sunrises and sunsets at sea. Dragging Paul out of bed is sometimes a struggle but he always admits it is worth it in the end!
Never having to get a taxi home when you have had a few beers!
After a night out enjoying the entertainment, cocktails and beers you don't have to worry about getting home as your bedroom is literally a walk away. How convenient is that!
So there are some of the reasons why you should consider a cruise holiday and we hope we have inspired you to consider going on this type of holiday!
If you love cruising, what are your main reasons why you keep cruising, we would love to hear in the comments below.
It is important to remember that cruise lines do differ so make sure you do your research and pick the cruise line that best suits your needs, and please do ask us any questions if you would like more information.
Useful Links –
Planning a holiday, bucket list trip, cruise or honeymoon then we recommend using our travel agent Emma Otter of Travel Counsellors. She has found us some great deals and takes all the anxiety away of booking and coordinating complicated itineraries. Complete this form for a free quote and no obligation enquiry.
Find our favourite travel, cruise and motorhome accessories in our Amazon Shop.
Browse and book your Marella Cruise here.
Book your hotels with Booking.com.
Get answers to any of your travel or cruise related questions
Follow us on Instagram and send a message or Like and comment on our Facebook Page
and find us on Twitter here too.
You can also sign up for our newsletter by completing the box on our home page.
We are an Amazon Affiliate and this post contains affiliate links which means we may receive a commission if you click a link. While clicking these links won't cost you any extra money, they will help us keep this site up and running!
---
Share to Pinterest for Future Reference!
Let's get social! Come and follow us on social media –