Rhodes Greece Cruise Port Information – How to make the most of your day!
On our Aegean Shores Cruise on the Marella Dream Cruise Ship (sadly no longer with us!) we visited the island of Rhodes Greece. If you are planning a visit we hope this post is useful and will help you make the most of your day.
Rhodes Greece sits in the Aegean Sea, surrounded by its beautiful blue waters. It is located just 12 miles off the coast of Turkey, and it is the largest of Greece's 12 Dodecanese islands.
Save to Pinterest for Future Reference
Where does the Cruise Ship dock in Rhodes Greece?
The cruise port is ideally placed and located just to the east of the old town. 
How do you get to the Old Town Rhodes Greece?
As you leave the ship turn right and within 5 minutes you will be in front of St. Catherine's Gate. On the way to the old town you will also pass a very small beach. It was full of blue Thomson towels and families enjoying a dip in the Aegean Sea. We wished we had known this beach was here as we would of loved to have taken a dip. So don't forget your towel and ideally some water shoes as it looked quite pebbly too.
What can I do in Rhodes Greece?
Visiting the Old Town is a must, it is a maze of cobblestone streets, with historic buildings dating from the 14th century and within walking distance of the Ship. It's one of the best preserved medieval towns in the world and a UNESCO World Cultural Heritage site. There are plenty of shopping opportunities in the old and new town, and countless restaurants where you can get refreshments, further information below.
The main attraction here is the Palace of the Grand Masters, built in the 14th century by the Knights of St. John. It houses a museum and is an interesting place to visit. We had visited here on a previous trip, the grounds are huge and we did have difficulty trying to find the way out back into the old town. If you do decide to visit here make sure you take a map and a bottle of water, we so wished we had!
Where can I eat in Rhodes Greece?
There are plenty of restaurants where you can get a variety of food and drink, you really are spoilt for choice. We must admit it does get a bit tiresome with the constant harassment of the staff from the restaurants trying to get you to eat and drink at theirs, and why is it that they think if you are from England we all say loverly jubbely like Del Boy from Only Fools and Horses! Amusing to start with but that soon did wear off.
We decided to stop at Odyssey Restaurant despite the Del Boy impressions, and must say we did have a very good meal. Greek salad and lamb chops were enjoyed by all, it really was delicious and reasonably priced. We paid 6.50 euros for the salad and 11.90 euros for the Lamb Chops.
Where can I drink in Rhodes Greece?
There are bars everywhere and within minutes from the ship. We stopped at a bar near the entrance to the old town as Paul is partial to a cold pint of Mythos. However do be aware that one of the gimmicks of Rhodes Greece is drinking your beer out of a boot, and it can come at a hefty price. Be very careful, as you may end up with a huge boot full of 2 litres of beer which will cost 20 euros. We asked for 3 pints of Mythos but were told that they don't have any pint glasses so we settled for a litre boot which we shared between 3. The litre boot cost 9 euros and we were given 3 small glasses, which was fine until we noticed the waiter serving the next table gave them pint glasses! Don't let this put you off, but just be aware of the potential scams to get extra money from tourists.
Where can I shop in Rhodes Greece?
The old town of is full of shopping opportunities. Every alleyway and corner you turn there are shops offering all sorts of souvenirs.
But it is not just the Old Town that attracts visitors shoppers. The New Town, located across from the Mandraki Harbor contains a large marketplace. The Nea Agora, or New Market as it is called, contains a food court, gift shops, cafes and bars.
If you walk further into the New Town there are many hotels, high street style shops and a casino is also available for those who want to try their luck at games of chance.
The walk back from the new town to the ship took about 30 minutes, it is a lovely walk past the harbour.
Where can you find WiFi in Rhodes, Greece?
Everywhere! All bars and restaurants have free WiFi. We have free Euro zone data roaming with EE which was great, however we did get caught out as we sailed away.  Rhodes is very near to the coast of Turkey and you will pick up signal from Turkey as you sail away, so don't forgot to turn off your data roaming as soon as you re join the ship, we forgot and got charged £5 for the pleasure!
What else can we do in Rhodes?
If you want to head further a field there are some beautiful places to visit. About an hour away is Lindos and the Acropolis, another UNESCO site that has the most stunning views. If it is beaches you are after Faliraki or Tsambika are not too far away. For more information about places to visit then do visit rhodesguide.com.
If you do decide to venture further a field make sure you are back to the ship in plenty of time as you do not want to miss the sail away!
Our Verdict
Rhodes Greece is an excellent cruise port destination as you are docked so close to the old town it is ideal. Rhodes really does have it all, including a tiny beach. We were so glad it was on our cruise itinerary, we had a fantastic day exploring both old and new and know we will return again one day.

Further Reading/Videos –
---
Join our Patreon Community here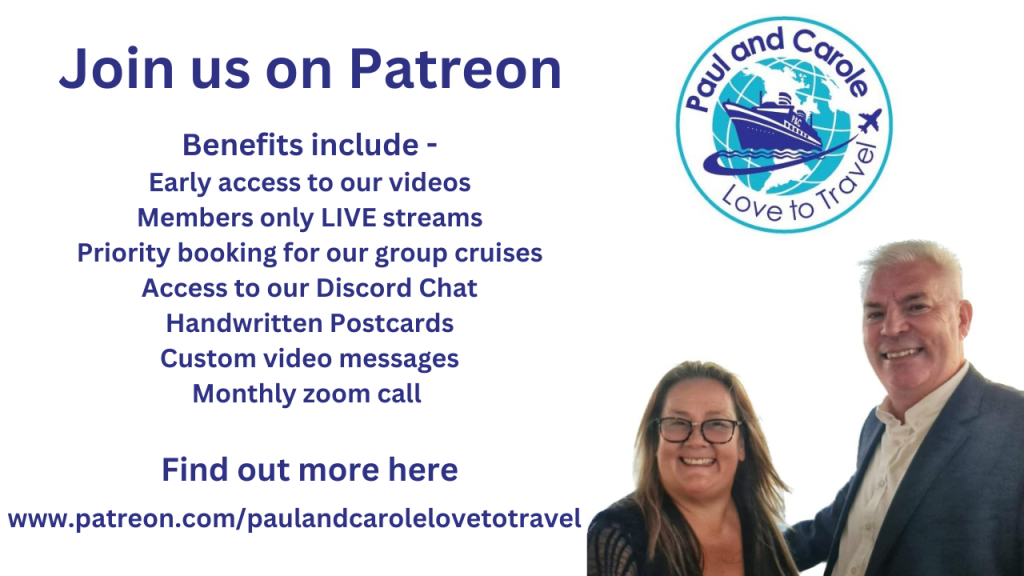 ---
Planning a land based holiday, flights, bucket list trip, cruise or honeymoon then we recommend using Dan Hammond of GoCruise&Travel who you can be contacted here by email – dan@gocruise.uk.com and telephone 01622 891895 and via their website here.
He has found us some great deals and using a travel agent takes all the anxiety away of booking and coordinating complicated itineraries.
---
Find our favourite travel, cruise and motorhome accessories in our Amazon Shop.
Book your hotels with Booking.com. here.
---
Get answers to any of your travel or cruise related questions
Follow us on Instagram and send a message or Like and comment on our Facebook Page
and find us on Twitter here too.
You can also sign up for our newsletter by completing the box on our home page.
We are an Amazon Affiliate and this post contains affiliate links which means we may receive a commission if you click a link. While clicking these links won't cost you any extra money, they will help us keep this site up and running!
Pin it!
If you enjoyed this post please follow Paul and Carole Loves to Travel on: