River Cruising – Will I change his mind?
River Cruising – Yes or No?
The fact of the matter is that I would love to try river cruising but Paul is adamant that this type of cruising is not for him. Attempts at discussing this type of cruising with him has always been just met with a thumbs down and a very grumpy face.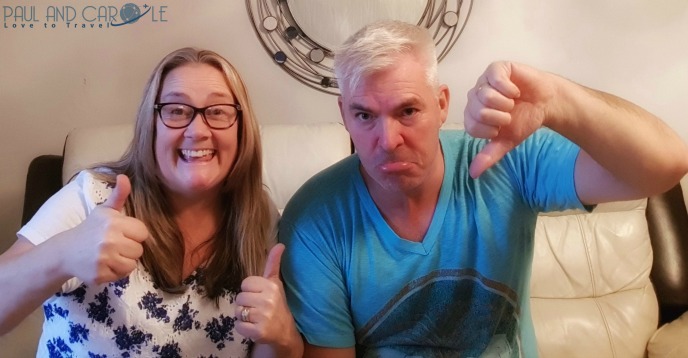 It had taken me 7 years to persuade Paul to take his first Ocean Cruise which eventually happened in 2009. He is now addicted to cruising and we are about to embark on cruise number 15.
So digging deeper I asked Paul to explain in detail why he thought a river cruise was not for him. With his answers in mind I started my research which was perfectly timed as it coincided with a River Cruise Conference in Paris held by CLIA. I have certainly learnt a lot in a short period of time, and was able to educate Paul and start to dispel his preconceived ideas.
'I will get so bored'
The first thing that surprised me was that there is a Cruise Director on board who is responsible for the entertainment of the guests on board. Entertainment on board river cruises appears to be concentrated on the area that is visited featuring educational lectures regarding local cultures, languages, singers and dancers. Most ships have a resident pianist and it appears that various bands and magicians are also invited on board to entertain the guests.
Interestingly our research showed that like ocean cruises there are also themed cruises on offer. Jazz and classical music-themed river cruises, golf cruises, wine tasting and Christmas market cruises are all available!
'Ships are so small the cabins must be too why would I want to stay in a cupboard size cabin?'
Now this was really interesting as to be honest my perception was the same as Paul's, and how wrong we both were!
The cabins are of a similar standard of ocean cruise ships with different categories depending on your budget. Singles, double staterooms, suites and all have the same facilities you would expect in a cruise cabin. We particularly like the floor to ceiling windows where the top part opens which gives you an inside balcony. Perfect for watching the landscape pass by. If you have a very generous budget then there are suites available with their own plunge pools!
'What if I fancy a swim?'
Unfortunately our budget doesn't stretch to a suite with a plunge pool but we were surprised to see that there were pools available on most river cruising ships. As expected they are smaller, and many are plunge pools or hot tubs.
However there are heated swimming pools available on the majority of ships and on the Emerald Sun one of the Emerald Waterways Ships there is an infinity pool at the back of the ship and how amazing would it be to swim in here and watch the stunning landscape go by.
'You can only River Cruise in Europe'
That's not true at all you can cruise in many regions of the world. River Cruises are available in India cruising the Ganges, through Egypt on the Nile, China on the Yangtze River, through Vietnam and Cambodia on the Mekong River and there are cruises planned in Africa too.
'We like to go All Inclusive so we know that we don't have any extra charges'
It appears drinks are included with all meals on the majority of river cruises and drinks packages are sometimes available. Some company's like Emerald Waterways have no problem with guests purchasing alcohol for consumption in their rooms. However, they do ask that personal drinks are not consumed in the communal areas of the ships, which is fair enough.
'But we love ocean views and sunsets at sea and there will definitely not be any of those!'
No that's true but cruising through some of the most beautiful cities in the world that would be so romantic, and I am sure the sunsets would be spectacular too. We already have cities such as Budapest, Vienna and Munich on our wish lists so what better way to visit than by staying on a ship in the heart of the city.
'So I only have one place to eat?'
The majority of meals are served in the main dining rooms, however there are buffet options available particularly if the weather is good and areas on the deck are used for BBQ's etc. The standard of dining looks exceptional so I don't think we would be disappointed. Ingredients are often used from the area that you are cruising through so you really get a taste of that particular part of the world. Some ships also serve afternoon tea and all companies seem to be able to cope with special dietary requirements if needed.
'I don't want to be told what to do every day and go on an excursion, can't we just do our own thing?'
Often excursions are included in the price but there is also the option to opt out if that's not what you want to do. Mainly walking and bus tours though some companies are offering excursions further a field or adventure based. Personally I think having excursions included is a real plus and enables you to have a deeper experience.
So what else have we learnt about River Cruising?
Now that we have been educated about river cruising it seems the real bonus of this type of cruising is that you get to explore the interior's of countries rather than the exterior's with ocean cruising. The ships dock in the heart of some fabulous cities where you can just step off and immerse yourself in the local culture, with ocean cruising the ships often dock a distance from the place you are visiting, Rome being a good example.
Some companies even offer a price guarantee so if the price you paid for your cruise reduces before you cruise, they will offer you a credit for the difference off your next cruise.
River cruising provides similar facilities such as hairdressers, laundry services and gyms. Being a nurse I was interested in seeing what medical facilities they have on board, but there doesn't seem to be any. However, you are never far from shore where medical assistance could be provided.
River cruising is not cheap however for the price you pay it does normally include flights, transfers to and from your ship, on-board Wi-Fi, port charges, airport taxes and on-board tips.
So have I managed to persuade him?
Well yes I have! Just goes to show that sometimes your preconceived ideas can stop you from trying something different, now that we have researched the facts the things that we love about ocean cruising can also be found on river cruising too!
We always say that we should do something new as a holiday experience every year. Now that Paul's moans and groans have been literally blown out the water, 2019 could see us on our very first river cruise. We have already got our eye on a particular itinerary with Emerald Waterways and the infinity pool that converts into a cinema at night has us sold!
So make sure you sign up for our updates and follow us on our social media via the links below because if we take our first river cruise in 2019 then we will be taking you with us every step of the way!
VERY PROUD TO BE A
Let's get Social!
If you enjoyed our post do share it with your friends!
Pin it!
[mc4wp_form id="1523″]
This post does contain affiliate links, which means we may receive a commission if you click a link. While clicking these links won't cost you any extra money, they will help us keep this site up and running.