Santorini Cruise Port Information – Paul and Carole
Ideas on how to spend your day!
One of the reasons we booked our recent Aegean Shores Cruise on the Marella Dream Cruise Ship was the excellent itinerary which included the island of Santorini in Greece. We had seen all the spectacular iconic photos and wanted to experience it for ourselves.
Sailing towards Santorini on the Thomson Dream Cruise Ship and seeing the volcano with all white buildings across the top coming into view was quite spectacular.
Where do cruise ships dock in Santorini?
We anchored in the crater of Santorini which apparently is the world's largest volcanic crater created 3,500 years ago by a massive eruption of the Thera Volcano, which is still active. The craters are currently snoozing and are under constant surveillance by scientists at Fira's volcanology institute. This bay is also believed by some to conceal the legendary lost city of Atlantis. The nearest dock is the port of Skala.
Save to Pinterest for Future Reference
Getting ashore – how does tendering work?
Ships can not dock at Santorini, and a tender is needed to get ashore. A tender is a smaller boat that takes passengers ashore. Sometimes the ships life boats are used, this time it was boats from the port of Skala that transported the passengers to shore.
Once we were on the tender, Skala Pier was a short 10 minute journey.
There are a selection of restaurants and souvenir shops at the pier, some shade to get out of the heat and some cafe's and bars to grab some refreshments.
How do you get to Thira?
There are 3 options for getting to the village of Thira (Fira) which is 260 metres above sea level. Walking 580 steps for 45 minutes, getting on a cable car or riding a donkey. At the time of publishing this post, the price of the cable car and donkey were both 6 euros each way.
We had planned to walk but the steps are very exposed and we had heard it was quite difficult avoiding the donkeys and their waste. There was no way we wanted to ride a donkey as we felt that was so cruel, so we decided to take the cable car which was very easy to find. When you get off the tender head left and walk approximately 5 minutes you will pass some cafes and shops and you will see the entrance to the cable car on the right. If you choose to walk or take a donkey you will also see the signs to the donkey station and the steps.
I am really not so good at heights, and previous experiences with volcanoes have not gone well. The cable cars are not as you would expect going in a loop. Instead they are 6 cable cars that travel all together literally just up and down. I opted for the cliff view rather than admire the stunning views. With my nursing back ground I was very conscious of my increased respiratory rate and pulse and tried very hard to ignore it, and must admit I was very relieved when we reached the top!
Are the views worth it?
Oh yes! Take a look at these.
What can you find in Thira, Santorini?
We explored the tiny alleyways and found some very expensive tavernas and shops. However after a bit of searching we found a little piece of paradise called the Aria Restaurant. Friendly staff and ice cold glasses for the Mythos was very welcome. It was lovely to get out of the blistering heat and rehydrate. As a guide we paid 4 euros for a pint of Mythos, and a bottle of water was 2 euros for 1 litre.
There are plenty of shopping opportunities, souvenir and craft shops, clothes, and lots of jewellery shops. If you are after personal hygiene products that you may have forgotten on your cruise there is The Hondos Centre too where you should find what you need.
Where can I find Wifi?
Wifi is free and available in the majority of restaurants and bars in Thira and at the pier in Scala.
Where else can I explore?
If you want to explore the island the advice we were given is not to take local buses as they were infrequent, however taxis were available, but always make sure you agree a price before you get in. Excursions were available to Oia Village, the Thermal Springs, and Akrotiri if you wanted to explore more of the island. If you do decide to do this make sure you are back well in time for sail away, as the ship will not wait for you!
Tips for staying safe in Santorini
Wear walking type sandals not flip flops – I learnt the hard way. It was a extremely hot the day we visited and my feet were very sweaty. Whilst I was videoing the cable car, my feet slipped forward and sheared the thong off both of my flip flops and lifted one of my toe nails. Luckily I didn't fall down the cliff as a wall was in the way! Instead of doing the sensible thing and buying new sandals there I decided to chance it by hopping back to the tender through the various bits of shade. You may have noticed I am not built for ninja warrior type exercise and the strange looks I got running and hopping from shade to shade was not surprising. By the time I got back to the ship my feet were pretty burnt and I plunged them straight into a cold bath! So our top tip for Santorini is wear sensible shoes!
There are shady areas to be found but would definitely recommend wearing a hat and drinking plenty of water. It gets hotter as the day goes on so a visit in the morning, we think is preferable.
Santorini is also not suitable for anyone with mobility problems. We were on our cruise with Paul's father who has mobility problems and he decided to stay on the ship which was a wise choice.
Conclusion
Santorini did not disappoint it was breathtakingly beautiful, we really enjoyed our visit to Thira and if we had had more time we would of loved to explore more of the island. We have cruised many times and both agreed this is an excellent cruise destination. 
We were leaving at 1900 so could not stay for the iconic Oia sunset shot as the sun was setting at 2045 but we were able to admire this view as we sailed away to our next port of call which was Rhodes Town.
Check out our Greece Destination Page for more travel information and tips.
---
Join our Patreon Community here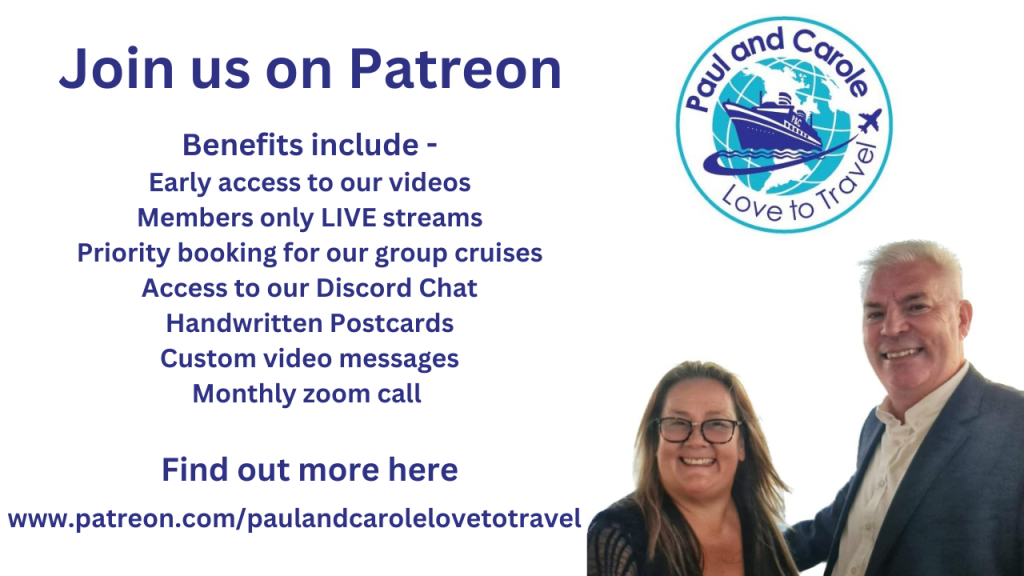 ---
Planning a land based holiday, flights, bucket list trip, cruise or honeymoon then we recommend using Dan Hammond of GoCruise&Travel who you can be contacted here by email – dan@gocruise.uk.com and telephone 01622 891895 and via their website here.
He has found us some great deals and using a travel agent takes all the anxiety away of booking and coordinating complicated itineraries.
---
Find our favourite travel, cruise and motorhome accessories in our Amazon Shop.
Book your hotels with Booking.com. here.
---
Get answers to any of your travel or cruise related questions
Follow us on Instagram and send a message or Like and comment on our Facebook Page
and find us on Twitter here too.
You can also sign up for our newsletter by completing the box on our home page.
We are an Amazon Affiliate and this post contains affiliate links which means we may receive a commission if you click a link. While clicking these links won't cost you any extra money, they will help us keep this site up and running!
---
Pin it!