Silver Fork Marella Speciality Restaurant
Marella Cruises offer a selection of speciality restaurants on their cruise ships and new to the Marella Voyager you will find the Silver Fork. We cruised on the Marella Voyager on the maiden voyage and we were excited to try this new speciality restaurant.
Marella speciality restaurant Silver Fork is found on deck 5 and is exclusive to the Marella Voyager. This speciality restaurant takes British classics and gives them a unique twist.
Booking the Silver Fork
When we cruised on the Marella Voyager, Silver Fork was not available to book on the Marella Cruise Control like Surf and Turf and Kora La were. So we booked the Silver Fork on our Navigate app once on board which was very easy to use.
Silver Fork Menus
There are two dining options available, one is the tasting menu which costs £46.95 per person. With the tasting menu you get seven different items to try with dishes including deconstructed scotch egg, pea fritters and a vodka compressed apple. There is also a full vegetarian tasting menu available and gluten free options too!

Silver Fork Starters
Option two is a traditional three course starter, main and dessert. With a twist on British classics like sausage rolls, cockles and tomato soup to start. Beef wellington, ham egg and chips for mains and desserts including sticky toffee pudding and black forest arctic roll. This Silver Fork Marella speciality restaurant menu costs £36.95 per person.
We chose the traditional three course menu with Carole starting with corned beef on dark rye with pickled vegetables and whipped mustard. I chose the chip shop scallops with a chick pea fritter and fried diced potatoes.

Sign up for our Newsletter
Silver Fork Mains
For the main course Carole had pork, crayfish and black pudding with bubble and squeak and a burnt cider sauce. I went for the pie and mash, an oxtail pie served with a slow cooked beef short rib and horseradish mash.

Silver Fork Desserts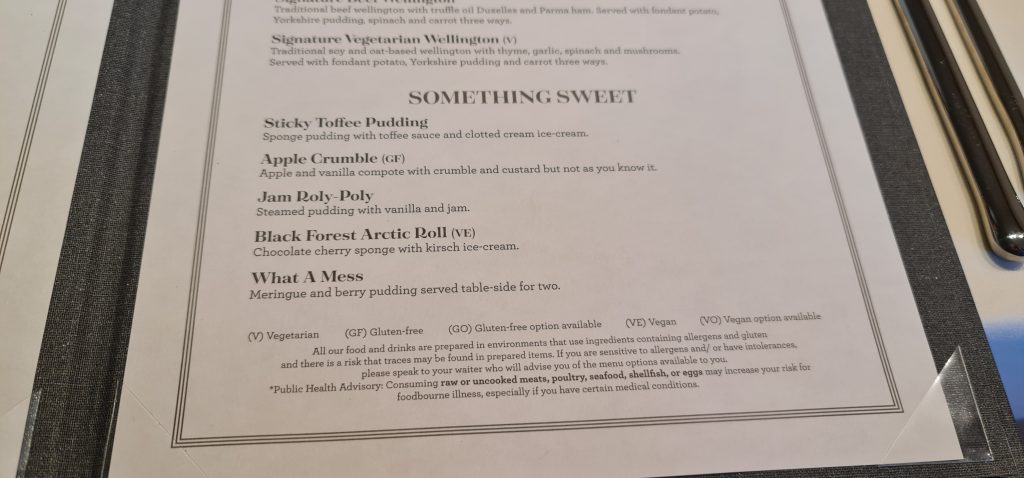 Desserts choices were Apple crumble, an apple and vanilla compote with crumble and custard for Carole, and for me it was the classic jam roly poly with vanilla and jam.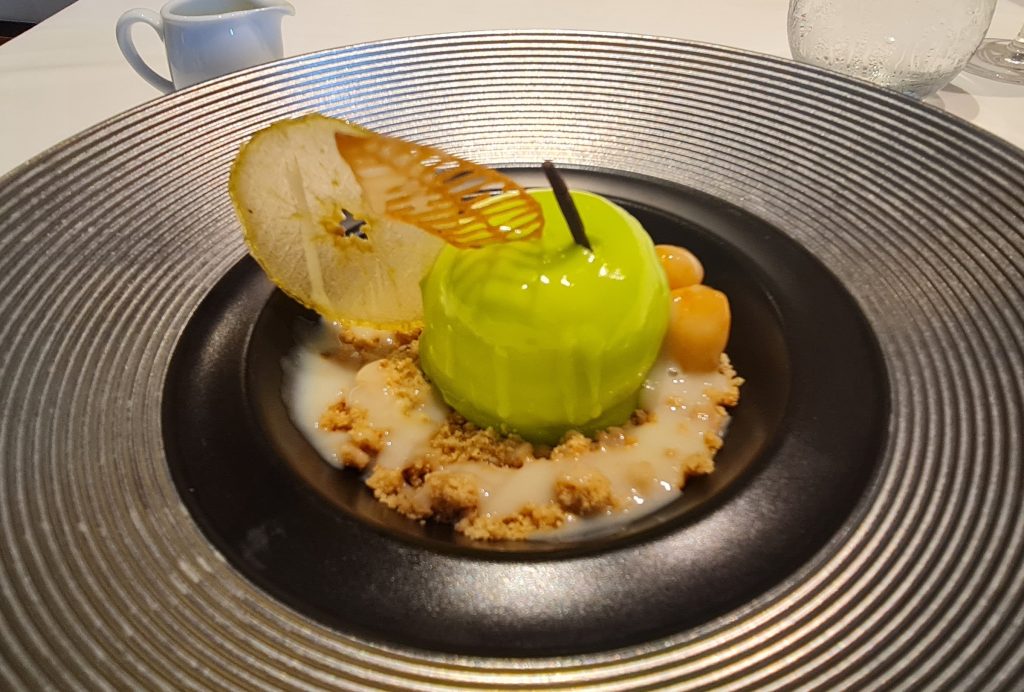 Service
The service we received here was impeccable from start to finish, we really couldn't fault it and we must say the food was absolutely delicious. We really enjoyed the different take on a British menu and think it is a great addition to the speciality dining on Marella Voyager.
The only issue we had was that we did feel at £36.95, £5 more than Surf and Turf it was a little on the pricey side!
For more information about the Marella Voyager you can watch our Vlog Series here.
---
Useful Links
Find out more about Marella Cruises newest ship Marella Voyager
We have lots more Marella and TUI information here
---
Do you want early access to our You Tube Videos, be the first to know when we book a cruise and have access to lots of other perks?
Join our Patreon Community here
Planning a land based holiday, flights, bucket list trip, cruise or honeymoon then we recommend using Dan Hammond of GoCruise&Travel who you can be contacted here by email – dan@gocruise.uk.com and telephone 01622 891895 or just complete our booking form here.
He has found us some great deals and using a travel agent takes all the anxiety away of booking and coordinating complicated itineraries.
---
Find our favourite travel accessories in our Amazon Shop.
Book your hotels with Booking.com.
---
Follow us on Instagram  or Like and comment on our Facebook Page
and find us on Twitter here too.
This post contains affiliate links which means we may receive a commission if you click a link. While clicking these links won't cost you any extra money, they will help us keep this site up and running!