Silversea Cruises Review – An introduction to Expedition Cruising
Welcome to our Silversea cruises review. Here we describe our first impressions of this cruise company, an insight into expedition cruising and a look around the Silver Cloud cruise ship.
We were invited by Silversea Cruises and CLIA to visit the Silver Cloud cruise ship whilst the ship was docked in London. Positioned opposite the Tower of London and with the backdrop of the Shard she certainly was a sight to see as we came out of Tower Hill tube station.
Silversea is a new cruise line to us, all our previous cruises have been with main stream cruise lines and not those that specialise in expedition cruising. We were so looking forward to finding out what expedition cruising with Silversea actually entailed, so here is our Silversea cruises review.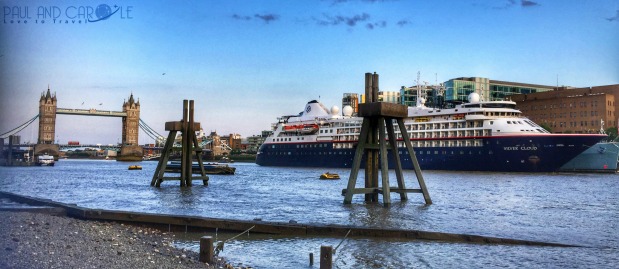 There was a group of 45 travel related bloggers and agents invited onboard and we all met in Coppa, the iconic bar with the igloos outside. It was great to meet Charlotte from CLIA who very kindly organised our visit for us. After all the security checks we were escorted by tender to the ship.
Our first stop was Tor's Observation Lounge, where we were introduced to the Silverseas product by Peter Shanks, Managing Director and Andy Harmer from CLIA, the champagne went down well too! A gentleman called Schalk who is the expedition expert, gave us a fascinating insight into the areas of the world that Silversea explore and what life on board is really like.
Silversea cruises visit over 900 destinations worldwide including Arctic, Antartica, Greenland and the Galapagos Islands and a passengers day could start as early as 530 am! The Silver Cloud cruise ship has only 296 passengers and her small size enables her to navigate some of the most exotic and untouched parts of the world. This luxurious ice class vessel that specialises in expedition cruising has 18 zodiac boats which are used to transport guests to the remote locations. In particular polar regions only 100 passengers are allowed to go ashore at any one time and there are normally two landings per day.
The Zodiacs are rubber boats that are very safe and have different compartments. Three compartments need to be damaged before safety becomes an issue. We wondered if getting into these zodiacs would be difficult, however, we were reassured that it was very easy with sturdy steps that led directly into the zodiacs.
Schalk told us some amazing stories of the expeditions he had taken people on in the arctic and antarctic which quickly made us realise why people would choose this type of cruising. From watching pods of whales to sending up drones to make sure there are no hungry polar bears lurching around the corner it's certainly not like any cruise we have ever experienced.
Schalk explained that announcements may be made any time of the day or night if particular species are spotted. Apparently hump back whales can be very common but if a blue or killer whale is spotted then an announcement would be made whatever the time day or night.. We now understand why some passengers have called expedition cruising life changing.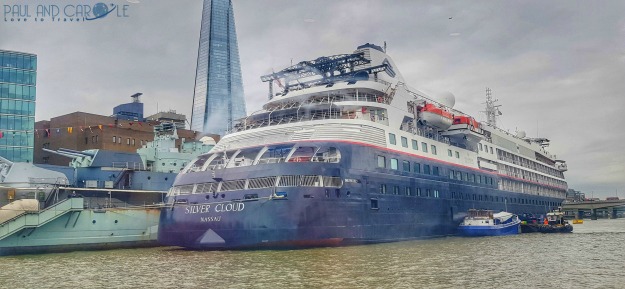 At first sight the interior of the silver cloud cruise ship is quite understated, no seven story atrium or forty foot high water falls but what she does ooze is class. The numerous public areas are elegant and functional. At the front of the ship Tor's Observation Lounge is an ideal place to sit and see what the day has in store for you and at the aft of the ship is the Panorama Lounge where you can sit, as you sail away and reminisce about the amazing experiences you have had.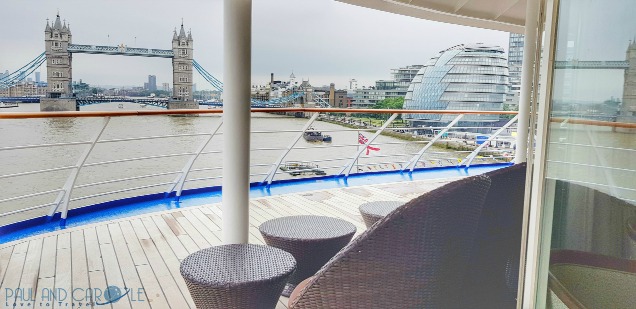 The Dolce Vita Lounge hosts the live entertainment and by their own admission is a very low key affair. There are no west end shows however music is provided by a piano player and duo. The Dolce Vita looks perfect for a night cap before you return to your luxurious suite.
Entertainment on board is very much about enrichment lectures, and on each cruise there are experts on board including geologists, marine biologists and ornithologists, who educate the guests depending on the specific regions that you are visiting.
The pool deck has very comfortable sun loungers, with two bubbling whirlpools and a heated pool for the cooler climates. There is also a poolside bar and buffet snack bar. The covered areas on the pool deck have overhead heaters and big fluffy towels and blankets are provided to keep you warm.
There are eight types of suites on board the Silver Cloud with 80% of suites having balconies. The suites we were shown were spectacular and very spacious with bedding that will rival the finest hotels around the world. The marble bathrooms are huge with a bath and/or a walk in shower and are stocked with bvlgari toiletries. All suites come with their own butler and there is 24 hour room service for all passengers, including All Around Dining which is explained below.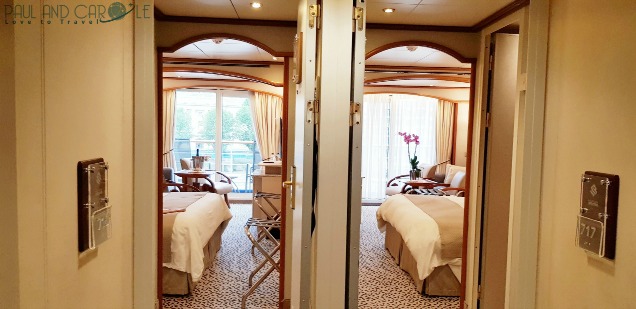 We were treated to lunch in the main dining room called The restaurant. The service was exceptional and the food superb. We chose the tower of marinated crab meat, sliced avocado, quail egg and salmon caviar which was spectacular. This was followed by the main course, roasted beef tenderloin, creamy polenta, asparagus tips with port wine and foie gras sauce. So delicious and the beef just melted in our mouths. Our dessert was a fresh forest berry basket with marsala wine sabayon which was a perfect end to a perfect meal.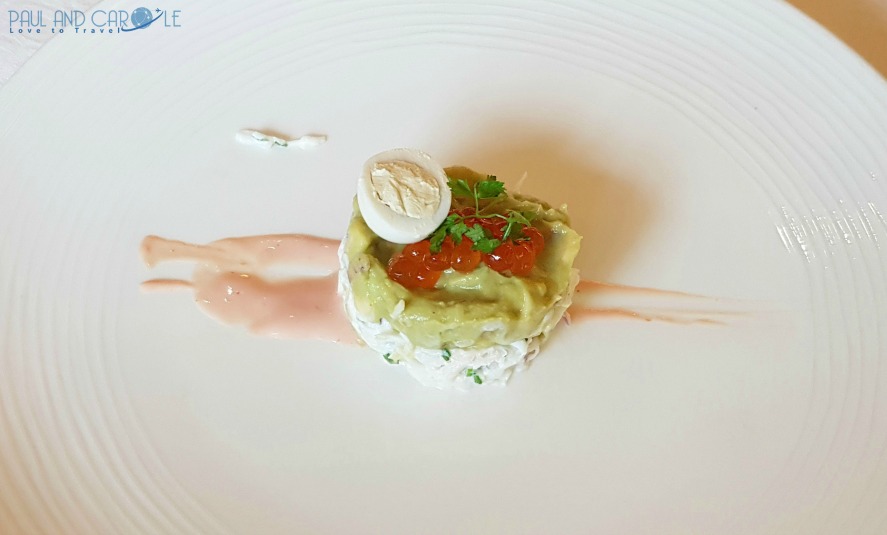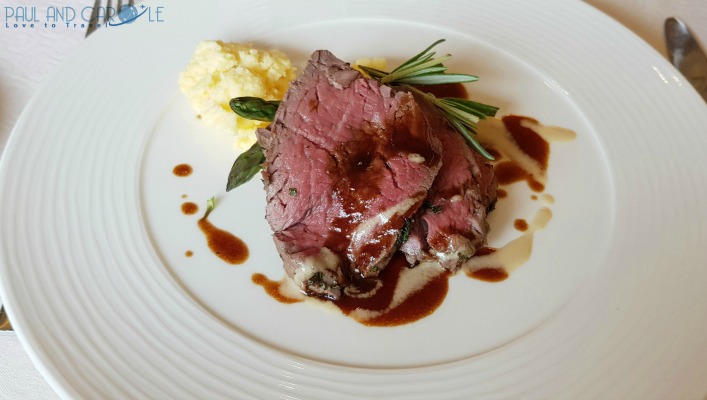 We were lucky to be seated on a table that was hosted by Luke, such an entertaining and funny guy with a passion for all things Silversea. We were also joined by some lovely ladies from Bailey's Travel who were excellent company too. One of the ladies had cruised with Silversea seven times and it was really interesting listening to her experiences. We can now totally understood why she has kept returning to Silversea Cruises. Between them there was no question left unanswered.
Another dining option on board is The Grill. By day a gourmet burger and salad bar and at night transforms into probably one of the healthiest options to eat on any cruise ship. Lava stones are placed on your table at the temperature of 400 degrees Celsius and you then choose from meat fish or vegetables and your then in charge to cook everything exactly to your liking.
If you prefer to let the experts do the cooking for you there is the french speciality restaurant La Dame that offers a six course menu. Complimented with the finest of wines, there is however a sixty dollar per person cover charge.
If you fancy a bit of Italian then you can give La Terrazza a whirl, an a la carte restaurant in the evening, and a a buffet restaurant for breakfast and lunch.
If that is not enough for you then there is complimentary 24 hour room service. If you fancy a steak at four in the morning then that is what will be delivered to your suite. You can also have dinner in your suite that will be served with each course being delivered separately. Orders are taken from the all around dining menu as shown below.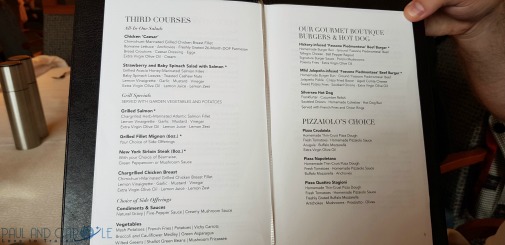 There is also a photo studio on board where you can edit and print your photos, and there are masterclasses that you can attend to improve your photography skills. During your cruise there is also a photographer and videographer on board who film during the cruise and all passengers receive a complimentary video to take home.
To be honest we were very nervous about visiting this cruise ship, our previous experiences have always been on mainstream cruise lines and we felt we may be out of our depth. However, we were pleasantly surprised, even though it was evident that this was an ultra luxury ship it felt very comfortable and homely at the same time.
We hope you have found our Silversea cruises review helpful and it has given an insight into what expedition cruising can be. We would like to thank CLIA and Silversea cruises for inviting us on board and hosting us for the day, we have learn't so much! We now know that an expedition cruise is something we definitely want to do, it seems to offer such unique adventures and takes the cruising experience to another level.
Come and have a look around the Silver Cloud Cruise Ship with us here too!
For more information about Silversea and their ships then do visit their website here.
Further Reading and Tips –
Check out our other Cruising Advice and Tips and Cruise Videos and Vlogs here. You can also get more information about individual cruise lines here too –
Save to Pinterest for Future Reference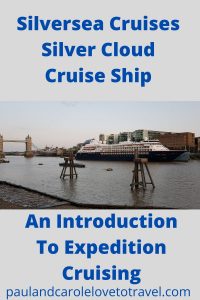 This post does contain affiliate links, which means we may receive a commission if you click a link. While clicking these links won't cost you any extra money, they will help us keep this site up and running.