Greenway Farm Campsite Review, Drybrook, Gloucestershire
Greenway Farm Campsite can be found in the beautiful Forest of Dean, located in Puddlebrook, and only a short distance to the village of Drybrook.
The site is set on over 5 acres and in this post we show you around the campsite, including pitches, alternative accommodation and facilities available.
How to book and arriving at Greenway Farm Campsite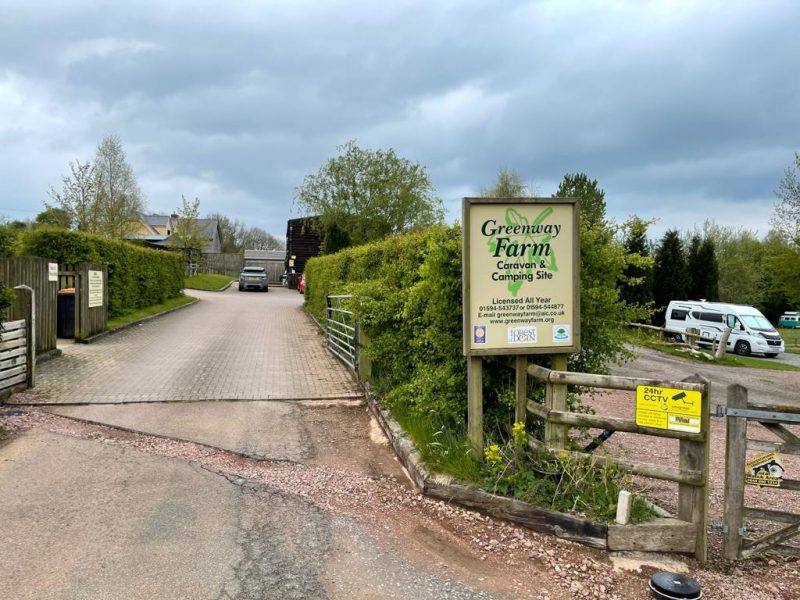 Booking was so easy, as we like it, we just picked up the phone and spoke to a lovely lady who organised our three pitches together. Due to personal circumstances we had to rearrange our dates and this was accommodated without any issues too.
Finding the park was easy too, it is clearly marked on Google Maps and a sign for the campsite appears on the road. As you can see from the site map above, there are two main camping fields, F and B, which have a total of 55 pitches. The majority of the pitches are grass with a handful of hard standing, all have electric hook up except for one pitch F10 that needs to booked together with pitch F11. We booked grass pitches with hook up and were allocated pitches 6,7 and 8.
Where are the grass standing pitches with electric hook up?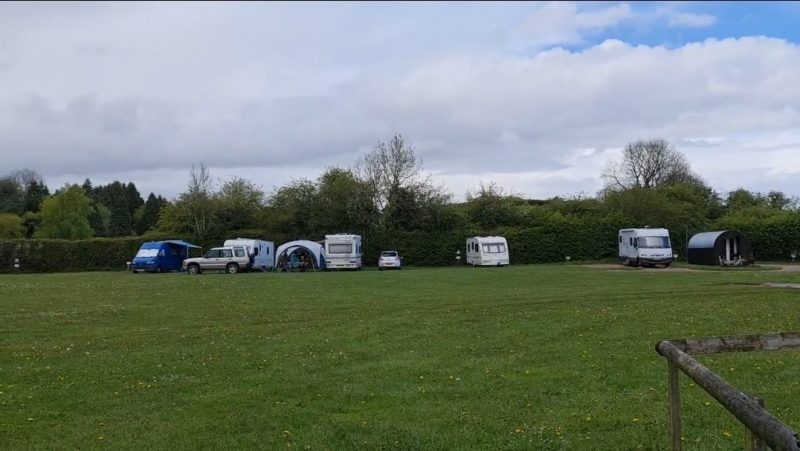 We had 3 pitches booked together all with electric hook up. Booking as a group was not an issue. The pitches were very large, situated around the edge of a large field so we had no over looking neighbours.
The weather was atrocious, with torrential rain and strong winds, and we did have concerns being on grass rather than hard standing, that we would have issues moving our motorhome when it was time to go home. However, the ground dried very quickly and thankfully there were no issues in moving the van when we left to go home.
Is the onsite restaurant at Greenway Farm Campsite any good?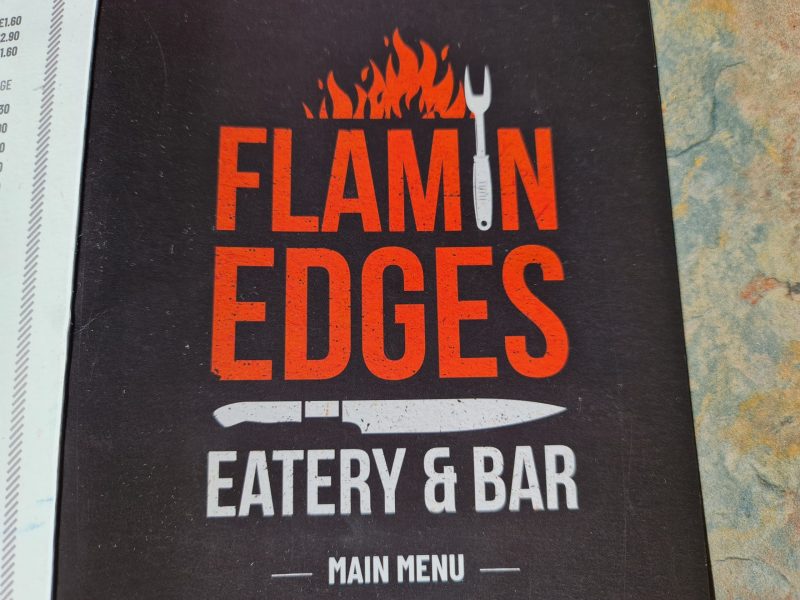 Greenway farm campsite has an onsite eatery called Flamin Edges, which has won awards and uses all local produce. During our stay due to COVID restrictions you could only order and eat outside by the restaurant or by your motorhome. We ordered and paid at the restaurant, told them our pitch number and our food was delivered with 20 minutes. I ordered meat feast pizza and the others all had burgers, chips and coleslaw. The food was excellent, very large portions and reasonable priced. The pizza cost £9.95 and the burgers were £12.95 each. We were very impressed with the food and would definitely recommend.
What facilites are there at Greenway Farm Campsite?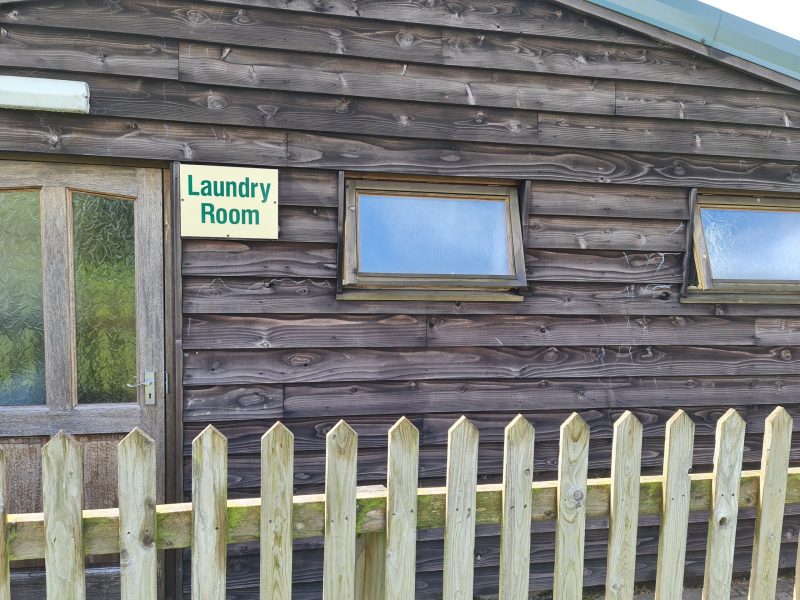 At Greenway farm campsite you will find a laundry room with washers, dryers and ironing facilities. Hot showers are available in the shower block and there are multiple sinks for washing up. There is also a shop which sells camping essentials, snacks and refreshments. There are water points around the campsite and a motorhome waste and a septic point. They certainly seem to have it all covered.
There is also an area by the facilities were there are some goats, which we are sure will be of great interest to families with children!
What other accommodation is available at Greenway Farm Campsite?
If you don't have your own Motorhome and Caravan then there are some self catering options at Greenway Farm Campsite.
There are Glamping Arks available that sleep from 2 persons up to 6. All have kitchen facilities, sleeping area and outside seating. The other options are the Sheds with Beds. They have their own bathroom and shower facilities as well as sleeping quarters, and kitchen facilities. There are also French doors that lead to a private decking area, which has a table and chairs, and your own chimney and BBQ area. They were in the process of building more Sheds with Beds during our stay.
Our final thoughts on Greenway Farm Campsite - would we stay here again?
We paid £28 per night for a grass pitch with electric hook up for our stay in May. This is not cheap however the facilities on the campsite are excellent. Due to the terrible wet weather we didn't get the chance to explore the local area, but Drybrook is within walking distance and the rest of the Forest of Dean is within very easy reach by car.
We were very impressed with this Greenway Farm Campsite, and can definitely recommend if you are looking for a campsite with a bar/restaurant on site.
We would happily stay here again and hope that we get would get much better weather next time!
RELATED BLOGS
Balmoral Cruise Ship Review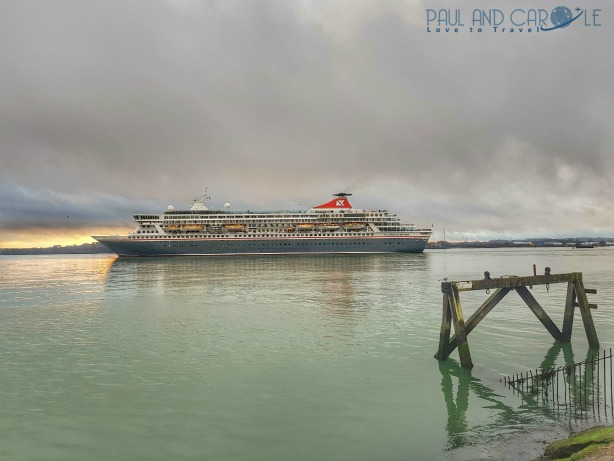 Fred Olsen Cruise Line by Paul and Carole The cruise industry is growing at an alarming rate and focus is mostly on what is new and exciting. Cruise ships are...
Read Review
Cruise Private Islands – Which cruise companies have them?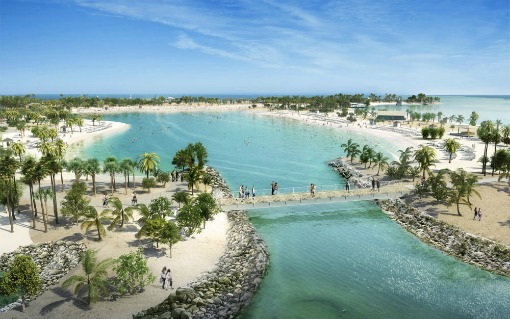 Guest Post by Jenni Fielding – family cruise blogger from CruiseMummy.co.uk More cruise companies are providing a unique experience for their passengers. In this post Jenni describes 6 private islands...
Read Review
Holland America Laundry Prices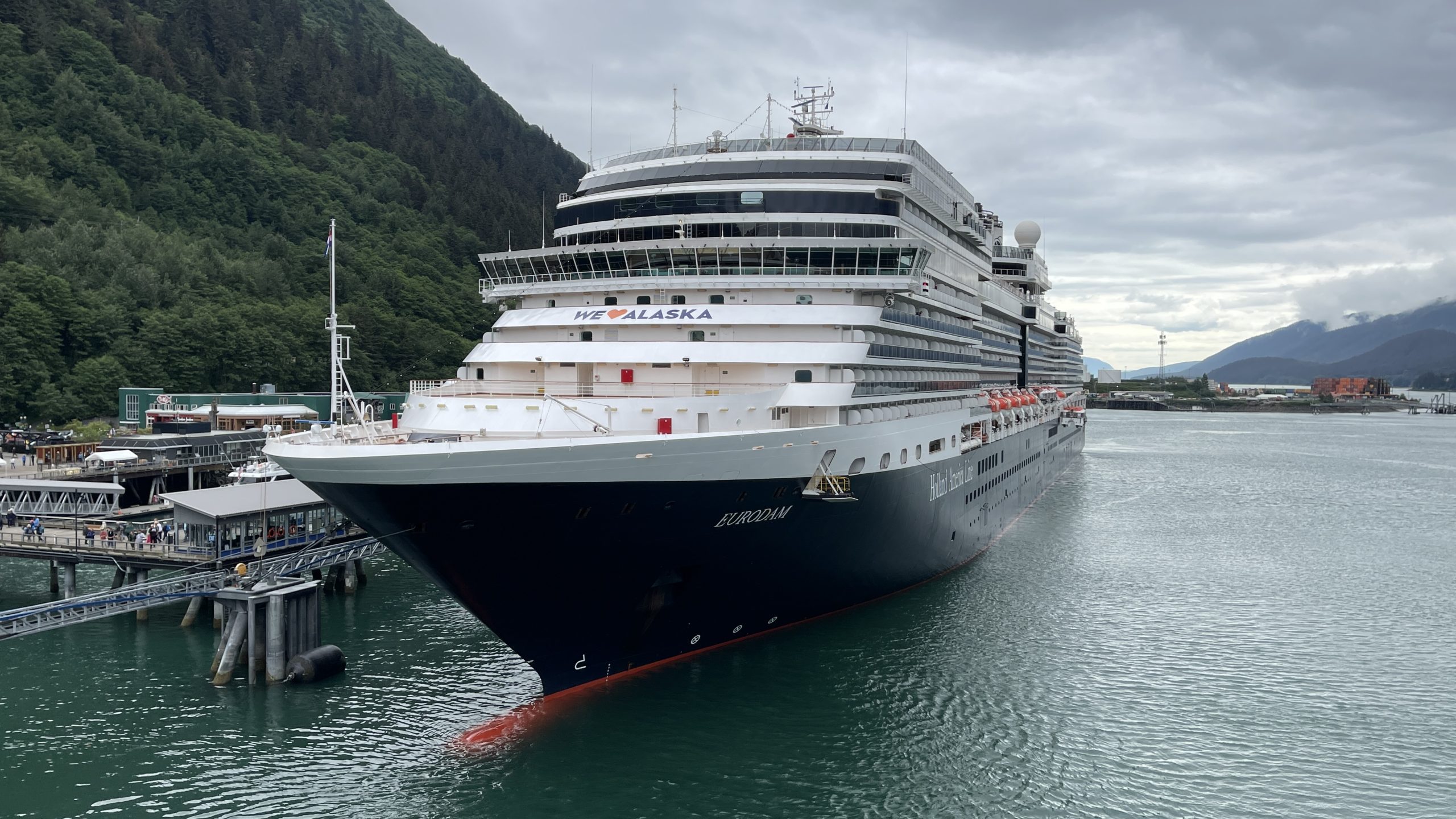 In this post we outline how much it will cost to get your laundry taken care of on a Holland America cruise ship from individual items to bulk packages. We...
Read Review