TUI River Cruise Drink Prices and Drinks Packages 2022
We recently went on our first river cruise! We decided to cruise with TUI as we have had very good ocean cruising experiences with Marella and they are offering some great prices, which also included flights, transfers and the option for all inclusive.
We booked a 7 night Diamonds of the Danube river cruise on the Tui River Cruise Ship Isla and in this post we let you know what's included in the all inclusive package and how much drinks will cost you if you are planning on booking a TUI River Cruise. We also have drinks prices and packages posts for Marella, P&O, Royal Caribbean, Virgin Voyages and Cunard which may be of interest to you too.
You can check out their current offers and itineraries here –  TUI River Cruises (affiliate link)
If you are new to river cruising we suggest you watch this video below and see if river cruising is definitely for you!
TUI River Cruise Drink Prices - Full Board - What does that mean?
All meals are included in your cruise price but unlike ocean cruising the meal times are the only time you will be able to access food. During your lunch and dinner drinks are included and the staff are not shy in keeping your glasses topped up but outside of these times when you order a drink you will be asked for your cabin number and will have to sign a receipt each time you get a drink.
There is also complimentary coffee and tea facilities available in the atrium and a jar of cookies, but other than that if you want snacks you will need to bring them from ashore.
The only times there were complimentary alcohol drinks was at the Welcome Event and the Gala night, Proseco was available for those that wanted it.
It is good to also know too that TUI allow you to bring wine and spirits on board and there is no limit. You are able to drink your own wine at meal times if you prefer and no corkage fee is applied. Regarding spirits they are happy for the customer to pour themselves drinks in the cabin, as it cant be kept behind the bar, but you can then take the glass into the bar to drink it. We didn't know this before we booked!
TUI River Cruise Drinks Package
The TUI river cruise drinks package cost us £19 per person per day. We discussed what was included with the bar manager and were told that there are no restrictions on what you can drink and everything available behind the bar was included.
Only you will know if the purchasing the drinks package is the right thing for you to do so in this post we have included all the drinks prices so you can see if it would be the best choice for you.
Please note all prices are in Euros.
TUI River Cruise Drink Prices
Sparkling Wine.   
Prosecco-dry  bottle 75 cl – €27.50  glass 10 cl – €4.50
White Wine.
House wine – dry  glass 15 cl – €3.75
Riesling pfalz  glass 15 cl – €4.50
Chardonnay rafale glass 15 cl – €4.75
Riesling (alcohol free) glass 15 cl – €3.50
Rosé Wine
House wine glass 15 cl – €3.75
Red Wine.
House wine glass 15 cl – €3.75
Dornfelder pfalz glass 15 cl – €4.50
Cabernet sauvignon rafale glass 15 cl – €4.75
Shiraz(alcohol free) glass 15 cl – €3.50
Beer, Cider and Stout
Warsteiner draft 25 cl – €3.00  40 cl – €4.50 non alcoholic 33cl – €3.00
Radler shandy 25 cl – €3.00  40 cl – €4.50
Somersby apple cider 33 cl – €4.50
Lammsbráu glten free beer 33 cl – €4.00
Kónig ludvig white or dark beer 50 cl – €4.75
Guinness 33 cl – €4.00
Beer of the cruise – €4.00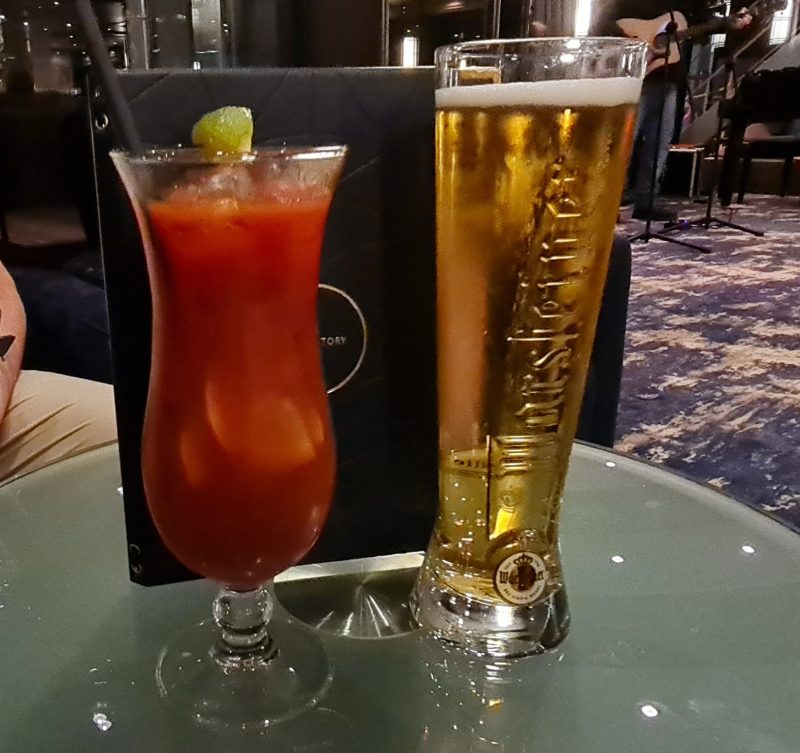 Spirits
Clear Spirits
Jeniver dutch gin 2 cl – €3.00
Eaux de vie 2 cl – €3.25
Grappa 2 cl – €3.50
Smirnoff vodka 4 cl – €5.00
Absolut vodka 4 cl – €5.50
Gordon's gin 4 cl €5.00
Beefeater dry gin 4 cl – €5.00
Bombay sapphire gin 4 cl – €6.00
Hendricks gin 4 cl – €7.00
Woodland pink gin 4 cl – €8.00
Cognac
Mataxa 5* 4 cl – €5.50
Asbach uralt 4 cl – €6.50
Calvados gilbert 4 cl – €6.50
Hennessy V.S 4 cl – €7.50
Whisky
Ballantine's scotch 4 cl – €5.50
Johnnie walker red label 4 cl – €5.50
Jameson irish whisky 4 cl – €5.50
Glenfiddich single malt 4 cl – €8.00
Jack Daniels tennessee 4 cl – €7.50
Rum.
Captain Morgan 4 cl – €5.00
Bacardi rum 4 cl – €5.00
Liqueur
Amaretto Disaronno 4 cl – €5.00
Baileys irish cream 4 cl – €5.00
Sambuca 4 cl – €5.00
Kahlua 4 cl – €5.00
Grand Mariner cordon rouge 4 cl – €5.50
Tia Maria 4 cl – €5.00
Aperitif.
Vermouth  red, white or dry 5 cl – €3.75
Sherry  medium or dry 5 cl – €3.75
Port  red or white 5 cl – €3.75
Campari  5 cl – €4.50
Pernod  5 cl – €5.00
Cocktails
Aperol spritz 20 cl – €7.50
Martini fiero 20 cl – €7.50
Cocktail of the day (ask your waiter for details) – €7.50
Daiquiri, white rum, lime juice and sugar syrup – €8.00
Mudslide,  vodka, bailey's and kahlua – €8.00
Mojito, Havana club rum, sugar, lime, mint and soda water – €8.00
Old fashioned, bourbon, syrup, prosecco and orange – €8.00
Long island iced tea, vodka, rum,gin,tequilla, triple sec sours and cola -€8.00
Margarita, Tequila, triple sec and lemon juice – €8.00
Mai Tai, dark and white rum, apricot brandy, lime juice and almond syrup – €8.00
Non alcoholic cocktails.
Cocktail of the day (ask your waiter for details) – €5.00
Orange zip, grapefruit, orange, lemon juice and grenadine – €6.00
Bubbles without troubles, grape juice, elder flower syrup, lemon juice, sparkling water and herbal tea – €6.00
Raspberry mocktail, raspberry syrup, lime, mint and spite – €6.00
Long Drinks
Rum cola – €6.50
Campari orange – €6.50
Campari soda – €6.00
Vodka lemon/orange – €6.50
Bloody mary – €6.50
Tequila sunrise – €6.50
Gin & Tonics
Gordon's gin – €6.50
Beefeater dry gin – €6.50
Bombay sapphire gin – €7.50
Hendrick's gin – €8.50
Woodland pink gin – €8.00
(With Fever Tree slimline tonic +1 euro)
Mineral Water, Soft drinks and Juices
Mineral Water
Natural water 25 cl – €2.50  Sparkling water 25 cl – €2.50
Gerolsteiner sparkling 25 cl – €4.00  Gerolsteiner 75 cl – €4.00
Soft Drinks.
Coca cola, Coca cola light and Coca cola zero 20 cl – €2.50
Sprite 20 cl – €2.50
Fanta orange 20 cl – €2.50
Schweppes bitter lemon, Ginger ale or slimline tonic 20 cl – €2.75
Fever tree slimline tonic, Mediterranean tonic or ginger beer 20 cl – €3.75
Elder flower cordial 20 cl – €3.75
Juices (dash)
Apple, Orange, Grapefruit, Pineapple, Tropical, Tomato or Cranberry 4 cl €2.75
Verdict
As we said at the top of this post we paid £266 to upgrade to a drinks package which equates to £19 per day per person.
The following things influenced how much we drank each day so you also need to consider what you will be doing during this cruise.
For example we were out for most of the day and not up late most nights. Also the weather wasn't brilliant and if it had of been better we would of spent a lot more time on deck in the sunshine enjoying drinks. We were travelling on our own and not with friends, and we do find when we travel in a group we do tend to drink more.
However, the drinks package did allow Carole to try different cocktails and not worry if they were not to her taste and not finished. The other advantage of having the drinks package is not having to sign for each drink each time you were served.
So for us, even when we take all these variables into account we both agreed that we would purchase a drinks package. The reason being that even though it didn't save us any money this time it was just so convenient.
However as we mentioned above, if you like a specific drink and want to bring it on then that's not an issue which is something we will considering doing on future cruises.
We hope this post can help you decide what's best for you. We really enjoyed our TUI Isla River Cruising experience and know we will river cruise again.
Click the link here to see TUI River Cruises current offers and itineraries. (affiliate link)
Useful links –
If you are new to Marella and TUI Cruises we have lots of Marella Ocean Cruise Information on our Marella Page here and we have over 50 videos on our Marella You Tube Channel Playlist which include vlogs, cruise ship reviews and cabin tours.
---
Planning a land based holiday, flights, bucket list trip, cruise or honeymoon then we recommend using Dan Hammond of GoCruise&Travel who you can be contacted here by email – dan@gocruise.uk.com and telephone 01622 891895.
He has found us some great deals and using a travel agent takes all the anxiety away of booking and coordinating complicated itineraries.
---
Find our favourite travel, cruise and motorhome accessories in our Amazon Shop.
Book your hotels with Booking.com. here.
---
Get answers to any of your travel or cruise related questions
Follow us on Instagram and send a message or Like and comment on our Facebook Page
and find us on Twitter here too.
You can also sign up for our newsletter by completing the box on our home page.
We are an Amazon Affiliate and this post contains affiliate links which means we may receive a commission if you click a link. While clicking these links won't cost you any extra money, they will help us keep this site up and running!
RELATED BLOGS
Saga Spirit of Adventure Vlogs Review

We booked a 5 night cruise on Sagas brand new ship Spirit of Adventure travelling to the Netherlands, Belgium and France. We had previously had the pleasure of attending the...
Read Review
Celebrity Cruises Laundry Prices
We cruised on Celebrity Beyond and in this post we show how much it will cost to use the laundry services on Celebrity Cruises cruise ships.. A laundry bag and form...
Read Review
Holland America Spa Prices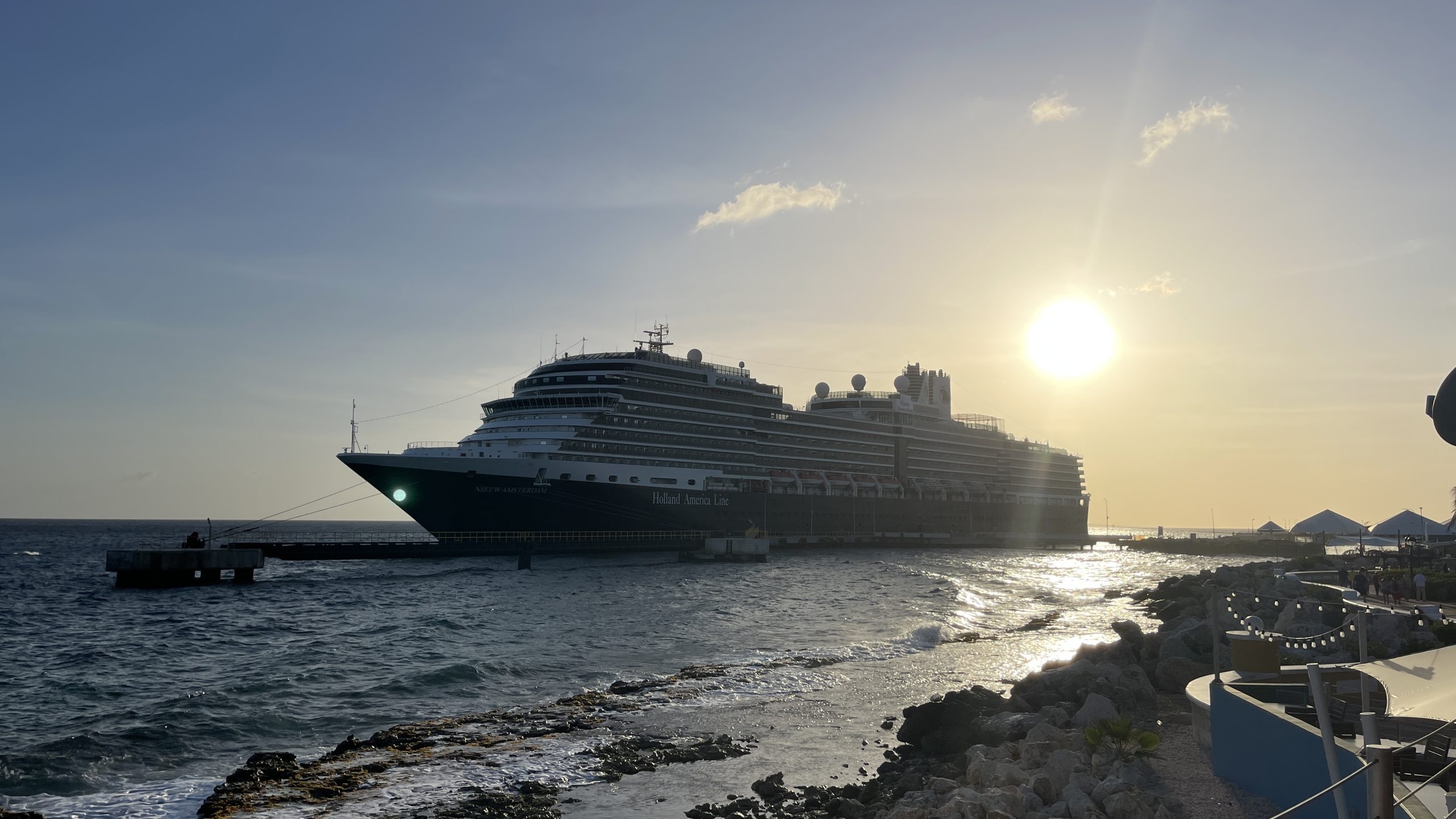 Holland America cruise ships have spa facilities on board, but they do come as an extra cost. In this post we show you what it will cost you for treatments...
Read Review