Royal Caribbean Drinks Packages – How much do they cost?
We always get asked the same questions about cruise lines and one of the most popular one is 'How much are the drinks packages on Royal Caribbean? In this post we answer that question!
We cruised on one of the first UK Seacations from Southampton on the Anthem of the Seas Cruise Ship. Royal Caribbean on their website state that the packages cost as described below in this post, however in our experience, their prices do fluctuate dramatically.
Prior to this cruise we took the first opportunity to try and book the deluxe package and we were really surprised and disappointed to see that their prices did not match the website. On their app they were selling them at USD 110/per day which is £79.80 which is a ridiculous price.
We monitored the app daily and about a week before we were due to cruise it dropped to USD 85 (£61.56) which we were happy to pay. We had paid £55 on our last cruise with them in 2016! The key to getting the best price is to checking every day and pouncing when the price is right for you!
We have also cruised with P&O and Cunard and have a P&O Bar Prices and Drinks Packages Post and a Cunard Drinks and Packages Post, which you can see for comparison.
How much do drinks cost on Royal Caribbean Cruises?
Here are some sample menus of the wine, cocktails and beer menus, this will give you an idea whether purchasing a drinks package will be a good option for you. All the types of drinks packages are described below and the prices are from our cruise on the Anthem of the Seas cruise in July 2021.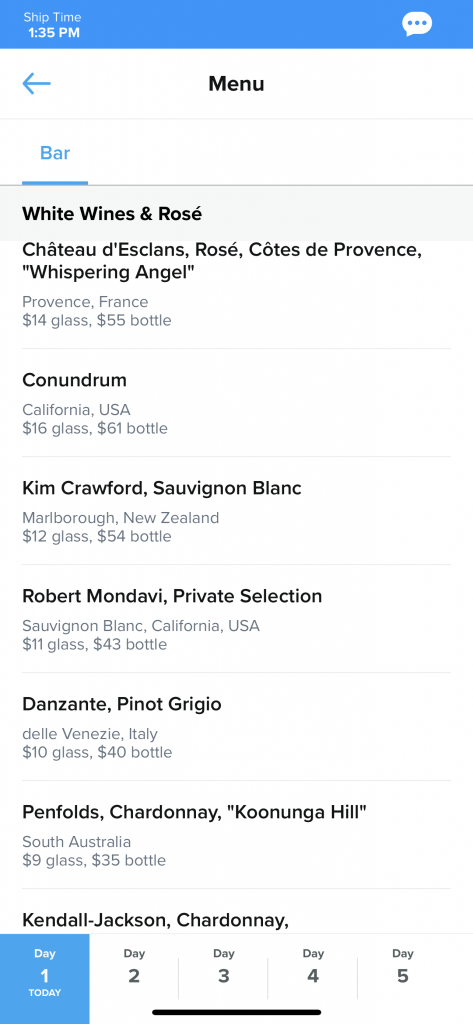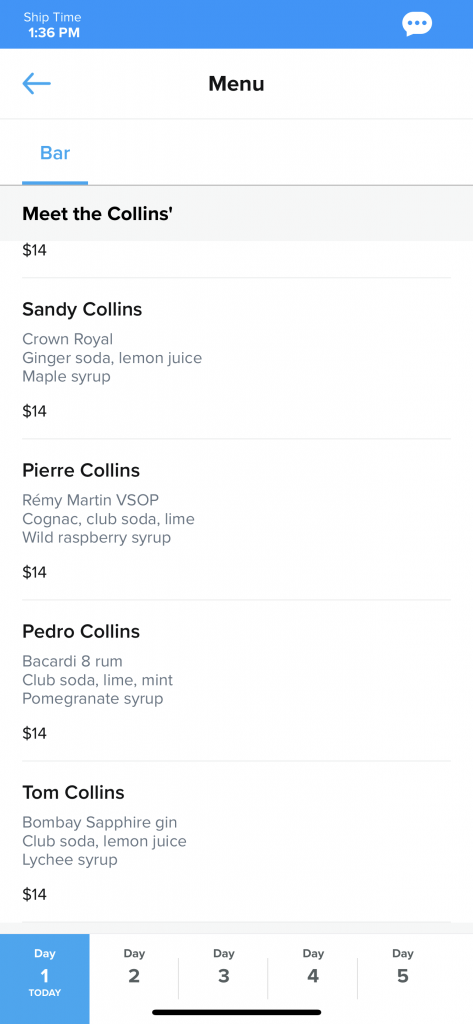 Royal Caribbean Drinks Packages Prices
There are non alcoholic and alcoholic drink packages available, so lets start with the non alcoholic.
Refreshment Drinks Package

currently USD 29.00 – USD 38.00/per day
This includes premium coffee, premium tea, bottled water, sparkling (375ml) or still (500ml) water, fresh squeezed juice, non-alcoholic cocktails and fountain soda with a souvenir cup.
Does it save you money?
You can get free coffee and tea at the Promenade cafe, in your stateroom, and in the buffet restaurants. You can also get glasses of water in the Promenade cafe. However, if you love your specialist coffee and tea, and drink bottled water then it could be worth it.
Classic Soft Drinks Package costs $13- $15 per day
This covers all the fountain (draft) soft drinks and refills.
Does it save you money?
Soft drinks costs between $2-$4 so we think this is great value for both adults who don't drink alcohol and also for the kids.
Deluxe Drinks Package – costs USD 63.00 – USD 89.00/per day
This drinks package includes beer, wine by the glass up to $12, non-Alcoholic cocktails and fountain soda with a souvenir cup. In addition to this it includes premium cocktails, frozen cocktails, premium wines by the glass, bottled water still (500ml) and spirits. Cocktail prices are $8-$14 and Wine prices are $9-$20. See above example menus.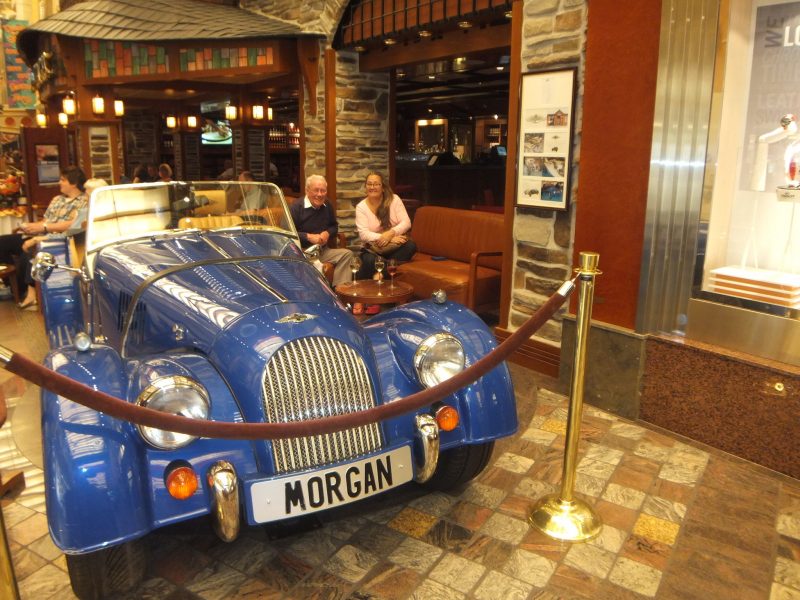 Does it save you money?
If you were only drinking alcohol you would need to drink 5 cocktails, 7 beers, or 5 glasses of wine throughout the day and night. However, again when you combine the soft drinks and bottles of water it really is value for money.
This is the drinks package that we purchased and found that it did save us money. We know this as we have written down exactly what we have drank during our cruises. This will tell you two things, one are you getting value for money and two are you drinking too much?!  It has also been a great way to try different brands we have not tried before like Grey Goose, or Knob Creek Bourbon and obviously it's a great way to try all the different cocktails that are on offer.



How can I purchase a drinks package?
You can pre book your drinks package or purchase one on board, see opening statement. When you have purchased a package it will show on your Sea Pass and then there is no need to sign for each drink.
We advise that you do check your accounts on your stateroom television to make sure no extras have been added. On one of our cruise's our Dads kept getting charged for their Boddingtons which was included in the drinks package, this was easily rectified by the guest relations desk, but potentially could of been missed.
You will be charged extra for anything you use out of your minibar in your stateroom, so we would advise to get bottles of water that were included in the package and put them in the fridge.
Do be aware that the rules stipulate that both persons sharing a cabin have to have the same package. The only exception to this is if one of the passengers have a medical condition that needs to be covered by a letter from your Doctor.




Some passengers bulk at the price tag when you paying up front rather than individually. It can be painful paying a couple of hundred dollars for drinks before your cruise starts, but once you have paid you have the luxury of ordering drinks at bars without having to worry about the bill at the end.
We have also heard that passengers feel that they might not get good service if they have a drinks package, we have never experienced this as the service has always been excellent.
We are already planning our next cruise, including a drinks package and hope that you have found this useful in planning and budgeting yours!
Further Reading – 
To compare this package to the other cruise companies, do read our these posts here –
Cunard Drinks Prices and Packages
Royal Caribbean Drinks Prices and Packages
Marella Drinks Prices and Packages
Virgin Voyages Drinks Packages
P&O Bar Prices and Drinks Packages – All You Need To Know!
Princess Plus package – What is included and is it worth it?
Do read our other cruise related posts here
Useful Links –
Planning a land based holiday, flights, bucket list trip, cruise or honeymoon then we recommend using Dan Hammond of GoCruise&Travel who you can be contacted here by email – dan@gocruise.uk.com and telephone 01622 891895
He has found us some great deals and using a travel agent takes all the anxiety away of booking and coordinating complicated itineraries.
Find our favourite travel, cruise and motorhome accessories in our Amazon Shop.
Browse and book your Marella Cruise here.
Book your hotels with Booking.com.
Get answers to any of your travel or cruise related questions
Follow us on Instagram and send a message or Like and comment on our Facebook Page
and find us on Twitter here too.
You can also sign up for our newsletter by completing the box on our home page.
We are an Amazon Affiliate and this post contains affiliate links which means we may receive a commission if you click a link. While clicking these links won't cost you any extra money, they will help us keep this site up and running!
Pin for Future Reference!
For more information do visit the
Back to Home Page