Koh Samui Hotels – Our Recommendations
Picking the right hotel for your holidays can be challenging, and often a gamble. Here we have put together a comprehensive guide on our top picks for Koh Samui Hotels.
We will take you around the island starting in one of favourite resort areas Lamai. Situated on the east of the island it is a lively resort with a great beach.
Koh Samui Hotels in the centre of Lamai
The Weekender Resort
The Weekender resort is in an excellent location. One end of the resort is directly on the beach and the other end is on the main Lamai street. The infinity pool is lovely, large size with separate children's pool but you did need to get there early if you wanted to secure a sunbed, Our room was large and really comfortable and our stay included breakfast which was very good too. The WiFi was not great in our room but ok near reception.
Here we show you the around grounds, pools and beach, it really is a very good choice. Check current prices and book your stay at the Weekender Resort here.
Lamai Wanta Beach Resort
Another hotel in a perfect location, situated right on the beach. The Lamai Wanta has a lovely infinity pool and is only about 3 minutes walk to the main street in Lamai.  We have stayed here twice now the rooms have always been spacious and clean with lots of free water provided daily.
Basic Breakfast is included and the restaurant also offers a selection of thai and European food available throughout the day. We ate here and it was very good, but as with all hotels it was a lot more expensive than the restaurants you will find in Lamai.
The WiFi in our room was very patchy but our WiFi Extender did help. So if you need to upload videos and want to stream then the service may not be good enough, however it was much better in the reception area. This wasn't a huge problem for us but it could be if you are staying here for business. 
Come and have a look around the resort, check prices and book your stay here.
Holiday Park Hotel
The Holiday Park is another hotel in the heart of Lamai, however, it is a very basic budget option. The hotel is right in the middle of all the action and within a 5 minute walk of the beach.
Here we show you how to find it on the main road, a look around the pool and our classic room. You can check prices and book your stay at the Holiday Park Hotel here.
Amenity Apartal
We wanted to include it as two of our friends stayed here and we were given the chance to look around. They really enjoyed their stay and would thoroughly recommend it, and we would happily stay here too.
Situated at the quieter end of Lamai and ideally situated for the Sunday night market, it is still within walking distance of the beach. The rooms are very spacious and comfortable with excellent WiFi. The pool was quite small and was mostly in the shade, so if you are a sun worshipper this hotel may not be for you!
You can check prices and book your stay at the Amenity Apartel here.
Koh Samui Hotels on the outskirts of Lamai
Chaulty Towers
We have stayed here twice and is a really good choice if you have a tight budget and don't mind a bit if walking. It takes about 20 minutes walk to the main road in Lamai, however the owner Steve will always give you a lift if he is available.
The hotel only has 6 rooms with a small pool but its a great place to stay if there's a group of you, there is a honesty bar, they do an excellent english breakfast.
You can check prices and book your stay at Chaulty Towers here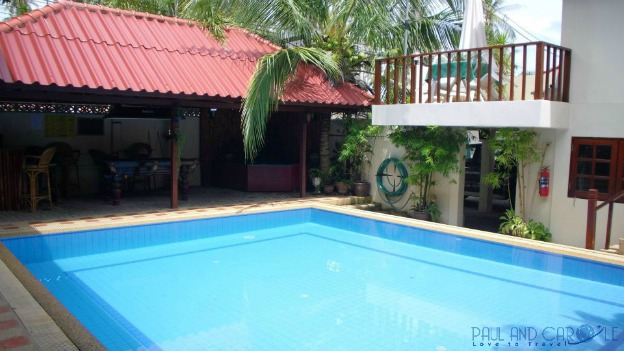 Koh Samui Hotels Chaweng Noi
Baan Sukreep Resort
We have now stayed at Baan Sukreep Resort twice and the second time we took 13 of our friends!
Found just off the main road between Chaweng and Lamai in Chaweng Noi, a single track road through coconut groves leads you the 500 metres to Baan Sukreep. If your lucky you'll get to see the buffalo that are often seen wandering around amongst the trees, and once through the entrance you feel like your in your own private little rain forest.
A bar restaurant and reception can be found just inside on your left right next to the ample sized pool, the accommodation comes in the form of  small bungalows all of which have balconies. Rooms are fairly basic but still have air conditioning, a safe and a fridge.
Only a ten minute walk and you reach Chaweng Noi beach where there are a few nice restaurants and a couple of bars and this is a lovely place to get a meal as the sun goes down,  Only a ten minute taxi drive will get to the centre of Chaweng or twenty minutes will get you to Lamai so your never to far away from some nightlife. Baan Sukreep is a great choice if you want to be close to a lovely beach and night life is just a short ride away.
Read our full review here and check prices and book your stay at the Baan Sukreep Resort here
Koh Samui Hotels on the west side of the Island
Baan Sijan Villa Resort
We have now stayed at the Baan Sijan Villa Resort 5 times, it is a perfect piece of paradise on the quieter side of the island. A five minute drive from Nathon the capital of Koh Samui nestled on the side of a small hill in between two coconut groves this place really is a thing of beauty.
Set over three floors with just six rooms this boutique hotel really is exclusive but very affordable. The large comfortable rooms all have massive bathrooms, and air conditioning. An indoor pool and a large bar area with a pool table awaits you for your entertainment if you fancy a quiet day or night in, there is also a gym and sauna in the basement, and an outdoor BBQ area where cooking lessons can also be arranged.
Janya the owner and her staff are great, they always have a smile on there face and there is nothing that is two much trouble, If your lucky as we have been you may get to see the trained monkeys picking coconuts for there owners which really was a sight to see, A great place to stay as a couple or a group but it is quiet and even though Nathon is just down the road it is more of a shopping town than a party place. For more information and booking read our full review here.
Koh Samui Hotels on the North of the Island
Honey Tara Suites, Plai Liam
This hotel can be found off the beaten track but still only a five minute drive from Big Buddha and 10 minutes away from Choeng Mon and using Navigo an uber type taxi service was so easy.
If offers really big rooms, a kitchenette area with a large fridge freezer, cooker and microwave. Facilities to make your breakfast as there isn't any food available at the resort, though there are a few excellent restaurants and a 7:11 within walking distance. By reception there is a large bar area with a pool table which is run by very friendly staff and next to this is the pool area which was excellent, It is very rural here and there are chickens roaming freely around the gardens but we thought that added to its charm. There also is a lovely dog called Buddy who loved a bit of attention.
As mentioned above there are some facilities within walking distance and one being Mama Dang's where Paul says has the best tempura prawns he has ever tasted , Choeng Mon beach is only a short drive away and during the day the hotel provides a free shuttle to their sister hotel situated right on Chong mon beach. We really liked the Samui Honey Suites and would definitely return for hopefully a long term stay.
To check current prices and book your stay at the Samui Honey Suites click here.
Koh Samui Hotels – Fisherman's Village
Enjoy Hotel
Situated right in the heart of Fishermen's village this 3 star accommodation is right on the beach. The bar reception area looks straight out to the ocean with seating available on the beach for your morning coffee.
The room itself was up a very steep staircase and if you had any mobility issues this would definitely be a problem. However when you get there, it is a good size with a large comfortable bed, tea and coffee facilities and a massive fridge. A safe is present but for some strange reason this was under a shelf on the floor which meant you had to get on your hands and knees! We were very happy with this room however do note that this hotel does not have a pool.
It is a great place to stay in Fishermans village which is a great area full of excellent restaurants and bars. It is more expensive than other parts of the island, but great to spend a few days. If you do choose Enjoy Hotel make sure you stay over a Friday night as that is when the famous night market happens.
Check prices and book your stay at the Enjoy Beach Hotel here.
Koh Samui Hotels Bophut
Secret Garden Beach Resort
Situated on Bangrak Beach The Secret Garden Beach Resort offers 14 rooms around a central pool and restaurant area. Individual bungalows wined down to the beach where there is a ample amount of sunbeds, if the sea is not your thing then you'll love the round pool situated right in the centre of the property. The bar and restaurant is very popular and the food here really is excellent. Each day they have a different special offer, our favourite was all you can eat ribs on a Thursday, and on a Sunday they have a band jam where local and international acts perform throughout the evening accompanied by an all you can eat Thai buffet. This is a great resort with easy reach of other bars and restaurants in Bangrak.
You can check prices and book your stay at the Secret Garden here
Koh Samui Hotels in Choeng Mon
Samui Mekkala Hotel
We stayed at the Samui Mekkala Hotel, situated just five minutes walk from Choeng Mon beach. We chose this hotel as it had pool access rooms at a reasonable price. The large traditionally decorated room had a massive bathroom that included a bath, and as mentioned before access to a large patio and pool.
Clean and comfortable with good WiFi it's ideally located for exploring Choeng Mon. To check prices and book your stay at the Samui Mekkala click here.
We hope you have found our hotel recommendations useful. If you have any hotels you would recommend please do let us know in the comments below.
Pin it!
Let's get social!
This post does contain affiliate links, which means we may receive a commission if you click a link. While clicking these links won't cost you any extra money, they will help us keep this site up and running.