Marella Discovery Cruise Review – Seeking the Northern Lights
Our Marella Discovery Cruise Review explains exactly what it is like to cruise with Marella. We joined the Marella Discovery Cruise Ship in Southampton for a 14 night cruise to Norway.
The cruise was called Seeking the Northern Lights and during this time we kept our Marella Discovery cruise diary. There is still a misconception about cruising and we want to show what cruising on the Marella Discovery is all about. Our diaries include daily activities, dining, entertainment, service and port reviews. It will give you a good idea of why we choose to cruise and details of what to expect if you are planning a cruise with Marella.
Book your Marella Cruise here (Affiliate Link)
Day 1 Marella Discovery Cruise Review – Embarkation and our first impressions.
We arrived in Southampton and after a very efficient embarkation we were on the ship. We had booked an outside cabin so headed straight there to explore our home for the next 14 days. We were not disappointed a decent size cabin with a picture window and everything we could need plus a bottle of bubbly and a bowl of fruit, thank you Marella!




The obligatory boat drill was hassle free and we were then free to explore the ship. Hungry as always we headed to deck 9 to the Snack Shack and feasted on some fish, chips and chicken wings.
Sail away from Southampton was at 4pm so we headed to the pool area where the house band B12 were performing, a talented band that certainly had the pool deck rocking! Our cruise is all inclusive so after a few beverages and being entertained by a very talented vocalist and pianist Dante we decided it was time to eat again.
There are no set times for dining you can go when you like. We requested a table for 4 as we are cruising with Paul's Dad and Sister and were given a bleep to let us know when a table would be free. Within 10 minutes we were sat in the stunning 47° Restaurant and the dinner was superb. Brioche and herb crusted brie followed by some succulent roasted iberico pork went down a treat!
The welcome show in the Broadway Show Lounge was called Hello Mr Wonderful and an introduction to the show team. Well what can we say but just WOW! A very talented team indeed!
After more live music and a bop around the dance floor in the Venue we headed back to deck 2 and our cabin. After a cup of tea and the chocolates left on our pillows we enjoyed a very comfortable nights sleep!
Day 2 Marella Discovery Cruise Review – First day at Sea
After a leisurely lie in our very comfortable bed we ventured out of our cabin at just after 10. Every evening your cruise news is delivered to your cabin. Full of all the activities going on around the ship it helps to plan your day. There was plenty going on around the ship, an operatic singer in the atrium, a Cha Cha Cha class which we unfortunately missed, a health and vitality lecture and also some port excursion chats.
We missed breakfast but had an excellent lunch in the 47° Restaurant. Our scotch egg with black pudding starter, sausage and mash and the discovery burger went down very well. Nearly declining pudding but a last minute change of heart resorted in Paul having the best chocolate eclair he has had in the last 54 years! My berry bread and butter pudding with vanilla cream was pretty special too!
We found some seats in a prime position in the stunning atrium which are hard to come by and enjoyed a few cocktails as we sailed through the north sea. We can highly recommend the Mud slide, Mojitos and the Banana Banshee!
It was Dress to Impress night and we were introduced to the Captain and his officers. The entertainment before the captain was two operatic singers called Braximusic and they were joined by Amy and Roland the resident dancers and the combination was just breathtaking. It was an emotional moment that we are sure the 4 of us will never forget!
We headed back to the cabin for a freshen up, we popped our glad rags on and went for our evening meal. Starting with a delicious french onion soup and prawn cocktail, followed by a succulent herb crusted Beef Wellington which could of been a worthy winner on Masterchef! Absolutely delicious.
Following dinner the entertainment in the Broadway lounge was a show called the Best of Broadway. Full of musical classics, the show was brilliant ending with our favourite theatre show of all the Lion King!
After a very smooth journey in the north sea during the day the weather certainly picked up and it was amusing trying to walk in a straight line and watching others attempting to do that too. It was definitely the sway of the ship and not the Jack Daniels and Coke or the Sauvignion Blanc!
We finished our evening listening to the excellent house band B12 and chatting to Gavin the cruise director and his team. This is such a friendly ship with such a chilled atmosphere we really do feel at home.
We really enjoyed our first day at sea and retired to our cabin very contented indeed. Next stop Bergen!
Pin for future reference!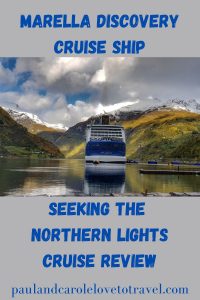 Day 3 Marella Discovery Cruise Review – Bergen
I got up really early to watch the sunrise and sail into Bergen, Paul was still snoring so I left him there to get his beauty sleep. Bit of a dreary day raining or spitting as we would call it on our sail in to Bergen. By the time we docked the rain had stopped and there were glimpses of blue sky. Considering it rains 235 days of the year in Bergen we were so lucky as the sun did come out!
It is a good 15 minute walk into Bergen and we were looking for the Funicular. Easy to find we were soon paying our 50 Norwegian krona (about £5) and hurtling up the side of the mountain. We arrived at the top and the views were amazing! Instead of getting the funicular back down we decided to walk, there were easy signs to follow but it is a very steep long 3km walk. We reached the bottom with very sore legs and bums and headed back to the ship just as the rain was starting again!
Hungry as usual we went straight to the Islands Buffet and consumed a good portion of Steak and Kidney Pie and Roast Pork, very tasty! This restaurant is on deck 9 and has fabulous views at the front of the ship.
After our overindulgence of exercise and fresh air there was only one thing to do and that was to have a nap! Feeling refreshed after our afternoon snooze we got ready for the evenings entertainment.We were invited to dinner with the General Manager Demetris and Social Hostess Claudia and before we knew it 3 hours had passed. Seafood terrain and gnocci followed by leg of lamb was superb and desert was the best strawberry Pavlova. It was a fun evening full of lots of banter and Demetris and Claudia were certainly the perfect hosts.
The comedian and magician Andre performed in the Broadway lounge this evening and he had us in hysterics. Old school humour with some fantastic magic thrown in for good measure, a really enjoyable show.
Next stop was the Live Room where we watched Venus and the boys from B12 join up with Dante, Taylor-made and Vernal for Band Jam. It was brilliant! If you love music then you will definitely love the Marella Discovery!
So our sensible heads said it was time for bed but instead we found ourselves walking towards the Bar 11 Disco. Excellent service from Sachin, lots of dancing and a fun time was had by all with Gavin and his entertainments team. We then managed to take our very tired legs off to bed!
Day 4 Marella Discovery Cruise Review – Flam
Our alarm went off at 0600 to watch the sail in to Flam. It was still dark so we decided to carry on snoozing. When we did eventually get out of bed our legs were still malfunctioning from our 3km walk down the mountain in Bergen. Once we got them moving we went and explored Flam. We have been to Flam twice before but we were still in awe of the fabulous views as soon as we came out onto the decks.
Our wander in Flam didn't take long as its very small. It actually looks like a model village and it is here that you can join the famous railway. This trip is supposed to be spectacular but with my problem with heights we unfortunately haven't done it. Last time I was in transport up a mountain it was in a bus and I started to panic, I had to sit in the aisle on the floor so I couldn't see out. I didn't want to repeat that and make a fool of myself on the train!
It was a lovely walk, there are a couple of restaurants and shops selling souvenirs but as with most things in Norway is certainly not cheap!
Back on board we wrapped up warm and headed to deck 9 and the pool area. Sail away was at 5pm and Braximusic were performing. They are an operatic duo who are just superb. Their voices and the dramatic scenery of the Fjords made for a very special and emotional sail away from Flam.
Back in the warmth of the Atrium we watched Roland and Amy the excellent resident dancers host their Passion for Dance session which always fills the dance floor. We haven't been brave enough to get up as yet but maybe tomorrow!
Time for dinner in 47°, we requested our favourite table 145 and were given a bleep, 20 minutes later we were in the restaurant. We chose the twice baked cheese souffle and pulled pork salad with thai spices, the aberdeen angus rib eye followed by an indulgent chocolate lava cake. Another superb meal was had by all!
In the Live room tonight was the band Taylor-made. From rock and roll to New Order they certainly have a very different and excellent set. Feeling quite sleepy after a few late nights we decided to retire early.
Captain Hugh had mentioned it would get a bit rocky and he wasn't wrong at all. About 10 pm we started to feel a little movement and by 1030 pm as we came out of the Fjord into the north sea we were again having difficulty walking in a straight line! Off to bed we went and we were definitely rocked to sleep!
Tomorrow we are arriving in Hellyslt and Gerainger two places we have not been before and the alarm is set for 7am.



Day 5 Marella Discovery Cruise Review – Helleyslt and Geiranger
We had a disturbed nights sleep due to the weather in the north sea rather gusty to say the least! At one point I looked out of the window and immediately wish I hadn't as the dark and the swell looked pretty scary so I reverted to hiding under the sheets!
Eventually got some sleep and it didn't seem 5 minutes before the alarm went off. Still dark at 730 we got up as we didn't want to miss sailing in to Helleyslt. Drizzly rain and a very icy keen wind met us on the deck so we only managed to last a couple of minutes before we retreated to the Islands breakfast buffet. With tremendous views we enjoyed a hearty cooked breakfast and a cup of Yorkshire tea.
Sailing into Helleyslt the rain began but the deck 4 promenade is a perfect spot to admire the views as it so sheltered. We briefly stopped here only to let some passengers off for an excursion and we were quickly back on our way to Geiranger.
In Geiranger the ship docks in the middle of the Fjord and a large sea walk electronically reaches out to join the ship. It was fascinating to watch and passengers can then just walk straight into Geiranger rather than being tendered. While we were waiting for permission to leave the ship we enjoyed a hot coffee and Bailey's now that is a great combination!
Paul and I got off as soon as we could to explore this new port for us and we were not disappointed. Surrounded by snow capped mountains this Fjord is just stunning.
We were greeted by a huge troll where we had the obligatory photo and walked to the information centre. Here we found a free WiFi spot so we took advantage of that. The WiFi on the ship has been excellent except when you get deep into the Fjords it is very difficult to get any signal at all.
Geiranger doesn't take long to explore by foot unless you want to walk right up to the view point but we were satisfied with the amazing views from here. A few restaurants and shops were dotted around and electric bikes for hire too. We really enjoyed our visit here and can see why it is on a lot of cruisers bucket lists.Back on the ship we had a spot of lunch and because of our bumpy night and lack of sleep we decided to have a little afternoon nap.
We were asked earlier by the lovely social hostess Claudia 'Would you like to visit the bridge as we sail out of Gerainger?' Now we had to think about that for exactly one second and obviously jumped at the chance. We were escorted to the bridge and met by Captain Hugh and the pilot.
Such a fascinating experience chatting to them both as we sailed past the seven sisters waterfalls and also past the King and Queen of Norway's holiday home. This was definitely one of our best ever experiences and Paul even got to have 3 blasts of the horn!
We decided to have dinner in the buffet tonight for a change as there was a Thai food station and it was very good. If you didn't fancy that roast beef and yorkshire pudding was available too.
The entertainment tonight in the Broadway Show Lounge was a show called Radio Ga Ga. We decided to sit right at the front and what a good decision that was. Taking us through the history of 80's music it was brilliant.
The fabulous show team were joined by Amy and Roland who are both exceptional dancers and are just a joy to watch. The outfits and wigs did make us laugh and definitely took us back to our youth!
The Live Room seems to be our regular late night haunt and first up were the band Taylor-made. Lead by the fantastic lead vocalist Nicole they do unusual covers and its the first time we heard a band cover 99 red balloons!
Dante the talented pianist did a country and western set that was great for a sing along. We finished the night off on the dance floor with the excellent party band B12. A late night or should we say a rather early morning nibble of chicken wings and a burger was had in the Glasshouse before we tottered off to bed.
Day 6 Marella Discovery Cruise Review and Molde
After a very leisurely lie in we woke up to persistent rain in Molde. Walking out on to the deck we were not greeted with the gorgeous views that we had been used to in the Fjords but a very large town. Docked right in the centre, Molde was within easy reach, however the rain was so heavy that within 5 minutes we were soaked. Sadly we decided to stay on board.
Lunch in the 47 restaurant included a different version of welsh rarebit, delicious fish pie and a very artistic choix pastry swan!
Their are activities all around the ship so we decided to join in the fun. First we participated in the Daily Trivia Quiz and did not do very well, however after a very entertaining live Catch Phrase we were on Natalies team and won by 10 points!
Sampling a few cocktails from the all inclusive menu and must say the mango and pineapple daiquiries and cherry rum fizz went down well. We have the premium all inclusive package but there is also plenty of options on the standard all inclusive. We will do a video when we get home showing you exactly what is the difference for our You Tube Channel so you will be able to see if upgrading is worth it for you.
More games continued with the Chart Quiz, and we were so close to winning the exclusive Marella Luggage Strap but came second! Paul is really competitive and determined to take one of those home!
We decided to have dinner in the Italian restaurant on deck 5. It is the upper level of the 47° Restaurant and even though it is a speciality restaurant, it is included in the price. The mushroom starter was devine and the lasagne and spaghetti carbonara were excellent. After all that pasta we unfortunately didn't have room for pudding!
Tonight's show was Starry, Starry Night, we got our front row seats and really enjoyed an emotional performance by the show team. Fabulous acting and singing ending with a brilliant Can Can!




Gavin the cruise director explained that we were now in the 5 day window where we could see the Northern Lights and if spotted Captain Hugh would announce it if they appeared.
We caught the end of B12's set which was excellent as always and then watched the Spies Like Us game show which was very entertaining with Paul participating too!
Half way through this show Captain Hugh announced that the Northern Lights had appeared on the Port side of the ship, we have never seem so many people move at once! Within seconds the lounge had emptied and we were all trying to get on deck it was a real bun fight. By the time we got through the crowds only a tiny wisp was left and it was evident that we had missed it! We need a better plan for the next time.
Off to bed after a really fun day on this fabulous ship. We have a day at sea tomorrow before we reach Tromso.
Day 7 Marella Discovery Cruise Review – Day At Sea
Opening the curtains in our cabin we were met with the sun rising over the water and an announcement from Gavin the Cruise Director informed us that we had just entered the Arctic Circle! We headed up onto the deck and it was surprisingly warm considering we were so far north. We were chuffed to bits with our official certificate, it did cost £4.95 but worth every penny!
We are a day at sea today and had noticed that Braximusic the very talented classical singers Brandy and Max were holding a singing lesson in the Venue and Paul's family love to sing. Paul's Dad joined the class and the Marella Discovery choir was formed. With some more practices and a performance in front of the passengers planned John had a great time.
As we had missed breakfast again we went to the Islands buffet. We have been impressed with the buffet so much choice and the food always piping hot. While we were sat there everyone started pointing out of the window at this incredible rainbow rising out of the sea.
Back to Venue we joined in with Roland and Amy in their afternoon tea dance and learnt the basic swing steps. We came away with no broken toes so that was a plus!
As repeat cruisers with Marella Cruises we were invited to the Captains Party unfortunately the Captain was full of cold so the party was hosted by Gavin who as always was very amusing. We enjoyed some canapes and bubbly before dinner in Restaurant 47° at our favourite table 145. Excellent service and fun banter with our waiters Dara and Christian accompanied a lovely menu of Tom Yam Gai soup, succulent turkey and a delicious chocolate walnut and bourbon pie.
As we were walking through the Atrium Amy and Roland were hosting their Passion for Dance. Before I knew it I was being waltzed around the dance floor with Roland. Not hugely experienced at waltzing Roland took the lead superbly and for a few brief moments I felt like I was on strictly!




The entertainment this evening started off with a show that was all about the history of Festivals. As we had only got tickets for Glastonbury 2019 last week it was right up our street. Tributes to Bowie, the Who, Queen and Beyonce amongst others were superb.
Off to the Live Room where B2 two members of the band B12 gave a superb set followed by William who is a very talented guitarist. Aaron the deputy cruise director then performed a tribute to Micheal Buble, showcasing a fantastic voice as he belted out all of his hits.
Taylor-made then came on and had the whole dance floor rocking and we finished the evening at Bar 11 for a boogie before retiring to bed.
We have had a smooth sailing from Molde through the north sea into the Arctic Circle and we are looking forward to exploring Tromso tomorrow.
Day 8 Marella Discovery Cruise Review and Tromso
Opening our curtains this morning we had a wonderful view of Tromso and the famous church that some say looks similar to the Sydney Opera house.
The ship docks in a very industrial area of the city and a shuttle bus is provided for passengers at a cost of £9 return. You can walk it in about 50 minutes apparently but wouldn't fancy that as the roads are very busy. We chose the shuttle which takes you straight into town from the port. Interestingly when we were talking to other passengers they were saying about the underground double roundabout and how funny it was but our shuttle bus did not take this route. Maybe it depends on the traffic but we feel that we may have missed out on that!
Tromso looks a great place to stay and looks like it could be good fun at night too. We resisted the reindeer burger and had a wander and admired the views.
The weather has been mostly kind to us on this trip considering we are in the Arctic Circle and today it is surprisingly warm again!
After a couple of hours we jumped back on the shuttle and went straight to the Islands Buffet for Afternoon Tea. We enjoyed some cucumber sandwiches and a selection of cakes then headed back to our cabin for our power nap!
Sail away was delayed until 7 so we decided to have dinner in Islands as it has great views over the bow of the ship.
Passion for Dance happens most days with the professional dancers Amy and Roland. We were enjoying a drink and watching the dancing when Amy and Roland announced the next dance would be a jive. Before we knew it we were both whisked onto the floor and had our first jive being partnered with the professionals. Using the basic swing steps we had learnt the other day in their dance class it was brilliant fun and we both felt pretty chuffed that we hadn't made complete fools of ourselves. Another waltz with Roland followed with some new steps added.
The show tonight was Steel City a version of the Full Monty and taking our front row seats they had us in hysterics. Excellent performances by the show team it really was a superb. Interestingly talking to Gavin the Cruise Director, he explained that the show team spend 3 months together in Yorkshire before they even step on a ship, and you can see that all their hard work has definitely paid off!




Following the show we found a seat in the Live Room and listened to Alex from the show team take us on a journey through the genres and some more great party songs with Taylor-made.
We were told that tonight there was a good chance of the Northern Lights appearing between midnight and 0300. We wrapped up warm and headed to deck 10. It was pretty magical to see the green hues and shapes of the lights going right over the top of the ship. Hard to capture on camera with mainly black screens we did manage to get a couple of ok shots but the pictures just do not do it justice.
We can't take credit for this photo as ours were all poor, however Danielle who is training to be the Hotel Manager has given us permission to use hers.
Contented that we ticked had off another bucket list item we headed off to bed!
Day 9 Cruise Diary – Marella Discovery Cruise Review and Honningsvag
We made breakfast and enjoyed a hearty meal of bacon, sausage, beans, hashbrowns and tomatoes, a great start to the day.
Up on deck 10 we saw our first views of Honningsvag and it was stunning. The sun was shining and the back drop of the mountains made for some fabulous photos. We watched the ship Nordlys one of the Hurtigruten fleet sail in and dock not far from us.
Honningsvag is a fishing port surrounded by mountains and is the gateway to the North Cape. There was very little here that seemed to be open but it is definitely a photographers paradise, as you can see from our video here.
We really enjoyed our wander, the sun was shining but this was the first time we felt the icy arctic wind. After a couple of hours we returned to the ship to warm up and just in time for afternoon tea. We enjoyed a cuppa and hot sausage rolls whilst admiring the views out of the Island Buffets huge windows.
Next stop was a Samba class with Roland and Amy in the Venue. Another fun class and we found muscles that we didn't know we had!
The atrium is the stunning centre of the ship and here we enjoyed some pre dinner drinks whilst listening to Vernal a very talented saxophonist.
Tonight in the Broadway lounge was the Putting on the Glitz Show with a virtual Anton Du Beke from Strictly Come Dancing on the stage with the show team. Including Roland and Amy it was just brilliant the only word to use is WOW! Sat in the front row the standard of dancing was just breathtaking!
The Show Team never seem to stop and next they were performing a cabaret in the Live Room and the dance floor was packed. B12 finished the live entertainment off in style. Venus the very talented vocalist smile is infectious and it is so lovely to see her interacting with the crowd.
We decided to have one for the road in Bar 11 before bed and so glad we did as the Northern Lights made another spectacular appearance!
Gavin introduced us to the members of the Show Team and what a lovely bunch they are. Really interesting discussing ship life and their passion for performing which they do so very well. Before we knew it Bar 11 was closing up and it was time for bed. Next stop Harstad!
Day 10 Cruise Diary – Marella Discovery Cruise Review and Harstad
After another comfortable nights sleep we had an early lunch in Islands Buffet consisting of a tasty bean soup, cottage pie and beef curry.
We are docked in Harstad today an industrial port with a shuttle bus provided into town for £9 per person. It is a very wet and dreary day here but we still managed some lovely views from the top of the ship. Jumping on the shuttle bus it started pouring with rain.




We arrived in Harstad which didn't look that picturesque and appeared full of high street shops. The rain was now torrential so we decided to stay on the bus! Not the best use of £18 but at least we stayed dry!
Back on the ship we did our video tour of our cabin 2544 we really loved our cabin it was so comfortable and we would of happily stayed here for a month!
We chilled in the cabin for an hour with a cup of coffee and watched Gavin's Cruise Director TV to plan our afternoon and evening.
Live Catch Phrase was excellent as always the banter between the entertainment team was great fun and we were on Martin's winning team! Off to the Venue we joined in with Amy and Roland's Salsa class. We must say our footwork has been the best so far!
We were joint first in the Charts Quiz and lost out on the tie breaker! Did you know there have been 23 members of Boney M over the years? No we didn't either! That Marella strap was within reach and then was snatched away!
After a very wet day we were treated to a stunning sunset sail away, there is something so special about sunsets at sea.
After a few pre dinner drinks in the stunning atrium we decided to go for dinner at the Glasshouse. This is a waiter service Tapas and Pizza restaurant also included in the all inclusive. Starting with tasty sharing meat and cheese boards, 3 tapas of your choice then a delicious thin crust pizza, the food and service was excellent and we will definitely be back!
At 2030 Braximusic the classical singers were the show in the Broadway Lounge. Sensational voices and a really moving performance. The show was so good that when it finished Paul's Dad and Sister refused to move and sat and waited for the second performance to start at 2215!
We decided to go to the Venue to watch the quiz game What's the story? This starred Louis, Sophie and Natalie. Improvisation where the crowd are given remote controls which chooses the direction of the show. This included a lot of adult innuendos and was hilarious.
Captain Hugh had told us that when we sailed out of Harstad towards the Lofeten Islands it would get a bit 'Lumpy'! Well he wasn't wrong. The ship was rocking and it was like walking on a trampoline.
Band Jam was happening in the Live Room a collaboration of the fantastic musicians on board and was excellent. However feeling a bit ropey from the movement of the ship we decided to grab some crackers and cheese and retire to the cabin for a cup of tea. The seas seemed to calm a bit by then and we were rocked steadily to sleep. Next stop Lefknes Lofeten!
Day 11 Cruise Diary – Marella Discovery Cruise Review and the Lofeten Islands
We have again woken up to torrential rain which is a shame as we have an excursion today called the Scenic Drive to Reine.
To prepare ourselves we enjoyed a cooked breakfast in Islands that went down very well. The normal fantastic views from deck 9 looked rugged but unfortunately had been consumed by the rain.
We are tendered for the first time today and waited in the Broadway Show Lounge for our tender. We were soon on our way in a coach and even though the weather was against us we still had a great trip.
Stunning landscape reminded us of the Lord of the Rings films and we couldn't believe some of the beaches that we passed reminded us of Thailand. The Lofeten Islands are pretty spectacular and somewhere we would love to return too. We stopped at a convienience store and treated ourselves to a couple of packs of crisps for £9! We were the last coach back and we boarded the tender and sat patiently and waited for the all clear to get back. With dusk coming and some choppy seas we knew it was going to an interesting ride and it certainly was!
It made our lumpy nights on the ship feel like a walk in the park, it was like a rollercoaster and there was a huge cheer when we eventually safely reached the ship! We spoke to the Captain Hugh later and he told us that it was force 12 and it had been challenging keeping the ship straight whilst waiting for our tender. He was glad when everyone was safely on board so he could sail away!

After a quick change we had dinner in the 47° restaurant. Starting with prawn bisque and pulled lamb followed by Angus beef and yorkshire pudding. Dessert consisted of cherry jubilee and praline pudding all really delicious!

The Legends show was on in the Broadway Lounge taking our front row seats we enjoyed tributes to stars that were no longer with us. Another excellent show with the added bonus of the musicians from B12, Dante and Vernal.

Into the Live room where Gavin did a short stand up routine which was very funny. Freya finished off the night with her cabaret set which just showed that the Live Room is the late place to be.

Once again we stayed up until the early hours and had another fun night on the Marella Discovery!






Day 12 Cruise Diary – Marella Discovery Cruise Review and a day at Sea
Today we had the privilege of going on the behind the scenes ship tour. Starting on the bridge with coffee and questions with Captain Hugh and then a tour around his cabin which we were not expecting, and was good to see where the main man lives!
Next was the Engine room and a very informative chat with the Chief Engineer, it takes 5 tons of fuel per hour to power 3 of the 5 engines sailing at a speed 18 knots!
We were then taken to the galley through the crew quarters and what a maze it is. We were introduced to all the head chefs and and they explained their responsibilities. So much experience ensuring we are so well fed and looked after.
We were shown around the bar area that supplies the Broadway Show Lounge and it is like a military procedure ensuring all pre-show drinks are delivered efficiently. The bars on the ship will pour 6000 pints of lager and get through 3000 bottles of wine during this cruise!
We also visited the provisions area which take delivery on board of 12 huge containers each cruise. It is a massive area with huge walk in fridges that some operate at -20 degrees.
We ended in the restaurant for canapes and bubbly and the opportunity to ask any questions. If you love facts and figures and want an insight on to how cruise ships really work it is definitely the tour for you. We had a great time!
Today was another practice for Braximusic's choir that now have a name the Arctic Circle Choir. John went along and made a speech at the start to express to Braximusic how much he loved music and how much joy it bought to him in being part of this choir. One more practice and they will be performing in the Atrium on the last day.
In the theatre was a play called Cooking with Gus. We were not sure what to expect but it was a hilarious story line of a cooking show intertwined with hypnosis. Natalie, Louis, Sophie and Sohail put on great performances.
Lunch in Islands and we headed straight to the soups which have all been delicious. As it was a day at sea and following our late lunch, we decided to just have a few hours chilling in the cabin.
Dress to Impress night tonight so we put on our best bib and tucker and had dinner in 47°. Starters of duck salad and cheese fondue followed by mains of beef and lamb that were cooked perfectly. We savoured every mouthful of our desserts, creme caramel and baked chocolate mousse!
The show this evening was Tales from the Westside which was a musical based on the classic film West Side Story. A powerful performance which had us in tears. The vocal abilities of this team are so impressive and Alex's Maria was just amazing!
Braximusic were putting on a show in the Atrium called Symphony Rocks. Seats were hard to come by for this performance but we managed to get John on his mobility scooter near the front so he could watch his favourite couple. Well what a show and magical experience. The whole 3 decks of the atrium were packed, the audience loved it and so did the bar staff who joined in the singing and dancing too! Such a fun time.
Back to the Broadway Lounge as it was time for the crew to showcase their talents. An amusing show with varying degrees of talent that went down very well with the audience.
Our last stop of the evening was the Live Room were we caught the last part of the fabulous band B12 who were excellent as usual.
Another day had unfortunately come to the end so we headed back to our cabin for our ritual cup of coffee acompanied by our chocolates left on our pillow! Next stop Stavenger!
Day 13 Marella Discovery Cruise Ship Review and Stavenger
Today we are in Stavanger and the sun is shining! A great cruise port where the ship is docked right in the centre. Lots of cafes with free WiFi and bespoke shops where you can buy your souviners. We walked for a few hours and explored this lovely port which was very easy to do on foot.

Back on the ship we watched the future cruise TV show in our cabin with Daran one of the destinations team and the only Australian on the ship. A lovely bloke who we have had fun banter with. We have had such a great cruise we know we definitely want to cruise with Marella again!
The weather was still dry as we sailed away from Stavanger, mulled wine and the biggest apple pie was bieng served for everyone. It was a real fun sail away and a great party with B12 and Vernal playing. Sadly our last and also the last sail away for the staff as their season comes to an end too. Following this cruise the ship is off to dry dock in Cadiz for approximately 3 weeks for maintenance and the Venue Lounge is going to be changed into a Squid and Anchor pub.




An early dinner in the Islands Buffet where some more good soups and pasta was consumed. We headed for the Atrium with Amy and Roland's Passion for Dance. I am really going to miss my waltz's with Roland, Paul and I also managed to do a decent Salsa too!
Peter Piper a new comedian had joined the ship today. He had us in stitches with his observational comedy, he was a funny guy!
Next we went to the Venue for Karaoke. Paul, Jan and John all sang which went down very well. To be fair the standard of singing was mostly very high.
Back to the Broadway Lounge for Melodrama with Braximusic and special guests Amy and Roland. It is absolutely brilliant the way they mix operatic classics with rock and pop music, it really is mind blowing. They announced that next year they will be touring the UK so we will definitely be keeping an eye out for that one!
Back in the Live Room B12 had the dance floor packed and we finished our night, well early morning in Bar 11 with some fun banter with Sachin.
Only one more sea day to go until we reach Southampton and we are very sad about that!
Day 14 Marella Discovery Cruise Review – Day At Sea
Another leisurely lie in and then we went straight to the atrium for Captains Corner. A question and answer session which was with Captain Hugh and Gavin the Cruise Director. A very interesting chat giving a history of his career and he also took questions from the passengers.
Following Captains Corner we were treated to a exceptional performance of songs from the shows of Cameron Mackintosh and it was absolutely amazing. It left us speechless and if you know us that doesn't happen very often!
As stowing away was not an option we knew the inevitable and depressing packing of our cases had to be done so we headed back to our cabin
We were invited to meet Demetris the General Manager and Claudia the Social Hostess for drinks in the atrium. They have both made our cruise so special and really lovely people who are a credit to the company. We enjoyed some fun banter before the choir performed.
The Arctic Circle Choir have been formed by the talented duo Braximusic and were up next. Paul's Dad John has been part of the choir and was so looking forward to performing with his 47 choir mates. They performed in the atrium and they sang 3 songs to a packed audience on all 3 decks. Well it went down a treat and the choir got a standing ovation. John was very emotional afterwards and couldn't believe the response the choir got. Braximusic had done a fantastic job. Here is a video of their performance.
Trying to fit dinner in between all the entertainment we popped to Islands for some more excellent soup, smoked tomato and coriander. With mains of beef and ale pie and fish and chips we were fuelled for the rest of the evening.
Straight to the Broadway Lounge for the show Beats Interactive where we took our front row seats. Another excellent show charting the rise of music from stone age to modern times.




We had been told that Captain Hugh would be appearing in the Atrium to dance so we headed back there as soon as the show finished. Captain Hugh appeared and quickly summoned his officers and staff. It was so funny to watch them all dancing some had better rhythm then others but it went down a treat with the crowd, it was top quality entertainment! The dance was finished off in spectacular style by the Captain running across the dance floor and being lifted Dirty Dancing style by his officers we were in hysterics, fair play we have never seen a Captain do that before!
The farewell Cabaret followed from the Show team who bought tears to our eyes again with another stunning performance.
Before we knew it, it was midnight. No late night for us tonight as we have an early disembarkation in the morning and we are very sad about that! This is definitely the saddest photo of our cruise! Next stop is Southampton!
Our verdict of the Marella Discovery Cruise Ship and the Seeking the Northern Lights Cruise Itinerary
We are sadly home and back to work today after a wonderful cruise on the Marella Discovery. This was our 14th cruise and we all agreed it has been the best. The teams on the ships led by the lovely guys Dimitris and Gavin just deliver above and beyond. The service we received from our cabin steward, in the restaurant and bars was second to none and the standard of entertainment was the best we have ever seen at sea.
We didn't get our hands on the elusive baggage strap but what we did get was fantastic memories and new friends made. We knew the Seeking the Northern Lights was going to be a good itinerary and cruise but both exceeded our expectations.
Thank you so much Marella, we are already planning our next Marella Cruise!
We hope you have enjoyed our Marella Discovery Cruise Review and now can make a decision whether a Marella Cruise would be for you!
Check out our Marella Page for more of our cruising experiences and cruise tips and advice!
Book your Marella Cruise here (Affiliate Link)
We also have a video series on our You Tube Channel talking about our experiences too!
Pin it!
Let's get social! Come and follow us on social media –
To follow our journey and get more travelling information and tips, do sign up for our Newsletter here!
This post does contain affiliate links, which means we may receive a commission if you click a link. While clicking these links won't cost you any extra money, they will help us keep this site up and running.