Marella Voyager Stats – What it takes to launch a new cruise ship!
As you may or may not know Carole is a real geek when it comes to facts and figures, so here are some Marella Voyager Stats for you. So let's start with more mainstream facts and figures about Marella Cruises newest ship the Voyager.
The Marella Voyager actually started life in 1997 as the MV Mercury and was later renamed the Celebrity Mercury in 2008. She then joined the TUI fleet in 2011 as Mein Schiff 2 (Mein Shiff is Marella's sister company) and was later renamed Mein Schiff Herz, in 2019. It became Marella Voyager in 2022 becoming the fifth and largest in terms of tonnage in the Marella fleet.
Marella Voyager then spent 11460 dry dock working hours being refurbished in readiness for its maiden voyage on which we sailed, in June 2023.
We cruised on the maiden voyage of the Marella Voyager and you can find more information about our experience on board here.

Marella Voyager Stats and some random facts and figures!
Year built 1997, last refurbished – 2022, Beam (width) 32 metres, length 264 metres, decks 13, lifts 10, restaurants 16, bars 10, cabins 952, passengers 1912, crew  760, tonnage 77,302 GRT, registry Malta.
So here are a few random facts and figures that went in to the Marella Voyager refurbish –
18500 litres of paint were used to revamp the hull of the ship, that's enough to fill a standard sized bath 370 times. 27,000 litres have been used in total through out the ship, as the Captain said in our Marella Voyager Vlogs – that's a lot of trips to B&Q!
6000 metres of technical cabling was installed that's the equivalent of 15 laps of an Olympic running track.
37,600 metres of carpet have been laid that's over 23 miles.
20 tonnes of new catering equipment have been fitted to the Kitchens that's the same weight as 16 Ford Fiesta's.
250 hours have been spent developing the new menus, in that time you could fly from London to Perth 15 times and still have 15 minutes to spare.
The entertainment cast spent a total of 586 hours, or approximately 24 full days learning 12 production shows, in that time you could drive from New York to Los Angeles 13 times.
over 500 bespoke costumes have been designed and created exclusively for the shows, that's the same amount of dresses that Carole packs for a 7 day cruise!

Sign up for our Newsletter
Over 850 individual tracks of instruments have been arranged and recorded for the theatre shows equating to 38,250 minutes of recording time, so if you started at track 1 you wouldn't hear the same song again for over 26 days.
There are a total of 150 new dishes spread across the 17 food venues, 25 per cent of which will feature vegetarian dishes.
This picture is from our experience at the Silver Fork Speciality Restaurant a restaurant unique to Marella Voyager.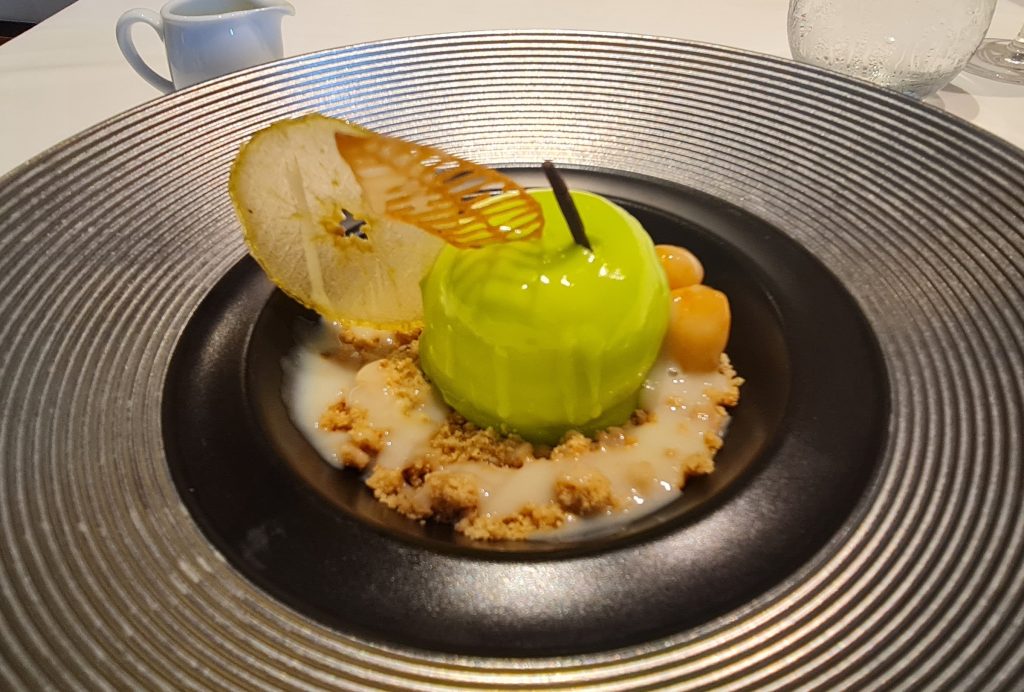 Approximately 14,000 planks of vinyl herringbone pattern flooring have been laid in The Kitchens plus 130 metres of counter worktops.
There are over 11000 new signs, 12500 square metres of tiles and 3000 square metres of wall coverings have been fitted around the ship.
And finally in one of our favourite areas of the ship the Summer House 2300 plants have been mounted to create an indoor plant wall.
So as well as a massive amount of hard work, this is some of the things it takes to get the Marella Voyager cruise ship ready to go into service!
We hope you have enjoyed reading our Marella Voyager Stats post, we cruised on the maiden voyage and have lots of other Marella Voyager information here and our You Tube Channel here.
---
Useful Links
We have lots more Marella and TUI information here
---
Do you want early access to our You Tube Videos, be the first to know when we book a cruise and have access to lots of other perks?
Join our Patreon Community here
Planning a land based holiday, flights, bucket list trip, cruise or honeymoon then we recommend using Dan Hammond of GoCruise&Travel who you can be contacted here by email – dan@gocruise.uk.com and telephone 01622 891895 or just complete our booking form here.
He has found us some great deals and using a travel agent takes all the anxiety away of booking and coordinating complicated itineraries.
---
Find our favourite travel accessories in our Amazon Shop.
Book your hotels with Booking.com.
---
Follow us on Instagram  or Like and comment on our Facebook Page
and find us on Twitter here too.
This post contains affiliate links which means we may receive a commission if you click a link. While clicking these links won't cost you any extra money, they will help us keep this site up and running!