Our Motorhome and Campervan History - Getting Ready to Travel Again!
Lockdown restrictions due to COVID 19 have now thankfully starting to lift, so it's time to get our motorhome out of hibernation to prepare for what's left of the summer.
Motorhomes and Campers have always been a part of my family life from a very young age, the first one I can remember was an ex ambulance my mum and dad converted. It wasn't exactly the lap of luxury but it certainly did the job.
A few more ambulance conversion's followed and once myself and my brother started driving it wasn't long until we both had campers of our own.
My first camper was a Ford Escort MK1 with a pop up elevating roof (I wish I still had it today as it would be worth a fortune) and as with most small campers it was totally impractical but I still loved it. Sadly the one pictured below is not mine but very similar to the one I owned.
Next up was my only non coachbuilt motorhome based on a 1972 mk1 Ford Transit van, the 2000cc V4 engine was quickly replaced by a 3000cc V6 making it very entertaining to drive but also extremely poor on fuel. Steady driving would get you about 12 to the gallon, it's a good job petrol was a lot cheaper in the eighties!
Not the most attractive camper, my friends use to say it looked like a van that delivers pies and pasties to petrol stations, the inside though more than made up for this, who ever converted it had done an excellent job, it was very spacious and practical and even had a shower.
A change of circumstances meant it would be ten years before my next motorhome and Carole's first. A 1980 coachbuilt MK11 Ford Transit 5 berth, it was ideal to give Carole an idea of what spending time away in a camper would be like, she loved it so much she even made a set of curtains for it. It was the slowest vehicle I have ever owned and it leaked like a sieve but it was still enough to give Carole the camper bug.
After 5 years of faithful service from the Transit we decided a motorhome upgrade was in order and as luck should have it a friend of ours had one for sale, A 1991 Fiat Ducato based Autotrail Cheyenne 6 with a 1.9 turbo diesel engine. We loved our old transit but this in comparison was like a palace. A full size shower and our first ever van with a cassette toilet, the amount of storage was amazing and when set up the beds were large and very comfortable, and it even had a heater in the living area.
Performance wise when you got to a hill you could maintain the same speed or even accelerate if you wanted to, not something that we could ever have experienced in the old transit! However, despite all this it didn't have power steering making manoeuvring at low speeds very entertaining. We travelled far and wide in this old girl in the 5 years we owned it, even venturing to France and Southern Ireland without any problems. While writing this post I thought I would do an MOT check to see if its still around and sure enough it's just passed its MOT taking it up to June next year. It's nice to know that someone is still getting good use out of it.
Our next and current motorhome is a Peugeot boxer based Swift Kontiki 640, we ended up with it by accident after a friend asked me (as i am in the motor trade) to find him a campervan. He gave me all of his requirements and after a short time I located the Kontiki, after telling him all about it a deal was agreed.
I purchased the camper and took it home to prepare it for delivery. Then came the phone call, just to let you know we've changed our minds about the camper but thanks for looking. Another life lesson learnt!
So all of a sudden we've got one camper to many, so the logical thing to do was keep the new one and sell the old one and the rest as they say is history, Even though it's only 4 years newer it felt like 20, a powerful 2.5 turbo diesel engine and for the first time ever in our camper history we had power steering!
The amount of storage we now had was unbelievable in comparison to our old vans with two side lockers and stacks of cupboards and drawers and even a good size wardrobe. Its now coming up to 10 years since we bought it and each year we try to to do something to modernise it, recent upgrades have included a new fridge and a full conversion to LED lights, this year we have converted it to a fixed end bed and hope to get a solar panel fitted too. This week I have even treated it to a new set of wheel trims!
We have had some fantastic experiences including 4 visits to Glastonbury festival, and some amazing campsites up and down the country with hopefully many more trips to come.
When Carole retires next year we may well consider an upgrade, so make sure you watch this space!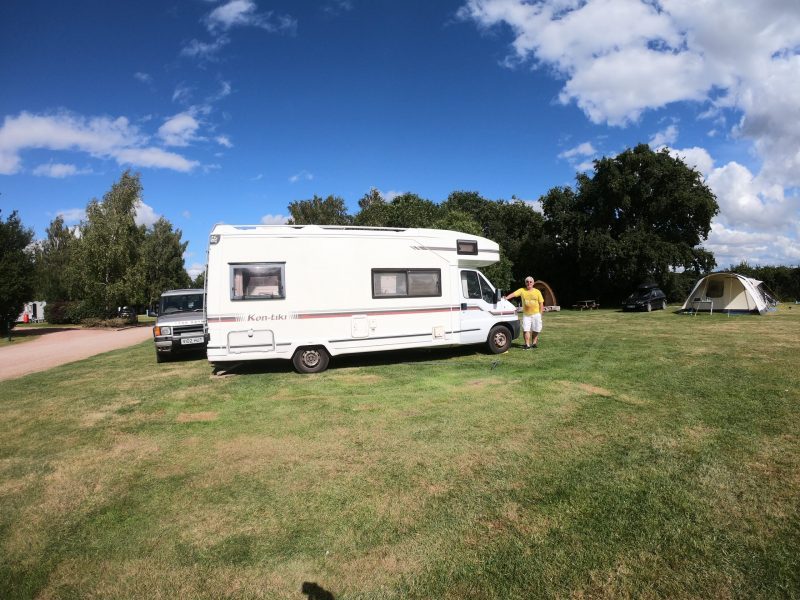 Watch our video here being reunited with our motorhome after a very long lockdown!
RELATED BLOGS
Want to own a Motorhome? Where do you start?
With the challenges of international travel there is a thirst for experiencing Motorhome life. There is so much to consider before you embark on parting with your cash so we...
Read Review