3 days of fun at the Sunshine Festival, Upton Upon Severn
We had been told about the Sunshine Festival by some good friends of ours and decided to give it a try, and we were really glad we did! The festival was held over the August bank holiday weekend, and hosted both internationally renowned stars and great local talent. It is promoted as a family and dog friendly festival and we found this was certainly the case.
In this post we show you the types of acts performing here, facilities at the festival and the area where the festival is held.
History
The Sunshine Festival (formerly called The Upton Festival), is now in it's 6th year. The years have seen the music festival grow from a small venture to a four stage event catering for all tastes. This year there were apparently 6,000 tickets sold compared to 4,500 people last year. It now has 4 stages strategically placed around the arena, a food village and a kids zone. Something for everyone!
Our Musical Highlights
The Wurzels
We had seen the Wurzels before at the Guildhall in Gloucester and had a brilliant night, so were looking forward to their performance. For those of you who are not familiar with the Wurzels they are a famous band from the West Country of England, who have been performing since 1966. You may know some of their hits, Combine Harvester, I am a Cider drinker and Drink up Thy Cider! Two of the original members Tommy Banner and Pete Budd continue to perform. The drummer John Morgan has been with the band since 1981 and was born in Lydney (same place as Carole but a few years earlier!), and Sedge Moore since 2007. You can find out more at Wurzle World.
The Wurzels put on a great show and we were all singing along with Cider in hand, we thoroughly enjoyed their set.
The GT's
They were so good we seen them twice! A Mod, Ska, Soul band from Worcestershire that covered anything from the Small Faces, The Who, and The Jam. Both times we seen them they had the Variety Tent and the Main Stage tent rocking. They were a pleasure to watch as you could see they obviously love performing. They really do put on a great show so if you get the chance to see them do! You can follow their facebook page here.
The Chuckle Brothers
The Chuckle Brothers who are famous for their catchphrase To me To you To me, were performing on the Variety Stage. It was so popular we couldn't even get inside the marquee to watch. However, our cheeky friend Sally White managed to grab their attention in the VIP area and we got a photo, they were lovely and great fun!
ShowaddyWaddy
Performing since 1973 and famous for wearing their teddy boy suits, they still perform approximately 100 times a year. In 2014 Showaddywaddy completed the once in a lifetime arena tour with the Bay City Rollers, David Essex and the Osmonds. Their hits include 3 steps to heaven, heartbeat, under the moon of love and hey rock and roll. We were all up on our feet dancing the afternoon away!
The Real Thing
Formed in 1970 in Liverpool The Real Thing were a real treat. It's amazing how you don't think you can remember their songs but find yourself singing along to every word! They were superb and sang their hits including, You to me are everything, Can't get by without you, and Can you feel the force.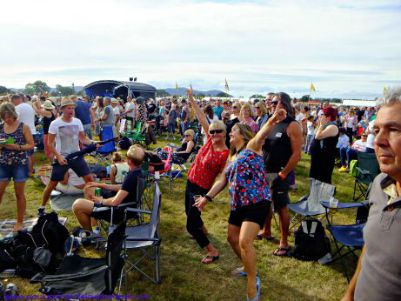 ABC
Formed in 1980, with lead singer Martin Fry, they put an excellent show and he was vocally awesome. ABC are famous for hits Look of Love, When smokey sings and Poison arrow and the arena at the Sunshine Festival was rocking!
Bohemians
We had seen The Bohemians twice before on our cruises with Royal Caribbean and were really excited to see they were on the line up at the Sunshine Festival. They are a Queen tribute band who have been performing since 1996. Paul is a huge Queen fan and will repeatedly tell you of the time he saw Freddie Mercury and Queen at Wembley Stadium in 1986, and thinks they are the best Queen tribute he has ever seen. They really did put on an excellent show!
Chas and Dave
Chas and Dave are famous for performing witty songs about life in London with their cockney vocals. Hits include Snooker looppy, Rabbit and Gertcha.
We had a great singalong to their cheesy tunes!
Gabrielle
Gabrielle showed her stunning vocals and really put on a short but great show. She did come out and meet the crowd after her performance, which was great to see.
UB40
UB40 were the headliners on the Sunday night. What can we say but 37 years on and still as good as ever! They belted out their hits, the atmosphere was amazing and they were a fitting end to a superb 3 days of quality music.
Facilities
We have a Motorhome so did not have to rely on the shower facilities. Opposite us on the general camping field were two blocks of showers which were very busy, but we heard good reports. All the toilet blocks we used in the arena were pretty clean and always had toilet roll and hand gel which is pretty unusual at a festival!
There was a great selection of food in the Food Village and the Fish and Chips were particularly good. There was also a Kid Zone which looked well used and the kids looked very happy!
Save to Pinterest for Future Reference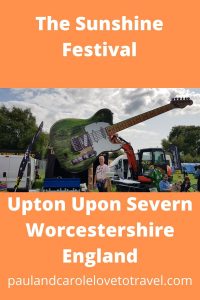 What could improve?
Even though we had a fantastic weekend there were a couple of points that we thought we needed to mention.
You are not allowed to take any food or drink into the arena, we understand this, however, the choice of alcohol was limited. Paul loves Cider but the only draft choice was Somersby and the only lager was Carlsberg. The white wine was also not refrigerated and also £4 a glass. It was advertised as pub prices but £4 a pint this was not the case.
Festival goers were allowed to take their chairs close to the stages and inside the tents which caused obstructions and limited the space. It would be good to see signs that say chairs not allowed past this point, at all the 4 stages and this process being policed by the stewards. At one point in the variety tent the whole dance floor had a large group all sat in their chairs which really did not make sense!
Location
Set in fields within walking distance of the the idyllic riverside setting of Upton upon Severn, overlooking the Malvern Hills. Before the music started on the Friday we walked into Upton, had a wander then sat by the river with a pint, it really is a lovely town and worth a visit. For your information too, if you don't want to camp at the festival site there are alternatives, the Drum and Monkey Pub Campsite is a good option.
We were lucky with the weather and only had some rain on the Sunday. This meant that on the Friday and Saturday nights we were treated to the most fantastic sunsets!
The weekend ended superbly with one of the best firework display's we think we have ever seen, it included animations and smiley faces that we had never experienced before. We are partial to a firework display and really enjoyed this one!
We had a fantastic time at the Sunshine Festival, a great atmosphere, where families and dogs were welcome and not an issue. We loved it so much we have already been back 3 times!
Useful Links
Looking for motorhome and camping accessories?
visit our Travel Accessories Page Here.
---
Get answers to any of your travel or motorhome related questions –
Follow us on Instagram and send us a message or Like and comment on our Facebook Page.
You can also sign up for our newsletter by completing the box on our home page.
---
For more camping adventures and advice
visit our Campsite Reviews, Motorhome Pub Stopovers and
Motorhome Tips and Advice Pages
---
We are an Amazon Affiliate and this post contains affiliate links which means we may receive a commission if you click a link. While clicking these links won't cost you any extra money, they will help us keep this site up and running!