Avalon Waterways Cabins and Staterooms
We cruised on Avalon Waterways Avalon Vista River Cruise Ship.  We had the pleasure of staying in a Panorama Suite and also had the opportunity of visiting a Deluxe Stateroom. In this post we show you these Avalon Waterways Cabins and Staterooms so you can decide which one would suit you!
Disclaimer: We cruised on Avalon Vista in October 2022 and were guests of Avalon Waterways for this trip. All views and opinions are our own and we retained editorial control.
If you are considering booking this cruise we now have a Promo Code which gives you some discount if you book a 2023 cruise in the booking period below –
Brand: Avalon Booking Period: 07/10 – 30/11
Travel period: 2023
Discount: £100 per person
Code: LOVETOTRAVEL
Disclaimer: Book and deposit a 2023 select Avalon Waterways Cruise to save an exclusive £100 per person discount. Discount will apply to individual members of groups adding a name and non-refundable per person deposit. Applies to new bookings only. Additional restrictions may apply.
Contact Dan our travel agent here – dan@gocruise.uk.com and telephone 01622 891895 to book or complete our Booking Form here for a free no obligation quote.
Avalon Waterways Cabins and Staterooms - Panorama Suite Tour and Review
For our Avalon Waterways river cruise we stayed on the Avalon Vista cruise ship in Panorama Suite 230. In this video we give you an in depth tour and review of this type of cabin and show you why this is one of our favourite cabins we have ever stayed in!
Avalon Waterways Cabins and Staterooms - Deluxe Stateroom
During our cruise we were given access to a Deluxe Stateroom on Avalon Vista. This type of cabin is the cheapest type of cabin you can chose with Avalon Waterways. Come and have a look around!
RELATED BLOGS
Celebrity Beyond Cruise Ship Review
Celebrity Beyond is the one of the Edge Class ships and we spent 9 days on board cruising around the Mediterranean. These ships are pretty spectacular and have some of...
Read Review
Cunard Queen Elizabeth Standard Balcony Cabin Review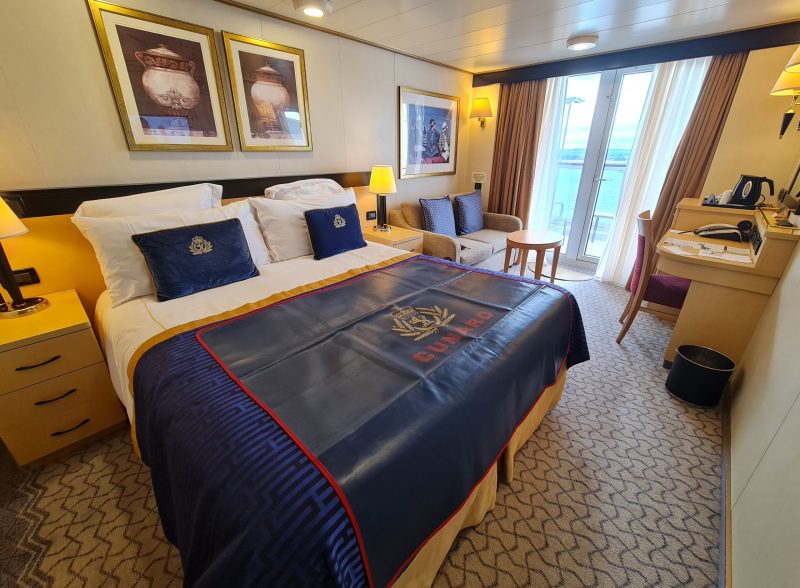 We spent 4 nights on the Cunard Queen Elizabeth Cruise Ship cruising from Southampton. We booked a guaranteed standard balcony cabin and were allocated cabin 8162. This cabin was on...
Read Review
Enchanted Princess Cabin Reviews

We cruised on Enchanted Princess in a group of 10 in August 2022. 8 of our group booked standard balcony cabins and one of the reasons for this was so...
Read Review