Avalon Waterways River Cruise Review
When Avalon Waterways was formed in 2004 their aim was to revolutionise the luxury river cruise market and even though they are less than 20 years old their parent company Global travel has been offering leisure tours across the globe for nearly 100 years.
This 5 star brand offers cruises to Europe and the Far East allows you to sample the diverse cultures that these fabulous destinations offer.
The first 2 ships Avalon Artistry and Poetry were launched in 2004 and 2005 respectively and were both retired in 2010 then in 2011 the Avalon Panorama was launched and at 443 feet and featuring 66000 square foot suites with floor to ceiling windows which open to give unparalleled views of the passing countryside.
The following year the Vista and the Visionary were launched and featured an open balcony on a river cruise ship for the first time and its the Avalon Vista that we are here to tell you about today.
The Avalon Vista was launched in 2012 and is 135 metres or 445 feet long, 12 metres or 39 feet wide and can carry 166 passengers in 83 cabins of which 67 are suites there are 47 crew.
Avalon currently have 20 ships in their fleet and sail on the Rhine, Rhone, Seine, Danube, Moselle, Douro and the Soane in Europe Plus the Mekong the Ganges the Nile the Galapagos islands and the Peruvian Amazon so its fair to say that they definitely offer something for everybody.
If you are planning on booking an Avalon Cruise we have a Promo Code – LOVETOTRAVEL Book 2023 cruises before 30/11/22 and you will get a discount of £100 per person. Use our booking form here for a quote – https://paulandcarolelovetotravel.com/bookings/
Disclaimer: We cruised on Avalon Vista in October 2022 and were guests of Avalon Waterways for this trip. All views and opinions are our own and we retained editorial control.
Avalon Vista River Cruise Ship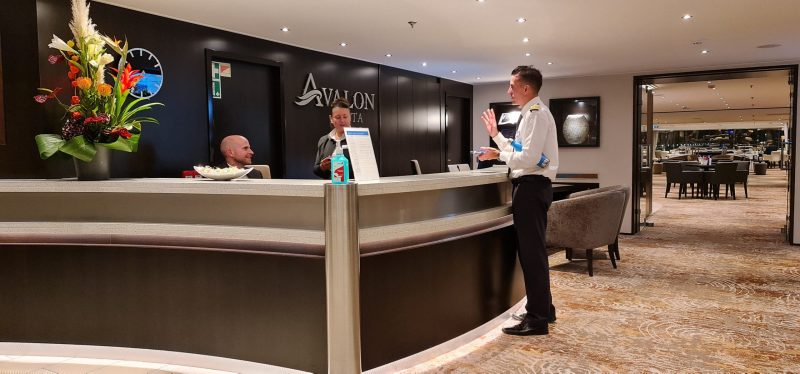 Now let's tell you more about the Avalon Vista and what she has to offer. Boarding takes you straight into the reception area which is open 24 hours a day with friendly and very knowledgeable staff. It is also where you will find the cruise directors desk and just opposite is a desk with two computers that are available for passengers to use free of charge.
Next to the entrance doors are two interactive screens that will give you information on the day ahead including port, excursion information and meal times. This is also where you sign in and out when entering or leaving the ship, and if you want some Avalon merchandise there is also a small glass cabinet selling caps, shirts and other souvenirs.
The Panorama Lounge on the Avalon Vista River Cruise Ship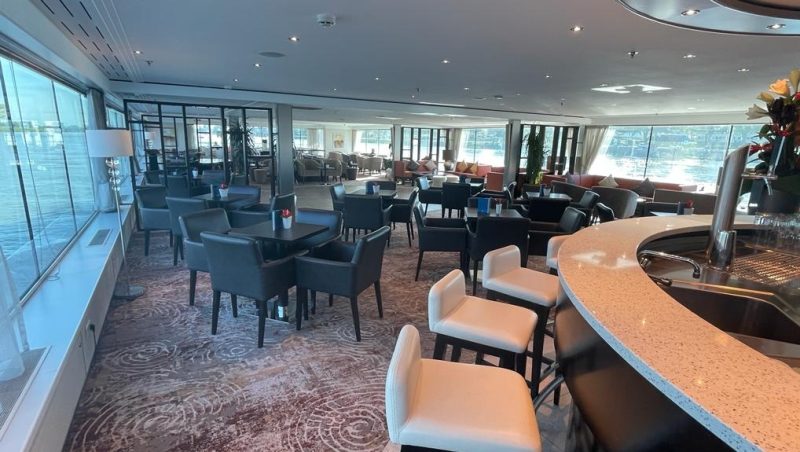 The Panorama lounge is the largest of the two lounges with comfortable seating for around 120 guests and with its near floor to ceiling windows there really isn't a bad seat in the house. This beautiful lounge is a great place to sit and enjoy the scenery but has lots of other uses too!
There is a comprehensive selection of teas available plus a coffee machine that provides everything from coffee and hot chocolate to lattes and cappuccinos all of which is complementary. There is also a well stocked bar that has all the usual top shelf spirits a local beer on draught and an excellent selection of wine with the added bonus of a happy hour every evening where all drinks are half price.
For lunch and dinner there is what they call a light bite selection where there is a small selection of what is available in the main dining room and in the afternoon there is a selection of cakes on offer.
This is also the place that your cruise director will give you your port talk for the following day detailing exactly whats on offer and what time you will need to be in the lounge for depending on what excursion you have chosen.
Avalon are not really big on evening entertainment but did provide a couple of live events during our cruise, a local covers band and a classical trio both of which were very well received, apart from that the evening entertainment came in the form of some background music.
At the front of the lounge there is also a doorway that leads you out to a covered area at the front of the ship with seating for around 20 people, this is a great place for watching the crew work when docking and also an ideal spot when transiting any locks you may encounter. This is where you will find a staircase that allows you access to the sky deck.
The Club Lounge on the Avalon Vista Cruise Ship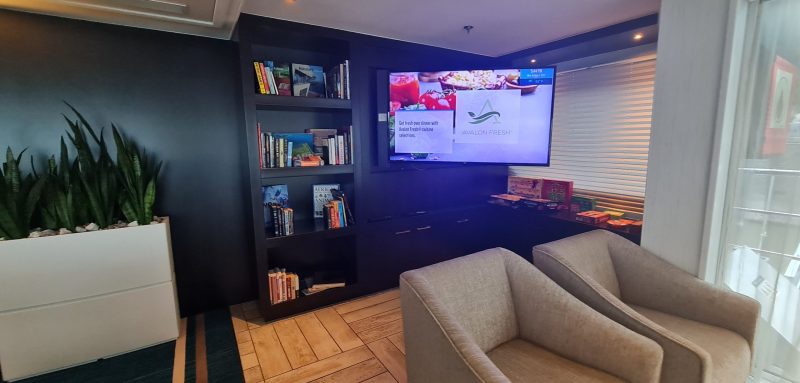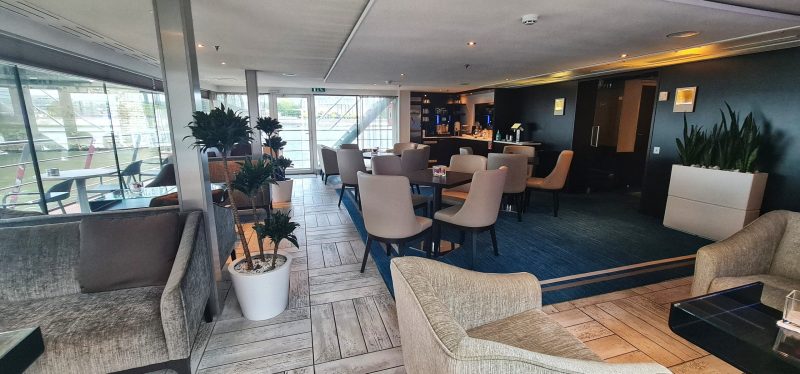 The Club Lounge is the smaller of the two lounges and can be found at the aft of the ship and as with its bigger brother the panorama lounge has multiple purposes.
Because of its position it can sometimes be a little bit noisy but only when the ship is running at higher speeds but it certainly won't spoil your enjoyment of this little gem.
Seating around 40 people, its many uses include a 24 hour coffee and tea station, a constant supply of cookies and cakes with some of the yummiest donuts we've ever had. This is where you will also find a board games cabinet and a small library. On selected nights they have a cinema night on a big screen TV that even includes complementary popcorn, but if none of that takes your fancy its also a great place to sit and watch the world disappear behind you.
Directly behind the lounge there is also a small alfresco area that doubles as a smoking area.
The Sky Deck on the Avalon Vista River Cruise Ship
The Sky deck is the top deck of the ship, this is where the captain navigates the ship from and as long as you knock on his door he is more than happy to show you around the bridge.
The sky deck is in sections and features different styles of seating from a large communal table that can seat up to sixteen people to normal tables and chairs, there are even sunbeds should you be lucky with the weather. Some areas are covered like a gazebo allowing you to still take in the scenery even if the weather isn't on your side.
Add to this an exercise area for morning yoga, pilates and stretching classes a small whirlpool Jacuzzi and a bike storage area for daily excursions, they've even got a giant size chess and backgammon board.
What's amazing is that everything on the top deck has to have the ability to be lowered at short notice to facilitate manoeuvring under low bridges or if river levels have risen, the captains bridge is on hydraulics and everything else can be lowered manually.
What's Included on a Avalon Waterways River Cruise?
All meals are included in your Avalon fare with breakfast and lunch being self service, cooked to order items such as pancakes or omelettes at breakfast and burgers and cheese burgers at lunch are available on request.
Dinner is waiter service with the menu available to view on your Avalon go app each day. As well as the listed items there is also an always available section that on our cruise consisted of steak, chicken or fish.
Beer, wine and soft drinks are included throughout lunch and dinner in both dining venues and Avalon are very generous with their pouring.
A large selection of speciality teas and coffees are available 24 hours a day plus juices and water and if you like a snack between meals you have a choice of cookies and cakes readily available, they also have a version of afternoon tea every day at 4.00 pm.
Avalon Waterways River Cruise - Wellness and Adventure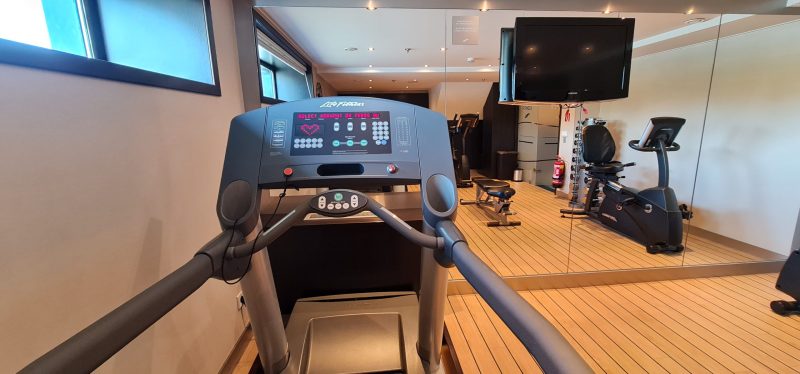 Every day there is a choice of excursions with at least one of them being complimentary, and if health and well being is high on your agenda Avalon have you covered with exercise classes from yoga to cardio every morning at 6:30 am, you wont be surprised to hear that we never made it to any of these!
The vast majority of the excursions are walking tours but if you do fancy something a bit more vigorous  there are opportunities on most days to explore the area you are visiting by bicycle and also strenuous hikes were included too. If you wanted to explore areas on your own by cycle this was also an option.
If you prefer to stay fit by more traditional methods there is also a gymnasium on board that features two running machines, two exercise bikes a bench and a selection of dumbbells.
As well as promoting a healthy lifestyle exercise wise Avalon also promotes healthy eating with their Avalon Fresh healthy options available at breakfast, lunch and dinner on a daily basis, but it's not all about the body as Avalon excursions take you to some fascinating places and the tour guides they employed during our cruise were  incredibly knowledgeable of all the areas that we visited.
Avalon Waterways River Cruise Cabins and Staterooms
We stayed in a panorama suit during our stay which was pretty amazing but Avalon kindly let us tour a deluxe stateroom to, you can view both of these cabins below.
Avalon Waterways River Cruise - Service and Crew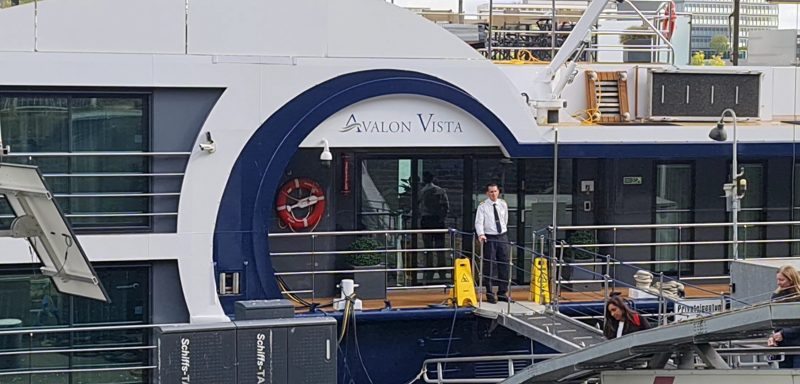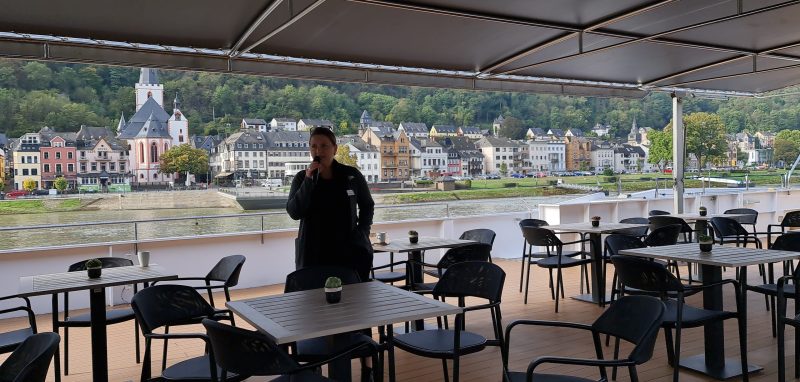 The crew on the Avalon Vista were incredibly friendly right from the cabin stewards and cleaners all the way up to the captain who was more than happy to welcome you on to the bridge as long as you knocked on the door first.
The service we received was as good as anything we have enjoyed on any of our previous cruises and it was really difficult to pick a favourite member of staff as they were all so good.
A special mention must also go out to our cruise director Daniella who was always visible around the ship and the port talks she gave daily were always informative and very funny. On the very rare occasion that she couldn't answer any of our questions she very quickly found out exactly what we needed to know.
What to wear on a an Avalon Waterways River Cruise
Avalon river cruises are about as relaxed as they come with no real dress code to speak of, even on the one gala night of the cruise everyone dressed in a very casual manner so there really is no need to pack dinner suits or ball gowns.
Who would enjoy an Avalon Waterways river cruise?
There was a real cross section of age groups from people in their twenties up to some in their eighties but we would say the average was probably between fifty and sixty but because of the type of cruise it is with the amount of excursions on offer its not so much about age but more about the level of mobility.
Make no mistake Avalon caters extremely well for all guests but we think to enjoy this experience to the full it would best suit people with a reasonable level of fitness, we are not talking running a marathon fitness but a lot of the walking tours were an hour or more.
So to sum up if you love visiting and exploring new places on a daily basis, love good food and service in a beautiful, comfortable surroundings then we think Avalon is definitely an excellent choice for you!
Our verdict of our Avalon Waterways River Cruise
We thoroughly enjoyed our Avalon experience from start to finish, their attention to detail is very good. The food service and excursions were all fabulous as was the beautiful ship so it's not a matter of will we use Avalon again it's just a matter of when!
We have also published a Vlog Series of our time on board the Avalon Vista which you can watch here or by clicking the videos below.
For more river cruise videos, do watch our river cruising playlist here.
Useful Links
Want early access to our You Tube Videos and be the first to know when we book a cruise?
Join our Patreon Community here
Become a member of our You Tube Channel
---
Planning a land based holiday, flights, bucket list trip, cruise or honeymoon then we recommend using Dan Hammond of GoCruise&Travel who you can be contacted here by email – dan@gocruise.uk.com and telephone 01622 891895 or just complete our booking form here.
He has found us some great deals and using a travel agent takes all the anxiety away of booking and coordinating complicated itineraries.
---
Find our favourite travel, cruise and motorhome accessories in our Amazon Shop.
Book your hotels with Booking.com. here.
---
Get answers to any of your travel or cruise related questions
Follow us on Instagram and send a message or Like and comment on our Facebook Page
and find us on Twitter here too.
You can also sign up for our newsletter by completing the box on our home page.
We are an Amazon Affiliate and this post contains affiliate links which means we may receive a commission if you click a link. While clicking these links won't cost you any extra money, they will help us keep this site up and running!
RELATED BLOGS
Fred Olsen Cruise Videos
We have really enjoyed our time on Fred Olsen Cruise Ships and want to show what this cruise line have to offer. They provide a fabulous cruise experience on smaller,...
Read Review
Southampton Food Tour – Where we wanted more and where we looked for the door!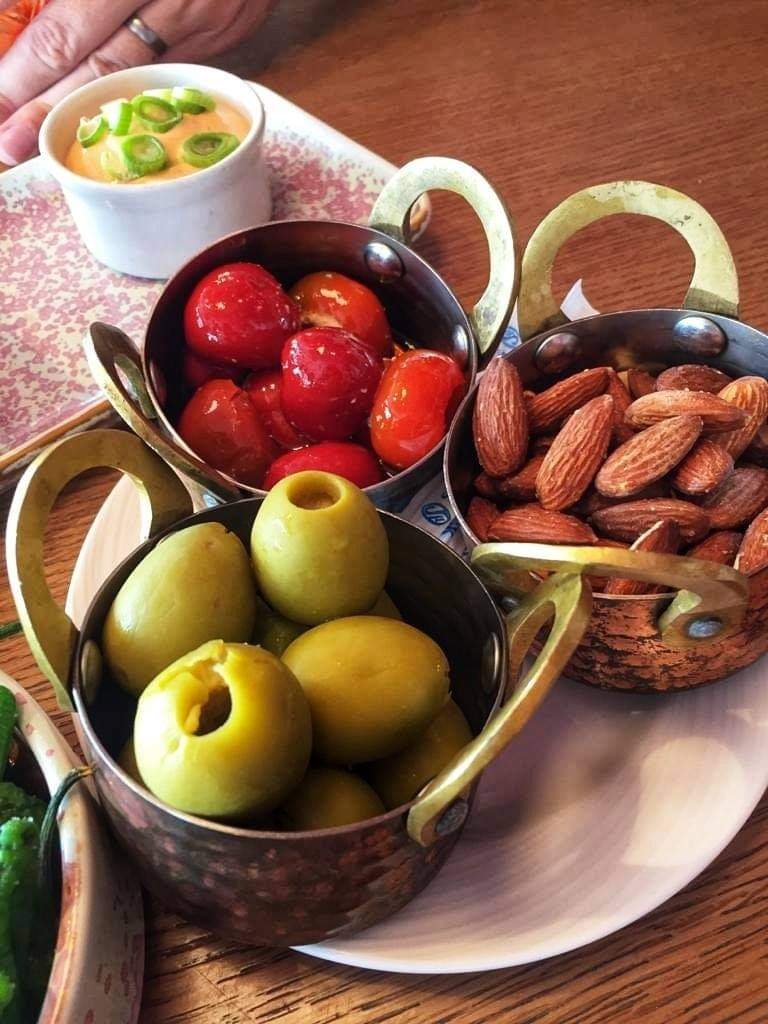 We have visited Southampton a few times now, and to be honest it is getting to be one of our favourite citiy's to visit in England! Food is also one...
Read Review
P&O Iona Cruise Vlogs – Find out what Cruising on Iona is really like!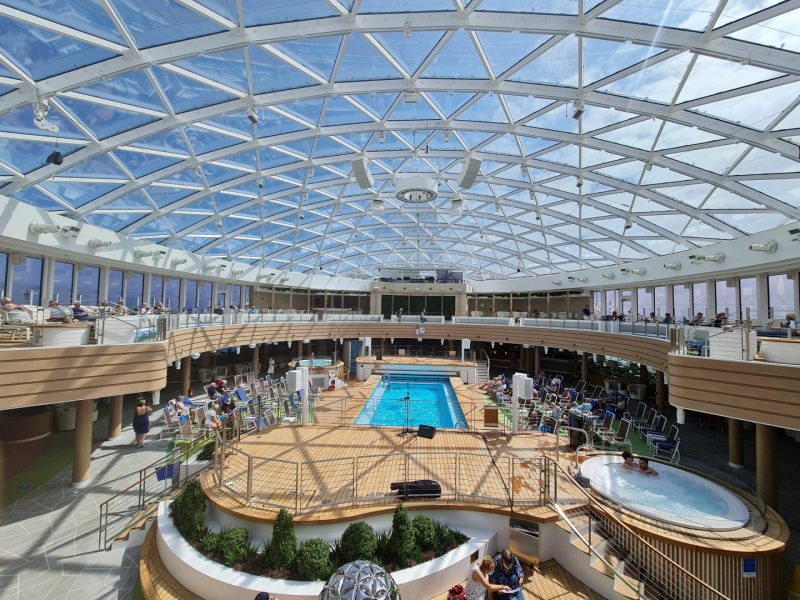 We spent 7 days on the brand new P&O cruise ship Iona in August 2021. During that time we filmed a series of vlogs of our time on board. There...
Read Review