Chania Crete Cruise Port Information – Know before you go!
If you are cruising to Chania in Crete this summer, here are a few tips to help you make the most of your day! We also have travel tips for Rhodes and Santorini which you can check out after this post.
Where does the Cruise Ship dock in Chania Crete?
Cruise ships dock in the Port of Souda which is actually a neighbouring town to Chania. From the ship there were some beautiful views of the coastline of Crete but the other way it was a busy working port which serves the ferry's that go around the Greek Islands. It's is a 20 minute bus ride to Chania and approximately 6 kms.
Some ships do tender, when we were there the Azamara Quest was anchored just outside the Venetian Port and tendering their passengers in. So do check with your cruise line.

How do you get to Chania Crete?
In our case the bus stopped about 50 metres from the ship and tickets were available at a booth. The bus trip into town was not very inspirational, passing lots of run down buildings and graffiti so we were pleasantly surprised when we actually arrived in Chania. The bus stops just outside the Municipal Market Building Agora.
The market was great to wander through with lots of local produce to buy if you chose too. We came across numerous lovely squares whilst wandering the streets and soon found ourselves at the picturesque Old Venetian Harbour.
The Venetian Harbour is beautiful and vibrant, it had a really relaxed vibe to it, we liked it a lot. As like all places eating and drinking right on the front isn't cheap however if you just go back a couple of alleyways from the water you will find some perfect little Greek restaurants.

Pin for future reference!
We stopped for a Greek Salad and some refreshments and were not disappointed.
There are horse and carts all around the harbour so if you wanted a trot around then that is available. Must admit we tend to avoid that type and thing as always feel sorry for the animals dragging tourists around in the heat.
Chania really has it all, it is a great port of call with so many shops restaurants and bars most with free WiFi. It was a shame we were only here in the day as we would of liked to experience it at night too. We would imagine it is a lively little town.
The buses run regularly back to the ship but do note that when the bus gets back to the port that it makes multiple stops to all the ships that are docked in the port. We got off as it stopped and joined a queue which we thought was back to our ship however, we didn't realise we were in the queue to get on the MSC Sinfonia. A fifteen minute walk through the docks got us back to where we needed to be and back on board.
Our Verdict of Chania Crete
We loved Chania, it is a pretty Greek destination that appears to have everything that we enjoy, plenty of restaurants and bars and free WiFi! It is a mixture of old and new with shopping centres and old style greek tavernas. We both agreed that it was somewhere we would of loved to had more time to explore and no doubt we will return in the future to do that.

Useful Links –
If you are new to Marella and TUI Cruises we have lots of Marella Ocean Cruise Information on our Marella/TUI Page here and we have over 50 videos on our Marella/TUI You Tube Channel Playlist which include vlogs, cruise ship reviews and cabin tours.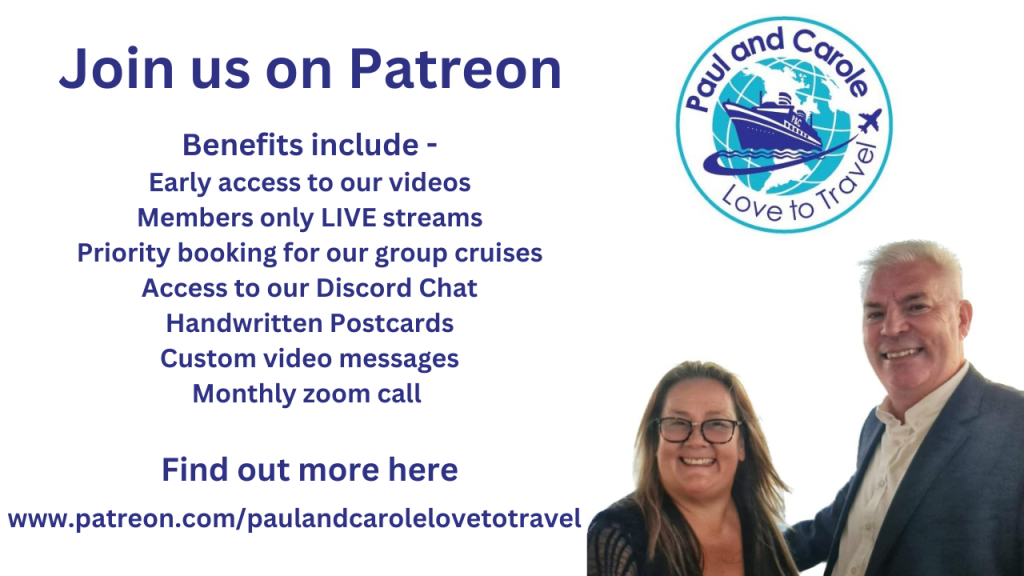 ---
Planning a land based holiday, flights, bucket list trip, cruise or honeymoon then we recommend using these travel agents – they have both found us some great deals and using an agent takes all the anxiety away of booking and coordinating complicated itineraries.
Dan Hammond of GoCruise&Travel who you can be contacted here
dan@gocruise.uk.com, telephone 01622 891895 and via their website here.
Complete this form for a free quote and no obligation enquiry.
---
Find our favourite travel, cruise and motorhome accessories in our Amazon Shop.
Browse and book your Marella Cruise here.
Book your hotels with Booking.com. here.
---
Get answers to any of your travel or cruise related questions
Follow us on Instagram and send a message or Like and comment on our Facebook Page
and find us on Twitter here too.
You can also sign up for our newsletter by completing the box on our home page.
We are an Amazon Affiliate and this post contains affiliate links which means we may receive a commission if you click a link. While clicking these links won't cost you any extra money, they will help us keep this site up and running!
Pin it!