4 Reasons to Book a Balcony Cabin on your next Cruise
Balcony cabins on a cruise ship are a real treat! We have now completed 20 cruises and have 7 more booked. We have stayed in a selection of different cabins on these cruises, including insides, promenades, outsides, balcony cabins and suites. We base our cabin choice on not only cost but also itinerary.
We have to admit we would always love to cruise in a balcony cabin if we can and here are our reasons why!
1. The extra space in a balcony cabin
The actual room footage of balcony cabins is normally larger than what you would find in an inside or outside cabin. For example, our deluxe balcony cabin on the Explorer of the Seas was 164 square feet and 51 square feet of balcony, compared with the 150 square feet inside cabin which our Dad's had chosen to have.  There was plenty of room to walk around the bed and we also had a area with a large couch.  There was so much storage space when we unpacked half the cupboards were empty and we certainly didn't travel light!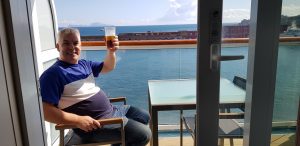 2. Natural light in a balcony cabin
Having natural light in your cabin may not seem like it is an issue, but is something you need to consider. Our Dad's are both in their 80's and men of that age need to pop to the toilet numerous times during the night. Not having any natural light was an issue as they needed to prop the bathroom door open so they could see where they were going without waking each other up. We know that web cams/weather can be accessed via your in cabin TV but there is nothing like popping out on the balcony to suss out the weather and know what you will need to wear!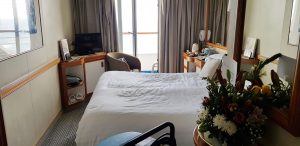 3. A balcony cabin is where you can enjoy a private sail away or have your own quiet outside space away from the crowds.
It is wonderful to wake up and look straight out to sea or at a new port of call. It is also lovely having your own private area for watching as you arrive and leave ports. It really is your own private outside place and one of favourite places to enjoy a coffee in the morning and a cocktail for sail away!
Pin for future reference!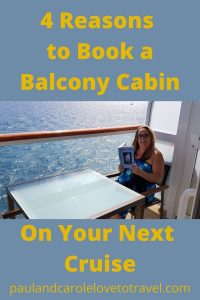 4. You really can have breakfast just for two in your balcony cabin
The majority of cruise lines offer complimentary breakfast, service begins at 5.00am for a continental option with full breakfast being served until 10.00am. Place your order on the breakfast menu before approximately 3am and it appears at your requested time. It really is a treat to sit on the balcony and watch a sunrise, this one was when we were cruising into Langkawi and enjoyed a romantic breakfast for two!
We have stayed in a selection of balcony cabins, here are a few of our balcony/suite tours from our You Tube Channel so you can see exactly what you get.
Thanks so much for reading!
Click here for more cruising information and tips.
Cruise ship cabins – which one is the right one for you?
When a free cruise cabin upgrade is not a good idea!
---
Useful Links –
Planning a holiday, bucket list trip, cruise or honeymoon then we recommend using our travel agent Emma Otter of Travel Counsellors. She has found us some great deals and takes all the anxiety away of booking and coordinating complicated itineraries. Complete this form for a free quote and no obligation enquiry.
Find our favourite travel, cruise and motorhome accessories in our Amazon Shop.
Browse and book your Marella Cruise here.
Book your hotels with Booking.com. here.
Get answers to any of your travel or cruise related questions
Follow us on Instagram and send a message or Like and comment on our Facebook Page
and find us on Twitter here too.
You can also sign up for our newsletter by completing the box on our home page.
We are an Amazon Affiliate and this post contains affiliate links which means we may receive a commission if you click a link. While clicking these links won't cost you any extra money, they will help us keep this site up and running!
---
If you enjoyed this post please follow Paul and Carole Loves to Travel on: