Cruise Ship Cabins - How to pick the right one for you!
New to cruising and interested in learning what types of cabins are available onboard a cruise ship? Then this post is for you!
Choosing a cruise cabin can be confusing, the majority of cabins can either be twin beds or a queen size double, they have a vanity area, storage in the form of wardrobes and drawers, a safe and a bathroom that normally includes a shower and toilet. However there are so many variations. Here we explain each cabin category, the importance of location, and when you need to book. You can then make sure you choose the best cabin for you!
Inside Cabins - Is this the best cruise cabin for you?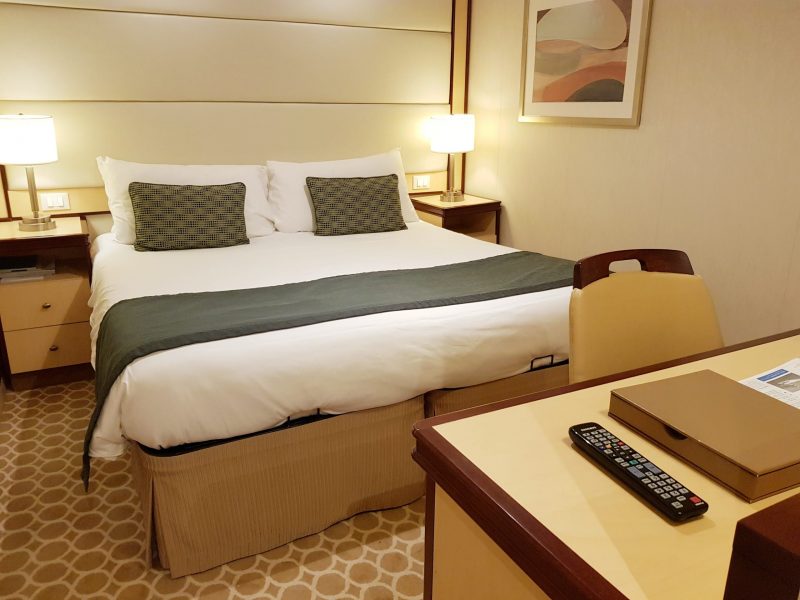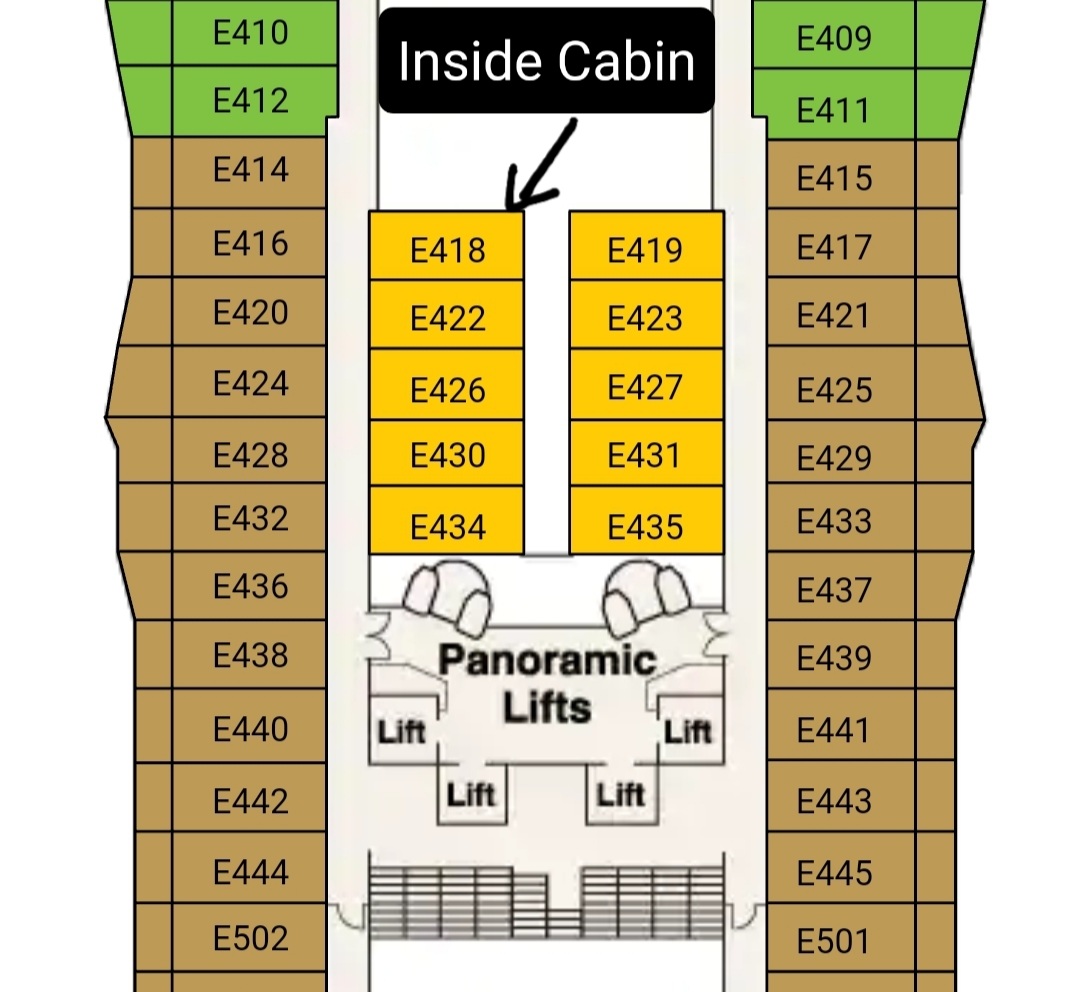 Standard Inside cabins
Inside cabins are cabins that are inside the ship and have no windows. They also tend to be the smallest and cheapest on the ship. Picking this type of cabin can get you a bargain, however, there are certain things to consider.
How much time are you going to spend in your cabin? How long is your cruise? Are you late night party animals? Inside cabins are dark, which is great for sleeping but can also be disorientating as there is no natural light. We have picked inside cabins when we have gone on short cruises, around two-four nights, and when we are cruising with friends and family, as we know we will not be spending much time in the cabin.
Some inside cabins, can sleep up to four people too, so if you are travelling with friends and are on a tight budget inside cabins are a really good option.
There are also variations on an inside cabin which we will explain now.
Inside Plus Cabins or Inside Deluxe
If you fancy a cabin that has some more space some ships have inside plus cabins that have a larger surface area. This gives you a bit more room and floor space than a standard inside cabin and often doesn't cost much more.
Inside Cabins with a view
Promenade View Cabins
Now there are inside cabins that do have a window but they look into the inside area of a ship such as the promenade cabins on Royal Caribbean ships. Our Dad's stayed in one of these on the Independence of the Seas and loved it, the light from the promenade was great to light the cabin up for their regular bathroom visits and there was no noise at all. You can have a look around this type of cabin in the video below.
Virtual Balcony cabin
Virtual balcony cabins are inside cabins that have an 80 inch high-definition screen that spans nearly floor to ceiling which show real time views of the oceans and destinations. So you are inside but literally have a digital view of the outside. Curtains can be drawn to cover the screens, when you want to and are only available on selected ships. This is a intriguing concept and a cabin we would like to try in the future!
Why an Oceanview Cabin could be the right choice for you?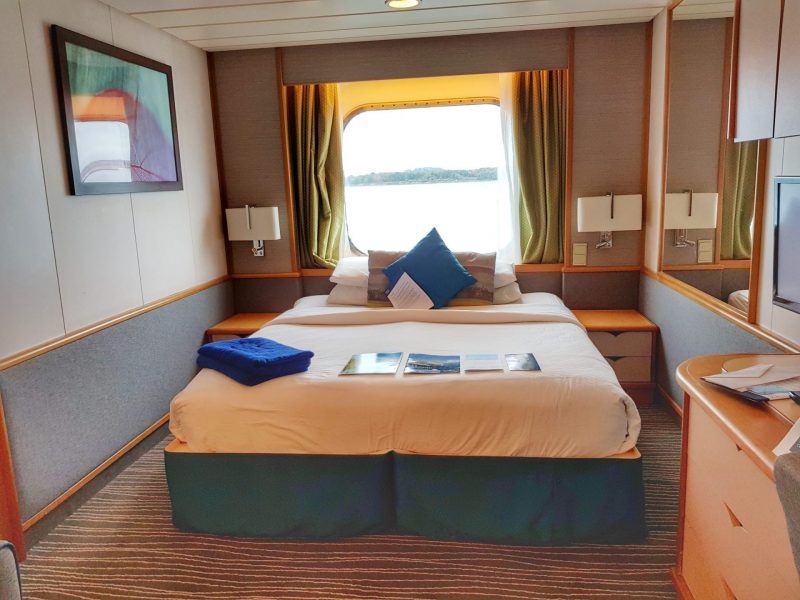 Standard Oceanview (Outside) Cabin
Oceanview or outside cabins have just that, a view of the ocean. They have a port hole or picture window that does not open. These cabins are normally slightly dearer than inside cabins but do have the bonus of natural light coming through the window, and lovely views too.
We stayed in an outside cabin on the MSC Opera and you can have a look around this type of cabin in the video below.
Oceanview Plus Cabin
As with the inside plus cabin explained above, these cabins are larger that a standard oceanview cabin.
Oceanview Cabin with Obstructed View
An obstructed view cabin has a window but the view is obstructed by something. Now obstructed cabins can be obstructed by different things and some obstructed cabins are more obstructed than others, but they still cost the same. So it is important to do your research and study the ships deck plans.
We have experienced an obstructed outside cabin twice, firstly we were upgraded on the Fred Olsen Braemar Cruise Ship from an inside cabin. This cabin had a life boat obstructing the majority of the window but we could still see out and were very happy with this. Secondly, on the sadly scrapped CMV Marco Polo cruise ship we had a free upgrade to an obstructed oceanview cabin, outside the window was a huge stack of sunbeds on the promenade deck, we couldn't see out but we had easy access to the promenade so we were happy with that too. Free upgrades can be great and so far have worked in our favour but can can be a gamble, we are so glad our gamble has so far paid off!
Oceanview Forward Facing Cabin
Forward facing cabins can have really large windows and fabulous views, however, being at the front of the ship does come with more movement so you do need to take that into consideration if you are prone to seasickness.
Noise can also be an issue with forward facing cabins, with the bow thrusters being used to manoeuvre the ship and water smacking against the front of the ship, it can make for some noise issues particularly on lower decks. These are just a few things to consider with choosing this type of cabin.
Save to Pinterest for Future Reference
Are balcony cabins the best cabins on a cruise ship?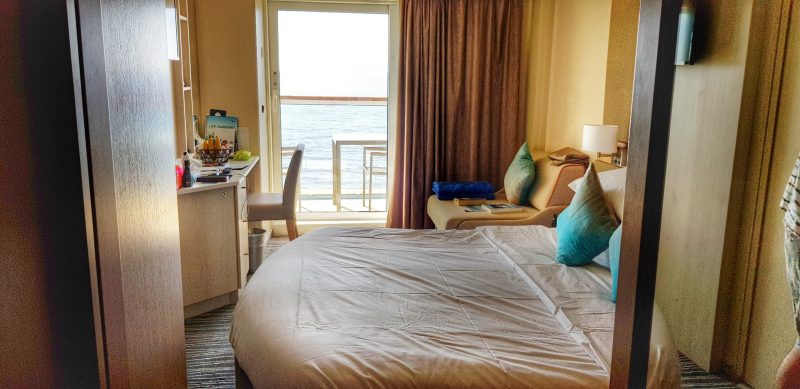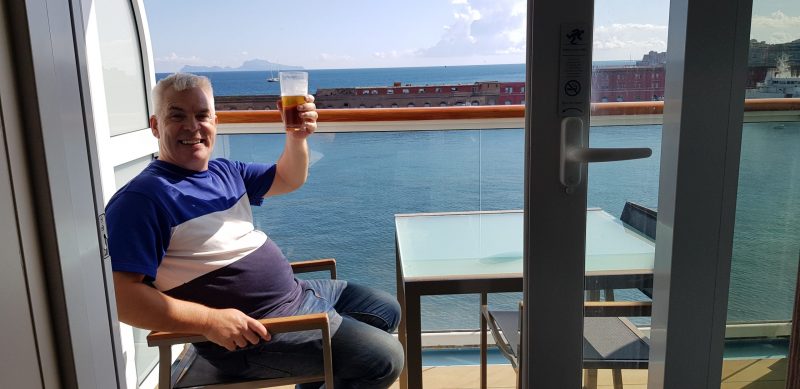 Standard Balcony Cabin
A balcony cabin is our preference if our budget allows. There are many reasons why we choose a balcony cabin but one of the main reasons, is that Carole is an early riser and loves to sit on the balcony and watch the ocean while having a coffee and I like to lie in bed! Balcony cabins are more expensive but obviously have the bonus of your own outside space.
If budget is a constraint and you want to spoil yourself with a balcony then make sure you pick a cruise where you will be able to use it. For example we booked a balcony cabin on a cruise in February to Hamburg and Rotterdam, the weather was not good (which is normal for that time of year) and we rarely used it. However, cruising to warmer parts of the world such as on our Red Sea Cruise we used our balcony a lot! So do think about that.
Always check the deck plans too, see the picture of the deck plan above, the blue cabins are all standard cabins but the one we have booked that is circled has a larger balcony. These cabins are all the same price but we have a little bit more balcony space which makes us very happy!
Deluxe Balcony Cabin
Deluxe balcony cabins are a little bit bigger and higher in price than standard balcony cabins. So if you want more space particularly if there are more than two of you in a cabin, then it may be worth the extra expense. Our video below shows you the difference between a standard and deluxe cabin on the Marella Discovery Cruise Ship.
Aft Facing Balcony Cabins
Aft facing cabins have a view over the wake and sometimes a slight wrap around the side so your balcony not only has uninterrupted views of the wake but also the side too. Aft cabins tend to have a bigger balcony too .
There are pros and cons as with all cabins, aft cabins may be quieter as normally away from the hustle and bustle of the midship activity, however it can also be a long walk to the front of the ship. You can also feel the movement more at the aft of the ship than you would in the middle but not as much as towards the front of the ship. Some aft cabins may be positioned above or below a sunset bar or venue, something to consider when selecting the position of your cabin. Also on some ships there has been comments that exhaust funnel fumes and even soot has blown backwards to aft cabins.
We stayed in an aft cabin on the Sky Princess and you can see what we thought in the video below!
Forward Facing Balcony Cabins
The same principles apply for these type of cabins as Oceanview Forward Facing Cabins as above.
Cruise Ship Suites - are they worth the extra expense?
Suites on cruise ships come in all different shapes and sizes and are different from ship to ship. They are the most expensive cabins on the ship and prices vary dramatically.
A Junior Suite is normally the the first way into a suite and we had a fabulous experience staying in one on the Marella Discovery. Sadly this was a special treat and is not always an option with our budget but if you can afford it we would definitely recommend!
Some suites come with benefits and perks such as butler service, priority embarkation and disembarkation, complimentary speciality dining, complimentary drinks and some ships have specific areas for suite guests only.  In the most luxurious suites you can also experience a baby grand piano and even a Jacuzzi on the balcony!
Even though suites do cost a lot they normally sell out very quickly so if you do want to book one for a special trip then we do recommend you book early.
We were given the opportunity of looking around the most expensive suite on the Marella Discovery and the video is below.
What facilities do you get in an Accessible Cabin?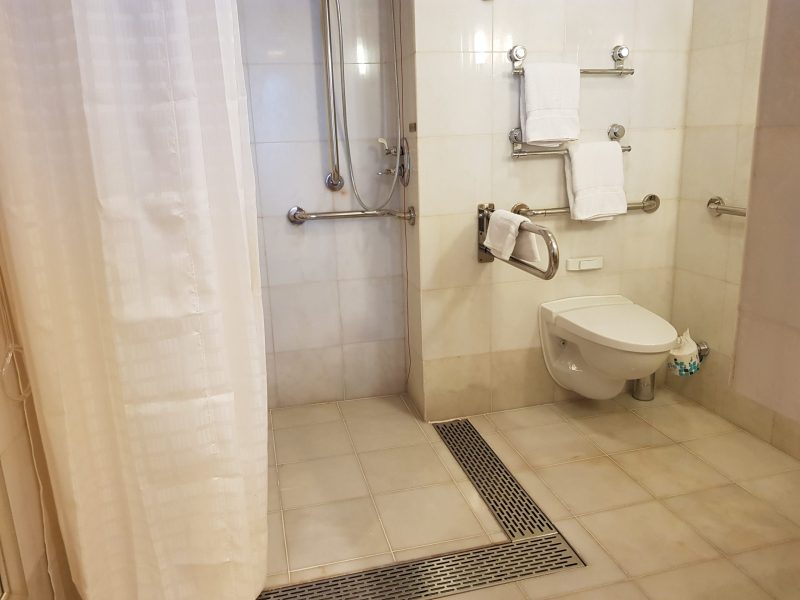 Accessible cabins can be found in all of the categories above. They accommodate passengers with additional needs, such as my Dad who uses a mobility scooter. These cabins are larger allowing turning of a scooter, have doorways that are wider, and have accessible balcony in those categories that do. The bathrooms also have no doorsill, have grab bars, and a shower chair.
My Dad and Sister stayed in an inside accessible cabin on the P&O Iona Cruise Ship our video below shows you what facilities you can expect in this type of cabin.
There are not a huge amount of accessible cabins on some ships so we do recommend that if you do have additional needs, that you book early. We have made the mistake of waiting and unfortunately found all the accessible cabins booked and were not been able to take my Dad on a cruise that we had wanted to do.
Useful Links –
Planning a land based holiday, flights, bucket list trip, cruise or honeymoon then we recommend using these travel agents – they have both found us some great deals and using an agent takes all the anxiety away of booking and coordinating complicated itineraries.
Dan Hammond of GoCruise&Travel who you can be contacted here ➡️ dan@gocruise.uk.com
and via their website here.
Emma Otter of Travel Counsellors – Complete this form for a free quote and no obligation enquiry.
---
Find our favourite travel, cruise and motorhome accessories in our Amazon Shop.
Browse and book your Marella Cruise here.
Book your hotels with Booking.com. here.
---
Get answers to any of your travel or cruise related questions
Follow us on Instagram and send a message or Like and comment on our Facebook Page
and find us on Twitter here too.
You can also sign up for our newsletter by completing the box on our home page.
---
We are an Amazon Affiliate and this post contains affiliate links which means we may receive a commission if you click a link. While clicking these links won't cost you any extra money, they will help us keep this site up and running!
RELATED BLOGS
Arbor City Hotel Review London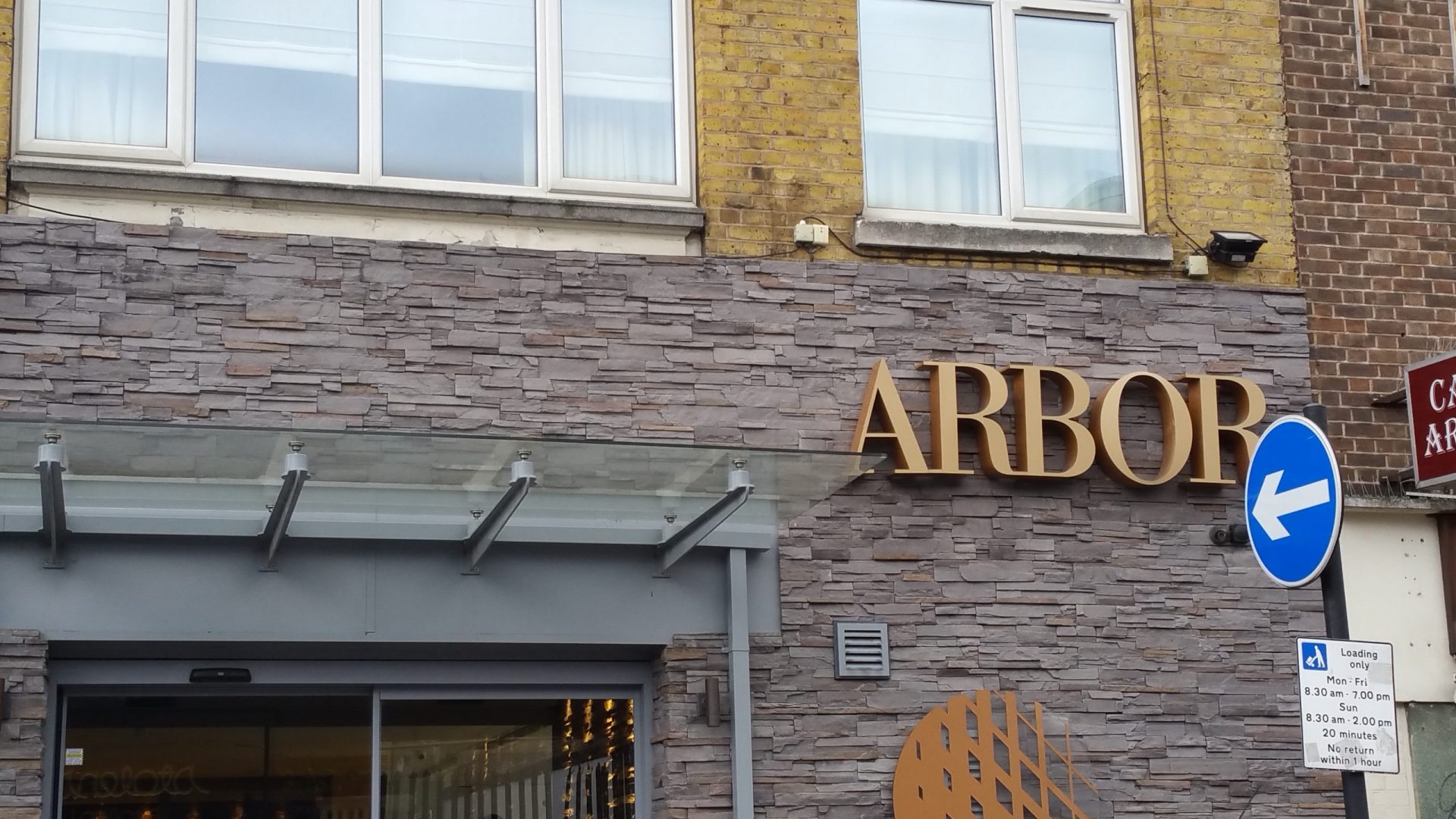 We spent 5 nights in London, the purpose of our trip was to watch Bruno Mars and the London Marathon. Our first stay was at the Sunborn Yacht Hotel as...
Read Review
Marella Cruise Videos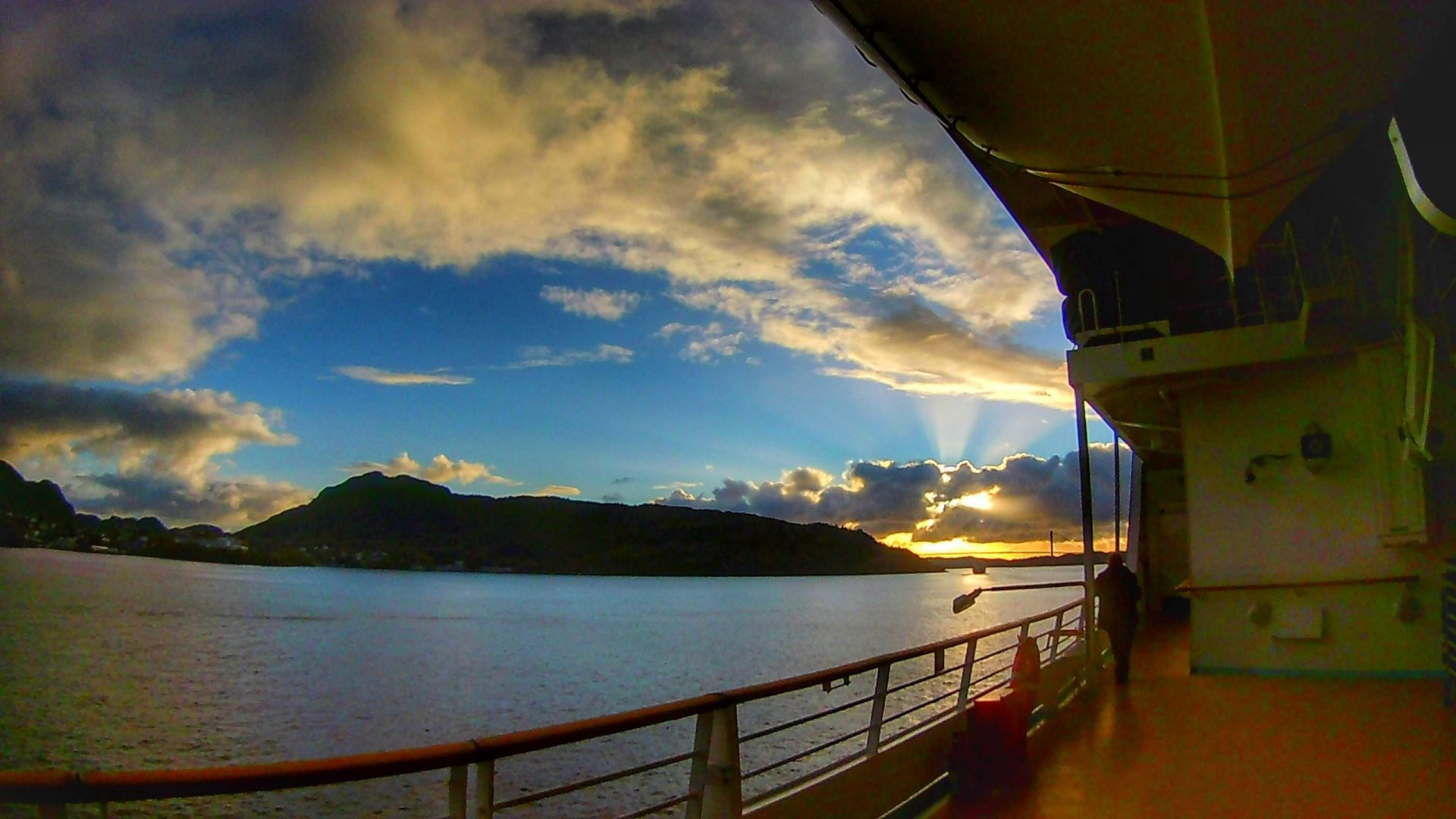 Marella cruises are a great budget cruise line, that are really popular with British Cruisers and a cruise line we keep going back too! We currently have 50 videos showcasing...
Read Review
What's it like to cruise with Virgin? Find out in our Scarlet Lady Cruise Vlogs!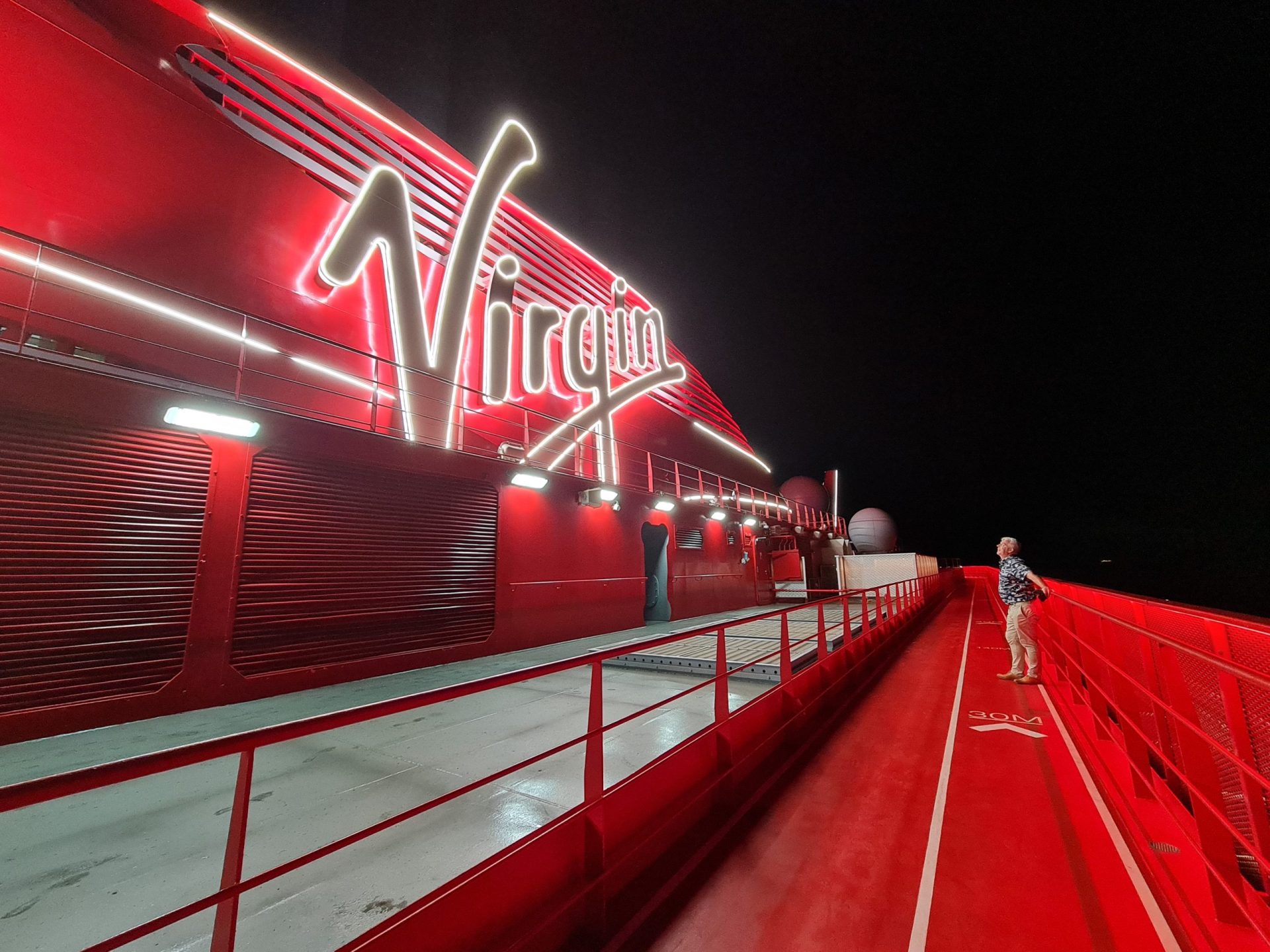 We spent 4 nights on the brand new Virgin Voyages Cruise Ship Scarlet Lady. The cruise started in Portsmouth a new cruise port for us on the south coast of England....
Read Review