Marella Discovery Complete Cabin Guide - What is the best Cruise Cabin?
We have now spent a total of 28 nights on board the Marella Discovery Cruise Ship and have enjoyed every one! We and other members of our family have stayed in a variety of cabins and suites during our time on board.
There are a total of 920 cabins on board and in this post we cover the standard cabins – inside, outside, and adapted cabins, compare standard and deluxe balcony cabins and also cover a variety of suites. We also had the privilege of having a look around the most expensive suite on the Marella Discovery Cruise Ship too. By the end of this post you will be able to see which type of cabin is for you!
Book your Marella Cruise here (Affiliate Link)
Outside Cabin Marella Discovery Cruise Ship
We spent 2 weeks in an outside cabin on our Marella Discovery Seeking the Northern Lights cruise. Outside cabins cover an area of 14 m2 and can be found on decks 2 and 3. All have a port hole or picture window, can sleep up to 4 persons, and have ensuite shower and toilet. Our video below shows you around an outside cabin, and you can also read our detailed post here.
Inside Cabin Marella Discovery Cruise Ship
There are 124 inside cabins on the Marella Discovery Cruise Ship and are found on decks 2, 3, 6, 7 and 8. Inside cabins cover an area between 12 and 13 m2 with some sleeping two and some cabins can accommodate 4. If you want a little extra room there are some inside plus cabins, which have the same facilities but are just a little bigger with a surface area of 15 m2.
Inside cabins are normally the cheapest way to cruise. Our video below shows you around so you can compare with the outside cabin above.
Adapted / Accessible Cabin Marella Discovery Cruise Ship
There are 12 adapted cabins in total on the Marella Discovery, 6 on deck 2, 3 on deck 3, 3 on deck 7.
If you have a mobility scooter we have found that with some cruise lines like P&O and Princess you have to book an adapted cabin. However, we have travelled with Paul's Dad John on 3 occasions with Marella and we were able to book standard cabins that we then parked the mobility scooter outside. Depending on your needs of course this may be an option, but do have this conversation with Marella Cruises or your travel agent as they will need to document all the specific details of the particular scooter or wheelchair you will be using on board.
We managed to have a look around an adapted cabin whilst we were leaving the ship, so do come and have a look around too!
Balcony Cabins Marella Discovery Cruise Ship - Standard v Deluxe
When our budget allows we book a balcony cabin and you can read all about our reasons why here. However balcony cabins do come in different shapes and sizes and in our video here we describe the difference between a standard and a deluxe balcony cabin on the Marella Discovery cruise ship.
Junior Suite Marella Discovery Cruise Ship
We spent two weeks in a junior suite on deck 8 during our Naples to Dubai Repositioning Cruise. The main differences when you get into the suite categories are obviously bigger cabins with the Junior Suite having a surface area if 21 m2. We also had a shower over a bath which is different to the standard and deluxe which just has a shower cubicle.
In this type of cabin and above passengers enjoy Premier Service extras. These include, express check-in, free pressing service – up to 3 items per person in the first 24 hours onboard. free continental breakfast in bed – 1 per person, per week.
It was a great cabin with a large balcony and we would happily stay in this type of cabin again. Have a look around in our video below.
Calypso Suite on the Marella Discovery Cruise Ship
The Calypso Suite is one of 5 executive suites on board, they can be found on deck 8 and this suite sleeps 4. There is a separate living area, queen size sofa bed, separate shower and bath, and the total surface area is 47 m2. A large balcony accommodates a table, chairs and two large sun loungers.
Have a look around the Calypso Suite in our video below.
Royal Discovery Suite on the Marella Discovery Cruise Ship
Last but not least is the most expensive cabin on board The Royal Discovery Suite
This luxurious cabin covers a huge 92m²! It has a seperate living area, kitchen/bar area, king size bed in a separate bedroom, walk in wardrobe, huge whirlpool bath and a baby grand piano!
The balcony is large too and your neighbours are the officers of the bridge.
Come and have a look around!
If you want to binge watch all the videos together we have now put this complete cabin guide together here!
We hope you have found our complete guide of the cabins on the Marella Discovery cruise ship useful. It is a great ship and we know we will be back on board again one day.
Book your Marella Cruise here (Affiliate Link)
Visit our Marella Cruise information Page for more cruise tours, advice and reviews!
Pin for Future Reference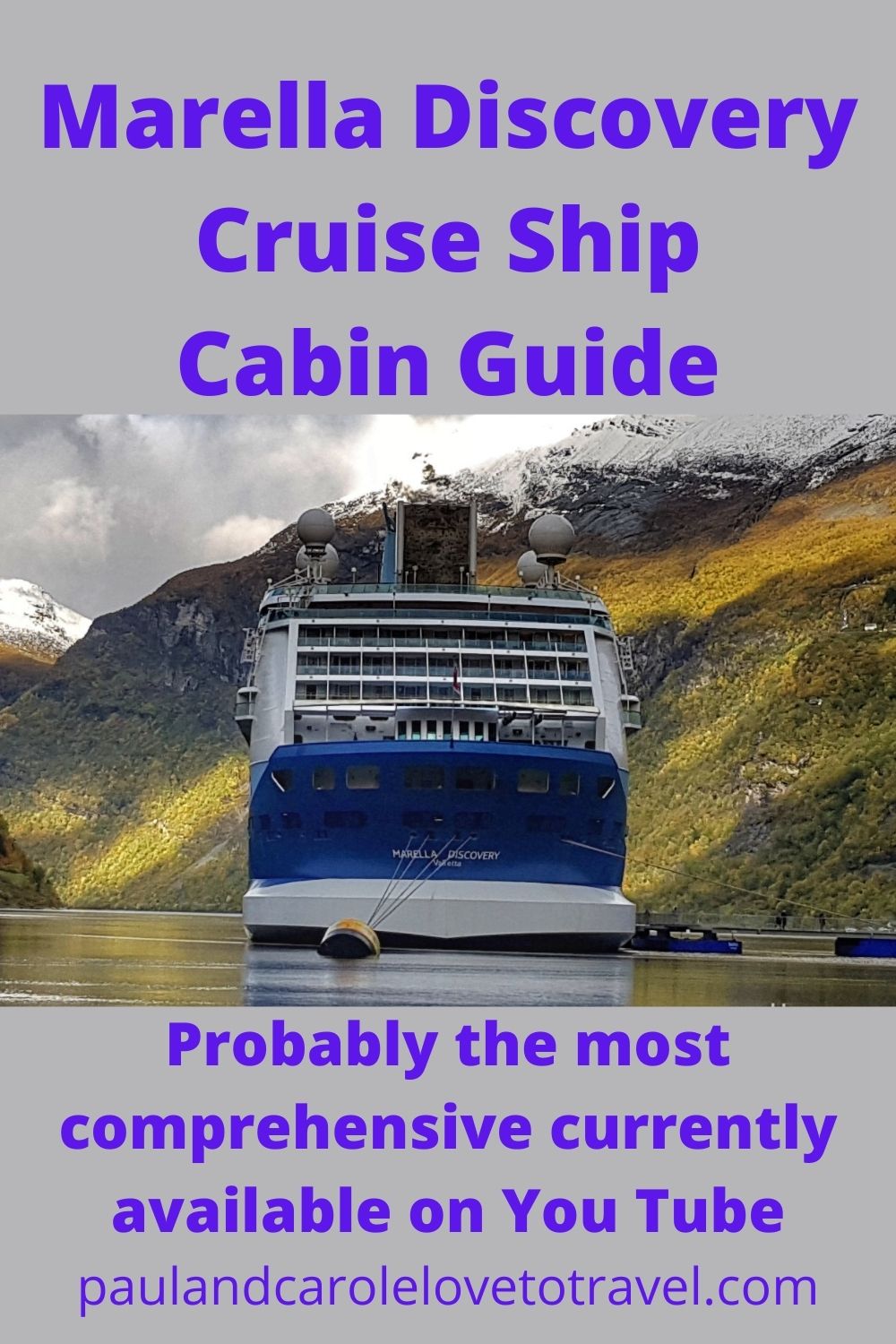 RELATED BLOGS
Sky Princess Cabins – Reviews and Tours so you can make the right choice!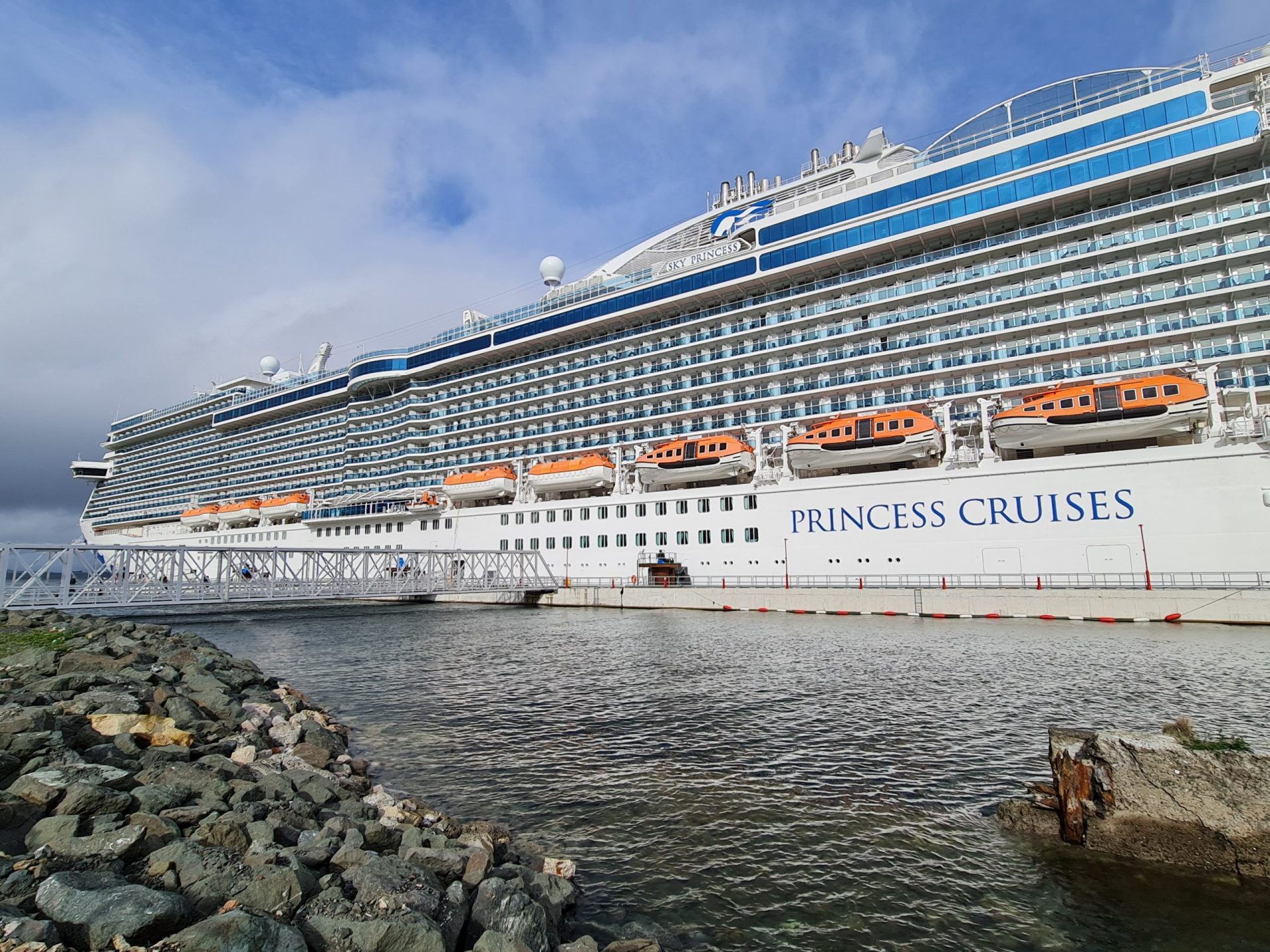 Princess Cruises Sky Princess is a Royal Class cruise ship which first sailed in 2019. Sky Princess carries a total of 3660 passengers in a total 1834 cabins. In this...
Read Review
Princess Cruises Laundry Costs
Most modern day cruise ships usually feature a launderette, but if you don't feel like doing it yourself this post will outline the cost of having your laundry done for...
Read Review
Marella UK Cruise Launch
The Marella UK cruise launch is here, with a return to sailing on the Marella Explorer from Southampton on the 25th June 2021 with Newcastle sailings on the Marella Explorer...
Read Review