Our Guide to the Best and Beautiful Beaches of Koh Samui Thailand
We have now visited Koh Samui 7 times so have got to know the island fairly well. Koh Samui really has something for everyone, the beaches are numerous and all offer a different experience.
So if you are planning a trip and can't decide where to stay, or visit during your stay here is our guide to the best beaches of Koh Samui. We will start with the beaches on the north of the island and work our way around the island clockwise, showing you what each beach has to offer!
Bang Por Beach – Beaches of Koh Samui
On the north west coast of the island Bang Por is a very quiet beach. We normally get the taxi to drop us off at the end by Relax Beach Bar and then walk up the beach stopping at Shenanigans Irish Bar then on to Som restaurant for some excellent food. It is a beautiful beach, firm for walking on and shallow for swimming with the opportunity for some great sunsets. Something always surprises us when we visit Thailand and we were sat here one afternoon when a man walked past with a buffalo, we were not expecting that! If you are after a secluded and quiet day of relaxing with very few people around then this is a great beach to visit.
Maenam Beach – Beaches of Koh Samui
Maenam Beach is a lovely long beach on the north coast of the island. The beach has plenty of restaurants and bars where sunbeds can be used if you buy food and drink. Good for a long beach walk and great for swimming too. We tend to head to Maenam on a Thursday as that is when the walking street market happens. We spend the day at the beach and then spend the evening at the night market. It starts at around 1700 and offers souvenirs, street food, clothes and cheap cocktails until about midnight.
Bangrak Beach – Beaches of Koh Samui
This picture is pretty special to us because we arrived in Koh Samui for the first time and got up to this view! The beach at Bangrak is lovely, narrow and really shallow, however, does get grittier and less picturesque the nearer you get to the Bangrak Pier. We stayed at the Secret Garden Beach Resort and really enjoyed the beach here. The beach has firm sand, good for walking and also for plane spotting!
Fishermans Village, Bophut – Beaches of Koh Samui
The beach at Fishermans village is good but does have very gritty sand which does make it hard work to walk on. However, it is dotted with bars and restaurants where you can sit and admire the views over to Koh Phangan. It is also very shallow for swimming. We stayed at Enjoy Beach Hotel and had fantastic views and fabulous sunrises.
Choeng Mon – Beaches of Koh Samui
Choeng Mon beach is situated on the north east corner of Koh Samui. The beach is beautiful with shallow waters and really great for families. There are some bars and restaurants on the beach and we experienced some incredible sunsets. Choeng Mon is a quieter resort area and does has some great restaurants and bars, however, if you are looking for partying until dawn then you will be disappointed.
Chaweng Beach – Beaches of Koh Samui
Chaweng beach is beautiful and is the main party area of Koh Samui and can get very busy. It is a beautiful beach in the day, soft white sand with very shallow waters, perfect for swimming. Restaurants and bars are plentiful and there are plenty of options of sunbeds for the cost of a beer or food. There is a constant stream of beach sellers so shopping is an option too.
Chaweng beach can be a fun place at night however it can also become quite intimidating too. We stayed centrally at the Montien House Hotel which was not far from the Ark Bar and were approached by a few unsavoury characters offering us some dubious goods which has never happened to us before on all our trips to Thailand, this happened both at night and also when we got up to watch the sunrise. However, Chaweng Beach is very long so if we returned again we would opt to stay on the outskirts rather than smack bang in the party zone. This area was great for plane spotting too!
Chaweng Noi – Beaches of Koh Samui
Chaweng Noi is a beautiful beach, much quieter than Chaweng beach, the water is shallow and ideal for swimming. There are large hotels all along this beach and a couple of bars and restaurants. As long as you buy a drink or food you are able to use their sunbeds.
We found two ways to access Chaweng Noi beach. You can go through the Bistro Restaurant, buy a drink and use their beds and their mango smoothie's were excellent! Secondly, look for signs for the Beach Club and you can walk down the steps and onto the beach. The Beach Club is more expensive and has loud music playing but if that's what you enjoy it is a good place to visit. They do have offers and Saturday nights is ladies night where ladies drink free.
Here is a look around Chaweng Noi Beach.
Lamai Beach – Beaches of Koh Samui
We love Lamai, the beach is varied and gets less coarse the further south you go, the sand is soft so quite hard work to walk distances on. The water gets deep fairly quickly and can get rough at times, but is great for swimming and having fun in the waves.
There are lots of bars and restaurants along the length so finding sunbeds is not a problem. Plenty of options for Thai food, however, if you fancy a change from Thai food then the Bikini Bar does excellent ribs with reggie music playing. Our favourite spot though is towards the south end by a bar called No Stress, we love it here, great food, service and perfect views.
For more information check out our post – What to do in Lamai here!
Lipa Noi – Beaches of Koh Samui
On the west of the island below Nathon you will find Lipa Noi Beach. This is a quiet beach with a few restaurants and hotels dotted along. The famous Nikki Beach club is situated here, and is a luxurious place to spend the day, it is free to get in but drinks and food are expensive, you can check out our visit here. This beach is firm and great for walking and has the best sunsets!
Fire Shows on the Beaches of Koh Samui
We can't talk about the beaches of Koh Samui without mentioning the Fire Shows. When the sun goes down we find a spot in a bar or on the beach and watch the fire shows. These happen about 3 times a week, about 7-8pm and are always spectacular. They are free to watch but tips are expected. Here is a short video showing you what to expect at a fire show. We watched this from the Kon-Tiki New Nordic Beach Restaurant & Bar. We have also seen fire shows on Chaweng beach too.
We hope you have found our guide useful, and it helps you plan and make the most of your stay.
Save to Pinterest for Future Reference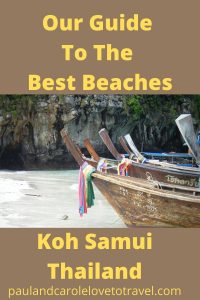 Tip on getting around Koh Samui to visit the beaches – On our recent trip to Koh Samui we discovered Navigo, an app where you can book taxis. Not only was it so easy but it saved us a lot of money too. The fares were about 30% cheaper than conventional taxis. We have updated our Koh Samui transport post so do have a read and share with friends who are heading that way!
Here is a map of Koh Samui courtesy of Kohsamui.org which shows you the locations of the beaches mentioned.
Here are our favourite travel accessories that we used on our recent trip to Koh Samui.
This post contains affiliate links, which means we may receive a commission if you click a link. While clicking these links won't cost you any extra money, they will help us keep this site up and running.
Love travel? Come and join the Feet do Travel Community get more inspiration from like minded travel bloggers!