Village Hotel Basingstoke Review
We stayed at the Village Hotel in Basingstoke whilst we visited friends for a weekend. Village Hotels Club are a lifestyle hotel brand that currently have 31 hotels in the UK. They claim to offer a lifestyle hotel brand offering fabulous rooms, with modern technology, so we decided to see if this was true.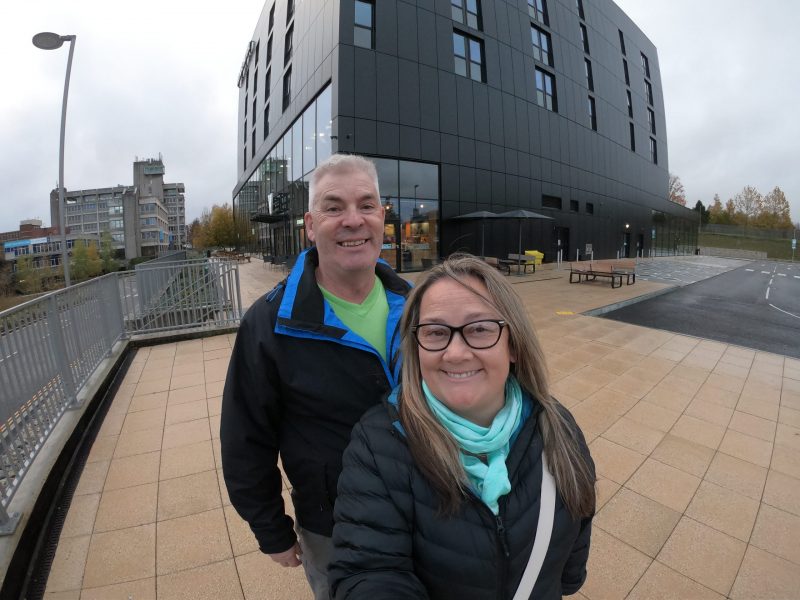 The Village Hotel in Basingstoke is the latest addition to the Village Hotels Club and opened in February 2020. Easy to find just 2 miles from the M3 and 7 minutes walk from the train station. This hotel has a huge car park, so parking was easy and free post lockdown. However, normally it does cost £5 per night Monday to Friday but is free on the weekends.
When you walk through the automatic entrance doors you see reception. A very helpful member of the hotel staff then showed us how to check in electronically and we produced our room key. At no point did we have contact with this staff member and all COVID guidelines were adhered too. Village Hotels claim regarding using modern technology was evident right from the start.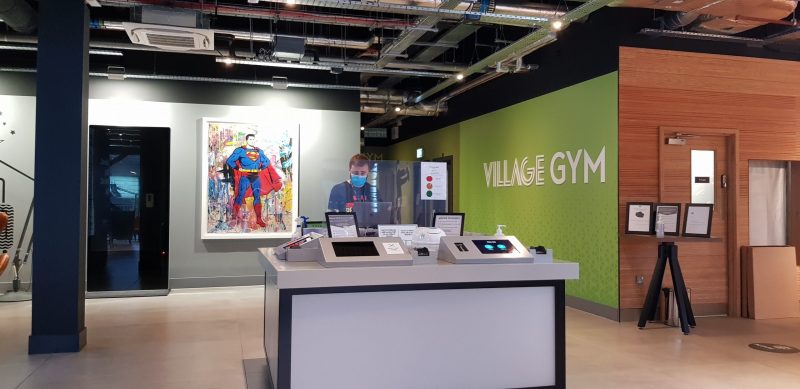 To the left of reception you will find Starbucks and the entrance to the Gym. To the right is the bar, restaurant area, a lovely space, with huge televisions that show the news and sport. With plenty of seats inside and out, it was well very well spaced.
This is also the restaurant where breakfast is served from 7-9am during week days and 730-10am on weekends. There was a choice of continental or full English which we chose. The breakfast was good and the service was excellent too.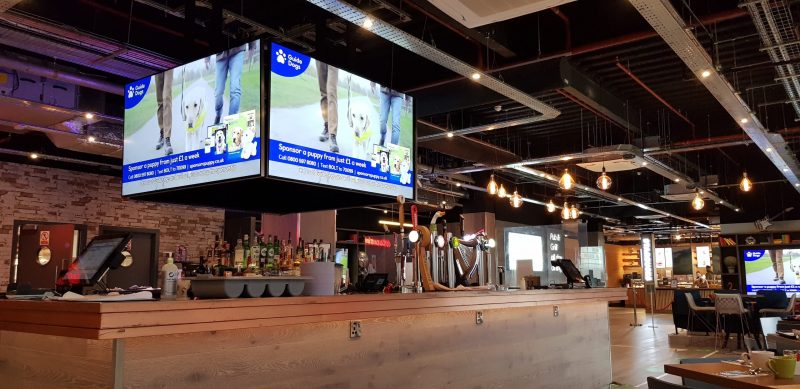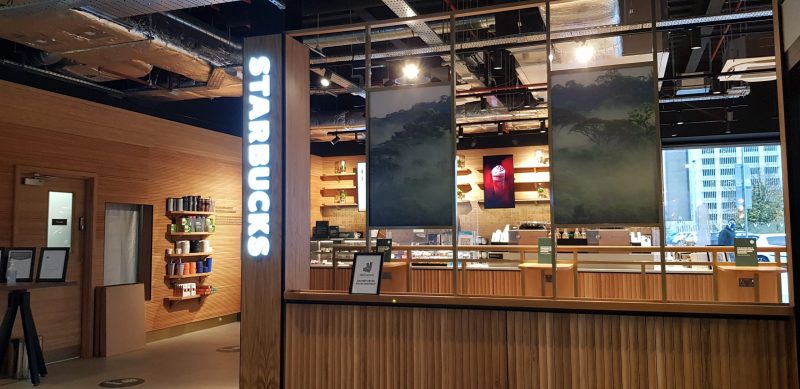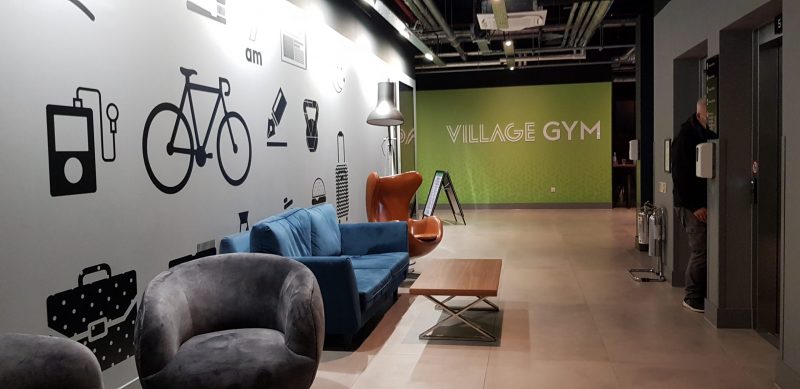 Our room 537 wasn't huge but full of vibrant colours and gadgets. The bed was large and really comfortable and opposite there was biggest HD TV we have ever had in a hotel room. The TV provided information about the hotel as well as having access to many channels using a code that you could access from reception.
There were plenty of sockets and USB points and a kettle with tea and coffee was provided. There is not a lot of storage in this room, only a small open plan wardrobe and 2 drawers, but it was perfectly adequate for us.
The room doesn't have a telephone but has an Alexa which we tried to use the second day, unfortunately it didn't work. We contacted reception who offered us a room change but as this wasn't important to us and we were leaving in the morning we decided to stay in the same room. Good to see they were proactive when things did not go to plan.
The bathroom was pretty special. Privacy glass could be turned on or off, large magnifying mirror with light, an electric window blind and the shower was massive. It included a large rain shower and side arm, there were complimentary toiletries and large soft fluffy white towels were provided in a sealed bag.
This room was so comfortable we were very happy here!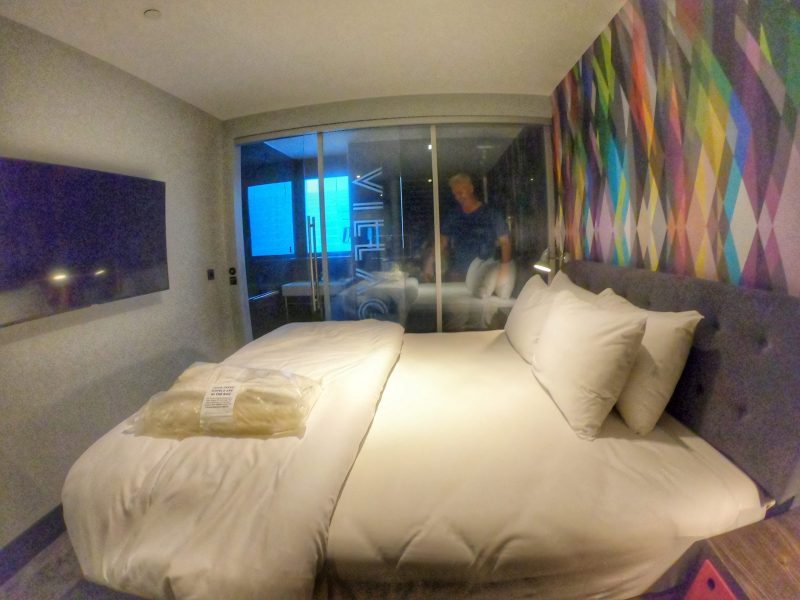 This was our first experience of a Village Hotel and we were very impressed. The attention to detail is fabulous and they are certainly embracing modern technology which does enhance your experience. We will definitely be choosing a Village Hotel for our future city breaks. Basingstoke is also not far from the cruise port of Southampton, so if you need to break up a long journey this is a very good choice.
If you would like to have a look around do check out our video review below too!
We have lots more England Hotel Reviews here and we would appreciate if you checked out our Hotel Booking Page and use our link to book too.
This is an affiliate links, which means we may receive a commission if you click a link and purchase something that we have recommended. While clicking these links won't cost you any extra money, they will help us keep this site up and running. We appreciate every click!
RELATED BLOGS
Our stay at the Castello di Rodi Hotel, Rhodes, Greece
We stayed for a week at the Castello di Rodi Hotel in Rhodes, Greece, on a bed and breakfast basis. Location of the Castello di Rodi Hotel In the Thomson...
Read Review
Exploring Gloucestershire – Visiting Bibury in the Cotswolds
We are very lucky to live in the beautiful county of Gloucestershire in England. One of our first trips out following lockdown was to the beautiful village of Bibury. Bibury...
Read Review
Our day out to the Welland Steam and Country Rally Worcestershire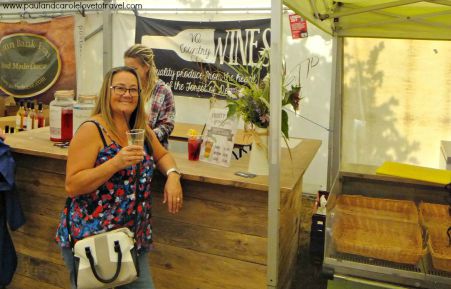 We had a great day and evening with family and friends at the Welland Steam and Country Rally. The Rally was first started in 1964 by a handful of Steam...
Read Review