2017 – The Year Paul and Carole travelled to Mars!
Last year we published a post called 12 Trips in 12 Months showing our adventures of 2016. Now that we are coming to the end of 2017 we have put together this post called 2017 – The Year Paul and Carole travelled to Mars! Read on to see what we have been up to and we hope we will inspire you to travel somewhere new!
First stop – back to one of our favourites Thailand!
We are huge fans of Thailand, every year we say 'right this year we are going to try somewhere else' and then we book a trip back to Thailand! This time for some of the trip though we did go to parts of Thailand we had not visited before, Chiang Mai and Khao Lak.
We started off with a 3 night stay at the Chatrium Riverside Hotel in Bangkok. The Chatrium Riverside Hotel was perfect right on the river and very easy for getting out and about. Bangkok is a crazy place but we always discover something new as you can find out in our post What to do and not to do in Bangkok!
After 3 nights in Bangkok we flew to Chiang Mai, which was our first time here and stayed at the Khum Phaya Resort and Spa a beautiful hotel just outside the main town. Our main reason for staying in Chiang Mai was to visit the Elephant Nature Park something we have wanted to do for a very long time!
On our travels we have learnt so much about the dark side of animal tourism and wanted to support the work that they are doing with the abused elephants here. Our post The truth about elephant exploitation and how you can help explains why tourists need to be educated to help stop the abuse of these magnificent creatures, so please do read this and share so that this message gets out. This was definitely one of our most rewarding experiences we have ever had and we definitely recommend a visit if you are heading to Chiang Mai!
Our holiday in Thailand ended with 2 weeks on the beach in Khao Lak staying at the Centara Beach View Hotel. It was a great choice, do check out our videos if you are planning a stay, and don't forget to subscribe to our You Tube Channel!
Khao Lak is situated north of Phuket and a great place to go on holiday if you are after great beaches, beautiful sunsets and a fairly quite time. We enjoyed our time here, and do check out our post 8 ideas on what you can do during your visit.
Trip to London to watch the London Marathon and Bruno Mars
Every year I sit and watch the London Marathon get very emotional and cheer everyone on, I decided it was time to actually go and booked the trip while Paul was away racing! We had a fabulous 5 day trip to London where we firstly stayed at the Sunborn Yacht Hotel for 2 nights, a unique hotel close to the O2 arena and with our love of cruising this was an excellent choice!
As the title of our post states we definitely did travel to Mars! Bruno Mars was playing at The O2 and we have been huge fans of his for a long time. Bruno and the Boys put on one hell of a show, we had an amazing night and an excellent stay at this floating hotel which was the perfect location.
To experience a different part of London we then headed to the East End and stayed between Whitechapel High Street and Brick Lane.
We stayed for three nights at the Arbor City Hotel which was again an ideal location. Great for exploring as just round the corner from Aldgate East tube station and just a short walk to some of the best curries we have ever had in Brick Lane!
Check out our  top tips for visiting London.
A Family wedding and staying in a Castle!
We are very lucky to both have great families and my eldest niece Samii got married at Clearwell Castle. We had the privilege to see what it was like to stay in a castle and had the most memorable day and night surrounded by family. It was pretty special, a perfect venue for a wedding and you can read all about it here.
Long weekend away in our Camper Van to Dorset
For May bank holiday we jumped in our camper and headed with friends to Dorset on the south coast of England. We spent 4 days staying at the South Lytchett Manor Caravan and Camping Site and had a great time. It was fun exploring the county in Dorset somewhere we have not visited before even though it is only a few hours travel from our home city of Gloucester.
We are blessed with having such great friends and we love being away in our camper van. We feel so snug staying in our camper and particularly when the weather is not so good, which is a good job really as this often happens in England!
Fun and frolics with the girlies in Fuengirola
After having a fun time in Torremolinos last year with some girlfriends, we decided that we should repeat this and booked a 4 night break to Fuengirola. Spain is a short 2 hour flight from the UK so ideal for weekend breaks. We stayed in a great apartment called Fuengirola Centro and it was a really good choice. We spent the weekend laughing and chilling in the sun, which was perfect!
[booking_pluginbox id="2816″]
Cruising around the Greek Islands on the Thomson Dream Cruise Ship
Paul's mum sadly passed away in January and we decided it would be lovely to have a holiday with Paul's Dad and Sister Jan. We decided on a Marella Cruise to Greece on the Marella Dream Cruise Ship.
We had the most wonderful cruise around the Greek Islands, visiting Corfu, Kefalonia, Crete, Kalamata, Rhodes and Santorini. It was one of the best itineraries we have ever done and would love to do it again. Greece is another of our favourite destinations and here is a taster of what you can expect if you visit Santorini.
If you haven't been to Greece then we suggest you check out our post 10 photos that will inspire you to visit Greece, we know that you will be tempted!
Fun with Friends at the Sunshine Festival
In August we headed out again in our camper van on our annual pilgrimage to the Sunshine Festival in Upton on Severn, a great local festival only 20 miles from our home city of Gloucester. We love it as it has lots of acts from the 80's and reminds us of our youth! As usual it was a brilliant weekend with our friends and the sun even came out!
Spending precious time with family in Maidstone
My Dad is now in his 80's and he has a sister Marg who lives in Maidstone in Kent and due to the distance we unfortunately don't see them often enough. In September we spent the weekend with them and had an amazing time. We stayed at the Premier Inn Sandling which was right on the River and had a pub next door, so was perfect!
Cuba stay and Caribbean Cruise on the MSC Opera
In November we travelled to Cuba and joined the MSC Opera Cruise Ship for a cruise around the Caribbean and Central America.
It was an interesting trip which has been titled MSC Opera Cruise Ship Review – The Good, The Bad and The Ugly, so do make sure you have a read!
Cruise Collaboration
One of the best things that has come out of starting our Paul and Carole Love to Travel blog has been meeting like minded people who love to cruise and travel. One of those is Emma from Cruising isn't only for old people and we have been included in this collaborative video all about saving money when you cruise. Check it out and also don't forget to subscribe to our You Tube Channel here!
Other groups that we have also connected with and we think you should check out are Feet do Travel on Facebook and #TheWeeklyPostcard on Twitter, both full of lovely people who also share their travel expertise.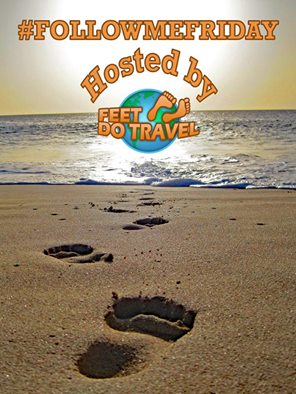 2017 has been a great year for Paul and Carole Love to Travel, with more visitors everyday to our website and our social media following growing every day we are really proud of what we have achieved and look forward to what 2018 will bring.
So there you have it, that was our year! What have you been up to in 2017? We would love to hear in the comments below!
We hope you have enjoyed our post 2017 – The Year Paul and Carole travelled to Mars!
We certainly have had an enjoyable year and we already have plenty of plans for 2018 and look forward to sharing them with you.
In the meantime, thanks for reading and make sure you follow us too on the social media links below!
This page does contains affiliate links, which means we may receive a commission if you click a link to visit an affiliate site. Clicking these links will help us keep this site up and running and we only direct you sites that we recommend and have used ourselves.
We book the majority of hotel stays with our affiliate partner Booking.com and you can too. Just visit our hotel booking page or use the search box below, there is no extra cost to you and you will be helping us to keep Paul and Carole Love to Travel up and running too!
If you enjoyed this post please do follow Paul and Carole Loves to Travel on:
Pin it!