Sail Croatia Elegance Cruise Review
We were invited by Sail Croatia to experience one of their Elegance Cruises, on board their cruise ship Queen Jelena. We spent 7 nights on board sailing from Dubrovnik to Split with stops at Mljet, Korcula, Vis, Hvar and Milna on route.
In this post we show you what small ship sailing with Sail Croatia is all about and give you the information you need to decide if an elegance cruise Sail Croatia experience would be for you.
Disclaimer: We cruised on Queen Jelena in August 2022 and were guests of Sail Croatia for this trip. All views and opinions are our own and we retained editorial control. We were not paid to attend this trip and we self funded flights and hotel pre cruise in Dubrovnik.
Who are Sail Croatia
Sail Croatia was founded in 2005 in the UK. They offer luxury small ship cruising, yacht experiences, active cruises and party cruises. They offer a range of cruising to suit most styles and budgets and have been enjoyed by customers world wide for over 16 years.
Founded by husband and wife team Grant and Helle Seuren it was their shared love of travel that first brought them together when they met on holiday in Australia, Grant comes from New Zealand and Helle from Denmark. They focus heavily on excellent customer service and have staff in the UK, Australia, Greece and of course Croatia.
In 2016 Sail Croatia also founded Green sail a non profit initiative that supports sustainable tourism and promotes conscious practices, education and better recycling and in 2019 they also committed to specific sustainability goals onboard all of their ships.
Queen Jelena Facts
Kraljica Jelena is the Croatian name for Queen Jelena who ruled Croatia more than a thousand years ago and it is from her that this beautiful ship gets its name. Built in 2018 Queen Jelena is 50 metres long and 8.5 metres wide easily making her the smallest ship we have ever cruised on, she has 19 cabins that can accommodate up to 38 passengers.
There are four decks, starting from the top are Sun deck, Salon deck, Above deck and Below deck which we go into more detail below. There are also 11 cabins on the above deck these are the most expensive and 8 on the below deck. We were allocated cabin 5 below deck and our opinion and video review can be found later in this post.
Top Deck - The Sun Deck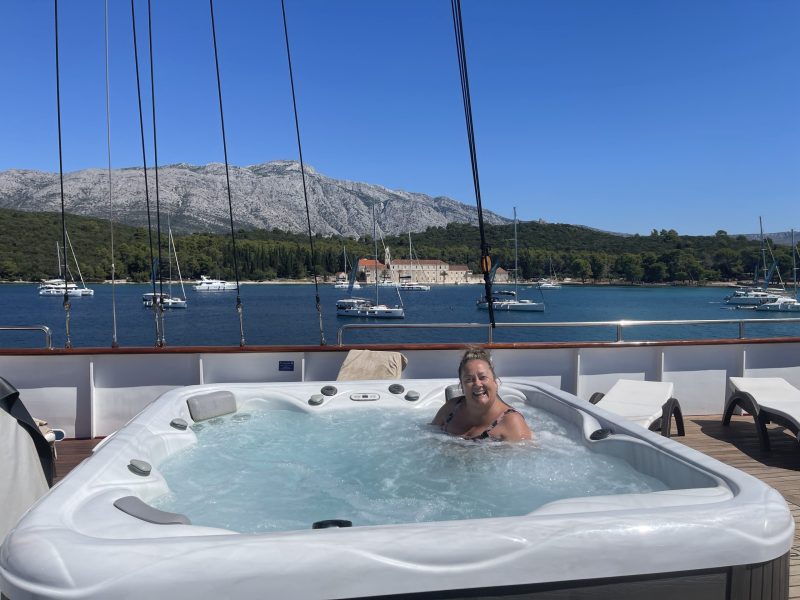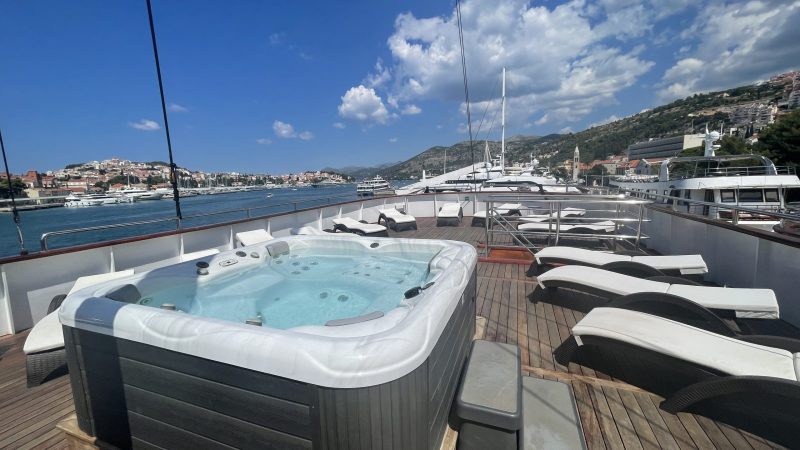 The top deck is a beautiful area, the wooden decking and chrome railings go perfectly together and there are more than enough sunbeds some of which are shaded to go around.
The centre pieces are a Jacuzzi and the small Octopus bar and even if the bar isn't open the excellent bar team of Mario and Pamela are always on hand to bring you the refreshments of your choice.
This is also the perfect spot for sail ins and sailaways and if sunbathing is your thing you are definitely in the right place. But a word of warning it gets very hot on the sundeck so adequate sunscreen and footwear is a must as I found out when I had to scuttle around like a little lizard after leaving my shoes in the cabin.
Main Deck - Saloon Deck
The main deck comprises of, from front to back, a small area that houses the anchor various ropes for mooring but there is more than enough room for photography during sailing manoeuvres and most importantly to recreate that king of the world moment from the film Titanic.
Next is the bridge with lots of important looking dials, gauges and electronic maps but the best thing is definitely the proper old fashioned wooden ships wheel.
As you move to the back using the full wrap around promenade you get to aft of the ship which comprises of two areas, the bar and restaurant where you are served all your meals, receive port information and on selected nights get to immerse your self in some local entertainment.
The very well stocked bar is open until 11 pm each night and serves a mixture of local and international drinks that are sensibly priced too. Payment is on a bar tab system that has to be settled in cash on your final night, they are happy to accept pretty much any currency but as of the 1st of January 2023 Croatia will be adopting the euro with the Croatian Kuna eventually being phased out completely.
This area has 5 round tables and can seat 8 people per table,  the great thing about this is also the fact that the dining  times are fixed but where you sit isn't meaning that throughout your cruise you will likely dine with every other passenger on the cruise.
The final area is the alfresco lounge, as Carole is an early riser this was her favourite place to head to when i was still snoring in bed, the decor here is pretty special with a varnished wooden ceiling  a large horseshoe shaped seating area and nine tables which is more than adequate to seat everyone on board even at full capacity.
There is also a notice board giving you all sorts of information from the crews names to the lunch menu, there are also some emergency contact numbers and to keep you fully hydrated a water cooler.
Down the stairs from the alfresco area is a smoking area that has two tables and eight chairs and this also houses the swimming aids for your daily swimming stop if you require them.
Our Lower Deck Cabin Number 5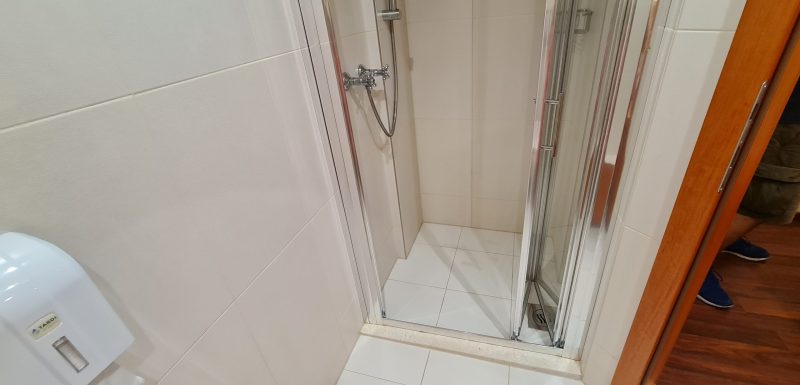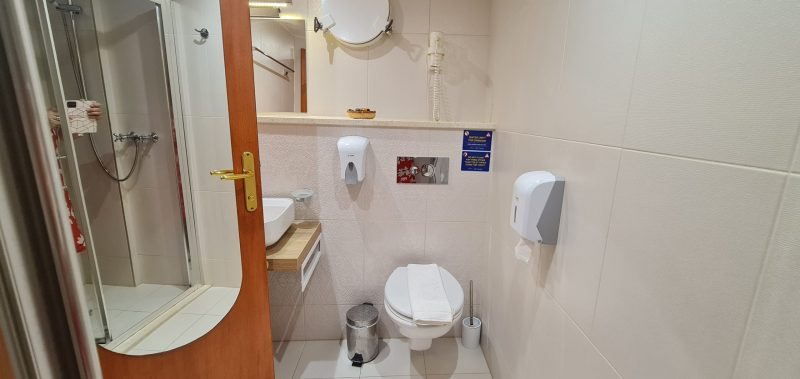 The cabins are very much the same in design and are surprisingly spacious with large double beds or two singles if required a wardrobe two bed side cabinets and a large well lit writing desck area.
They all come with air conditioning as standard and a well appointed on suite with a good sized shower a hair dryer and most importantly a glass shower door, so no clingy plastic shower curtain.
We always get asked about charging points in cabins and as you will know this is something that is important to us too, but you can rest easy as there are plenty to go around, There are European plugs each side of the bed and a third on the writing desk which we found to be ample for our needs.
Your cabin is cleaned on a daily basis and Tia who looked after ours was excellent, our cabin was always cleaned on our return! Nice white fluffy towels were provided and you simply just pop them on the floor if you require fresh ones. You are also provided beach towels for the duration of your stay.
Crew Onboard
The crew onboard the Queen Jelena is only nine strong but the team led by Ship owner and Captain Gordan, who is also an experienced ship builder, pull together making your Sail Croatia experience the best.
Mia our host has a a fantastic knowledge of all the areas you are visiting and  never tries to put the hard sell on you for any of the excursions on offer, she was always available for our silly questions and good fun too.
The bar and restaurant team of Mario and Pamela make sure you never get thirsty even when sunning yourself on the top deck. Chefs Fraive and Tanya served us up excellent food throughout the week and even though some of our fellow guests had food allergies they were still very well catered for.
Sailors Mateo and Damir kept everything running smoothly from lowering the steps for our daily swim stops to keeping the decks and brass work spotlessly clean and we are sure lots of other tasks that go on below deck, and finally house keeper Tea kept our cabin clean, fresh and tidy throughout.
They were a great team, looked after us very well and are certainly a credit to Sail Croatia!
Transfers
Sail Croatia include return Airport Transfers at the start and the end of your cruise but if like us you want to arrive early to enjoy some land based activities before you cruise they can arrange transfers from your chosen hotel too! The only thing that is not included is a transfer to a hotel post cruise.
Food and Dining - Sail Croatia Review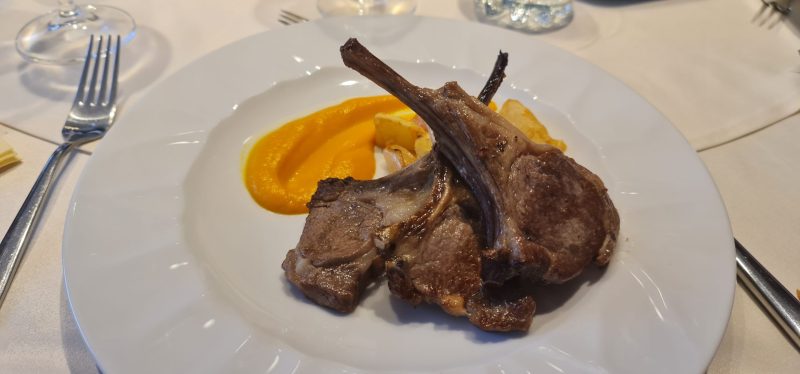 The food on The Queen Jelena is produced from probably the smallest galley we have ever seen on a cruise ship but you would never guess it with the fantastic food that they produce.
Every day a buffet breakfast of fresh fruit, cereals, fresh bread, croissants, and jams are laid out plus hot options of eggs, bacon, sausage and roasted vegetables, there is also a free to use coffee machine that is available until midday every day.
Lunch is three courses with the menus posted every day outside the saloon on the notice board and are usually based on local Croatian food, if you have any dietary needs you can address this at the start of the cruise or on any particular day and the team are more than happy to accommodate you.
Dinner on the cruise is included twice, once on board and is known as the captains dinner and once off the ship where you are taken to a local restaurant to sample some traditional Croatian fare. Our village dinner was great fun and we were so glad we chose to go along.
Daily Activities on board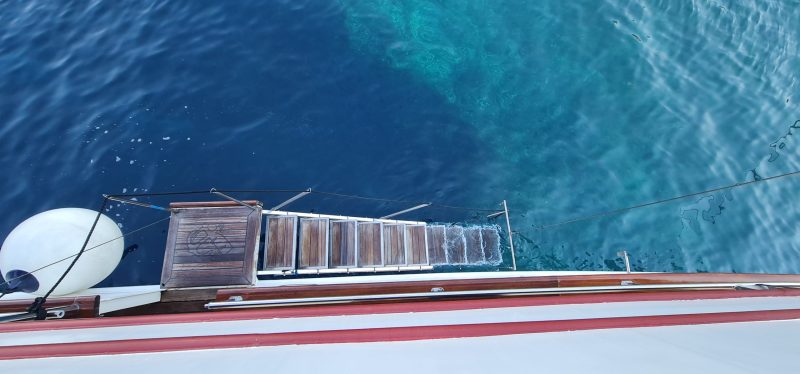 You are very much on your own when it comes to daily activities, there is a swim stop every day and Captain Gordan is the master at finding the best places to stop.  During our cruise one of the passengers Liz arranged a daily Pilates class which myself and Carole took part in, and I am still aching as I write this! Just to be clear, Pilates is not normally included with this cruise.
Daily Port Activities with Sail Croatia
Most days there was the opportunity to do some sort of excursion from visiting national parks, lakes and caves to free walking tours but the real beauty for us was having the freedom to come and go as we pleased. The ship is docked in port for around twelve hours a day with a back on board time of 5 am so if you like to party or prefer an early night the option is completely up to you.
Is seasickness an issue on small ship cruising with Sail Croatia?
We sailed in late July early August and experienced perfect weather, there was never really much movement on the ship during sailing or when moored up in port.
However every one is different and has different thresholds when it comes to travel sickness, so as a precaution we would always take some anti sickness medicine with us as its better to be safe than sorry. See our seasickness tips here.
Even though we didn't experience any sea sickness issues we did experience some noise when setting sail in the morning when the anchor was raised and when the ship had to manoeuvre out of port but it certainly wasn't offensive and if anything was a good alarm call to get us up for breakfast.
What to pack for a Sail Croatia Cruise
It doesn't come any more casual than a Sail Croatia cruise so there is no need for any sort of formal wear, the only dinner on the ship had no dress code at all so it really was up to the individual how you wanted to dress, I went for a casual shirt and a pair of shorts and Carole wore a simple dress.
We were told that sometimes in the evening it can get a little colder so Sail Croatia do recommend you bring a jumper/sweater or a cardigan for ladies but we never found the need for this on our cruise but do bear in mind that we cruised late July early August.
Sail Croatia Queen Jelena Cruise Ship and Cabin Tour and Vlogs
To compliment this review we have also filmed a complete cruise ship tour and vlog series which you can find below – episode 3 coming soon!
You can find more cruise videos on our You Tube Channel here too.
Verdict on our Elegance Cruise with Sail Croatia
Sail Croatia was our first ever experience of small ship ocean cruising and it will definitely not be our last.
We have always wanted to island hop around the Mediterranean and Queen Jelena is the perfect way to do this and things don't come much prettier than Croatia.
The ship itself is stylish and comfortable and provides everything you need for an unforgettable cruise from excellent food to friendly and very helpful crew, we would definitely recommend.
For more information visit Sail Croatia Website here.
Want early access to our You Tube Videos and be the first to know when we book a cruise?
Join our Patreon Community here
Become a member of our You Tube Channel
---
Planning a land based holiday, flights, bucket list trip, cruise or honeymoon then we recommend using Dan Hammond of GoCruise&Travel who you can be contacted here by email – dan@gocruise.uk.com and telephone 01622 891895 and via their website here.
He has found us some great deals and using a travel agent takes all the anxiety away of booking and coordinating complicated itineraries.
---
Find our favourite travel, cruise and motorhome accessories in our Amazon Shop.
Book your hotels with Booking.com. here.
---
Get answers to any of your travel or cruise related questions
Follow us on Instagram and send a message or Like and comment on our Facebook Page
and find us on Twitter here too.
You can also sign up for our newsletter by completing the box on our home page.
We are an Amazon Affiliate and this post contains affiliate links which means we may receive a commission if you click a link. While clicking these links won't cost you any extra money, they will help us keep this site up and running!
RELATED BLOGS
What are the best Regal Princess Cabins?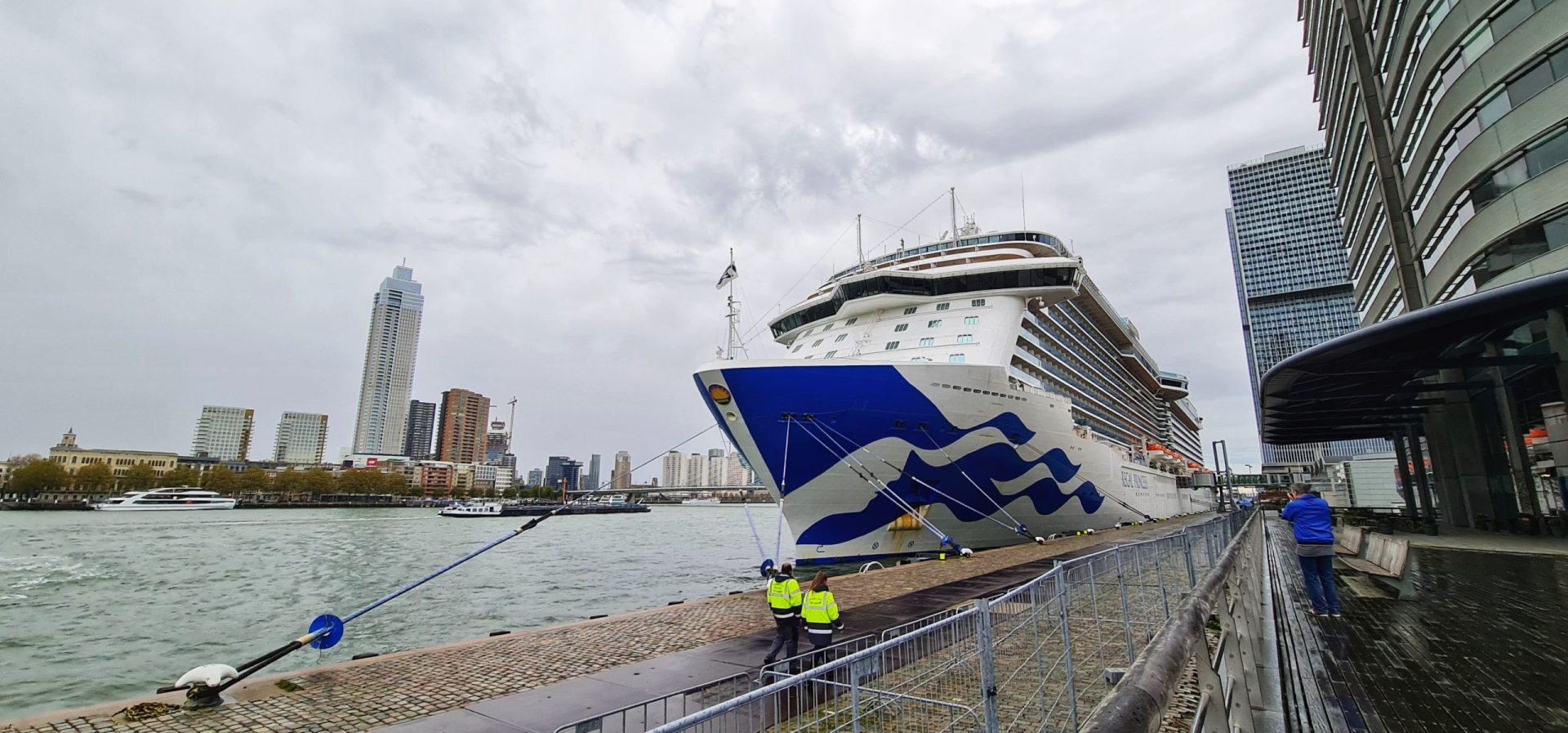 We have now cruised on the Regal Princess twice with friends and family and have now had experience of a variety of cabins. In this post we have included all...
Read Review
Marella Explorer 2 Cruise Ship Review
We cruised for 1 week on the Marella Explorer 2 in May 2019. This was our 4th Marella cruise, previously cruising on the Celebration, Dream and Discovery. In our Marella...
Read Review
Marella Discovery Cruise Review – Seeking the Northern Lights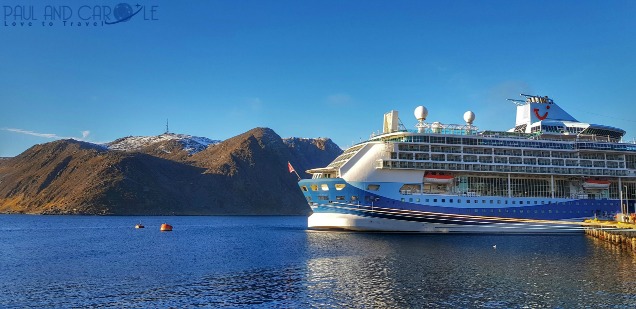 Our Marella Discovery Cruise Review explains exactly what it is like to cruise with Marella. We joined the Marella Discovery Cruise Ship in Southampton for a 14 night cruise to...
Read Review