TUI River Cruise Ship Review
We took our first river cruise on TUI Isla Cruise Ship. We cruised the Delights of the Danube itinerary and spent a week exploring some fabulous destinations and experiencing life on board a river cruise ship.
TUI Isla River Cruise Ship joined the fleet in 2020, is an adult only ship, and has a maximum of 158 guests in 79 cabins. The other two TUI river cruise ships are identical and are called Skyla and Maya. Each ship has a Cruise Director and onboard team that are on board for the duration of your cruise.
River Cruising can be notoriously expensive but TUI are currently doing some fabulous prices. We could of booked this cruise for under £800 including flights, transfers and 23kgs of luggage, if we wanted the cheapest standard balcony and just full board. However, we upgraded to an all inclusive fare and a French Balcony Suite and still only paid £1212 each! This also included £120 per person that we can spend on excursions.
You can find out their offers TUI river cruise prices and itineraries here (affiliate link)
In this TUI Isla River Cruise Ship Review post we cover the facilities throughout the 4 decks of this ship. We include bars, restaurants, lounges, leisure facilities, cabins, dress codes and technology onboard. We hope you find it useful so you can see if a TUI River Cruise Ship would be for you!
Relevant Reading – Find out all about TUI River Cruise Drink prices and Drinks Packages here.
Dining on TUI River Cruise Ships
Just like her sister ships, TUI Isla offers a full board plus package as standard. This means that you get three meals per day and drinks at mealtimes are included in the price.
Times of meals on our cruise were Breakfast 7-9am, Lunch 12-2pm and Dinner 7-9pm. There was also one Gala 6 course Dinner and one afternoon tea during our cruise.
Full board plus also means you can enjoy complimentary tea and coffee anytime, juices with breakfast, followed by soft drinks, beer, and wine with lunch and dinner.
There is also an option to upgrade to a premium drinks package to enjoy your favourite draught beers, branded spirits, cocktails, and premium coffees. You can find out all about drinks prices and the drinks packages here.
Verdastro Restaurant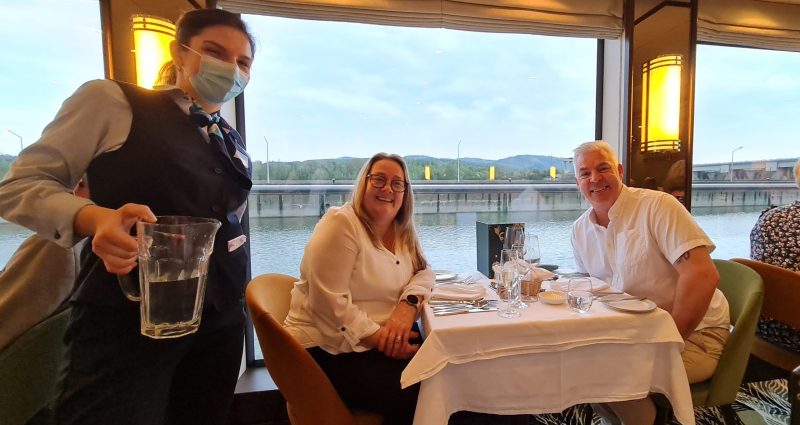 There are two restaurants onboard, the Verdastro and the bistro, the Verdastro is the more formal of the two which is very tastefully decorated in green and gold. There are tables available for up to six people but if there are less in your party you will be easily accommodated.
As you may have seen in our vlog series dining times are quite fixed with slight leway depending on ports and excursions but are usually breakfast 7am to 9am, lunch 12pm to 2pm and dinner 7pm to 9pm.
Breakfast is essentially a buffet of cereals, cakes and pastries, cold meats and cheeses, fish, plus the usual british fare such as bacon, beans, tomatoes and sausages, there is also the option of cooked to order eggs however you want them and omelettes.
Lunch comes as part buffet part waiter service depending on your given choices with the starters and desserts  laid out in a buffet style and your main courses served to your table, there is usually only two or three different mains on offer with a least one being vegetarian.
Dinner is full waiter service but again there will usually be two starters and two soups, four mains two of which are vegetarian two desserts and a cheese plate.
Even though the menus are limited the standard of the food is very good indeed and there will usually be at least one local to the area you are in dish available every day.
Here are some menu examples and meals we enjoyed on board. To see all the food available on board do watch our vlog series here.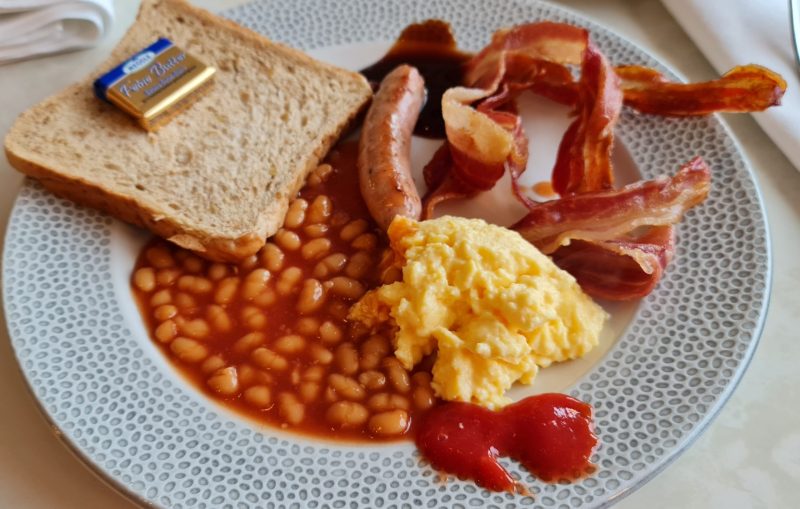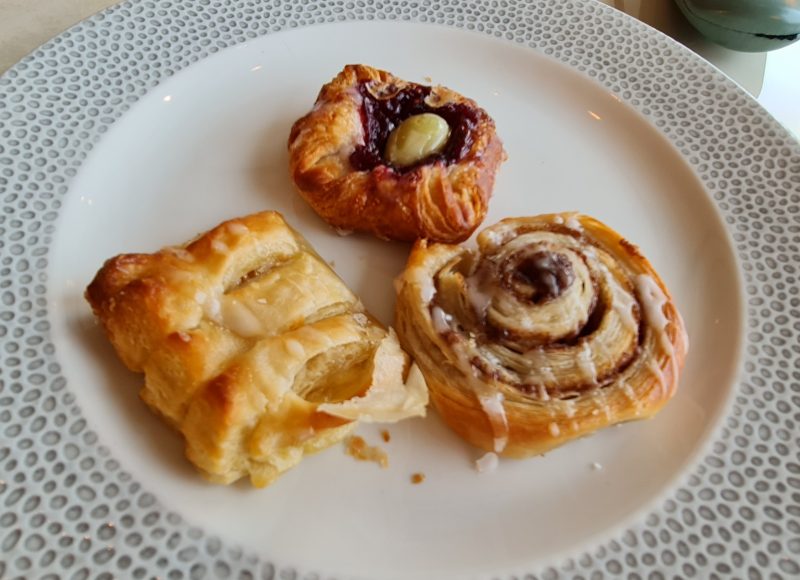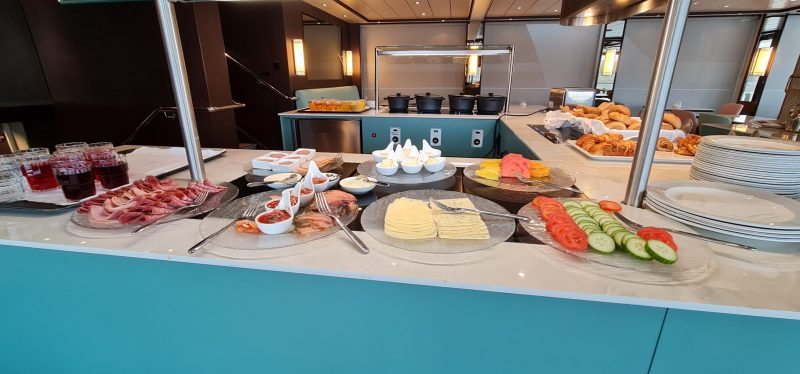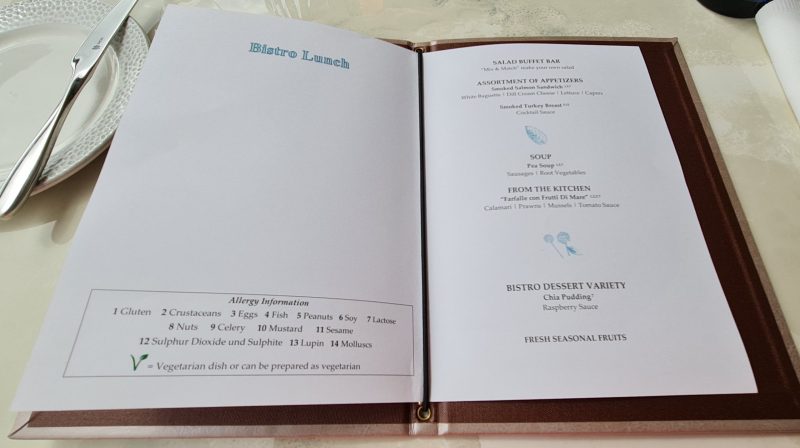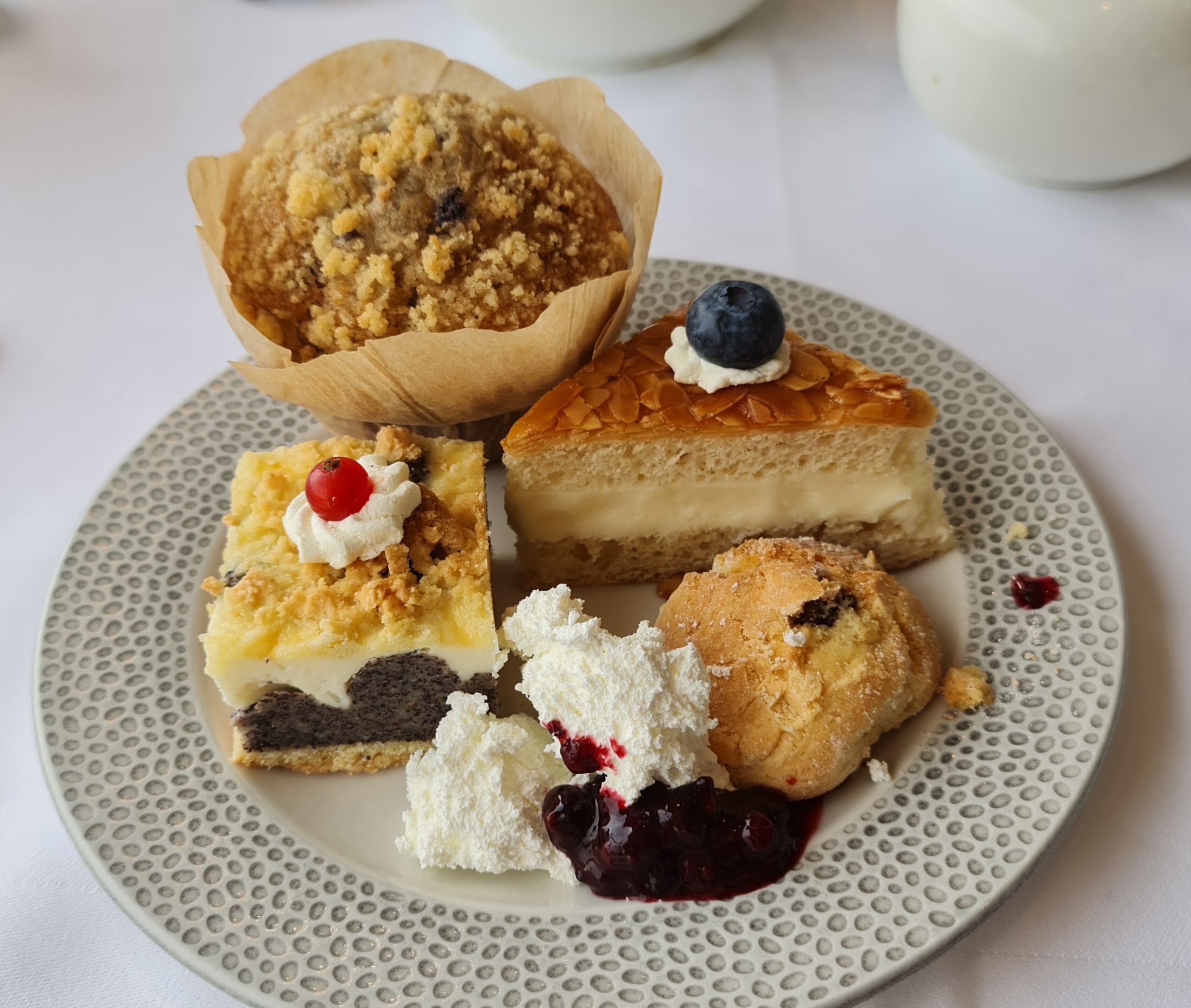 The Bistro
The Bistro can be found next to the Verdastro down a short flight of stairs and is basically just has a slightly less formal feel to it but it serves exactly the same food.
We had lunch in the Bistro and we have to say there is quite a bit of vibration coming from the engines when sailing so do bare this in mind when choosing.
There is also a version of afternoon tea served once per sailing, the reason I say version is that there is no savoury items, sandwiches sausage rolls etc only cakes and pastries with as much tea as you can drink.
Bars on TUI River Cruise Ships
Observatory Lounge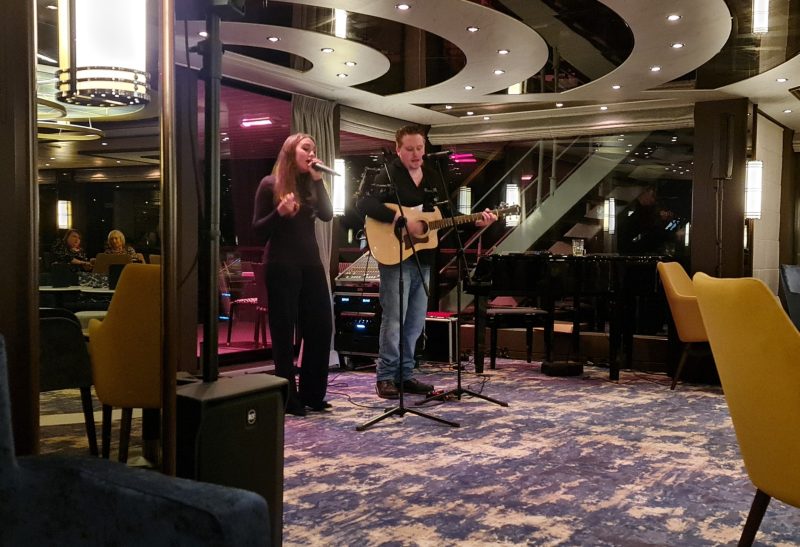 There are two lounges onboard the Observatory lounge and the Club lounge, the Observatory is the main lounge and is the hub of the ship with lots of comfortable seating large windows for unobstructed views and a very well stocked bar.
By day if you are not off exploring you can sit and read, play cards, have a chat with fellow guests or just do nothing.
Early evening is when you will get your talk on the next days port and then at 6-30 its happy hour with reduce price drinks and complementary canapes which sets you up perfectly for dinner.
Once dinner has finished the evenings entertainment will begin which can be anything from interactive quizzes, local artists giving you a flavour of the region you are visiting, or sing along to the resident entertainment team, on our sailing there was even a guest comedian who was extremely funny.
The Club Lounge
The Club Lounge is a smaller more cosy lounge with plush seating,  brass fittings and a roaring digital fire. This is also the home of speciality coffees but this may come at an extra cost depending on your drinks package.
The Club lounge is situated next to the Verdastro restaurant making it the perfect venue for a pre dinner cocktail.
Atrium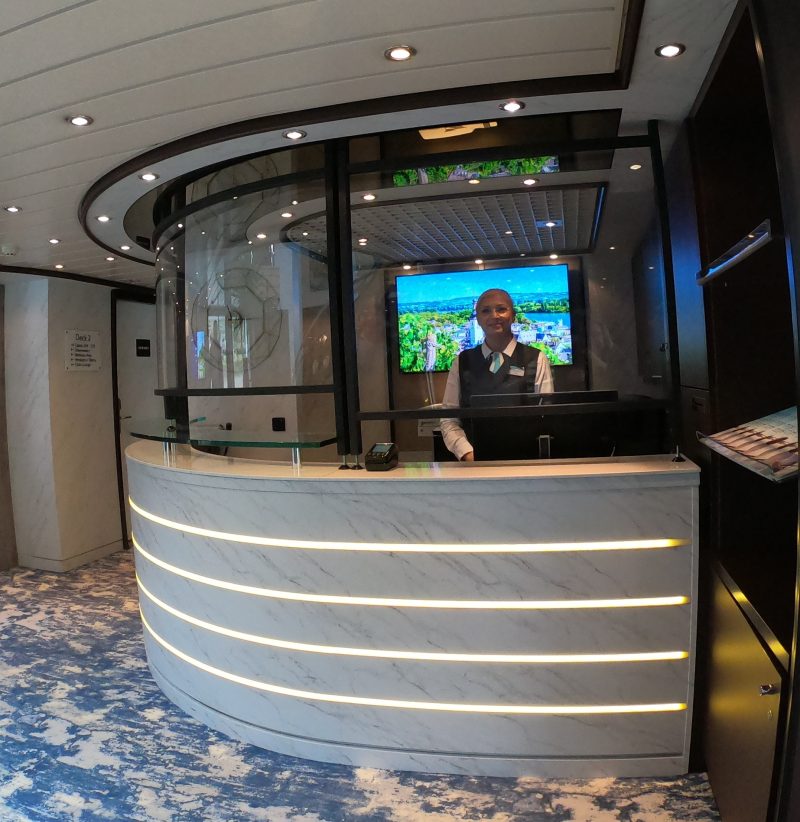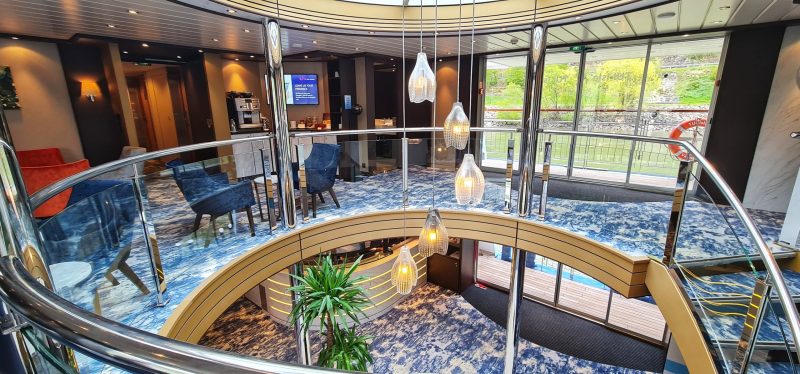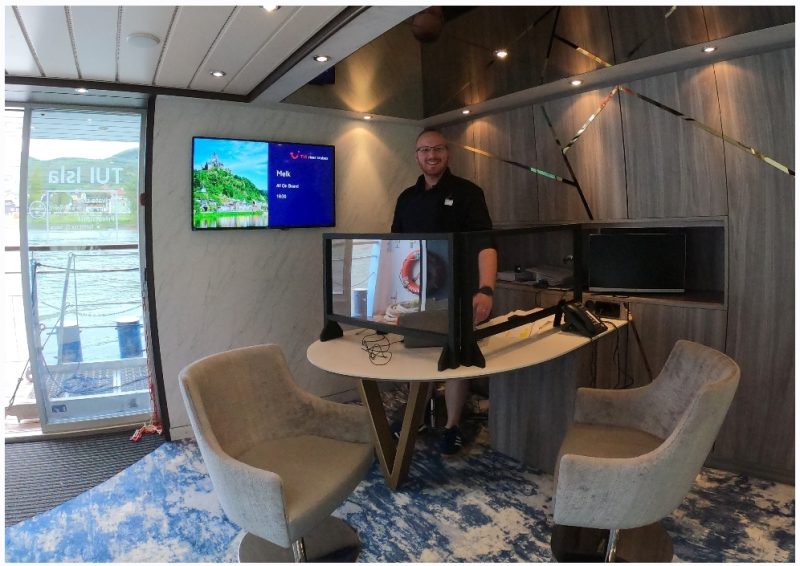 The Atrium is set over two decks 2 and 3, on deck 2 you will find the reception area some glass cabinets displaying handbags and jewellery which are available for purchase, a second reception type desk which is where you will usually find the cruise director and a gentlemen's toilet.
On deck 3 you will find the complementary tea and coffee station and which in the afternoon also has a small selection of biscuits, a small seating area with tables a games cupboard and a small library.
Outside Space on TUI River Cruise Ships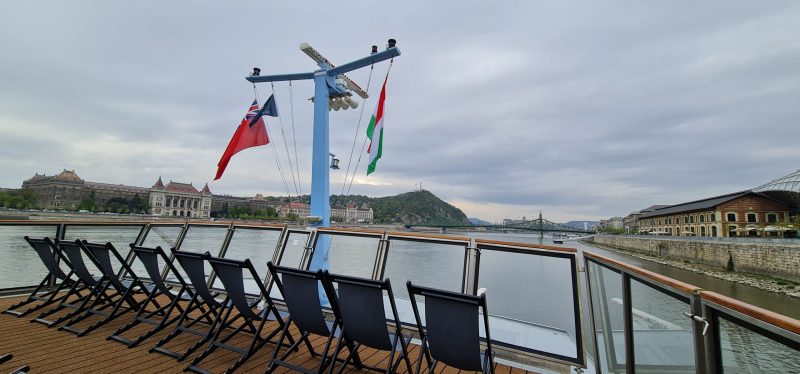 The views from the top deck are almost worth the cruise fare on its own (especially the evening sail away from Budapest) there is also ample seats and sunbeds. There is also an area reserved for daytime activities including mini golf, shuffleboard, coits, yoga and stretching exercises.
Everything on the top deck is designed to fold down flat allowing you to travel under bridges should the river levels rise even the captains bridge is on a concertina allowing it to retract if required.
On deck 3 at the front of the Observatory lounge is also a small outside area that gives you lovely views over the bow of the ship but unfortunately this is also one of the smoking areas (sorry smokers) but if there isn't anyone smoking it's a really nice place to enjoy a morning cup of tea or a afternoon beer, there are even some overhead heaters to take the chill off if the weather is not so good.
Technology on board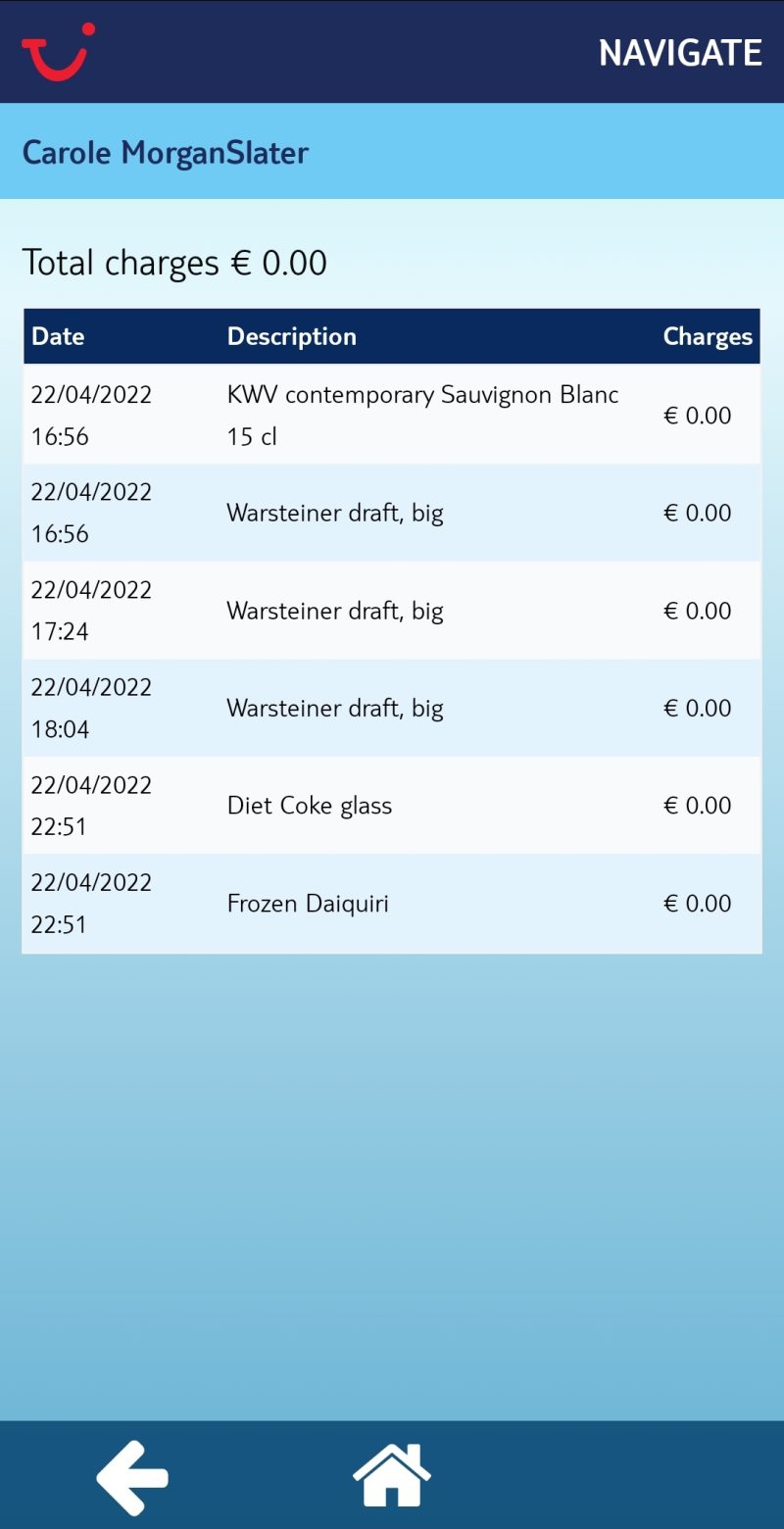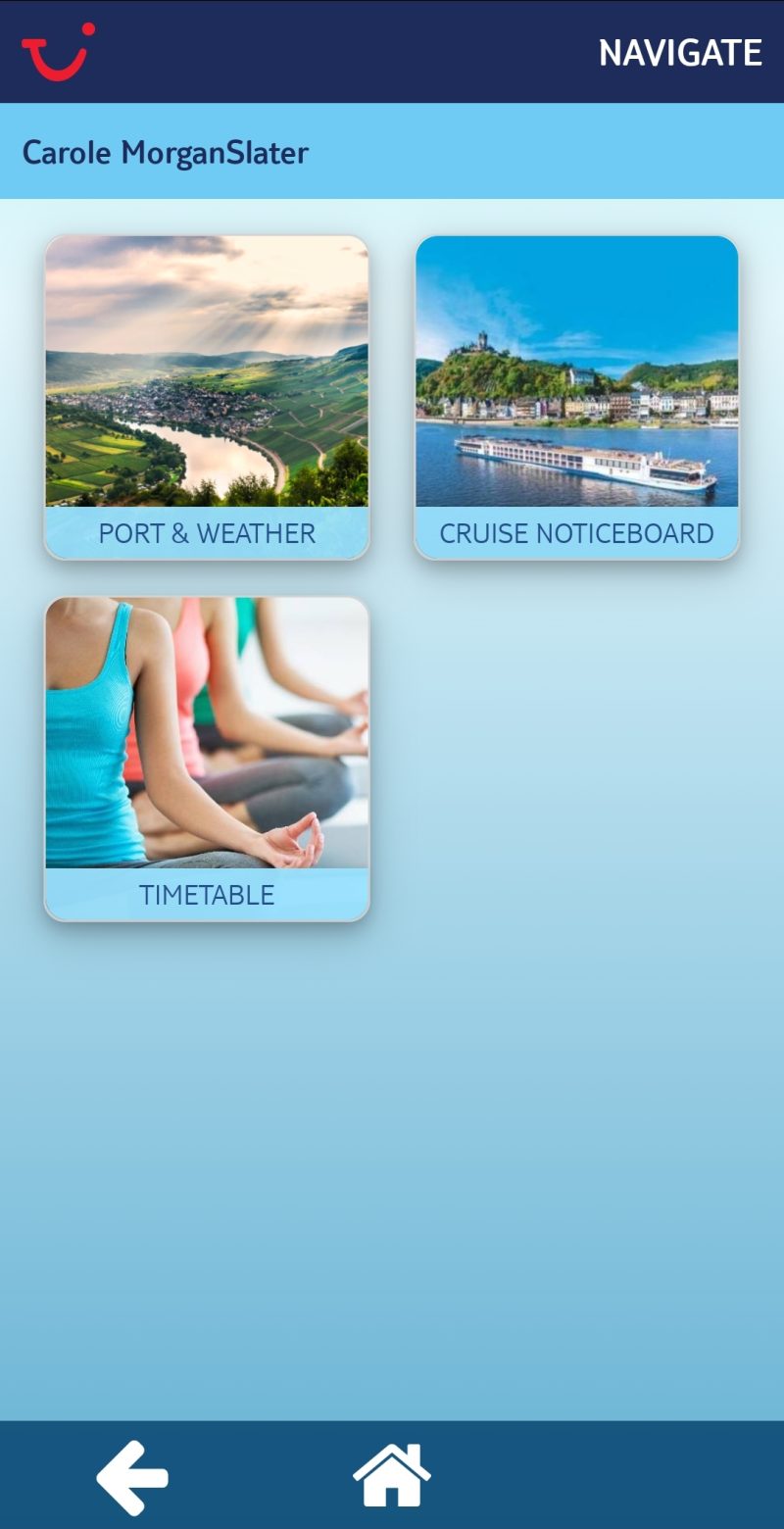 Free wifi is available throughout the ship though the speed is a little slow, there is also the Navigate app which tells you the daily programme, port information, excursion details, the local weather forecast and details of all the areas on board the ship. This was very easy to use once it was installed. Any issues go and speak to reception and they will help you access and show you how to use it.
You can also use your cabin television to access everything on the navigate app, plus there is a limited amount of programmes available but for some reason most were in German.
Wellness Area
The wellness area consists of a a sauna and a whirlpool bath and can be found on deck 2 along the corridor from reception towards the front of the ship. Booking early for the wellness area is essential as it is very small and extremely popular.
Dress Code
The dress code throughout the ship is very casual, on gala night people did dress up more than the rest of the week but it was still nowhere near as formal as we have experienced on ocean cruise gala nights.
The Staff and Crew on the TUI Isla Cruise Ship
There were 38 crew members on board TUI Isla during our cruise, and we must say that we had excellent service throughout.
So many to mention, Simon the Cruise Director, Bar Manager Ionut, Hotel Manager Christian and Alina who was so helpful and great fun at reception. We also wanted to mention Kateryna, Julia, Adrian, Leon, Octav, Anastacia and Yar zat!
We also wanted to say a big thank you to Assistant Manager Mercea who took the time to show us around the category of cabins so we could put together the video about the cabins available on board below.
Cabins and Suites on TUI River Cruise Ships
There are cabins to suit all budgets on TUI River Cruise Ship, we have put this video together so you can see each category and book the one that suits your budget and needs best.
Verdict on our TUI River Cruise
Our TUI River Cruise experience was excellent from start to finish. It is really good to see that TUI has opened up river cruising to suit those on a smaller budget. We would definitely book another river cruise with TUI and recommend you do too!
We have a full video tour of the TUI Isla Cruise Ship below and so much more TUI and Marella information on our website so go to this page next ⬇️
---
Planning a land based holiday, flights, bucket list trip, cruise or honeymoon then we recommend using these travel agents – they have both found us some great deals and using an agent takes all the anxiety away of booking and coordinating complicated itineraries.
Dan Hammond of GoCruise&Travel who you can be contacted here by email – dan@gocruise.uk.com and telephone 01622 891895 and via their website here.
Emma Otter of Travel Counsellors – Complete this form for a free quote and no obligation enquiry.
---
Find our favourite travel, cruise and motorhome accessories in our Amazon Shop.
Book your hotels with Booking.com. here.
---
Get answers to any of your travel or cruise related questions
Follow us on Instagram and send a message or Like and comment on our Facebook Page
and find us on Twitter here too.
You can also sign up for our newsletter by completing the box on our home page.
We are an Amazon Affiliate and this post contains affiliate links which means we may receive a commission if you click a link. While clicking these links won't cost you any extra money, they will help us keep this site up and running!
RELATED BLOGS
Marella Cruises Spa Prices 2023
We cruised on the maiden voyage of the Marella Voyager in June 2023 in this post we outline how much it will cost you for spa treatments at the Oceans...
Read Review
Carnival Cruises Laundry Prices 2023
We recently cruised on the Carnival Celebration cruise ship, listed below is how much it will cost you to get your clothes laundered from press only, wash and press to...
Read Review
Anthem of the Seas Cruise Ship Review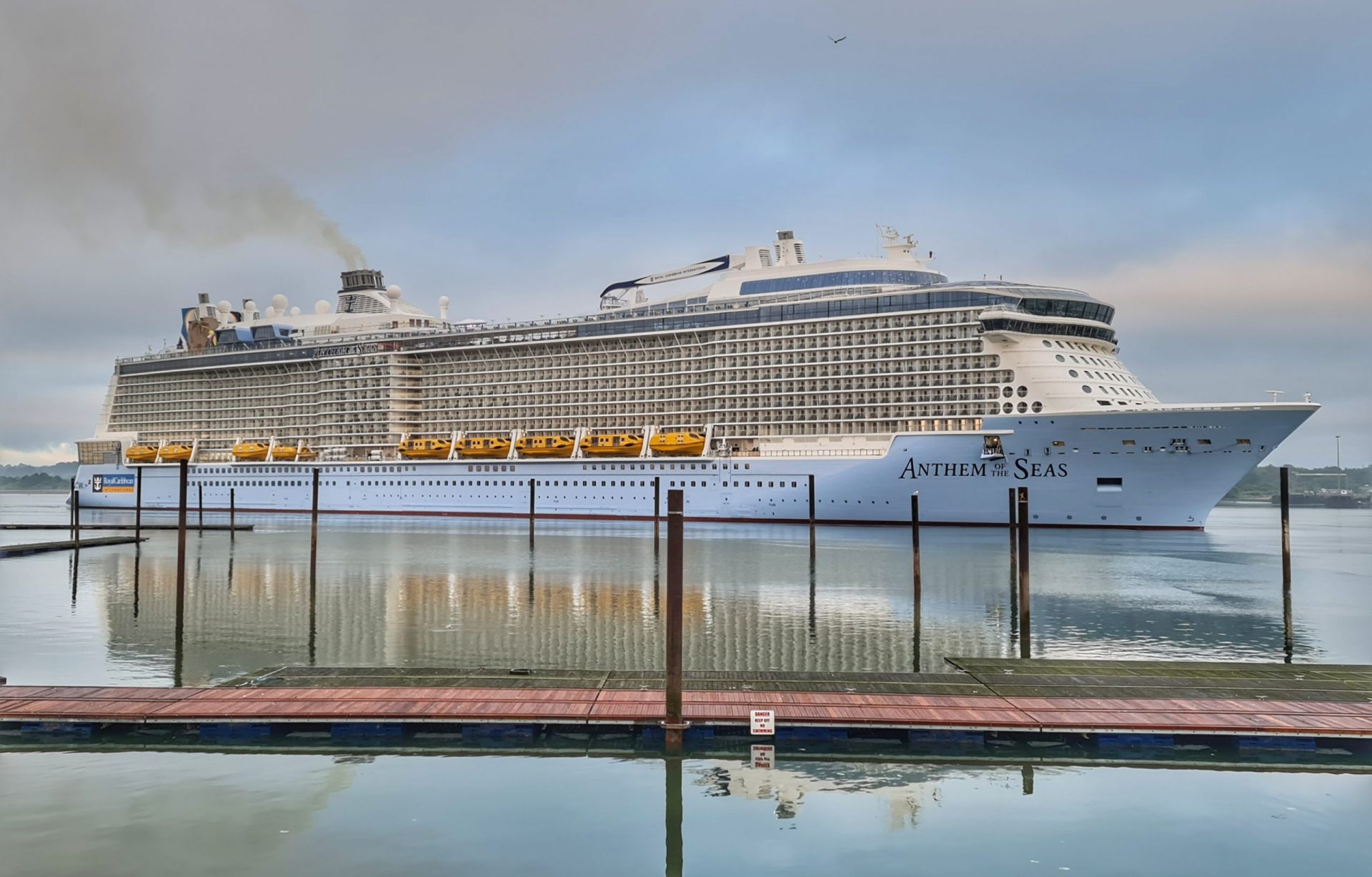 We cruised on the Anthem of the Seas on one of the first Seacations out of the UK. We have cruised with Royal Caribbean 7 times now, last time was...
Read Review