Current UK Cruising Summer Seacation Updates and British Isles Cruising
This post includes all the news of the summer 2021 cruises currently being announced – see below.
British Isles Cruises have always been popular with overseas visitors but in the past this itinerary has not been so popular with us Brits. We always seem to be seeking the sun in exotic destinations when in fact we have a lot to offer on our doorstep. The UK is full of diverse and interesting ports, and has so much history.
Uk Seacations (cruises with no port days) are starting and we have all the cruise lines who are offering these cruises below.
So if you are eager to cruise like us then this is the perfect time to consider a Seacation or a British Isles cruise. Here we show you where these cruises visit and the companies that are currently offering these cruises for 2021.
Current Updates
Marella Cruises
Marella have just announced that there will be two ships offering summer cruises from the UK. The Marella Explorer will be sailing from Southampton and the Marella Explorer 2 will be cruising from Newcastle.
We have put together a separate comprehensive post including all of the UK cruises Marella have recently launched, you can find this post here.
Short Summer All Inclusive cruises are on sale now – 3 nights from Southampton – starting at £418, longer cruises also available. Visit Marella Website to book your cruise now!
All adults will be required to have had both Covid jabs at least seven days before sailing. All guests must also provide proof of a negative lateral flow test before boarding.
---
P&O Cruises
P&O have announced their UK summer sailings and here they are – 
Britannia will offer three and four night breaks and one six night holiday running from June 27, 2021 through to September 19, 2021. Prices start from £449 per person for a three night break on Britannia. Princess have now added Inside cabin deals!
Iona offers seven night itineraries running from August 7, 2021 to September 18, 2021. Prices started from £779 per person. All balcony cabins, and can only be booked as guaranteed, no cabin allocations given.
Demand has been huge and pricing fluid so do check availability by filling in this no obligation, free quote form with our travel agent Emma here.
Iona's maiden voyage will be coastal cruising to Scotland including the Inner Hebrides and the island of Iona. The following voyages will be coastal cruising of the channel islands and the coast of France.
All cruises will be at sea with no port days, from Southampton, and will be for UK resident Covid-19 vaccinated guests only, with a minimum of seven days following the second dose of the currently approved Covid-19 vaccines being administered. 
---
Princess Cruises
We're excited to reveal details of our all-inclusive 'Summer Secations' on Regal Princess and Sky Princess, scheduled to sail from Southampton around the UK coast from late summer.
Our Summer Seacations will feature both scenic cruises and voyages with stops in UK ports-of-call including Liverpool, Belfast and Greenock, with itineraries ranging from three to seven nights.
Regal Princess will offer 14 UK voyages running from July 31 through to September 23, 2021. Sky Princess will offer eight UK cruises, running from August 30 through to September 28, 2021. The cruises go on sale on Wednesday, March 24 at 8 a.m. These sailings on Regal Princess and Sky Princess will be for UK resident COVID-19 vaccinated guests only.
---
Fred Olsen Cruise Lines
Peter Deer, Managing Director at Fred. Olsen Cruise Lines statement –
Fred. Olsen Cruise Lines has today unveiled a brand new 'Welcome Back' programme of cruises on their new ship Borealis from Liverpool.
The first will be the three-night scenic only 'Borealis Maiden Voyage', leaving Liverpool on 5th July 2021, with scenic sailings of the British Isles and the Faroe Islands to follow. There will also be chances to step ashore and explore in cruises to Scotland, the Orkney Islands and Shetland Islands too.
Cruise examples are –
Borealis' four-night S213 'Scenic British Isles & Summer Wildlife' no port cruise, departing from Liverpool on 8th July 2021. Prices start from £549 per person. Enjoy up to £75 per person to spend on board.
Borealis' five-night S215 'Scenic Orkney & Faroe Islands' no port cruise, departing from Liverpool on 17th July 2021. Prices start from £699 per person. Enjoy up to £100 per person to spend on board.
Borealis' seven-night S216 'Touring Scenic Orkneys & Shetlands' cruise, departing from Liverpool on 22nd July 2021. Prices starting from £1,099 per person. Enjoy up to £100 per person to spend on board.
For more information go to their website here –
---
MSC Cruises
MSC Cruises announced today that it will offer a special range of short breaks and week-long cruises around the British Isles this summer starting from 20 May, for UK holidaymakers only. Four-night British Isles sailings start at £499 and £849 for seven nights, including a premium drinks package and gratuities. Cruises are for UK residents only – both vaccinated and unvaccinated – "at the present time", according to the line. Cruises on sale from April 1. 
Departing from the new terminal in the port of Southampton these first sailings will kick off with a series of short cruises and will be followed by 7-night sailings visiting some of the UK's favourite destinations and offering additional ports of embarkation to guests.
Antonio Paradiso, Managing Director MSC Cruises UK & Ireland said:
"We will welcome both vaccinated and non-vaccinated guests. All guests will be tested prior to embarkation, while non-vaccinated guests will also be required to show proof of negative test done within 72 hours prior to embarkation.
"Crew in addition to the protocol-mandated test and 14-day quarantine prior to embarkation will also receive weekly testing, in addition to other ongoing health monitoring measures.
NHS Workers –
To you on the frontline during this COVID-19 crisis.
You, who have risked your own lives to save ours, worked overtime and made sacrifices for others, you, more than anyone else, deserve a gift.
As we have now begun sailing once again, MSC Cruises is honoured to offer up to 50% discount on the cruise fare to all healthcare workers and their families, as soon as they are ready for a well-deserved holiday. Confirmation that 20-30% saving for Health Care Workers for these cruises, need approval from the NHS first for discount to be applied.
Our special 'thank you' discounted cruise fares for healthcare professionals and their families will be available for all MSC Cruises' sailings of any duration until the end of 2021, for bookings made before April 30th, 2021.
More information can be found here.
---
Cunard
Cunard is offering UK guests the opportunity to spend this summer at sea, with a series of UK voyages on board Queen Elizabeth.  Voyages will be round-trip from Southampton, between July and October 2021, and comprise of British Isles scenic cruising and special Sun Voyages, sailing to wherever the sun shines brightest.
Ten British Isles Voyages and three Sun Voyages, lasting between three and twelve nights, are available. Guests will be able to experience the most luxurious summer at sea enjoying exquisite fine dining, the on-board spa and spectacular entertainment while having the opportunity to see the UK's coastline from a unique vantage point'.
Four night scenic British Isles Voyages starting 19th July 2021, are priced from £599 per person for a Balcony Stateroom, while a ten night British Isles Voyage will start at £1,299 per person for a Balcony Stateroom. Seven night Sun Voyages are priced from £899 per person for a Balcony Stateroom. On sale from the 31st March.
For more information visit the Cunard Website here.
---
Disney Cruises
Exciting news for families with Disney announcing that the Disney Magic will be sailing mostly two- and three-night sailings, as well as limited four-night sailings round-trip from London Tilbury, Newcastle, Liverpool and Southampton.
Passengers will remain aboard the Disney Magic throughout the sailings, and the following statement from Disney regarding new protocols has been released –
"Disney Cruise Line is implementing multiple layers of health and safety measures considering guidance from the UK government, health authorities and medical experts.
"This includes Covid-19 testing, health screenings, face coverings, reduced guest capacity, physical distancing and enhanced cleaning."
Cruises will go on sale in April 30th, with the following itineraries – Disney Magic to sail from Liverpool: From July 15; 2-, 3- and one 4nt sailing;   Southampton: From August 4; 2-, 3- and limited 4nt;   Newcastle: From September 3; 2- and 3nt;   London Tilbury: From September 14; 2- and 3nt.
---
Celebrity Cruises
Setting sail from Southampton this July, the stunning Celebrity Silhouette will embark on a series of 6-8 night itineraries around Britain's coastline'. With a multi million pound refit this ship looks absolutely stunning.
For more information visit Celebrity Cruises Website
---
Saga Cruises
Spirit of Discovery first cruise will sail 6 nights from Tilbury to Scotland on June 27th, then a 14 nights British Isles on July 11th. Scotland and Norwegian Scenic cruising for 6 nights on the 3rd and 25th July.
Spirit of Adventure inaugural will be on July 26 for 15 nights. All cruises are all inclusive and passengers must be fully vaccinated. Visit the Saga Cruises website here.
The Spirit of Discovery is a stunning ship, that we would thoroughly recommend. Read our full review here.
---
Royal Caribbean Cruise Line
'Royal Caribbean International is setting a spectacular soundtrack this summer with its return to the UK. The cruise line has announced that Anthem of the Seas, a firm favorite in the region, will begin sailing from Southampton, England as soon as this 7th July. UK families can choose from a combination of 4-night Ocean Getaways in early July and 5- to 8-night British Isles cruises, starting 15th July, that feature visits to destinations such as Liverpool, England, Kirkwall in Scotland and Belfast, Northern Ireland. Cruise are on sale now.
Plus, in recognition of the tremendous efforts of the emergency services, National Health Service (NHS), social care sector and armed forces over the last year, Royal Caribbean will offer 999 free staterooms on its first Ocean Getaways to those UK residents in these professions. The new summer itineraries open for bookings on 7th April. Sailing with fully vaccinated crew, the cruises – at this time – will be available to UK residents above the age of 18 who are fully vaccinated against COVID-19 and those under the age of 18 with negative test results. These current health and safety measures, like others, may evolve as they are evaluated on an ongoing basis. Pre-registration for guests eligible for one of the 999 free staterooms open on 13th April, and final names will be drawn from a ballot by the end of April. That is amazing news and we will definitely be applying!
For more details of the NHS offer click here!
---
Virgin Voyages
Virgin Voyages have announced 3 and 4 night voyages through August on their brand new ship the Scarlet Lady.
For more information visit their website here.
Where does a British Isles Cruise usually visit?
Here are the most common ports included in a British Isles cruise –
Ports in Scotland
Greenock for Glasgow
The cruise terminal at Greenock is about a mile walk from the centre. With Glasgow only 27 miles away and Edinburgh 72 the large cities of Scotland are within reach by bus, train or taxi and obviously with the ship excursions. You can also visit Stirling Castle approximately 55 miles away and Loch Lomond which is even closer. In Greenock it self there is a shopping centre, so you can pick up anything you may have forgotten to pack. Find out more about Greenock here.
Queensferry for Edinburgh
There is no dock at Queensferry, the cruise ship will anchor and a tender will take passengers to shore. Queensferry is only 25 minutes from Edinburgh and some cruise lines will offer a transfer service, if not taxis and buses are available.
We have friends in Edinburgh and have visited many times, it is a great city and if you can time your visit with the Edinburgh Fringe Festival in August  (normally from around the 6th to the 30th August) then you will be in for a fabulous experience!
Invergorden for Inverness and Loch Ness
Invergordon is the gateway to the Scottish Highlands. You can take a 10 minute walk into Invergordon, travel further and explore the pretty town of Inverness or you can go hunting the Loch Ness Monster!
Kirkwall – Orkney Islands
Kirkwall is the gateway to exploring the Orkney Islands, and depending on the size of the ship some ships will dock at Hatston Terminal which is around 2.5 miles from Kirkwall Centre. Bigger vessels may drop anchor in the bay and tender passengers closer to town.
Ports in Ireland
Cobh for Cork
Cobh is a charming and colourful town on the southern coast. It is famous as the last port of call the Titanic visited in 1912, and the Titanic Experience is set within the original White Star Line ticket office.  We visited on the Celebrity Eclipse Cruise Ship and loved our time here.
Other areas that are accessible are Cork which is just under 30 miles away, Blarney castle and the county of Waterford. We have friends who live in Mallow and they came to visit when we were there. Another bonus of a British Isles cruise is catching up with friends who live far from you!
Dublin
We cruised on the CMV Marco Polo to Dublin, sadly this is one of many cruise ships that have now been scrapped. With a very easy transfer of about 20 minutes, you arrive in the centre of Dublin. A fun city with lots of history and lively bars. We headed to the cobbled streets of Temple Bar and enjoyed pints of Guinness and Irish coffee, whilst listening and dancing to some fabulous Irish music.
Belfast
Belfast is found in the north of Ireland on the banks of the river Lagan and a short 10 minute drive form the port. You will find more Titanic history here as this is where the Titanic was built by shipbuilder's Harland & Wolff. The Titanic Belfast is a popular attraction, as is the City Hall and Cathedral, or you could just go for a walk through CS Lewis Square, a public space commemorating the Belfast-born author, CS Lewis who wrote The Chronicles of Narnia.
If you want to see the Giants Causeway, it is approximately 2 hours away but can be reached by tours and excursions from Belfast.
Ports in Wales
Holyhead
Situated in the north of Wales the town of Holyhead has a good selection of shops, pubs and restaurants. You can also explore the Anglesey coast line with a variety of circular walks. The origins of Holyhead date from 450AD, St Cybi's Church is still surrounded by the original fort wall and you will also find the Neolithic Trefignath Burial Chamber just over a mile out of the town.
Milford Haven/Pembroke
Situated at the western tip of Wales, smaller cruise ships can dock at Pembroke Dock or tender into Milford Haven so you can explore the beautiful county of Pembrokeshire. Visit Pembroke Castle, explore the town of Milford Haven, and if you want to explore further the superb beaches of Tenby and Saundersfoot are about 20 miles away.
Ports in England
Southampton
Southampton is deemed as the cruise capital of England and is a fabulous city, we have cruised out of here many times. There are four cruise terminals in Southampton – Mayflower Cruise Terminal – we cruised out of here on our P&O Oceana Cruise. The QEII Terminal, City Cruise Terminal where we embarked on some of our Royal Caribbean Cruises, and Ocean Cruise Terminal where we joined the Fred Olsen Braemar cruise ship. Funding has now been agreed for a fifth terminal at Southampton, investing in a greener future ensuring a zero-emissions facility for cruise ships. All terminals are within easy reach of the city centre. Often Southampton is described as London but in fact it is approximately 80 miles away.
Southampton is a great city, full of history, great pubs and some fabulous restaurants, it also has an airport. We have stayed at multiple hotels here so if you are planning a hotel stay pre or post cruise then do have a look at our recommendations here.
Portsmouth
About 22 miles down the road from Southampton you will find Portsmouth. A cruise port that is starting to welcome cruise ships in late 2021. It is well positioned for the English Channel, with London only 60 miles away. We visited friends in Portsmouth and enjoyed our time there. We stayed in Southsea at the Best Western Royal Beach Hotel and know we will be back to Portsmouth to explore some more and visit the Isle of Wight which is a short ferry ride away!
Liverpool
The cruise terminal in Liverpool is centrally located on the River Mersey close to the iconic Liver Building. Famously known for the home of the Beatles it is located on the Irish Sea which is ideally situated for British Isles cruises. We have not cruised from here yet but have visited and taken the iconic ferry across the Mersey, and can confirm that this is a very fun city to visit!
Newcastle
The Port of Tyne is situated on the River Tyne in North East England. Just 9 miles out side of the city of Newcastle and a 35 minute from the airport. More information can be found here.
Dover
We cruised from Dover on the Saga Spirit of Discovery. Situated on the south east coast of England, on the English Channel, and about an hours drive from London. It was great sailing in and out and seeing the White Cliffs of Dover!
We stayed at the Premier Inn in Dover prior to our cruise which proved to be a good choice. Book your stay by clicking the link here –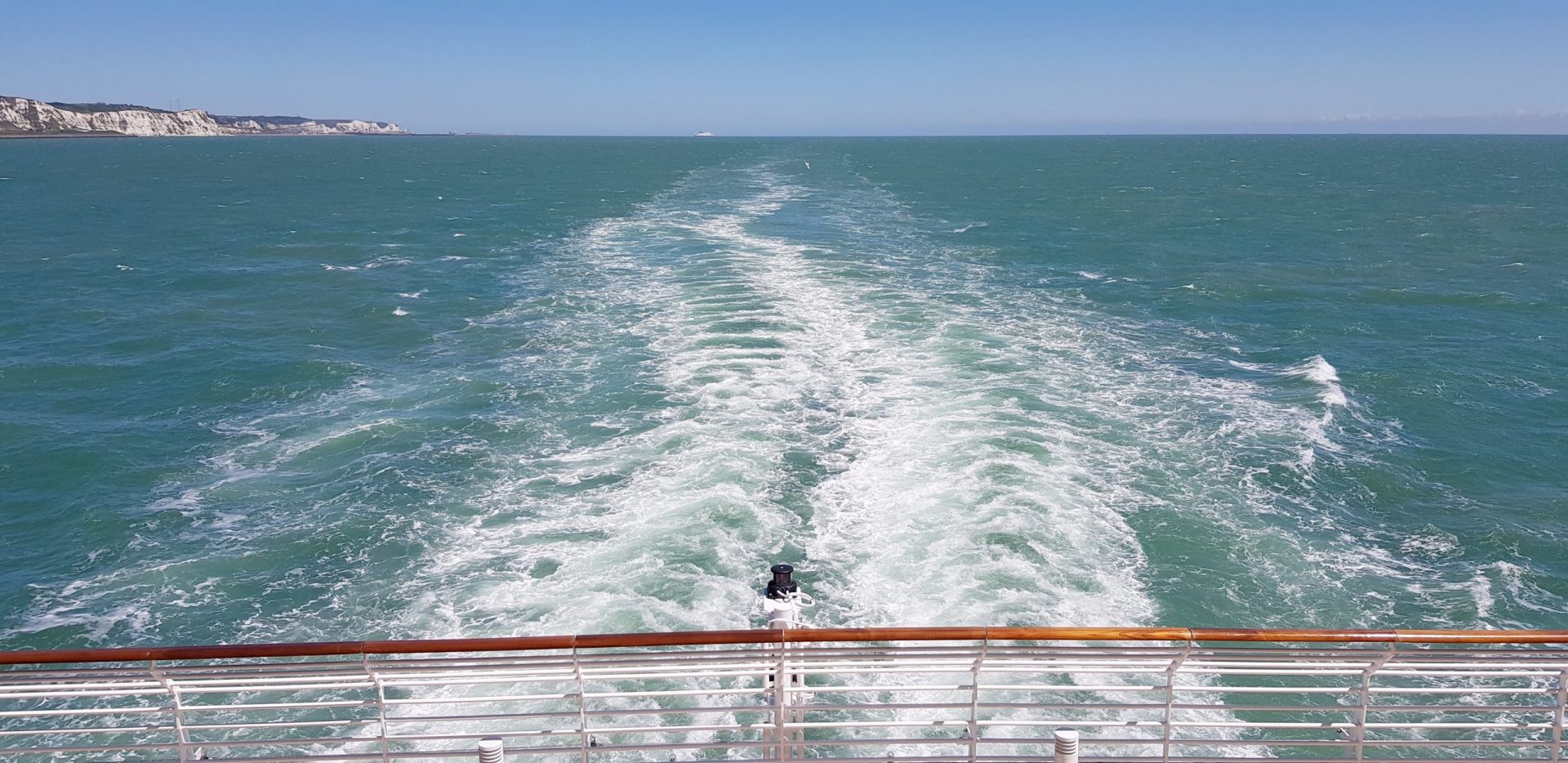 Which Cruise to Choose?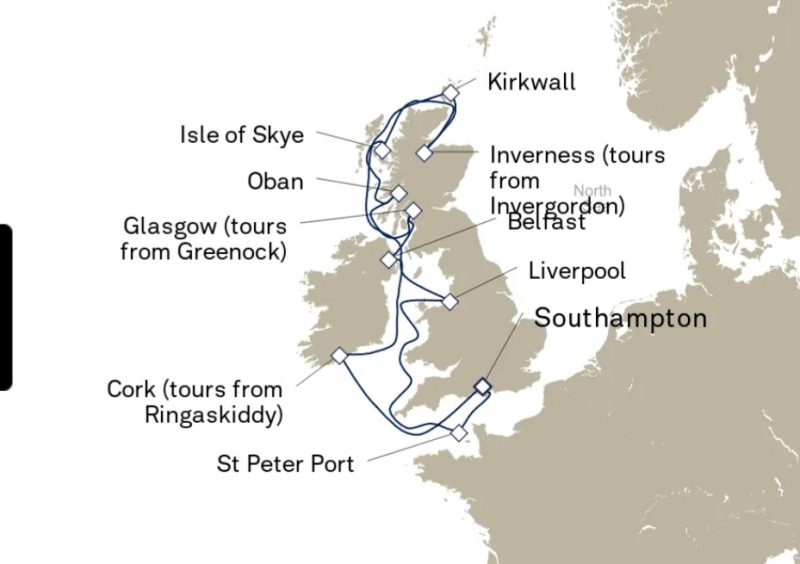 Cruise Companies that currently have British Isles Cruises for sale in 2021/2022 – however we expect to see changes as per statement above.
Cunard Cruise Line
As per statement above.
Princess Cruise Lines
As per statement above.
Saga Cruise Line
The Spirit of Discovery and the new Spirit of Adventure cruise ship both have itineraries in 2021 around the British Isles. From 5- 14 nights there really are some interesting itineraries to have a look at here. Saga are more expensive but the fares do include a lot including a door to door chauffeur service and travel insurance. Find out why why Saga has the highest return passenger rate in the cruise industry in our video here.
P&O
See statement in current update above.
Fred Olsen Cruise Line
See statement above about Borealis 'Welcome Back Cruises' above.
For more information about what cruising with Fred Olsen is like check out our post about the Balmoral and Braemar Cruise Ship here.
Click the link here to the Fred Olsen website –
Hurtigruten
If you are looking at getting off the beaten track then you will need to consider Hurtigruten.  They have very unique itineraries that do cover the Bitish Isles but also do concentrated cruises in particular areas. Find out more about Hurtigruten here.
We hope you have found our introduction to British Isles Cruises useful, we do believe that if you want to start cruising in 2021 and live in the UK this will be the only option to start with. One thing we know for sure is that we will be eager to get on board as soon as we possibly can!
Useful Links –
Planning a holiday, bucket list trip, cruise or honeymoon then we recommend using our travel agent Emma Otter of Travel Counsellors. She has found us some great deals and takes all the anxiety away of booking and coordinating complicated itineraries. Complete this form for a free quote and no obligation enquiry.
Find our favourite travel, cruise and motorhome accessories in our Amazon Shop.
Browse and book your Marella Cruise here.
Book your hotels with Booking.com. here.
Get answers to any of your travel or cruise related questions
Follow us on Instagram and send a message or Like and comment on our Facebook Page
and find us on Twitter here too.
You can also sign up for our newsletter by completing the box on our home page.
We are an Amazon Affiliate and this post contains affiliate links which means we may receive a commission if you click a link. While clicking these links won't cost you any extra money, they will help us keep this site up and running!
Pin for Future Reference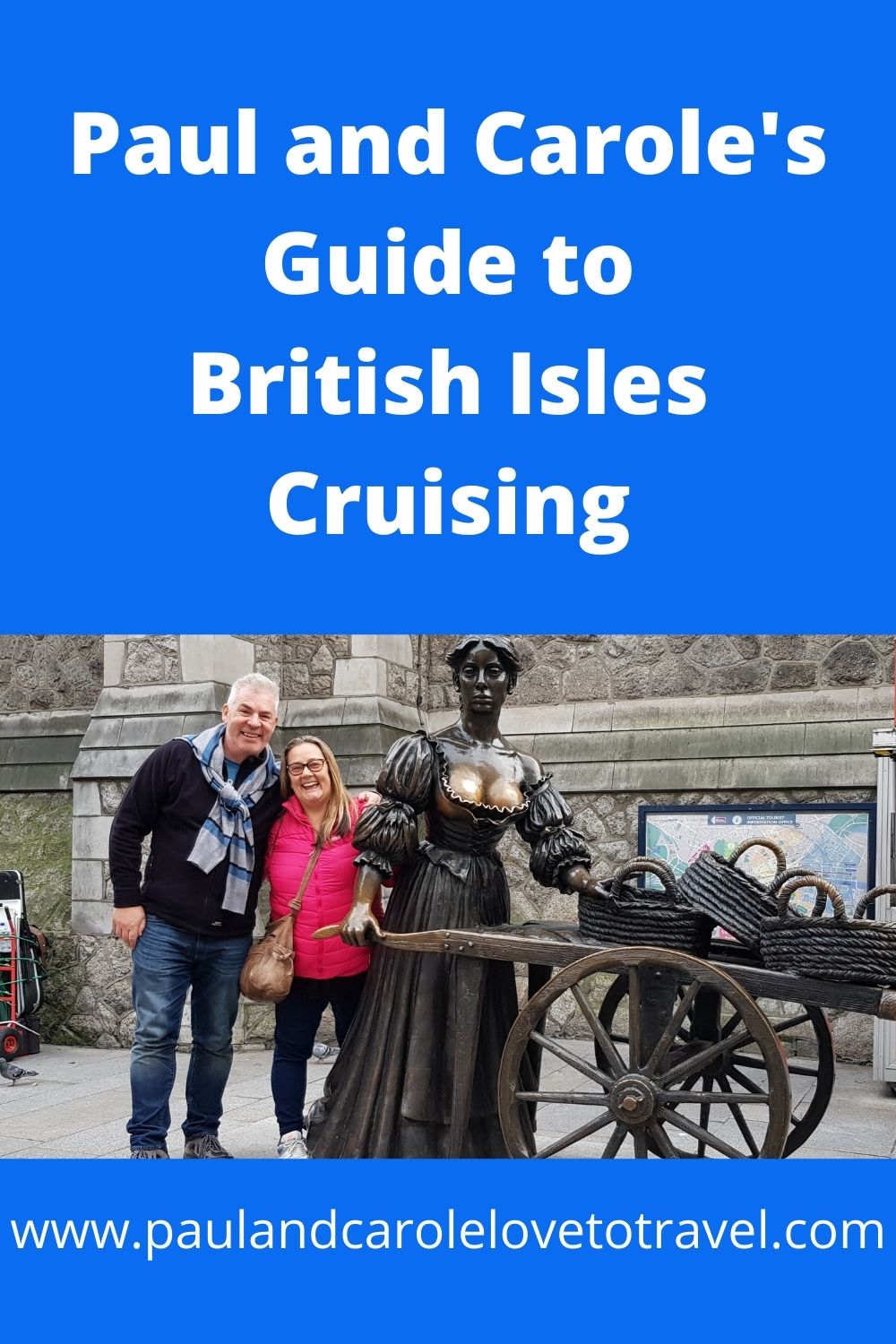 RELATED BLOGS
Valiant Lady Cruise Review – Vlogs including Ship Tour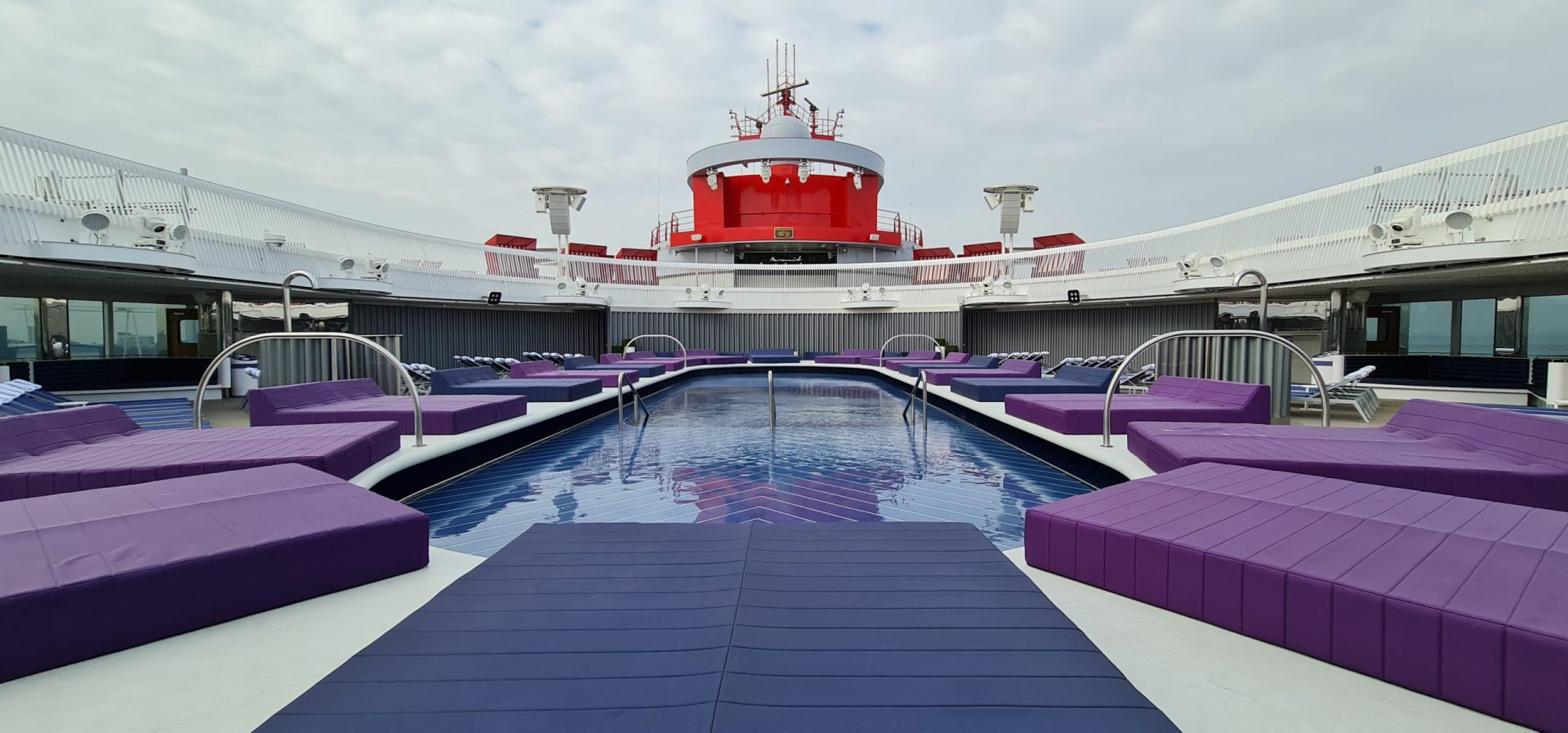 Following our cruise on Virgin Voyages Scarlet Lady, we decided to book a cruise on her brand new sister ship Valiant Lady. We cruised from Portsmouth which made a nice...
Read Review
Virgin Voyages Spa Prices
As with all good cruise lines Virgin Voyages operate a comprehensive spa and wellness centre, called the Redemption Spa. Listed below is a full list of services and prices for...
Read Review
Marella Cruises Laundry Prices 2023
Marella Cruises cruise ships do not have laundrettes on board where you can do your own laundry, like you can with P&O and Princess. So if you want to have any of...
Read Review