Anthem of the Seas Cruise Ship Review
We cruised on the Anthem of the Seas on one of the first Seacations out of the UK. We have cruised with Royal Caribbean 7 times now, last time was in 2016 on the Independence of the Seas. This was our first time cruising on the Anthem of the Seas and we were excited to be on back on board a Royal Caribbean ship.
The Anthem of the Seas is a quantum class ship and carries a maximum capacity of 4905 passengers, has 1500 crew and has been cruising since 2015. We have wanted to cruise on a Quantum Class ship for a long time and were so pleased when Royal Caribbean announced their 4 day Ocean Getaway cruises from Southampton. The dates also coincided with Carole's retirement and birthday and we thought this ship would be ideal to celebrate both!
Our 4 night cruise on the Anthem of the Seas cost £782.58 plus drinks package which cost £244 each so £1026 each for 4 nights so it certainly wasn't cheap! Did we think it was worth the cost then do read our review here to find out!
Anthem of the Seas Embarkation - First Impressions and Covid Procedures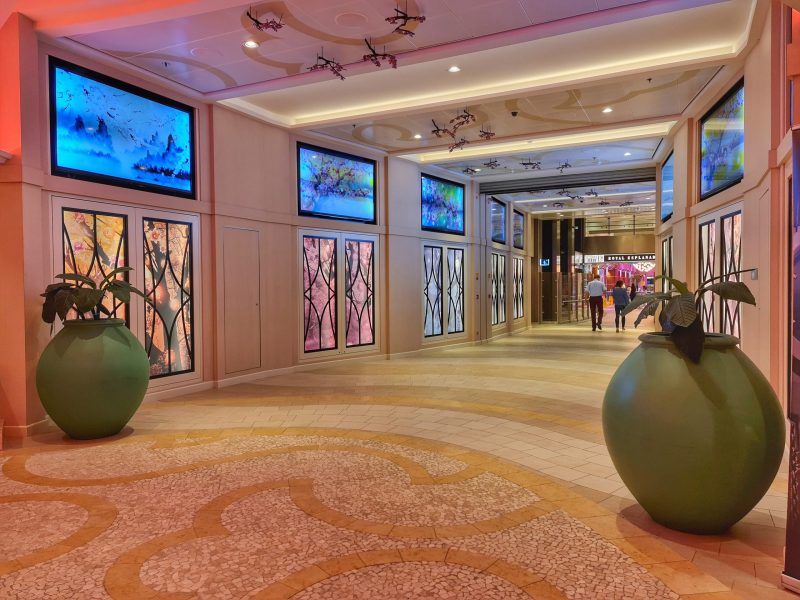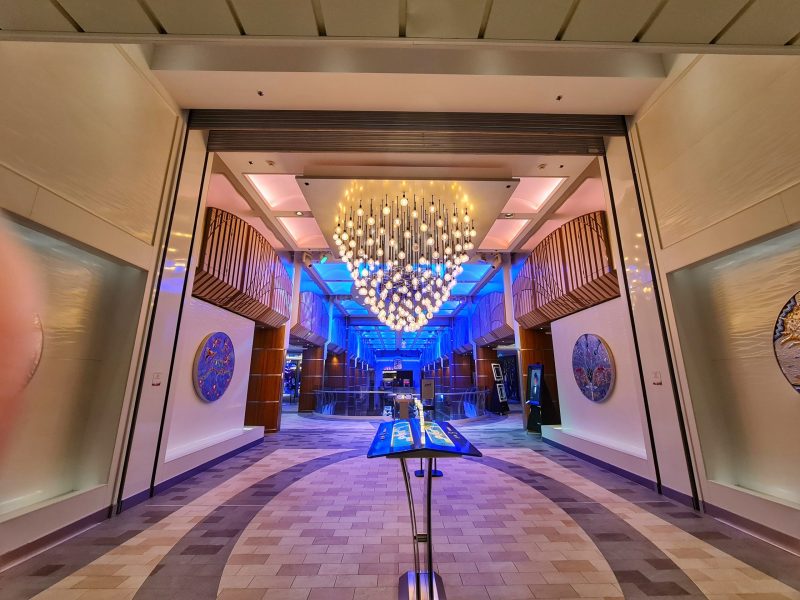 Different cruise lines have different protocols when it comes to vaccinations and covid testing.
On the restart of cruising in the UK guests cruising with Royal Caribbean have to take a PCR test 72 hours before boarding, You can use RCCL chosen company or if there isn't one in your vicinity you can choose your own testing company and you will get £100 per person towards the cost, we chose our local boots chemist who charged us £85 each, we were then reimbursed by Royal Caribbean. (Protocols are changing all the time so please do check current guidelines.)
The irony of this test is that you are not told to self isolate once you've been tested until you board the ship, which really renders the test pretty pointless, but still we did what we were told! What this does mean though is that if you are fully vaccinated and have your negative PCR test you will get to board the ship in record time, we boarded in around 15 minutes from start to finish.  See our series of vlogs here that compliment this review and show you exactly how quick it was! Safety Drill was easy too, watching a video in your cabin then attending your assembly station for more information and sign off.
Once on board our first impressions of this ship was that is was full of very happy friendly staff, beautiful decor with lots of art, and where ever you looked there was something that pleased the eye.
So let's start looking at the dining options available on the Anthem of the Seas Cruise Ship.
Windjammer Market Place Buffet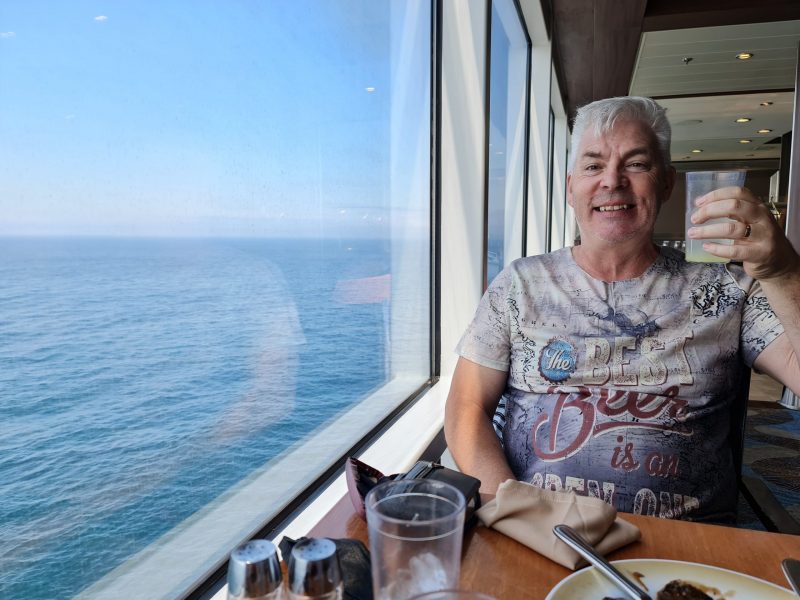 The Windjammer Marketplace Buffet can be found on deck 14. Opening times are 0730 until 1100 for breakfast then 1130 until 1500 for lunch. During our cruise we were told that because of the reduced capacity they were trying to encourage more people to use the main dining rooms meaning the windjammer did not open in the evenings.
We only ate here once for lunch and were greeted by two waiters singing and playing guitar, it wasn't the best singing but was great fun and really put a smile on our faces as we entered.
Hand washing and sanitising protocols were all in place but we have to admit we did miss the ladies that have greeted us on previous cruises with the washy washy hand washy song (if you know you know!).
Our disappointment of no washy washy ladies soon subsided when we saw the choice of food that was on offer. From homemade bread, burgers and hot dogs, pastas, carvary meats, steaks, pork chops, fish and chips, plus a wide selection of Asian food and loads and loads more, this is without a doubt the most comprehensive buffet we have ever seen to on a cruise ship.
As with other cruise lines the self service element is gone and to honest we think it's far better, you just ask for your food of choice, its plated up and it is handed to you, job done!
Tables were socially distanced and the service was excellent. There are floor to ceiling windows which give fabulous sea views. Don't forget to walk right through the restaurant to the back for a lovely outside seating area, which was the perfect spot for a coffee and a wake view!
Main Dining Room
There are 4 Main dining rooms but during our reduced capacity cruise only two were open.
They were the American Icon Grill and Silk found next to each other on deck 4. Opening times are 0800 until 0930 for breakfast, 1130 until 1300 for lunch and two sittings for dinner at 1730 and 2000.
Decor wise the dining rooms were not the most glamorous we've ever seen with the American Icon Grill as the name suggest showcasing artist photos taken at various iconic festivals and silk with an asian theme to it. Even though the decor was a little underwhelming the choice and standard of food and the service definitely wasn't, we had breakfast lunch and dinner here during the cruise and it was excellent on every occasion. A particular mention should go out to our waiters Jane and Igede who looked after us on several visits.
We booked the main dining rooms a few times using the app but also just turned up a few times without booking and got a table without any issues but this may not be the case when the sailings go to full capacity, so we would recommend booking in advance.
The Cafe@TWO70
Cafe@two70 is open from 0730 until 1000 for breakfast and 1100 until 1700 for lunch and afternoon snacks.
We only visited once during our cruise and we are so glad we did. From pastas and salads to pies and homemade soups the choice is excellent but the jewel in the crown is definitely the New York style deli counter where you will find a selection of mouth watering sandwiches and wraps.
Carole went for a hot roast beef sandwich with hot beef gravy and i chose a Reuben sandwich, now if you are like me and wondering what a reuben sandwich is its salt beef, cheese, sauerkraut and russian dressing, it is then toasted. I have to say it doesn't sound like the most appetising sandwich but it was absolutely delicious.
If you have got room for a little sweet treat after they also have the most amazing pastry section including one of my favourite cakes of all time a Napoleon Slice or as we would call it a Custard Slice.
But the best thing about Cafe@two70 is the views as the cafe is situated at the back of the two70 lounge right at the back of the ship. So not only do you get to eat great food you get to do so with some of the best views to be found anywhere on the ship. See photos later in this post when we show you the entertainment in this venue too.
Cafe Promenade/Sorrentos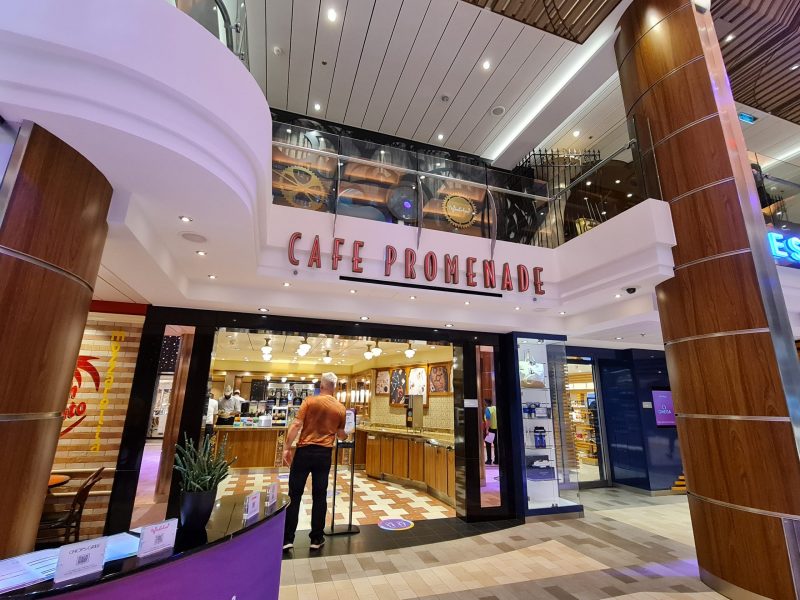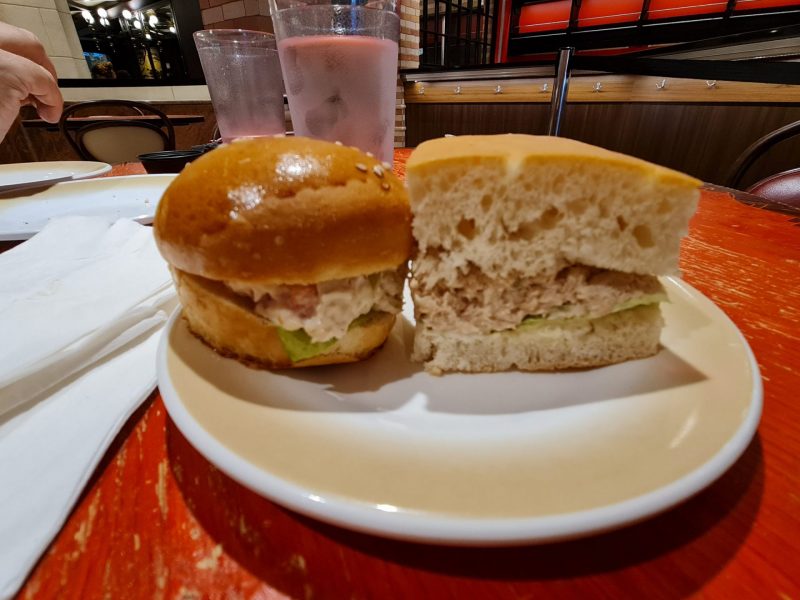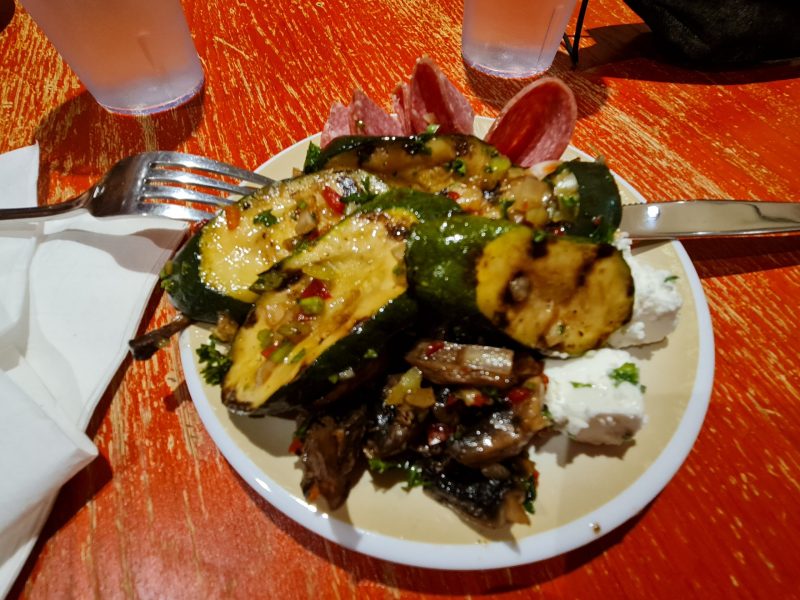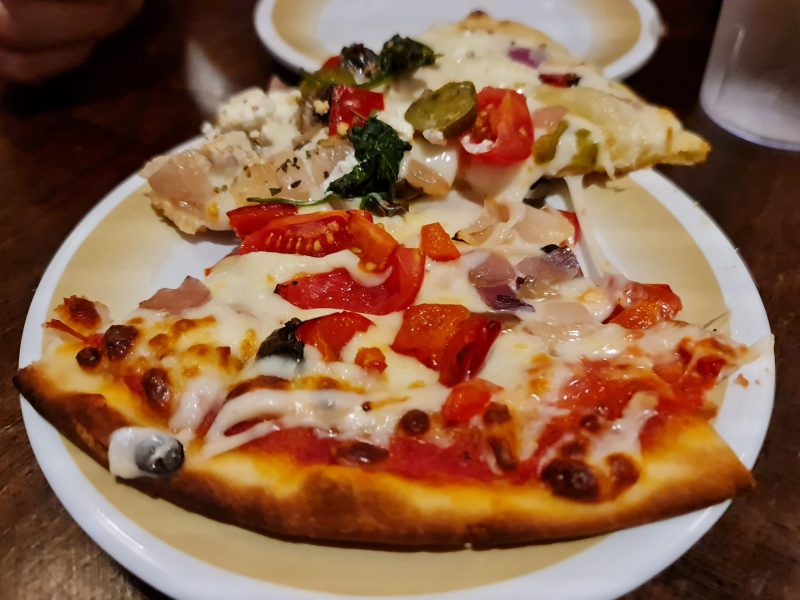 Sorrentos and Cafe Promenade as the name suggest can be found side by side on the promenade deck and is open 24 hours a day.
If you are in a rush and fancy a quick snack or a little sweet treat this is the ideal place to go, from pizzas and  salads to filled sandwiches and cheesecake lollipops this is an excellent choice, though we must confess this was usually the place we ended up at if we fancied a little snack before bedtime especially the excellent cookies which we always seem to take far too many back to our cabin.
There is also tea and coffee making facilities which you can either drink there or take away, an ideal accompaniment for your bedtime cookies.
Speciality Restaurants on the Anthem of the Seas
There are plenty of options for speciality dining on the Anthem of the Seas. There is the Chops Grille, Izumi, Wonderland, Chefs Table, Jamie's Italian and Johnny Rockets.
We chose to try Izumi and Wonderland during our 4 night cruise.
Izumi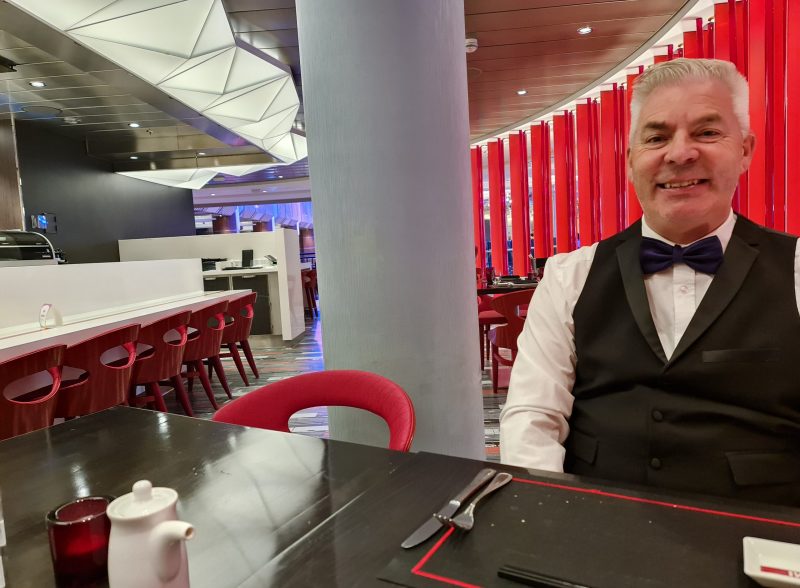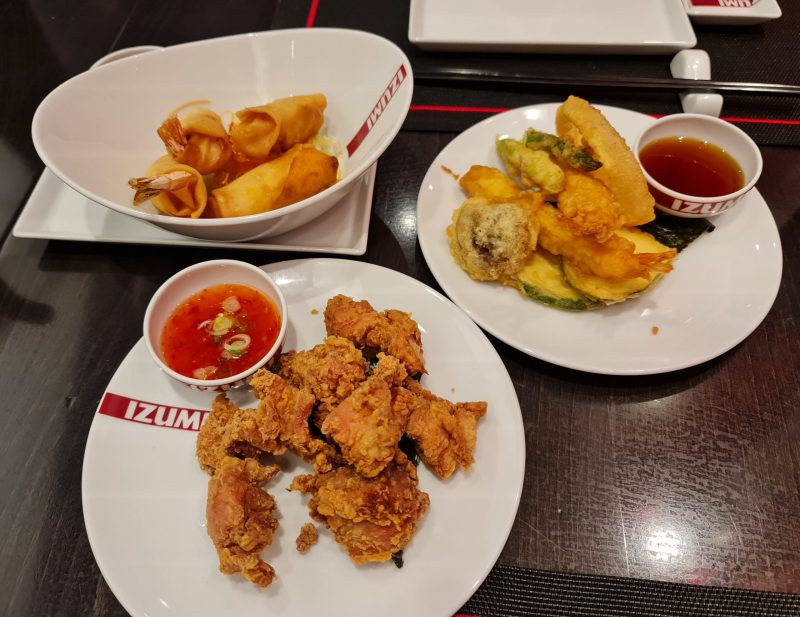 Our first speciality restaurant of the cruise was at Izumi and which was booked last minute. We are fairly new to Japanese food as we had previously and very foolishly thought that it would be all raw fish and seaweed, having been suitably educated by our son who took us to a local Japanese restaurant it's now one of our favourites.
We have to say Izumi delivered on every level, the service from start to finish was exceptional and the food was absolutely amazing, we started with Shrimp Firecracker Spring rolls, Shrimp and Vegetable Tempura (Paul's favourite) and crispy chicken karaage, and our mains were Tonkotsu ramen and Beef Yaki udon.
The chocolate lava cake dessert here comes highly recommended however because we were so full, we sadly had to pass but this does give us a good reason to return.
Wonderland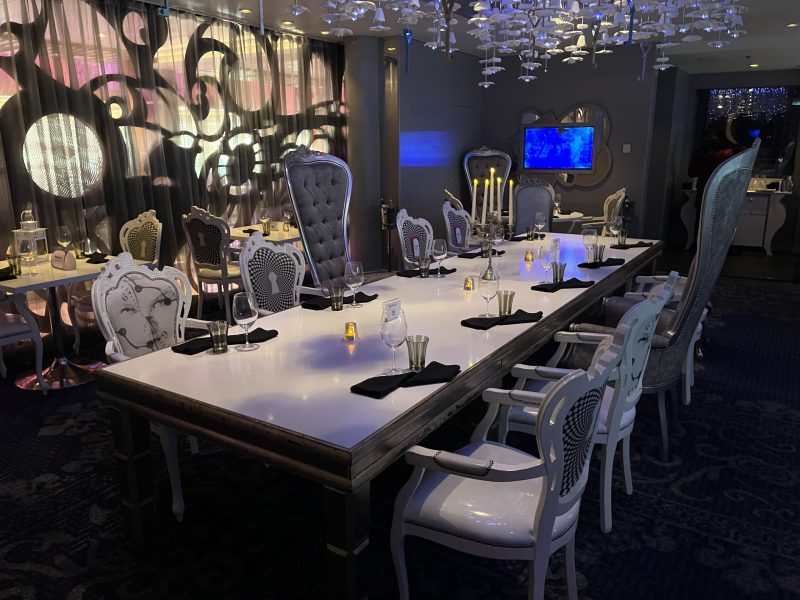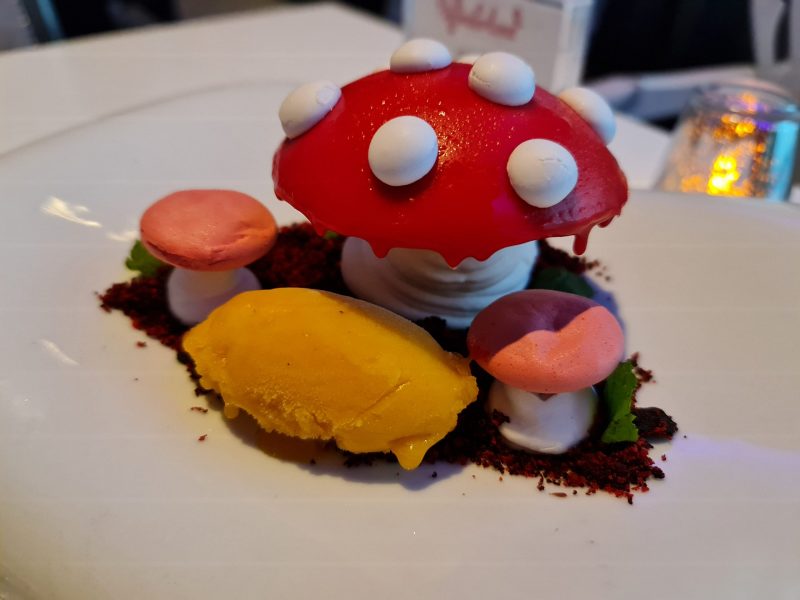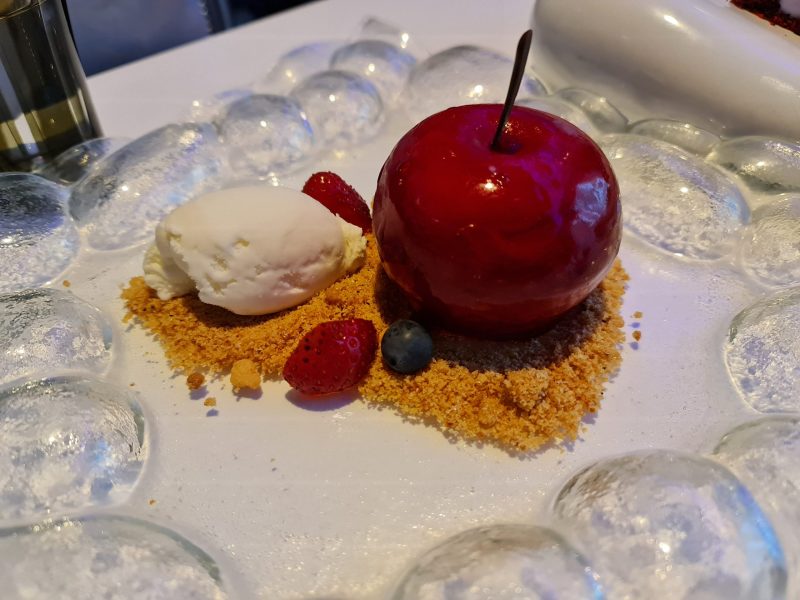 We booked Wonderland for Carole's Birthday treat prior to coming on board through the pre cruise planner as we heard it was very popular and we did not want to miss out. The meal cost £80.54 for the 2 of us.
Wonderland is the Alice in wonderland inspired speciality restaurant and the whole experience of our visit here was completely bonkers but in a good way. From the moment you enter you feel like you have been transported into a fairy tale, to say the decor is amazing would be a massive understatement.
We must admit that when we first looked at the menu we were quite overwhelmed but our waiter quickly put our minds at ease. After checking for any special food requirements, he told us he would be bringing us all the starters and all the deserts and all we had to do was choose our main courses.
It's almost impossible to put into words how mad the food was from edible soil to clear tomato soup in a test tube and that was just two of the starters!
For the mains I chose the beef and Carole went for the pork and in true wonderland tradition they both looked like desserts and were cooked to perfection.
The trio of desserts were so visually spectacular it was almost a shame to eat them but eat them we did and we have to say they were all delicious but the star of the desserts show was definitely the chocolate bomb which had to be seen to be believed.
Wonderland is not just about the food it's an experience too, they take you on a magical like journey and in our opinion is a must do! To see our video of this amazing experience, watch Epsisode 8 of our Vlog Series here.
Bars on the Anthem of the Seas
The one massive bone of contention we had with this cruise was with the drinks package.
It clearly states on the RCCL web site that the price for the deluxe drinks package costs between $63 and $89 yet when we booked our cruise and went to our online account we were told that we could book our drinks package for the bargain price of $110 per person! We declined this kind offer but checked back every day until shortly before our cruise the price dropped to $85 (£61.56) per person per day which we very begrudgingly booked. One of the first things we did once we got on our cruise was to check how much the onboard price for the package was. Sure enough the price had gone back up to $110 per day so if you are booking a RCCL cruise do bare this in mind.
What we will say in RCCL's defence is the choice of wines, cocktails and beers and spirits are probably the best we've come across, and it is a very comprehensive package, unlike other cruise lines. See links below.
If you don't get the package the drinks are very expensive and that's before they add the 18% tax to your bill.
See our Royal Caribbean Drinks Package post here you can find out about P&O Drinks packages here and Princess Plus Packages here which offer better value for money.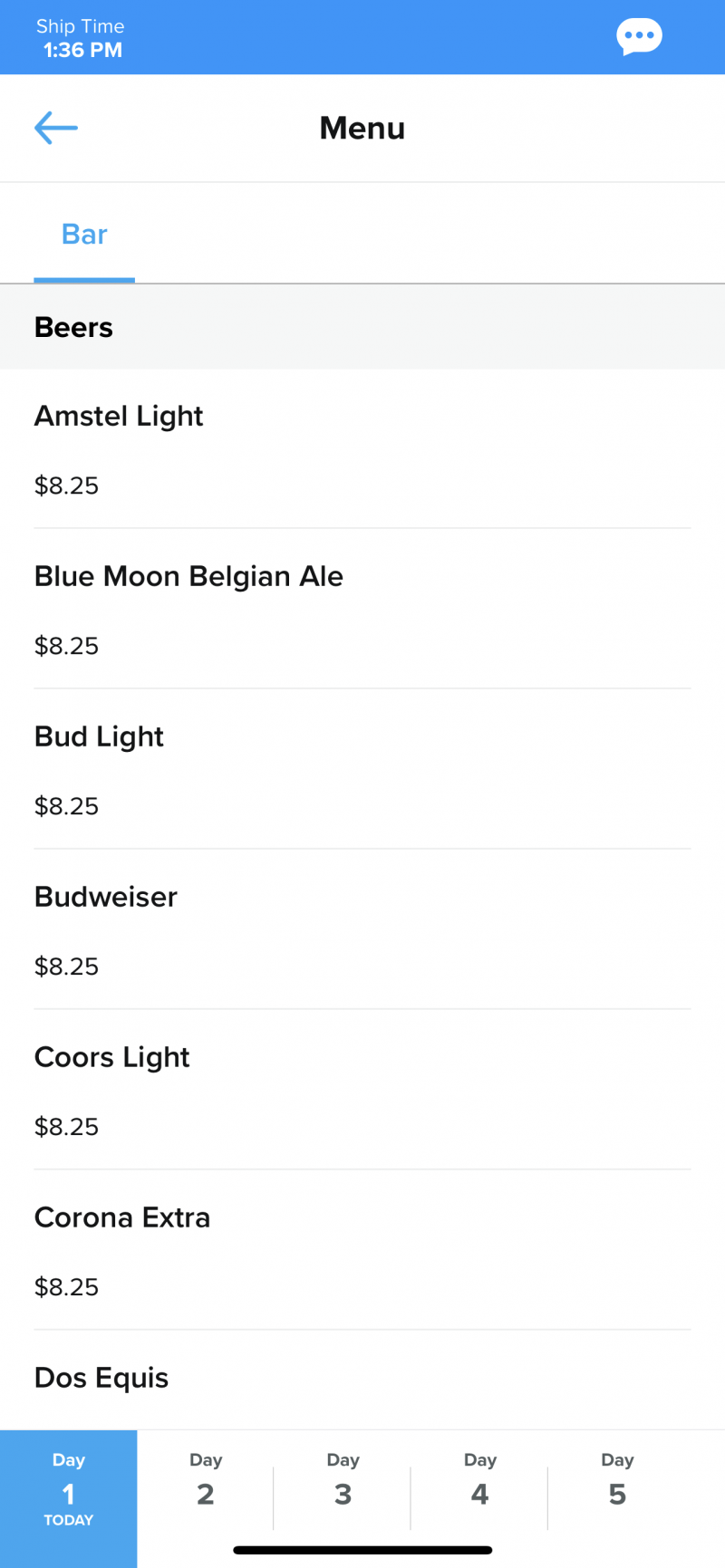 Brass and Bock English Pub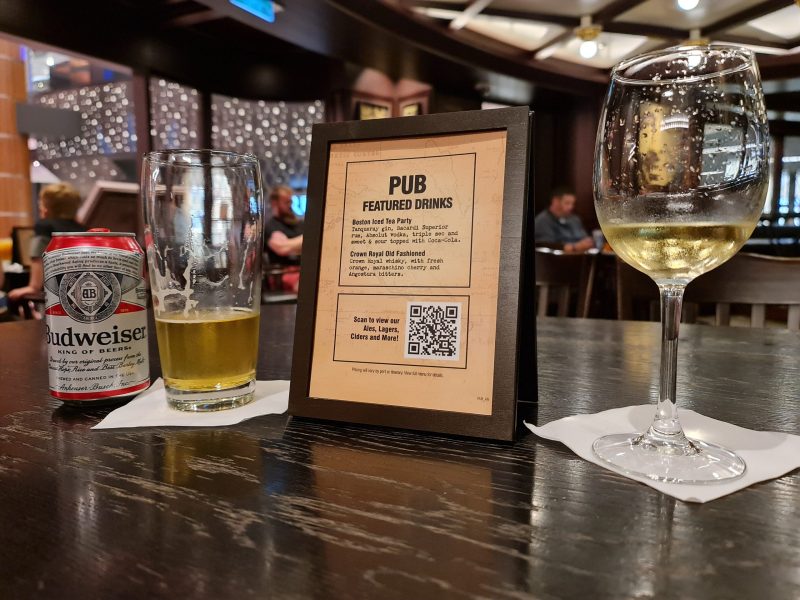 Found on Deck 4 the Brass and Bock pub captures the feel of a traditional old english tavern from the lead crossed windows to the dark wood and brass fittings. There is limited seating inside and out so if you are heading to the pub during peak times you will need to get there early. The outside seating areas that feature old wooden beer barrels as tables is a really nice touch and its a great place to sit especially if you like people watching.
Nightly entertainment comes in the form of a singer/guitar player a tried and tested formula that always seems to work, The pub also offers a good selection of guest real ales and if you are feeling peckish there is also a limited food and classic pub snack menu but this does come at an additional cost.
Bionic Bar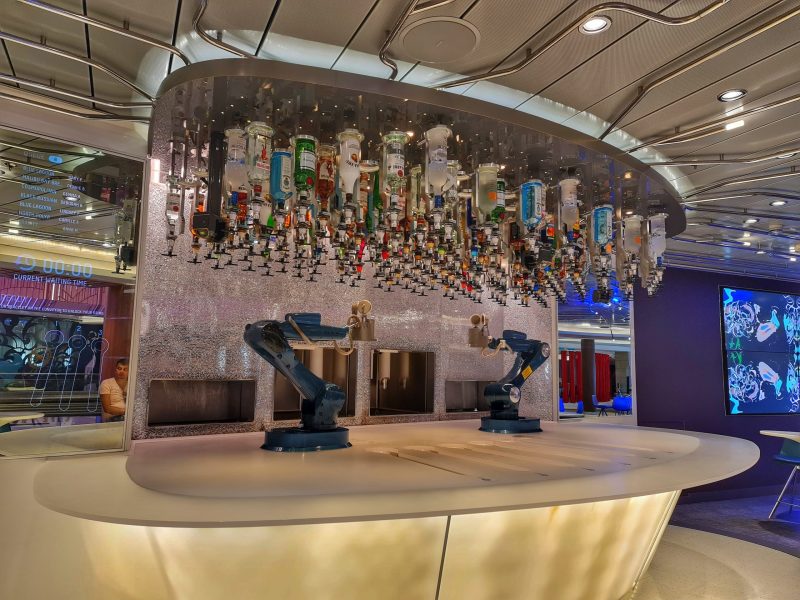 The bionic bar is certainly not as high tec as MSC Virtuosa's (which has a full sized robot) but nevertheless still entertaining.
Found on deck 5 two Robotic bartender arms can make up to 120 cocktails per hour and comes at an extra cost of $12, it was never very busy as I suppose that once you've seen it make a few cocktails the fascination does tend to diminish but still worth a look.
Schooner Bar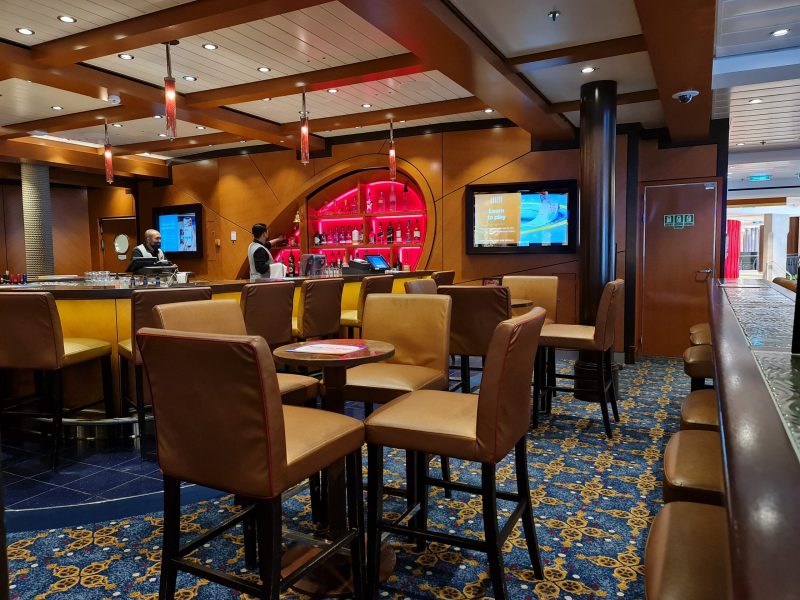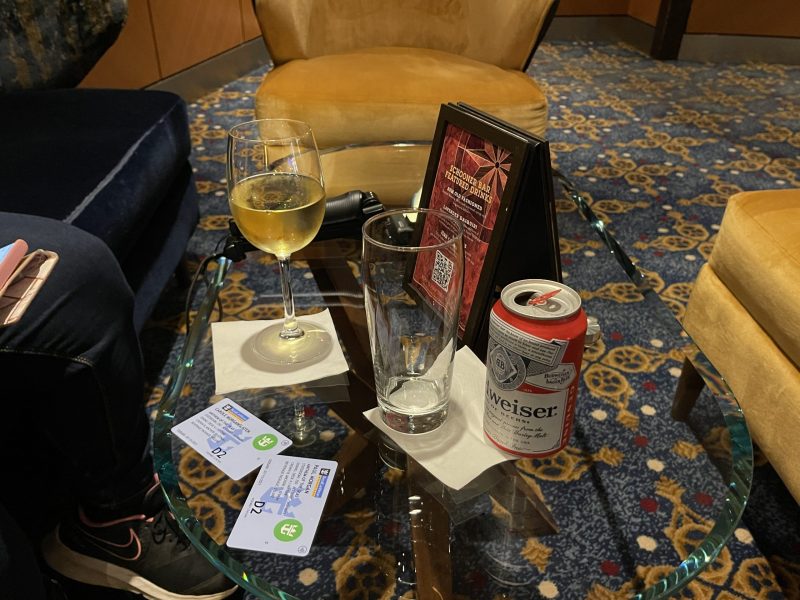 This nautical themed piano bar has been in the past one of our favourite venus and this was the first place we visited as soon as we boarded.
The centerpiece of a piano adorned  with a ships mast and rigging is a touch of genius and the wooden effect floor to ceiling pillars just adds to the whole ambiance of this lovely lounge. There is lots of comfortable seating to enjoy the piano singalongs with the pianist more than happy to take requests.
The Schooner bar is also used for workshops and themed quizzes but is also a great place to sit and enjoy some time to yourself weather it be reading, knitting or just doing nothing.
Entertainment Venues on the Anthem of the Seas
Of all the Royal Caribbean ships we have been on the one thing that is guaranteed is that the theatre will be pretty special and the Anthem is no exception. Set over two decks 4 and 5 it has a capacity of 1300.
Our one criticism is that on previous Royal Caribbean cruises  they seem to perform the same shows on every ship for quite a long period of time. Carole once commented that she could probably get a part in "once upon a time" as we had seen it that many times. But we are pleased to report that they have shaken things up big time, its west end/Broadway shows all the way and I'm pleased to say we were treated to one of our favourites, the amazing Queen inspired musical We Will Rock You. The theatre is also used for enrichment talks seminars and as a cinema during the day.
Wifi
VOOM Royal Caribbean's wifi is 6 times faster than any other wifi currently available at sea (their words not ours) and the top package Surf + Stream allows you to post to social media, make video calls, send emails, you can even stream music and videos so all in all they've got everything covered .
Other packages are available offering less options for a cheaper price but we chose the top package and like the all inclusive drinks the price for this fluctuates on your cruise planner almost on a daily basis so keep checking back to get the best price.
We ended up paying around £12.50 per device per day which seems to be in line with a lot of other cruise lines.
We are not sure that their claim above that their WiFi is the fastest at sea is quite right, as we have just cruised with Princess and their Medallion Net WiFi we felt was even better.
TWO70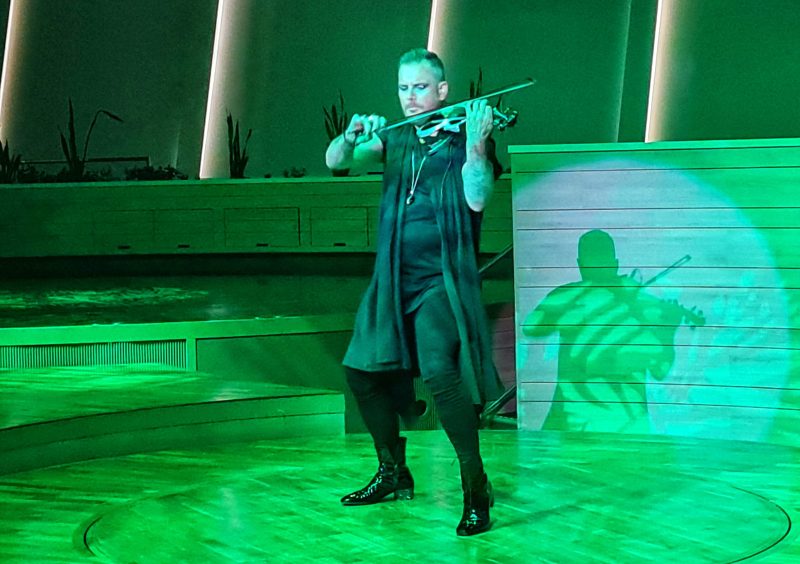 TWO70 this two storey venue is a sedate place to relax during the day (see Cafe@270 section) but at night it turns into a high tech spectacular entertainment centre like nothing else we have ever seen.
Multi level stages and floor risers have you guessing as to where the entertainers will appear from next plus amazing lights and sound are a treat for the senses, but the real show stopper is the bank of robotically controlled television screens that really have to be seen to be appreciated.
We saw two shows here during our cruise, the wonderfully weird spectras cabaret and the amazing fireworks on four strings show featuring the exceptionally talented Chris Watkins. These two shows could not have been more different but this amazing venue definitely added to the entertainment value.
Music Hall
The Music Hall as the name suggest is one of Anthems many music venues but it is so much more. From Karaoke to game shows this two story venue captures the authentic feel of an American old school rock and roll music venue. As furniture goes this is one of the most abstract venues we have ever visited but it all seems to work, it's even got its own self levelling billiard/pool tables.
But this place goes to another level when the live music kicks off, our cruise featured the amazing Coyote 80's music mix tape, a cover band specializing in all things rock and roll from in our opinion the best decade for music, from Bon Jovi to Brian Adams (their acoustic version of heaven is absolutely amazing) to George Michael and more. This was our favourite music venue on the ship.
RipCord by iFLY
Ripcord by iFLY is the free fall skydiving simulator found at the aft of the ship on deck 16 just behind the flowrider.
It simulates what it would be like to free fall from a plane in relative safety of a 23 feet high perspex tube and is free to use for all passengers who meet the relevant health criteria. There is also a weight limit which is under 6 feet tall 230 lbs, 105kgs or as we would say in the UK 16 stone 4.
You are given all the relevant safety equipment and are given a induction class prior to your flight, all you have to do is turn up in sensible shoes. It looks like an amazing experience and I was all ready to give it a go but on day one it was fully booked, not to worry we thought I'll go on tomorrow.
Now comes the cautionary tale, it is free for everyone but only on the first day and $49 for a sixty second ride seemed a little expensive so if you want to have a go get it booked as soon as you can.
North Star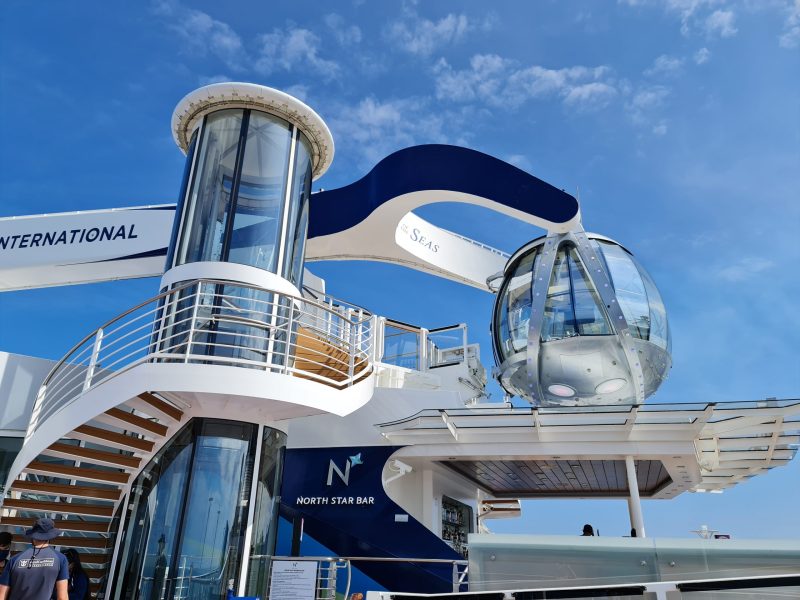 The North Star is a London eye type capsule attached to a mechanical arm that can extend 300 feet above sea level when in port and can also extend out over the sides of the ship too when at sea.
The capsule can hold upto 14 passengers including one space per ride for a wheelchair user, the jewel-shaped capsule gently ascends for spectacular ocean views and is smooth throughout the whole process, they do not operate in bad weather, so all you have to worry about is your fear of heights.
Just like the ifly all rides are free but only on the first day so booking early is again essential the one consolation to the paid flights are that they last around 18 minutes as opposed to the 9 minutes you get with the free ride.
We had our free ride during sail away which certainly gave us a whole new perspective of what it's like to sail from Southampton, we throughly enjoyed it and would definitely recommend!
Seaplex
This two story area is the place for kids of all ages with activities galore including basketball, archery, and roller skating but is probably most famous for having the first ever at sea bumper car ride.
We found out first hand how much fun the bumper cars are, we also found out that we are not as young as we think we are as we both picked up some bumps and bruises during our ride! To see Carole laughing hysterically then do watch Episode 7 of our vlog series here.
Restrictions apply on the bumper cars with a minimum age of 5 years old and a height of 42 inches to ride with a parent or guardian and 8 years old and 48 inches to ride solo.
If the bumper cars doesnt get the adrenalin going then maybe the circus school will it even features a flying trapeze and is available for free to anyone over the age of 6 years old, health restrictions apply. Other activities include table tennis, air hockey and video games. Activities in the seaplex have to be booked via your Royal app which we found very easy to do.
If all the activities leave you feeling hungry then while your there you can visit the first ever food truck at sea the Doghouse serving up tasty hot dogs salads and sides and is included in your cruise fare.
Pool Areas on the Anthem of the Seas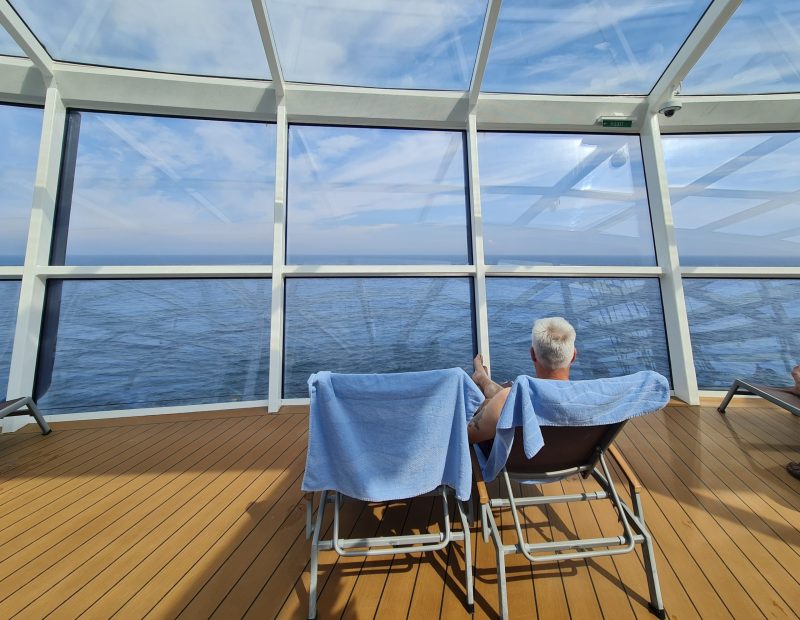 The Solarium is the adult only indoor pool situated right at the front of the ship on deck 14. It's not a pool in the conventional sense but more of a series of pools and hot tubs intertwined throughout this beautiful space, our cruise was running at a reduced capacity but it was still difficult getting a sunbed at the very front of the pool area (this is where the best views are) so if you are planning some time here you will need to get there early.
Because the Solarium is inside a glass dome even on a average day weather wise it's still a lovely warm place to relax and the waiter service bringing you delicious cocktails to cool you down certainly enhances your experience.
The Solarium also has its very own bistro serving breakfast lunch and dinner with a theme based on fresh ingredients and mediterranean flavours.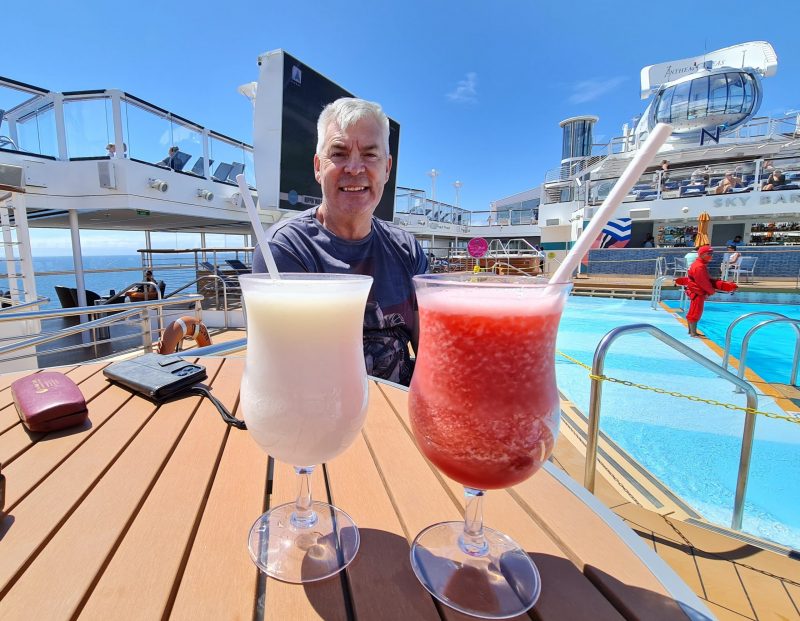 As you head back towards the centre of the ship you'll find the conventional indoor pool, it's not as pretty as the solarium area but is far more functional for swimming purposes. It also features some large hot tubs lots of comfortable sun beds and offers a fairly unusual feature of a retractable roof giving you the best of both worlds. A pool bar with waiter service insures that you stay hydrated throughout your visit too.
The centre of deck 14 features the main outdoor pool. The most unusual thing about the outdoor pool is the giant screen which instead of being at the end of the pool is actual situated on one side but other than that it's sort of standard outside pool fare. Plenty of sunbeds, some whirlpools and unusually lifeguards also feature along with the Skybar, and Jonny Rockets which is an additional cost. If it's included food you are after there is a fast food bar serving all sorts from pies and pizzas to salads and deserts.
Opposite the giant screen there is a small stage area that actually protrudes out from the deck above and throughout the day featured performances from the resident reggae band  Rhythm Explosion, what could be better than some Caribbean music while soaking up the sun with a cocktail in your hand.
If you've watched any of our vlogs you will know that we love a night time stroll around the pool deck and the Anthem didn't disappoint, it really is quite beautiful.
A lot of cruise ships have random animals on deck and the Anthem is no exception, their animal of choice is a giant giraffe and if you are looking for the children's splash and play area then this is the landmark you need to head for. As this was an adult only cruise this area was closed on our cruise but it did look like it would be a lot of fun.
What is it with animals and cruise ships. There is an elephant on the MSC Virtousa, a cow on the Marella Explorer 2, a Llama on the Marella Discovery and on the Anthem of the Seas there is a Giraffe!
Flowrider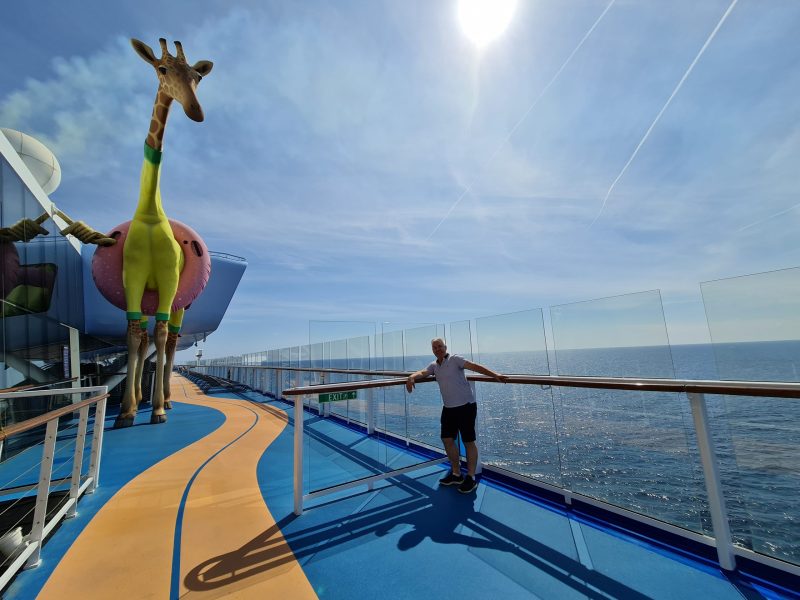 The Flowrider can be found right at the back of the ship on deck 16 just in front of the iFly. It is a surf simulator that enables you to catch a wave and surf to your hearts delight. You need to book your slot in advance and is free to use, however private tuition is available at an extra cost.
We weren't brave enough to do it ourselves, however we spent lots of time watching those attempting to surf and some managed it a lot better than others!
Balcony Cabin - Anthem of the Seas Cruise Ship Review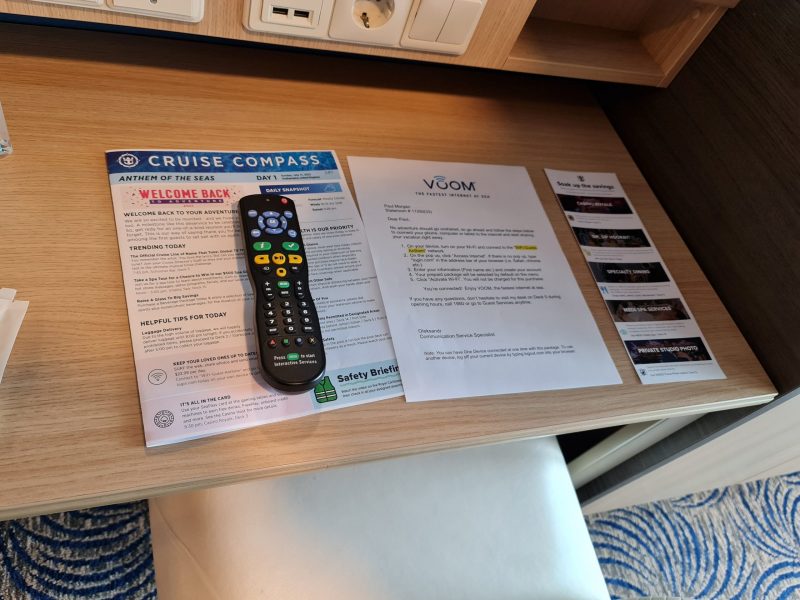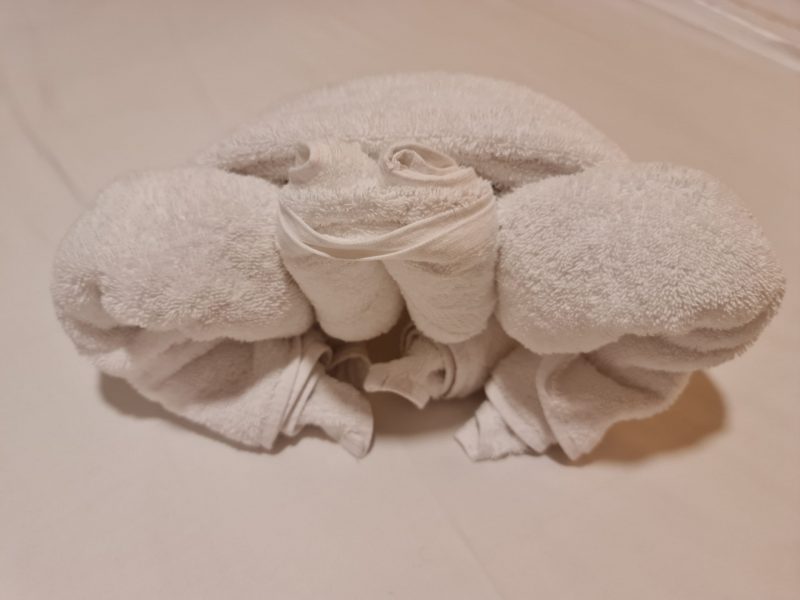 We booked a standard balcony cabin on the Anthem of the Seas. We studied the deck plans to see which cabin would suit us and if there were any cabins that gave you extra balcony space for the same money. We found cabin 11250 and booked that one.
From the moment we arrived our cabin steward Omar took excellent care of us and I know some people aren't fans of towel animals but we love them and when it came to towel art Omar was a grand master, he even made a towel birthday cake!
Find out more about our cabin and see if this cabin is for you by watching our video below.
Our verdict of our cruise on the Anthem of the Seas
Royal Caribbean are definitely one of the most expensive of all the what we would call mainstream cruise companies and the Anthem was no exception.
The standard of dining was excellent and the Windjammer Buffet Restaurant has been the best by quite a distance. We have not visited many speciality restaurants so we have limited experience to base this on but we would certainly highly recommend Izumi and especially Wonderland.
Entertainment again was some of the best we have seen from the production shows all the way through to the solo singer in the pub and it definitely has some amazing entertainment venues.
Even though we had a standard balcony cabin it was substantially bigger than other standard balcony cabins we have stayed in before.
So the saying is you get what you pay for and this is definitely the case with the Anthem of the Seas but we are not sure that around £250 per person per day all inclusive represented good value for money, but without any shadow of a doubt it was an excellent cruise. We really enjoyed our Royal Caribbean experience and will definitely cruise with them again in the future if the price is right.
To compliment this review we have filmed a vlog series. There are 8 episodes and you can find the complete series here, or click on episode 1 below.
RELATED BLOGS
10 Reasons to Cruise on the Anthem of the Seas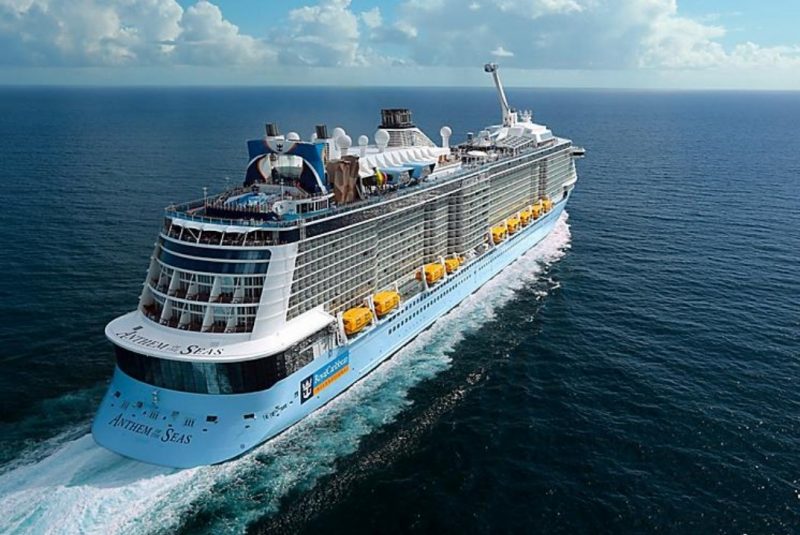 The Anthem of the Seas is a Quantum Class cruise ship owned by Royal Caribbean, who made it's maiden voyage in 2015. We have previously cruised with Royal Caribbean Cruise...
Read Review
Greenway Farm Campsite Review, Drybrook, Forest of Dean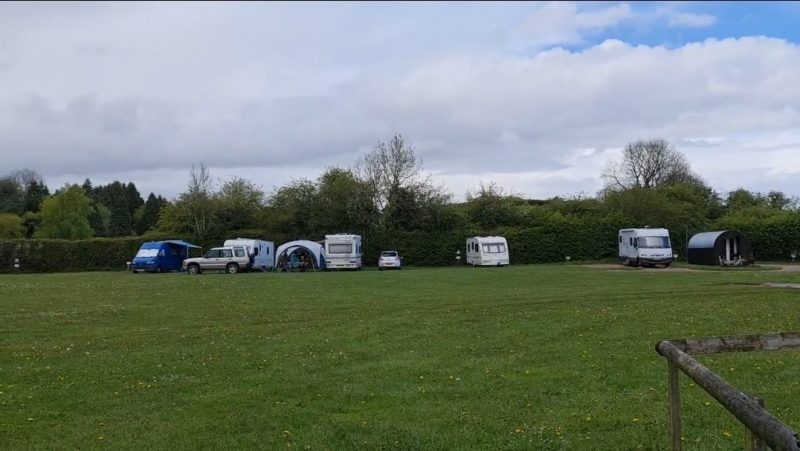 Greenway Farm Campsite can be found in the beautiful Forest of Dean, located in Puddlebrook, and only a short distance to the village of Drybrook. The site is set on...
Read Review
22 facts about the Explorer of the Seas Cruise Ship
On the last day of our 8 day cruise to Norway on the Explorer of the Seas, an event called the Captain's Corner was held on deck 3 in the...
Read Review