MSC Virtuosa Cruise Ship Review
Cruising is back and we jumped at the opportunity to cruise on the MSC Virtuosa Cruise Ship on one of her 4 night maiden UK voyages from Southampton. Our 4 day all inclusive cruise cost us £498 each which we felt was excellent value.
The MSC Virtuosa is MSC Cruises brand new flag ship and sister to the MSC Grandiosa, was built in 2020 at the cost of $800 Million. This Meraviglia Plus Class Cruise Ship normal passenger capacity is 6334 but only 1000 passengers were allowed for the UK Seacations as per government guidelines.
When the ship is at full capacity there will be 1700 crew, however, for our trip we were told there were 1100 on board.
In this post we have reviewed the embarkation and muster process, bars and restaurants, food and entertainment, pool areas, sportsplex facilities and our balcony cabin. This post also includes post pandemic new protocols throughout the ship. There are also links to our Vlog series and balcony cabin tour on our You Tube Channel.
We hope you find it useful so you can decide if the MSC Virtuosa is the cruise ship for you!
Embarkation and Safety Drill - What is Different?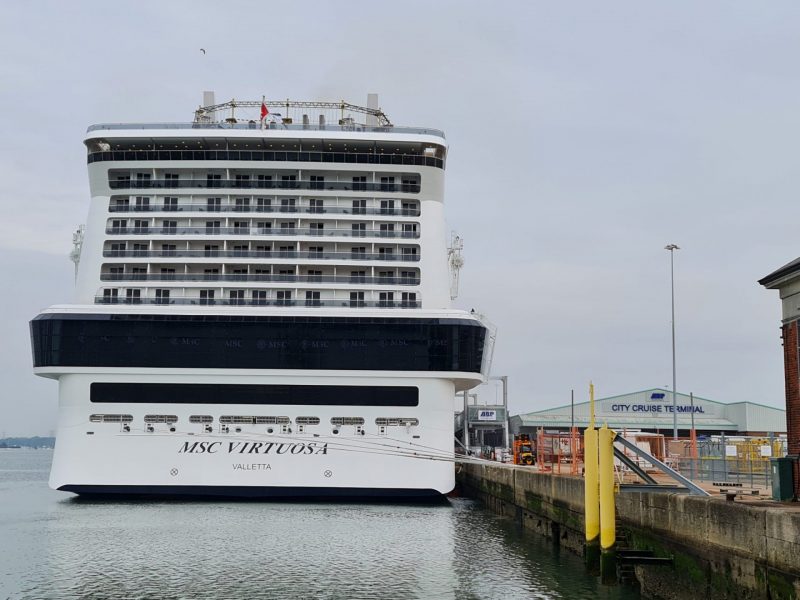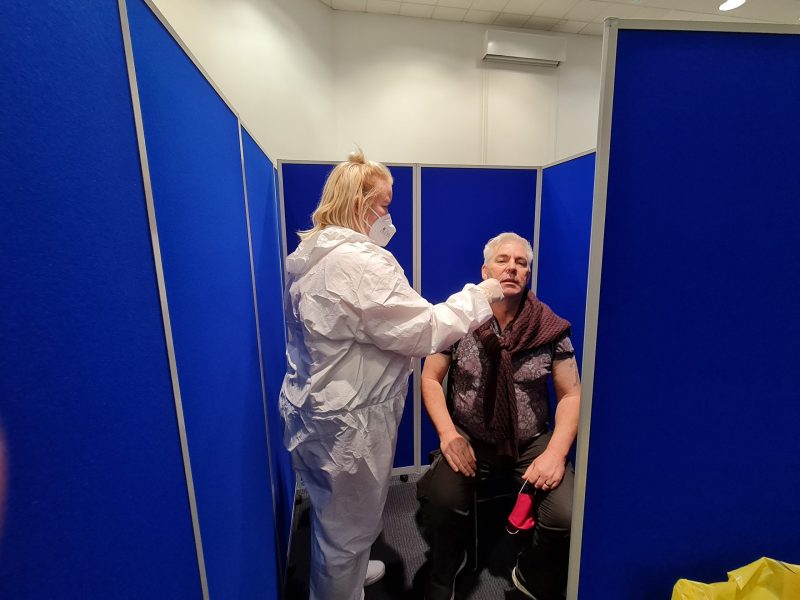 All passengers are now allocated a boarding time and our time was 11am. Having an allocated time worked really well as there were far less people checking in at any particular time. Masks wearing was mandatory and as we approached the terminal with our suitcases we had our temperature checked before we were allowed to enter.
Once we got to the front of the queue we were asked to produce our E ticket and our vaccination status. Carole had been fully vaccinated but my second vaccine was less than two weeks before boarding so I had to produce a negative lateral flow test taken within the last 72 hours. We were able to do this easily using the free tests provided from the gov.uk site and test results were recorded on our NHS App. You also have to produce insurance documents which must have covid cover, and a minimum of £2 million repatriation cover.
With all that in order we noticed that we had a cabin change so we had to get new luggage labels and then headed off to a security check and a pre boarding lateral flow test. The test was just a swab up the nose and performed very efficiently. We then checked in and were given our cruise cards and our track and trace MSC for Me bracelets.
Then came the nervous wait to see if our COVID tests were negative and to our relief there soon came a announcement inviting us to board the ship (phew!!).
As we ascended the gangway we noticed that from the time we checked in to the time we boarded had taken 50 minutes which is considerably less time that a normal boarding would have taken.
The gangway entrance takes you straight onto Galleria Virtuosa and this is a masterstroke by MSC as its the home of the stunning LED dome ceiling. Walking onto a ship for the first time in 15 months was exciting and emotional enough but then to sit down with a glass of champagne and look up at the amazing ceiling proudly displaying a massive union jack flag really was the icing on the cake.
With social distancing in place the muster drill was always going to be a bone of contention but MSC handled it with aplomb. Instead of standing out on deck in all weather looking like a wally with your life jacket on you simply turned on your cabin TV, then turned on the required channel (this was announced over the public address system) and watch the drill in the comfort of your own stateroom. Once completed you phone a number (also announced on the PA), you then await further instructions.
This again came via the PA system inviting two specified decks at a time to make there way to the muster point specified on the inside of there cabin door.
Once you arrive at your muster point your cruise card is scanned and you are shown around the muster area and that's it, you are free to go about your business. The best bit is no life jackets in your cabin, in a real emergency you will be given your life jacket on arrival at the muster station.
We have cruised more than twenty times and this was by far the best way to do a muster drill and hopefully when restrictions are lifted will remain in place.
Episode 1 of our MSC Virtuosa Cruise Vlogs covers all these procedures and can be watched here.
The Promenade and LED Dome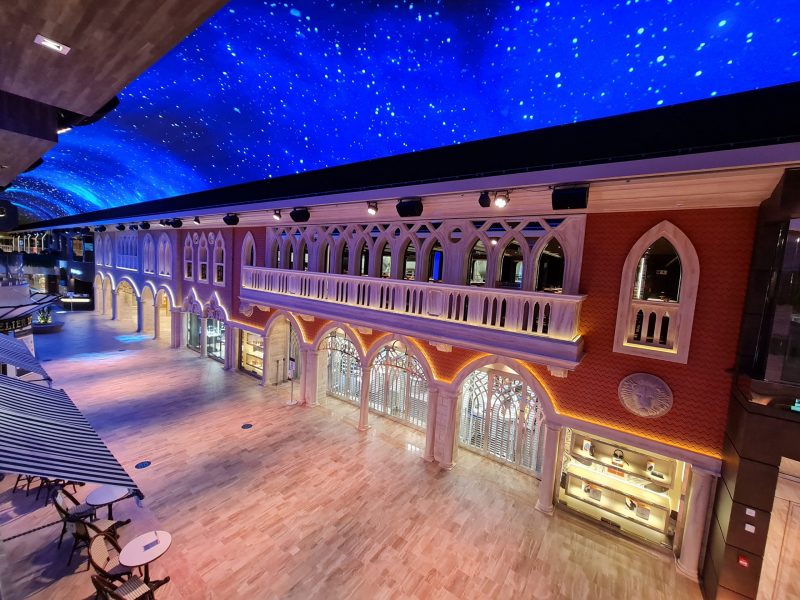 The MSC Virtuosa promenade or to give it its correct name the Galleria Vertuosa boasts the longest LED Dome at sea at 112 metres and in the four days of our cruise we never got bored of this ever changing feature. Add to that the 6 dome shows that happen throughout the day and you're almost guaranteed a stiff neck by the end of the cruise.
If you love to shop you are in for a treat with 11 boutiques to temp you to part with your money, from essentials you may have forgotten to pack to luxury items or gifts for friends and family at home.
And speaking of gifts this is where you will also find the Jean-Philippe chocolate and cafe where they not only make there own chocolate but can personalize it with a written message of your choosing and yes the message is also written in chocolate.
They make so many beautiful things here it's really hard to walk past with two chocolate taps constantly running. It's a chocoholics paradise, they were even making a chocolate octopus during our cruise which looked spectacular by the end of our cruise.
Other places of interest for food lovers include the speciality restaurants HOLA Tacos and Cantina (details of this below) Indochine and L'Atellier Bar and Art, and not content with just making chocolate Jean-Philippe also has a speciality Crepes and Gelato bar as with the chocolate cafe it does come at an extra cost.
This is truly the heart of the ship and never ceased to amaze us!
Bars on board the MSC Virtuosa
There are 21 bars on board the MSC Virtuosa, 16 indoor and 5 outdoor, so you will never go thirsty!
Our cruise was all inclusive and included any drinks from any menu up to the price of £10. We found there was plenty of choice on all of the menus and never felt the need to pay any extra.
Horizon Bar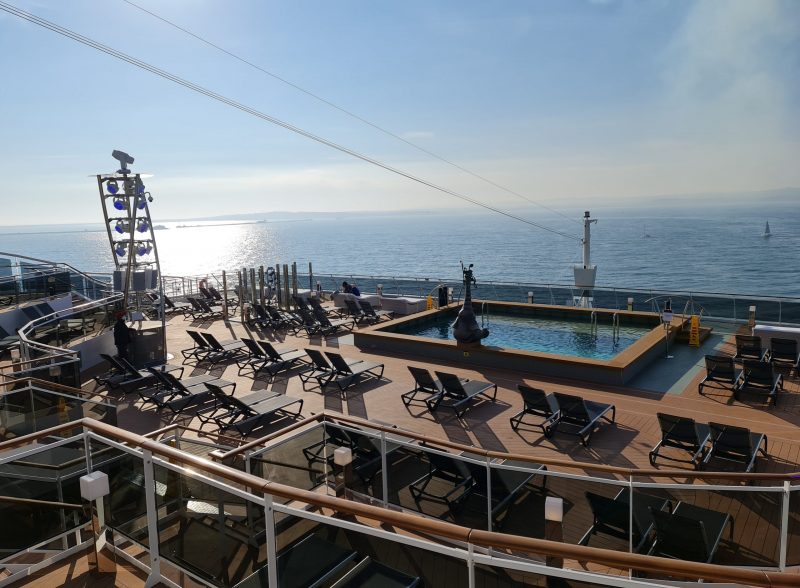 Horizon Bar can be found at the back of the ship on deck 18, and was easily our favourite outdoor bar.
With wake views and on this particular cruise amazing sunsets, it was the perfect spot for us. The Horizon Pool is the smallest of the pools available to non Yacht club guests but has ample seating and sun beds. We called it the elephant bar as there is a large elephant statue sitting by the pool. We didn't understand the relevance but we thought it was cute!
It was always fairly busy during the day but come late afternoon/early evening it was the perfect spot for a quiet cocktail as you watched the world disappear behind you.
It also had our favourite waitress from the Carousal Lounge Narawan so we enjoyed some great service and fun banter too!
In episode 5 of of vlog series we enjoy a sunny sail away from Portland in Dorset at the Horizon Bar, which can be viewed here.
Virtuosa Bar and Lounge Deck 6
During the day this was a quiet place to sit and at night it was always a very popular place with live music playing, plus themed nights and quizzes.
Ideally situated right next to the theatre on the gallery virtuosa giving you the best of both worlds, you can enjoy the live entertainment and also wonder at the LED dome that changes on a regular basis.
On our four night cruise we never managed to get a seat in here in the evenings and we appreciate that there were only half the normal amount of seats available due to social distancing. It does make you wonder though where all the passengers would go at night when the ship sails at full capacity with such small venues.
Masters of the Sea Pub Deck 7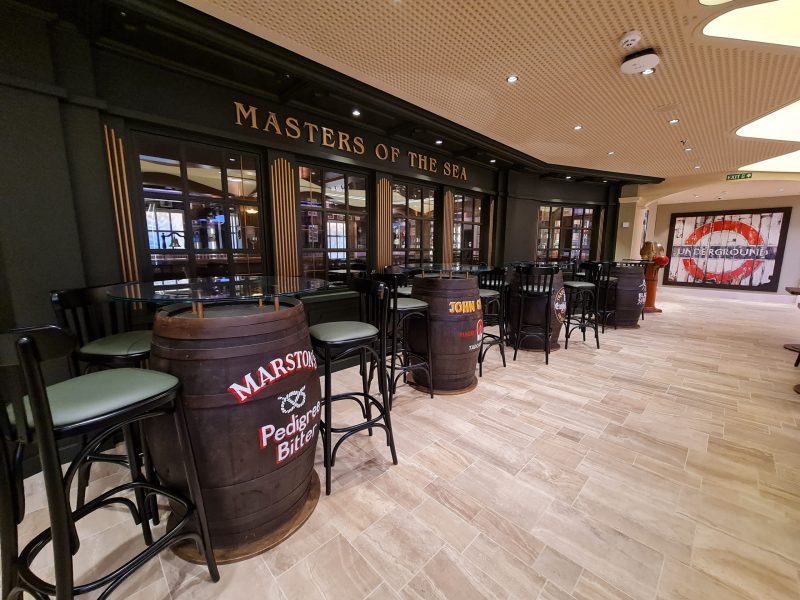 The Masters of the Sea Pub is situated on deck 7 and over looks the Virtuosa lounge and the Gallery Virtuosa .
They have really tried to get the feel of a traditional British pub with seating for just over eighty people and a decor consisting of more wood than you could shake a stick at, yes the pun was intended! With regular sets from a solo singer guitarist and a disco going late into the night (2am) this was another venue that was always packed to the rafters.
There is also a row of seats and some bar stools and barrel tables outside the pub but if you sit here you can hear the music from the Gallery Virtuosa rather than the pub so you don't really get the atmosphere of a pub night out but do get a excellent view of the LED dome.
TV Studio and Bar
With seating for just over 100 guests if you fancy yourself as the next winner of the voice this could be the place for you. Take centre stage as you belt out your favourite Karaoke classic or just sit back and enjoy other people's efforts good or bad.
They also have quizzes and did show some live football during our cruise and if you wanted somewhere very quiet in the day it always seemed empty. We both thought this was a bit of a strange room and could be better utilised in such a prime position.
MSC Starship Club has the first Robotic Humanoid Bartender at Sea called Rob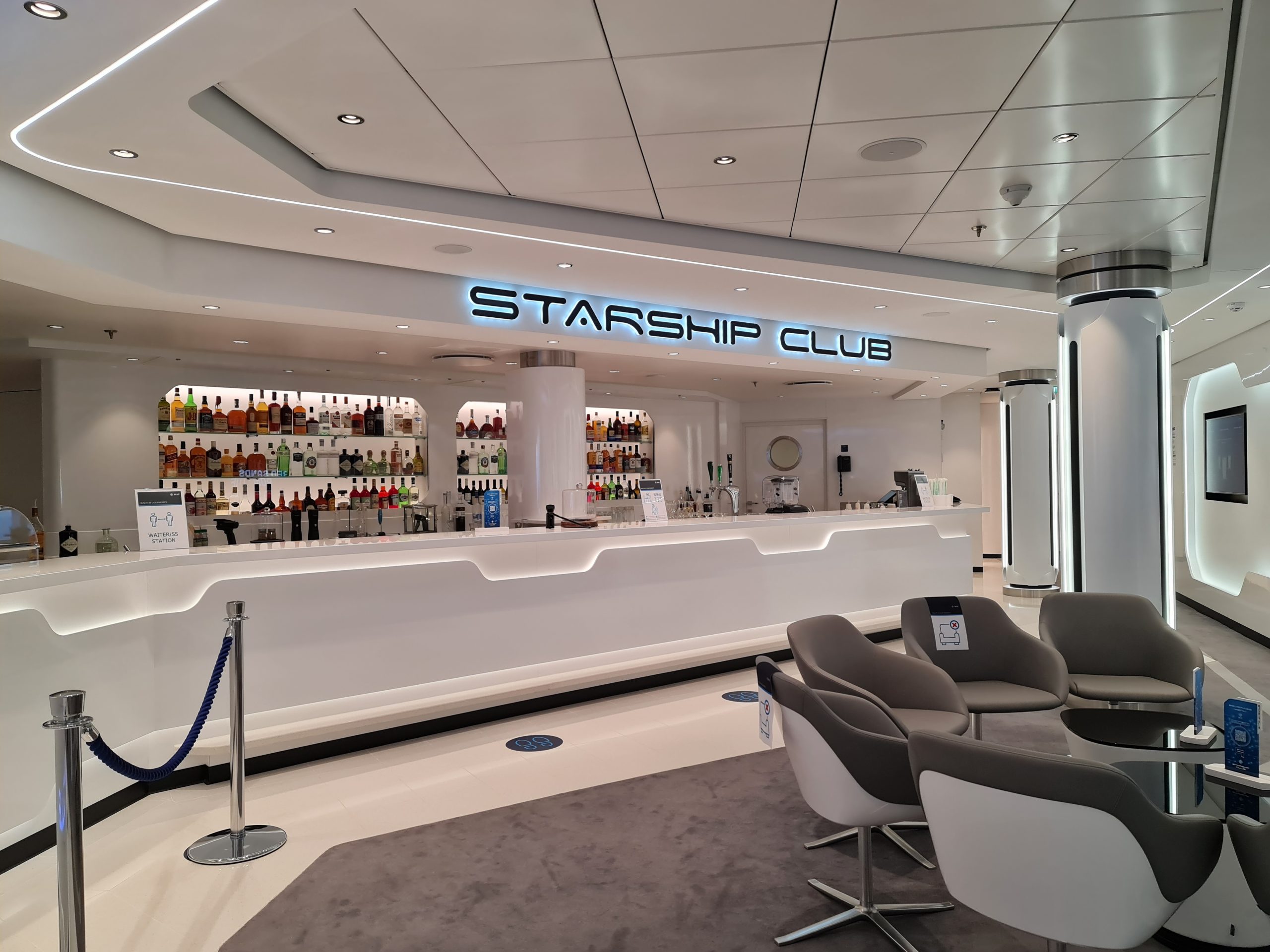 This space age bar looks like something straight out of a sci fi film, when a waiter approaches you you'll think you're at a star trek convention, throw in to the mix 3d holographic projections and an interactive infinity table and you really will think you're in space not at sea.
But the jewel in the Starship lounge crown is Rob the only robotic humanoid bartender at sea. Rob can make an infinite amount of cocktails with more than 40 ingredients to choose from and don't worry about a language barrier as Rob can also speak 8 different languages.
Rob is unfortunately, not part of your all inclusive package. Cocktails are a bit pricey but they do come with a souvenir glass and presentation box.
Sky Lounge Deck 18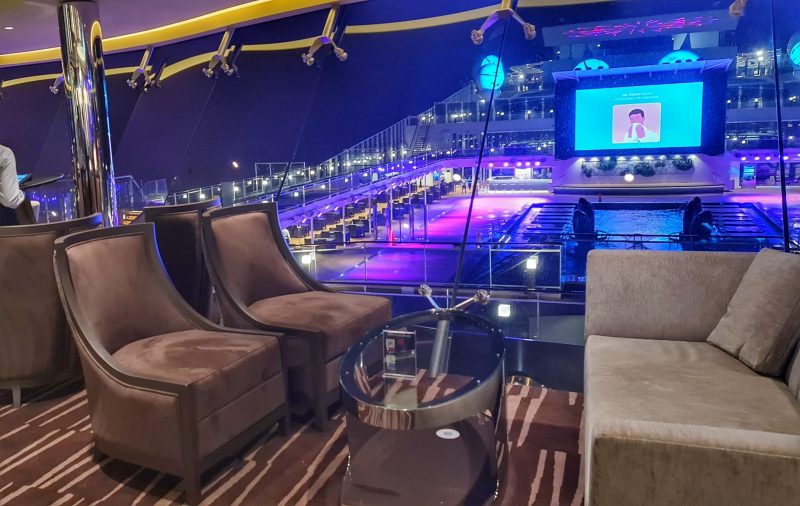 The Sky Lounge is found on Deck 18, this was definitely our favourite indoor lounge on the ship.
With stunning panoramic views over the atmosphere pool and out to sea this spacious adults only lounge was full of comfortable seating and had the wonderful aroma of the smoky speciality cocktails that the sky lounge prides itself on.
Don't worry though, if smoky cocktails are not your thing they have a large array of other drinks and cocktails to sample and with live music playing in the evenings it was the perfect place for us.
As we have mentioned before MSC are not afraid to wow you which is exactly what they do with the lights show on the pool deck every night, and this bar has the perfect views for this which really is something special.
Champagne Bar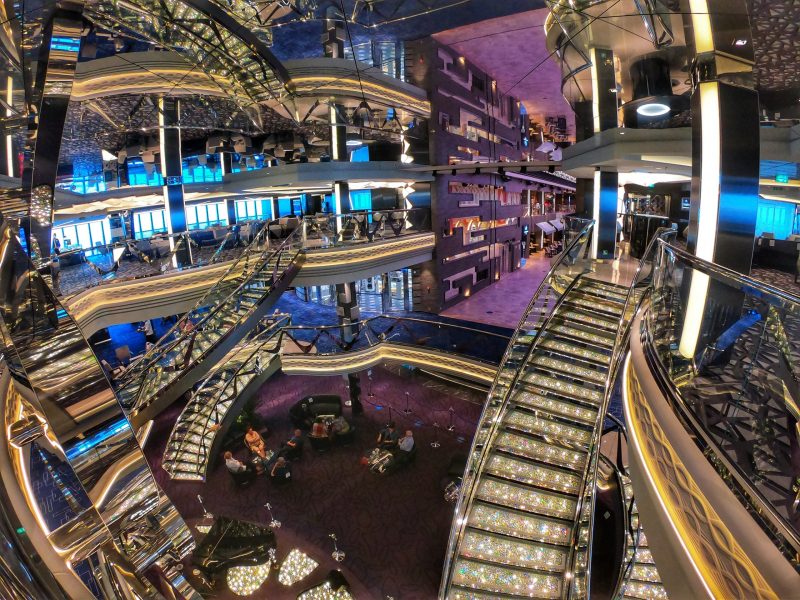 With stunning views out to sea or you can marvel at the £10,000 per step Swarovski staircase that leads down to the beautiful atrium, the Champagne Bar was excellent place to enjoy some bubbles. Classical music filtering up from the grand piano below also adds perfectly to the ambiance.
Carousal Lounge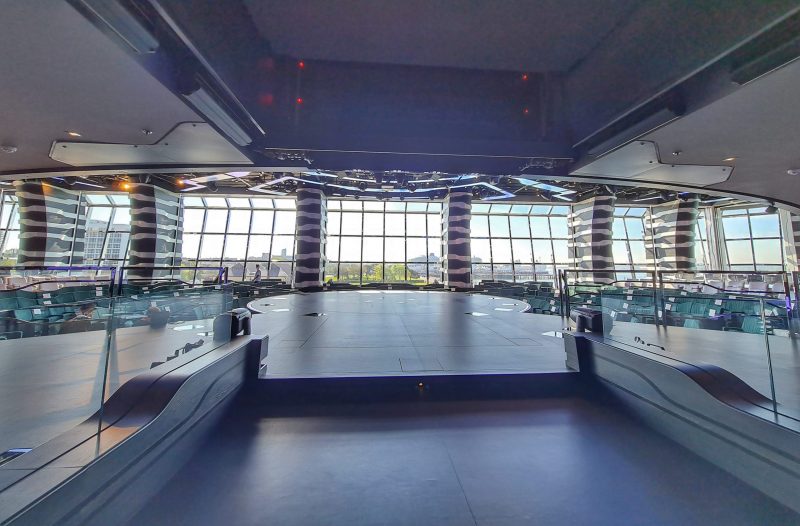 The Carousel Lounge is the second largest entertainments venue on the MSC Virtuosa seating over 400 guests and can be found right at the back of the ship on deck 7.
It has a circular stage with lots of comfortable seating on three sides giving it a real amphitheatre feel to it. There were two musical shows every night by a great group called the Soul Sisters who were excellent and even though they performed every night of the cruise each show was different from the last.
After the show had finished the curtains at the rear of the room opened revealing amazing wake views. What a great place to sit in the daytime we thought if you just wanted to sit quietly and enjoy the view. However, every time we seem to come past in the day it was closed for rehearsals and sadly the Carousel Lounge Bar is only open from 7 pm meaning this lovely area is in our opinion is extremely under used.
Casino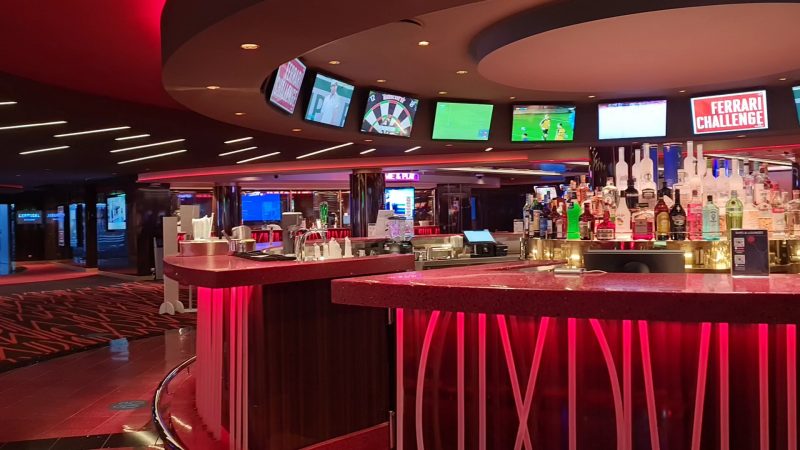 The Casino can be found on deck 7 sandwiched nicely between the Champagne Bar and the Carousel lounge.
We are not big casino goers but we do have to say this is the most comprehensive one we have seen on a cruise ship. Stacks of slot machines that have progressive jackpots throughout the cruise, and plenty of live tables including roulette, blackjack, and poker to name but a few.
You enter the casino via a strange bridge that makes you feel like you are going to fall to your doom, it did make me laugh every time Carole walked over it!
The circular bar at the centre of the casino really does look spectacular with its television encrusted headpiece and row of very comfortable looking bar chairs so if the gambling doesn't go your way you can drown your sorrows at the bar.
Theatre
Le Grand Theatre seats 945 people and is at the front of the ship at the end of the Galleria Virtuosa on deck 6.
As far as theatres go our only criticism is that it's far to small. With two shows a night and less than a thousand passengers on the ship it was more than adequate, but when at capacity (6500) we really don't see how this is going to work. Another passenger did say that normally they have 3 shows per night so that will help a bit!
Apart from the size it's up there with the best of them, high tec set designs and elaborate costumes were in abundance and the talent of everyone on stage was without question. However, if you are looking for a west end style show with a storyline that you can follow you will be disappointed.
The shows seem to be a series of songs and dance routines with little or no links whatsoever and then randomly a roller skating couple will come out mid show and do some crazy stunts.
We did leave the theatre every night feeling very entertained but also very confused.
Gym, Sportsplex and family facilities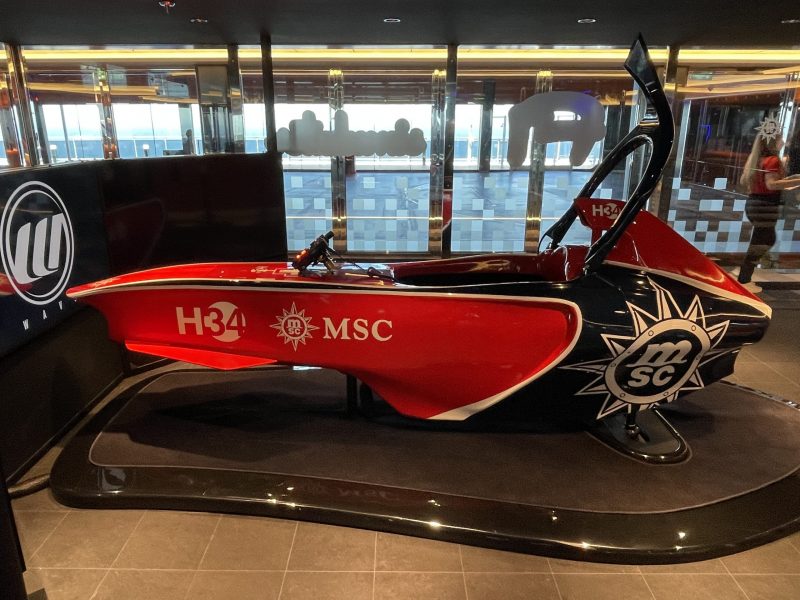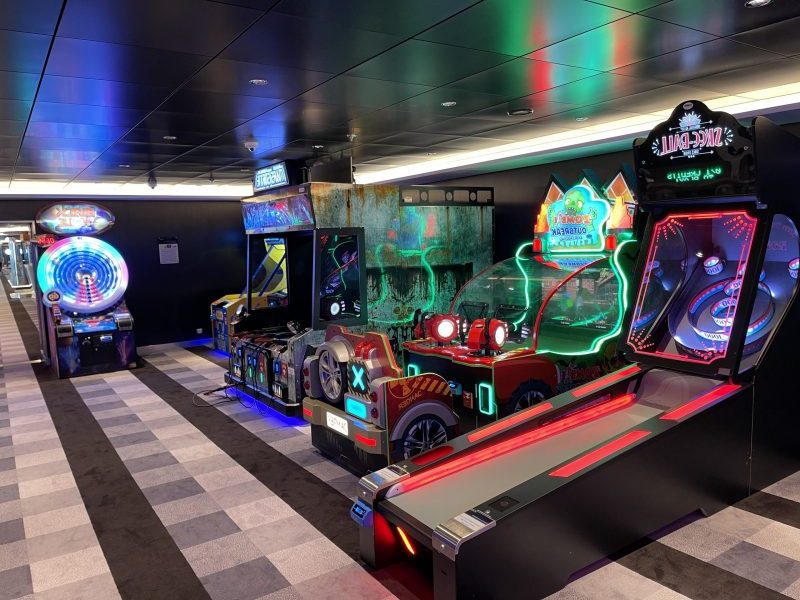 As with most modern cruise ships the Virtuosa has a very well equipped gym focusing mostly on cardio but with a selection of weight machines thrown in for good measure. We've still not managed to use the gym on any of our twenty plus cruises but maybe one day!
The Sportsplex and family facilities are excellent with interactive rooms, a kids club and a large sports court. At an extra cost there are also virtual reality games arcade games, a two lane ten pin bowling alley and a two spectacular looking F1 simulators, it did seem a bit pricey but if you purchase your arcade tickets prior to boarding it is better value for money.
There is also a sports bar in this area which rather strangely doesn't actually show any sport!
If outdoor activities are more your thing then there is an excellent aqua park and if you've  got a good head for heights you might want to give the Himalayan Bridge a go. It's over 80 metres above the ocean, so definitely not one for the faint hearted.
If you would like to be taken on a tour of the Sportsplex, Arcade and Aqua Park, do watch Episode 4 of our Vlog Series here.
Atrium and Swarovski Staircases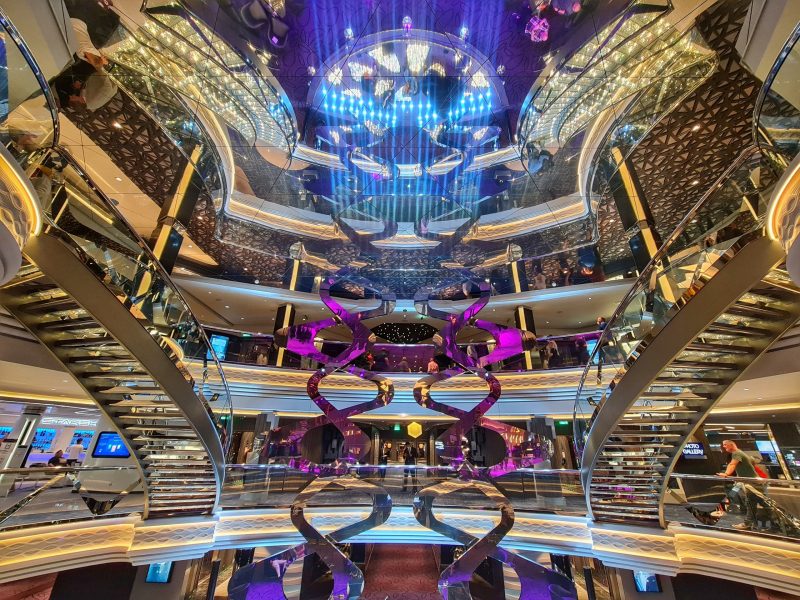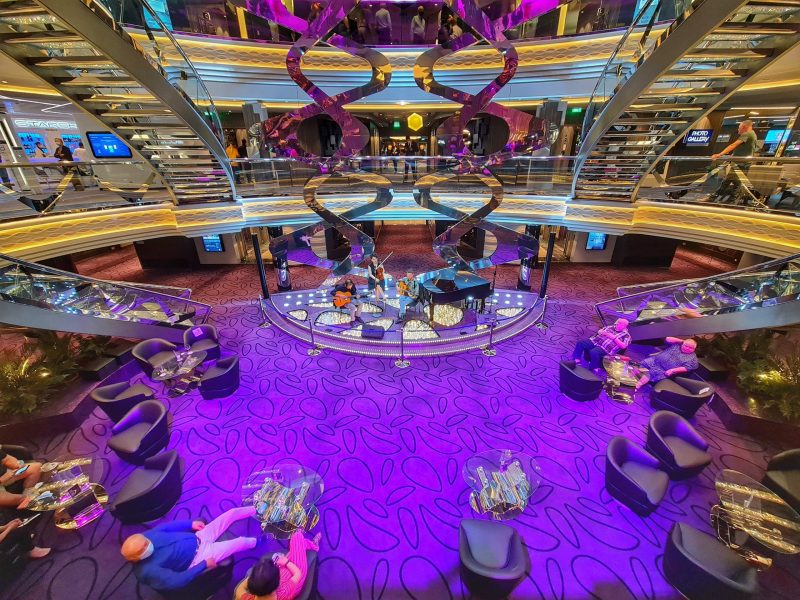 The atrium is usually the most beautiful area on the ship and the atrium on the MSC Virtuosa is no exception.
Their use of abstract art, chrome and mirrors is second to none and then throw into the mix the ridiculously opulent Swarovski staircases with each step costing a reputed £10,000 and you know that you are witnessing something truly special.
Entertainment comes courtesy of a trio consisting of two guitarists and a violinist and a pianist on a grand piano giving it the ambiance it deserves.
If we were giving it marks out of ten for its WOW factor we would give it eleven!
Swimming Pools and Outside Areas
All the free to use pools are situated on deck 15, as we have said earlier in this post the Horizon pool was our favourite pool area purely because of its location at the aft of the ship, but all the pools have something different to offer.
The Atmosphere pool is the largest pool onboard with a good amount of sunbeds and some really comfortable looking mattress type beds right next to the pool itself though we would imagine you would have to be an early riser to secure one of these.
There are bars at both ends of the pool, waiter service and if you are feeling peckish there is also a snack bar serving anything from burgers and pizza to good old British favourites like pies, bangers and mash, deserts and ice cream.
Throughout the day you are kept entertained by a variety of things including quizzes and dance classes. There are also a good selection of whirlpools and hot tubs available.
The last of the all inclusive pools is the Tropical pool this an indoor pool and solarium with a jungle type theme. It has a retractable roof and seemed really popular with families. Set out over two decks it also has two whirlpools, table tennis tables, a bar and enough seating for 140 people.
Minuetto Restaurant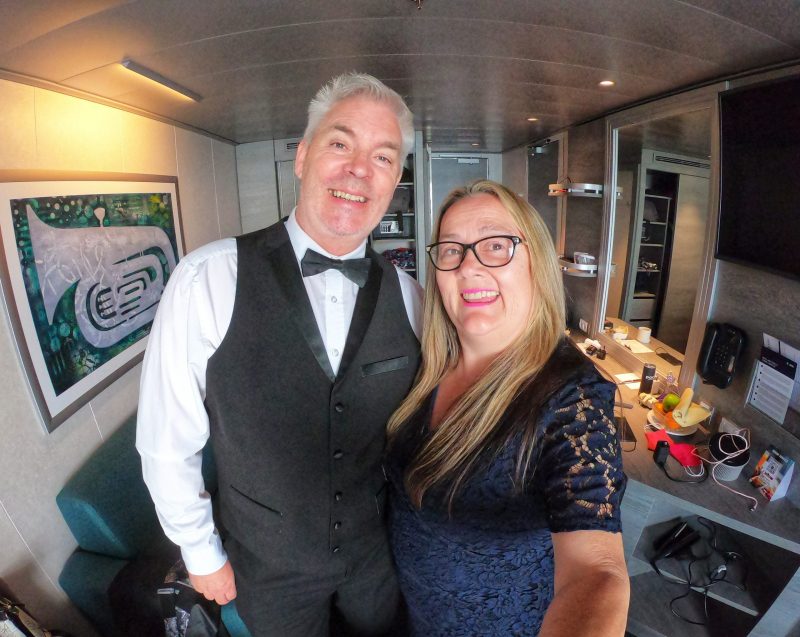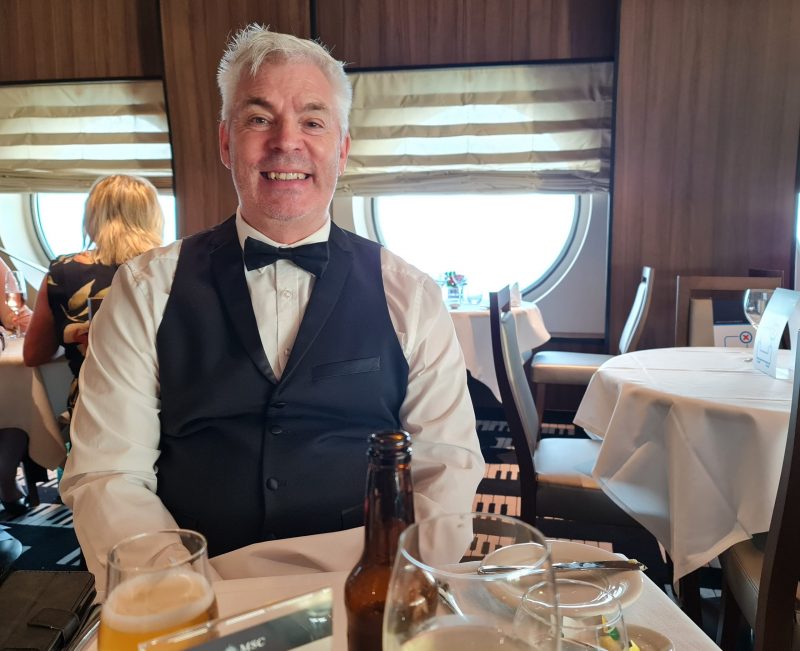 The Minuetto Restaurant is one of the inclusive restaurants, and this was the restaurant assigned to us during our cruise.
Situated at the aft of the ship on deck 6, as you approach the restaurant doors you are treated to a fantastic mirrored walkthrough wine cellar that is in keeping with the decor of the rest of the ship. However, when we entered the Minuetto we were really surprised how bland the decor was.
There are some lovely aft views through the restaurants large windows but the decor itself really was a tad boring. Even though the the restaurant may have lacked a bit of sparkle the food and service more than made up for it.
We only ate here twice but both nights were excellent and on elegant night we were treated the best surf and turf we have ever had. We've had a lot of people asking us about the food on board saying they had heard bad things but this was certainly not our experience.
As with most things on your cruise always check your daily planner as during our cruise the inclusive restaurants were only open until 8-30 in the evening which for some is too early.
Market Place Buffet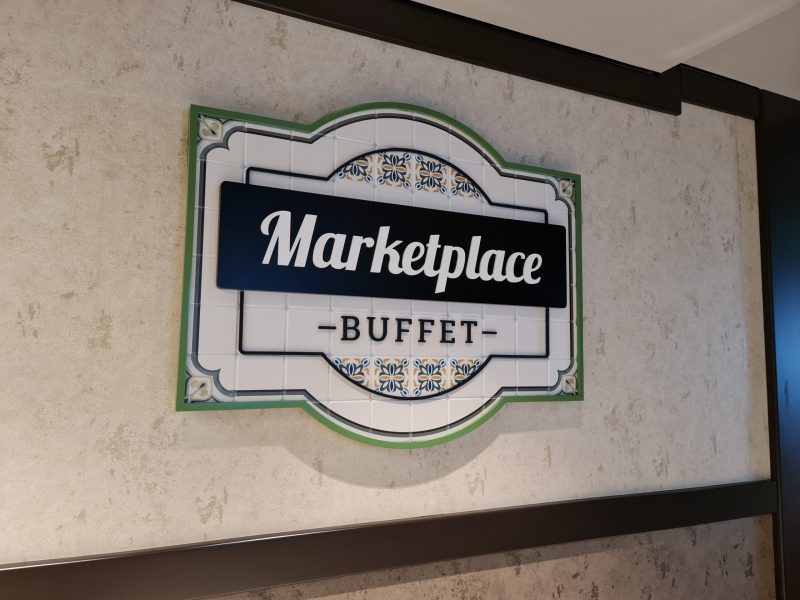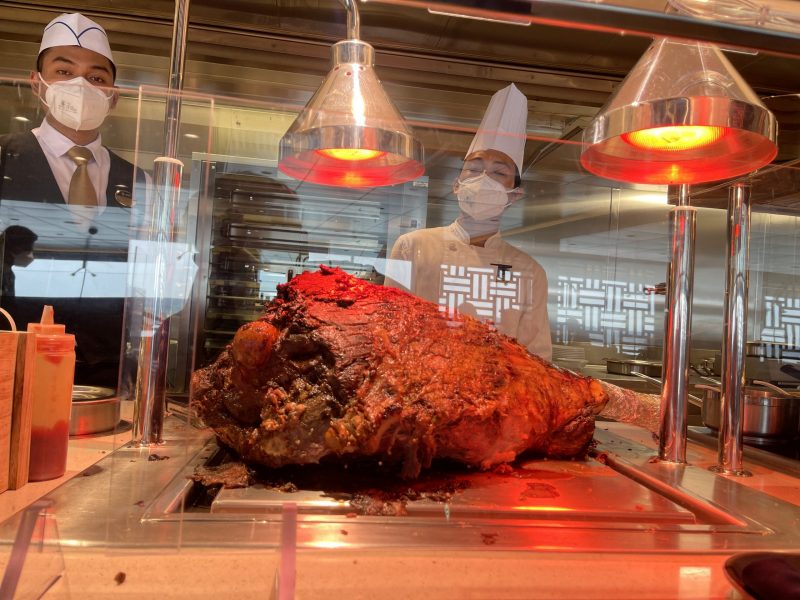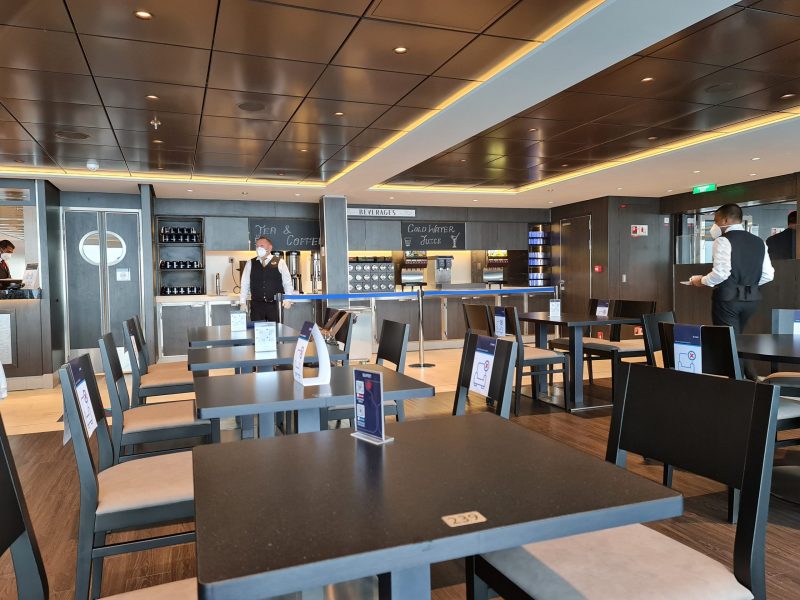 The Market Place Buffet is open for most of the day – Breakfast – 0700-1100, Lunch 1200-1530, Afternoon Snacks 1530-1700, Dinner 1900-2130 and Evening snacks from 2200-0030. You will never go hungry on this ship, that is for sure!
Before you enter you will notice changes which are definitely for the better. Firstly you have your temperature taken and then you are directed to one of a row of wash basins to wash your hands before entering.
Seating was spaced with alternate seats marked  to ensure social distancing but during non covid times the Marketplace Buffet can seat over 1300 people.
Excellent selections are available morning noon and night, from full english breakfast to carveries, salad bars to speciality curries, bread cakes pastries and so much more.
We don't know if a normal help yourself buffet will ever return but at the moment all the food is behind a glass screen and once you have made your choice they place it up and place it on your tray. We think this is a good idea as it definitely helps with portion control and also should cut down on food waste.
If you like to dine alfresco then walk all the way to the back of the restaurant where you will find a lovely outside seating area allowing you to get some lovely wake views while you enjoy your meal.
Speciality dining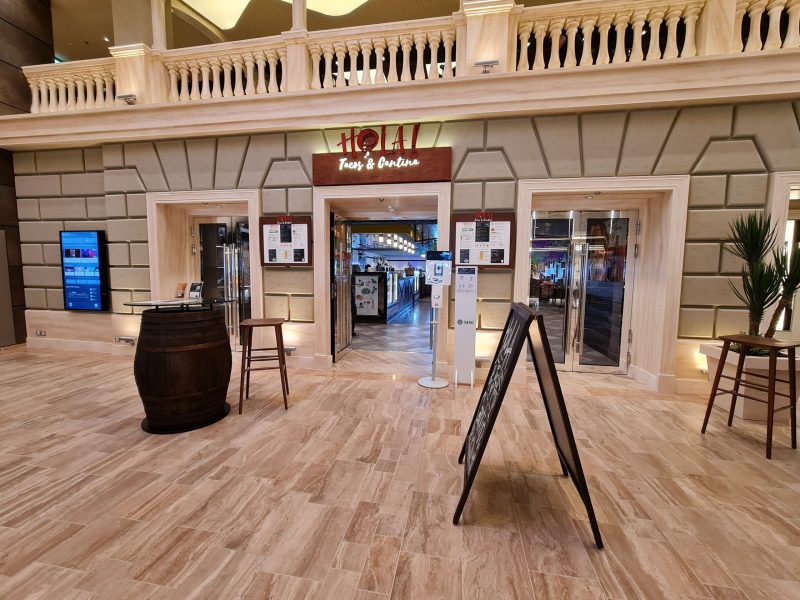 There are five speciality restaurants on board, Butchers Cut, Indochine, Kaito sushi, Kaiti Teppanyaki and Hola Tacos and Cantina.
We had heard good things about all of them but the most popular choice seemed to be Hola, so this is the one we chose and we were not disappointed.
The decor captured perfectly what we envisaged a mexican cantina would look like full of vibrant coloured decorations and face masks but with very humble looking tables, stools and chairs. As with everywhere on the MSC Virtuosa Cruise Ship the service was prompt and extremely friendly and our waiter Joshua who was from Mauritius went through the menu and explained all of our options.
You could go for an all you can eat menu at £16.99 each or choose individual items with the costs shown on the menu, unsurprisingly we went for the all you can eat.
We started with a small portion of what the waiter called chips with a very spicy (our choice) dip which really got our taste buds going, this was followed by a selection of soft tacos, then some burritos, and then some spectacular beef enchiladas definitely our favourite! Our final savory choice was a small portion of beef nachos.
The portion of nachos was so big we were convinced they had bought us the large one by mistake but then our friends on the next table had a large portion delivered which looked like it would feed a family of 4.
Despite Carole assuring me that she could not eat another morsel there was to be one last treat in the form of a sweet taco shell filled with vanilla ice cream and caramel sauce, it was the perfect end to an excellent meal!
After our visit it was easy to understand why our fellow bloggers had recommended Hola so highly.
Excellent food, brilliant service and fantastic value for money, so if you get the chance to visit Hola our advice would be do it! Make sure you book as soon as you can as it is extremely popular.
Our Bella Balcony Cabin 12067
We booked a guaranteed category BV balcony cabin on the MSC Virtuosa, and had been allocated 8232. When we arrived at the port we were told our cabin had been changed to 12067 which turned out to be category BW which just means that it is the same grade of cabin just in a more favourable position towards the middle ship.
The cabin was spacious, and comfortable, and you can find a full video tour of our cabin below.
Sometimes booking a guaranteed cabin is a gamble but this time it paid off. You can find out more about why this is not always good idea here.
If you are new to cruising and unsure about what cabins are available then we recommend you read our post here too – Cruise Ship Cabins – How to pick the right cabin for you!
WiFi Package
We paid £43 each for the WiFi package for the 4 days that we were on board. It was easy to connect using the MSC for Me App, unlimited date and we didn't have any issues all the time we were on board. The signal was excellent through out the ship and in the outside areas. We felt this was good value and we were really pleased with it!
Yacht Club Experience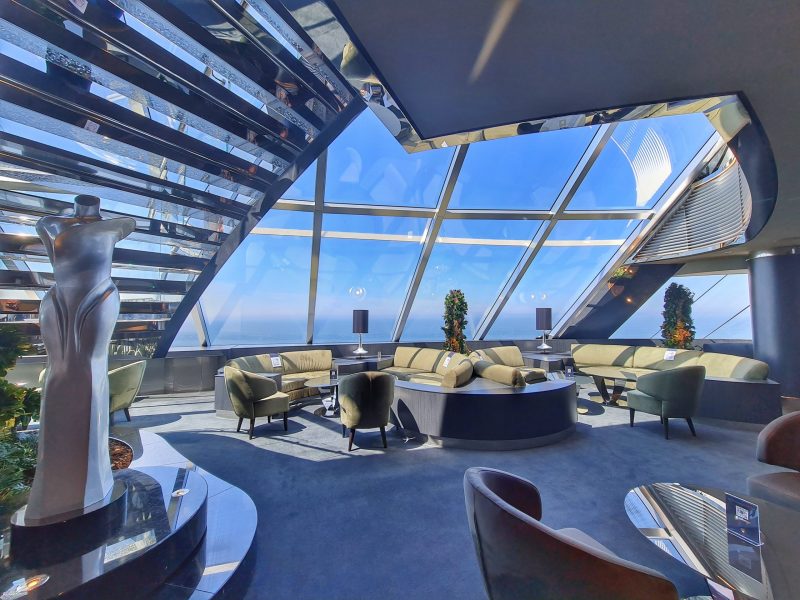 Sometimes being a travel blogger on a cruise ship gets you some perks that you normally wouldn't get and thanks to Antonio Paradiso at MSC cruises this was the case. Our perk was a visitors pass to The Yacht Club the exclusive restricted area of the ship.
If you book a Yacht club cabin it includes bigger cabins, your own butler, and extra perks on MSC's private islands but we were here to sample the on board amenities which are set out over three decks.
First is the Top sail lounge with stunning views out over the front of the ship, as you would expect the service is exemplary and virtually all drinks are included in your fair, this is like a very upmarket version of the sky lounge except here the capacity is vastly reduced and it's almost like the staff know what you are thinking.
You are just thinking to yourself I feel a bit peckish and as if by magic some canopies arrive and your glass will never be completely empty before you are offered a refill, we decided we wanted to move seats and such was the level of service that they wouldn't allow us to carry our own drinks.
Then there is the restaurant, this one deck up and you and you get there via another Swarovski staircase. During our visits we breakfast, lunch and dinner here and it was nothing short of spectacular!
And finally is the sun deck, amazing views, lots of sun beds, seats and a small amount of cabanas. The bar grill area caters for all your needs whatever time of the day it is, from cocktails to coffee from the bar to sword fish and divers scallops from the grill. If you've ever wondered what it's like to be a celebrity a visit to the Yacht Club will give you an idea of what that is like.
The Yacht Club experience does not come cheap costing around double the normal fare but if there is any availability close to the time of the cruise you can bid for an upgrade, if you win you will be upgrade if you don't you keep your original cabin. Something we will be considering for the future!
MSC Virtuosa Cruise Vlogs
We hope you have found this review helpful and now know whether the MSC Virtuosa is a cruise ship that would suit you.
We have only cruised once before with MSC on one of their older cruise ships the MSC Opera and it was a very different experience than what we experienced on the MSC Virtuosa. We really enjoyed our time on board and are already looking at MSC Cruises other newer ships and hope to cruise in Yacht Club again one day!
Save to Pinterest for Future Reference
RELATED BLOGS
3 days of fun at the Sunshine Festival, Upton Upon Severn
We had been told about the Sunshine Festival by some good friends of ours and decided to give it a try, and we were really glad we did! The festival...
Read Review
Sky Princess Cabins – Reviews and Tours so you can make the right choice!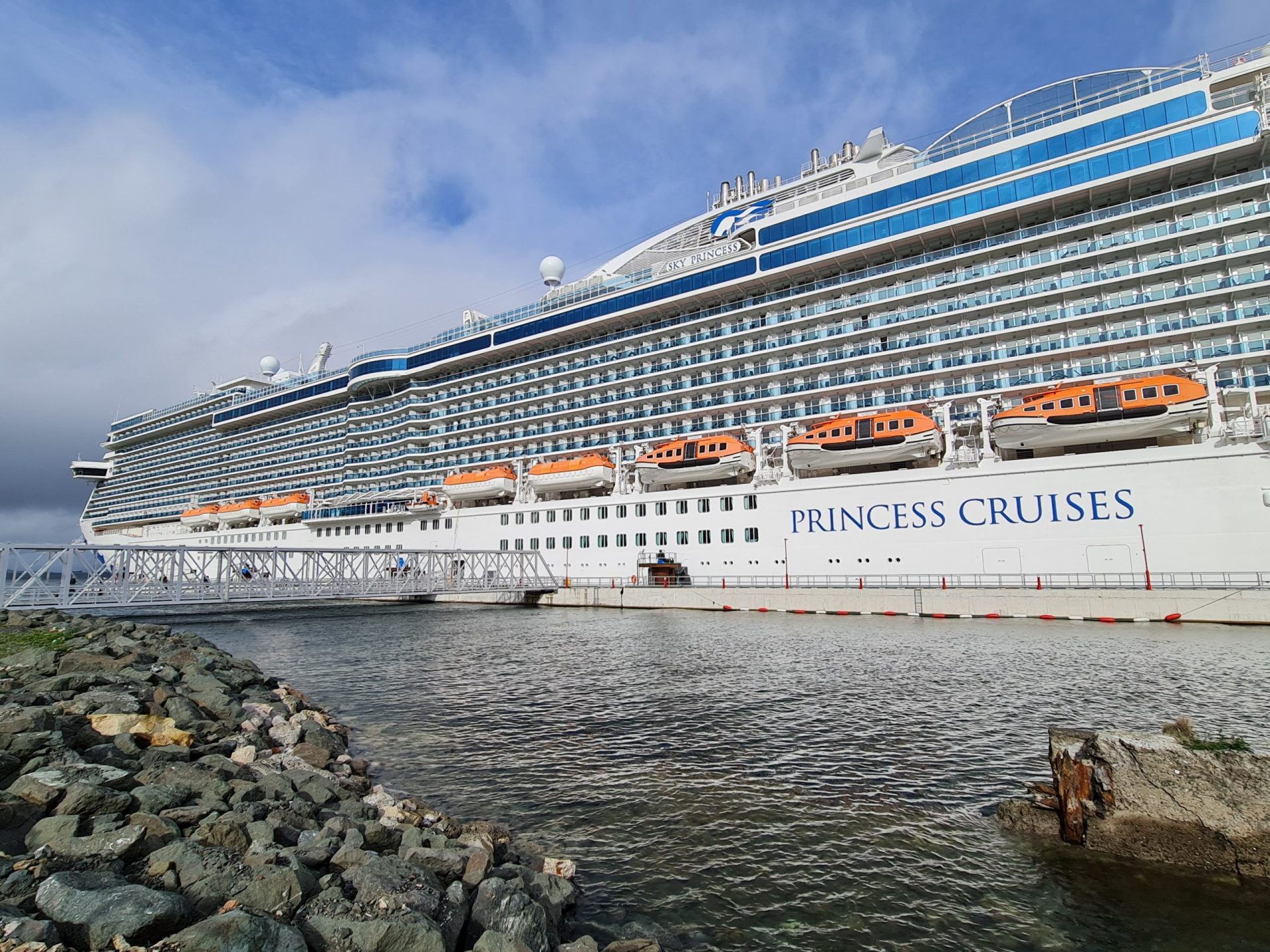 Princess Cruises Sky Princess is a Royal Class cruise ship which first sailed in 2019. Sky Princess carries a total of 3660 passengers in a total 1834 cabins. In this...
Read Review
Fred Olsen Braemar Cruise Ship Review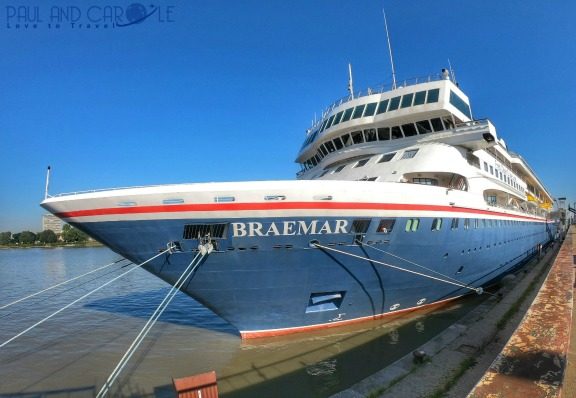 With just 929 passengers and 400 crew its one of the smallest ships we have ever cruised on, in fact it's the shortest ship in the Fred Olsen Fleet. So...
Read Review