Cunard Cruises WiFi Packages - How much do they cost?
March 2022 - Cunard Updated WiFi Packages
In March 2022 Cunard have updated their WiFi packages, instead of the older plans that we experienced during our cruises they have now come up with a simpler daily packages that we will explain here –
Cunard state 'From $15 per day, our newly upgraded internet service, Cunard Guest Wi-Fi, will be available across our fleet from March 2022, offering you a choice of packages to suit your needs while at sea'.
The Essential Internet plan includes
web browsing.
email.
music streaming.
Social media (text and images).
This plan is available on board for $20 per day (or $15 per day if purchased for the whole voyage).
The Premium Internet plan includes
web browsing.
email.
music streaming.
Social media (text and images).
Video streaming.
3x faster connection speed than the Essential plan.
This plan is available on board for $30 per day (or $20 per day if purchased for the whole voyage)
Cunard also state that – Members of our loyalty scheme, Cunard World Club, may be eligible for complimentary internet credit, redeemable against our internet plans.
Gold members receive $45 per person.
Platinum members receive $80 per person.
Diamond members receive $135 per person.
We are back on board in September on Queen Mary 2 so will be interesting to see who good the WiFi is and if we do get redeemable internet credit as we are Gold Members.
Pre March 2022 - Cunard Cruises WiFi and Internet Time Plans
These were the plans Cunard had in place pre March 2022
To access the Cunard Cruises WiFi you have to download the Cunard Cruise App called My Voyage. We had difficulty accessing the app at first but after a quick trip to reception this was sorted.
Cunard Internet Plans that you can purchase on board –
Starter Plan – 30 minutes for $15.00, rate – $0.50/minute
Gold Plan – 120 minutes for $45.00 rate, – $0.38/minute, eligible after 2 voyages or 20 nights.
Platinum Plan – 240 minutes for $80.00, – $0.33/minute, eligible after 7 voyages or 70 nights.
Diamond Plan – 480 minutes for $135.00, – $0.23/minute, eligible after 15 voyages or 150 nights.
960 Plan – 960 minutes for $220.oo, – $0.23/minute
1920 Plan – 1920 minutes for $330.00, – $0.17/minute
The Cunard World Club benefits are shown above, for example we are Gold so were able to have 120 minutes complimentary WiFi, this is available once from the start of each voyage and only one per person per voyage, however you can purchase additional plans once your current plan reaches zero minutes.
Our biggest tip is make sure you log out each time you use the app. We both learnt the hard way and lost valuable minutes!
Accessing Cunard Cruises WiFi and Internet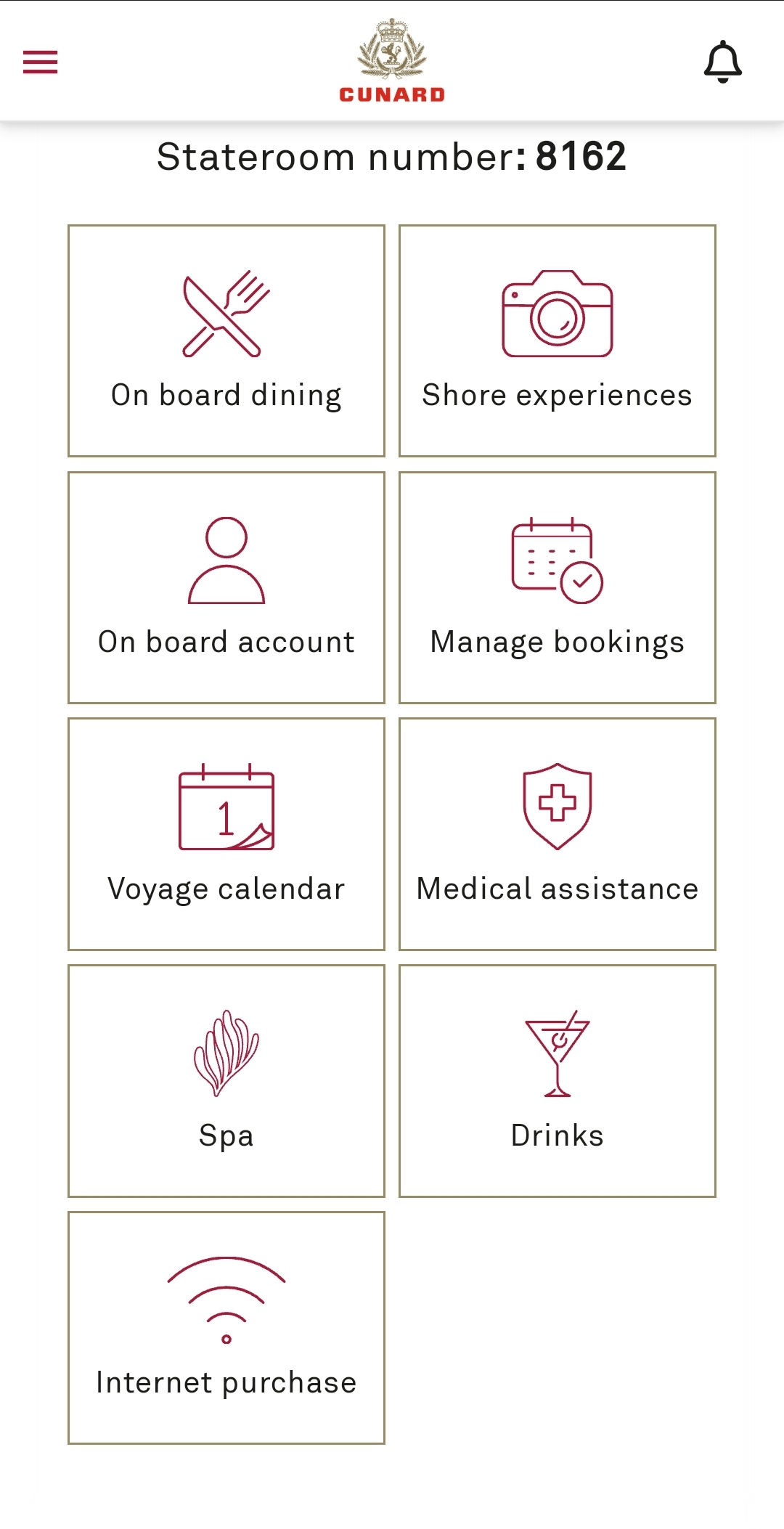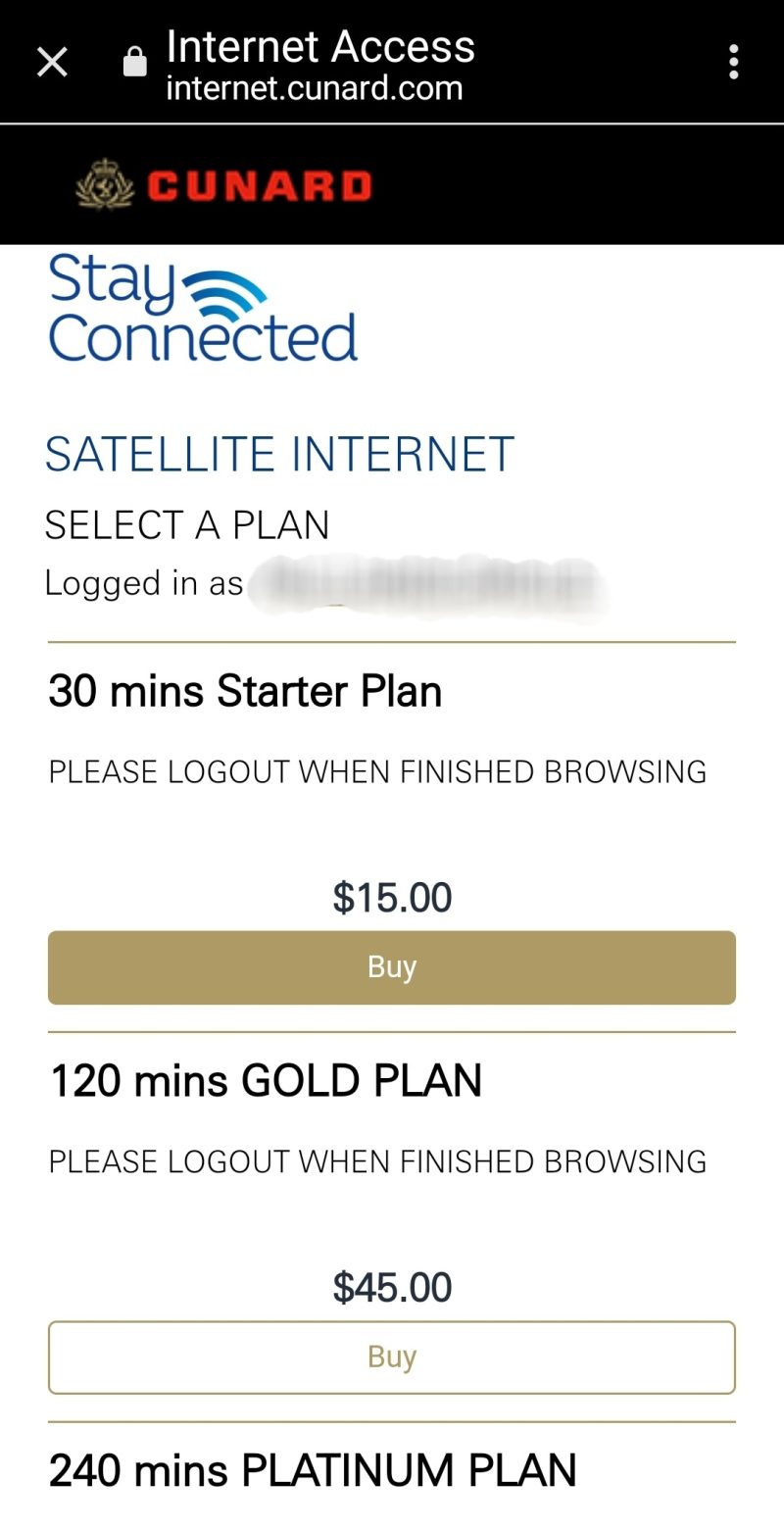 For further information the My Voyage App does enable you to access some free sites without having to buy a package. On our cruises the free sites we could access were – Cunard Line, My Account, Brochure Request, Cunard Competitions, Luggage Forward, My Cunard, Embassy – USA, UK GOV – Embassies and Portuguese Passenger Locator Card – as one of our ports was Lisbon. We would presume this would change to the relevant country that your cruise would be visiting.
Mobile Phone Roaming Charges
To save money on WiFi it is also worth checking with your existing mobile phone plan to see if you are able to use your data in the countries you are visiting at no extra cost. Our plans with Sky enabled us to do this which saved us using the WiFi time when we were in port. If your plan doesn't cover that particular country or region then you may be able to purchase an add on which could work out cheaper. You must always remember when ever you leave a port and are at sea that you turn off data roaming on your phone so that you don't incur an unnecessary costs and come home to a large telephone bill!
RELATED BLOGS
Our 2 day birthday cruise on the Queen Mary 2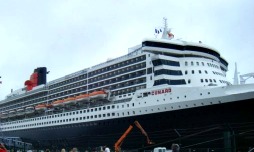 It was Carole's birthday so we treated ourselves to a 2 day cruise on the Queen Mary 2 cruise ship from Southampton, a ship belonging to the Cunard Line. We drove...
Read Review
An afternoon spent wandering in Painswick, Gloucestershire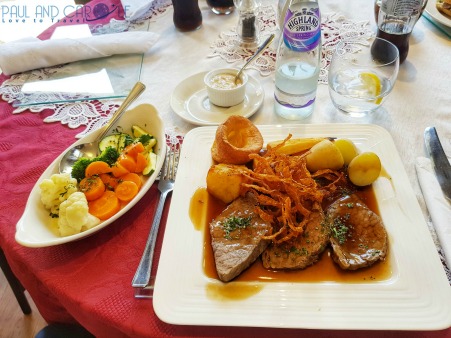 Situated in the famous Cotswold hills, surrounded by some of Gloucestershire's most delightful countryside is the historic wool town of Painswick. Our house sit with Harvey and Red was under a mile...
Read Review
Campsite Review – South Lytchett Manor Caravan and Camping Park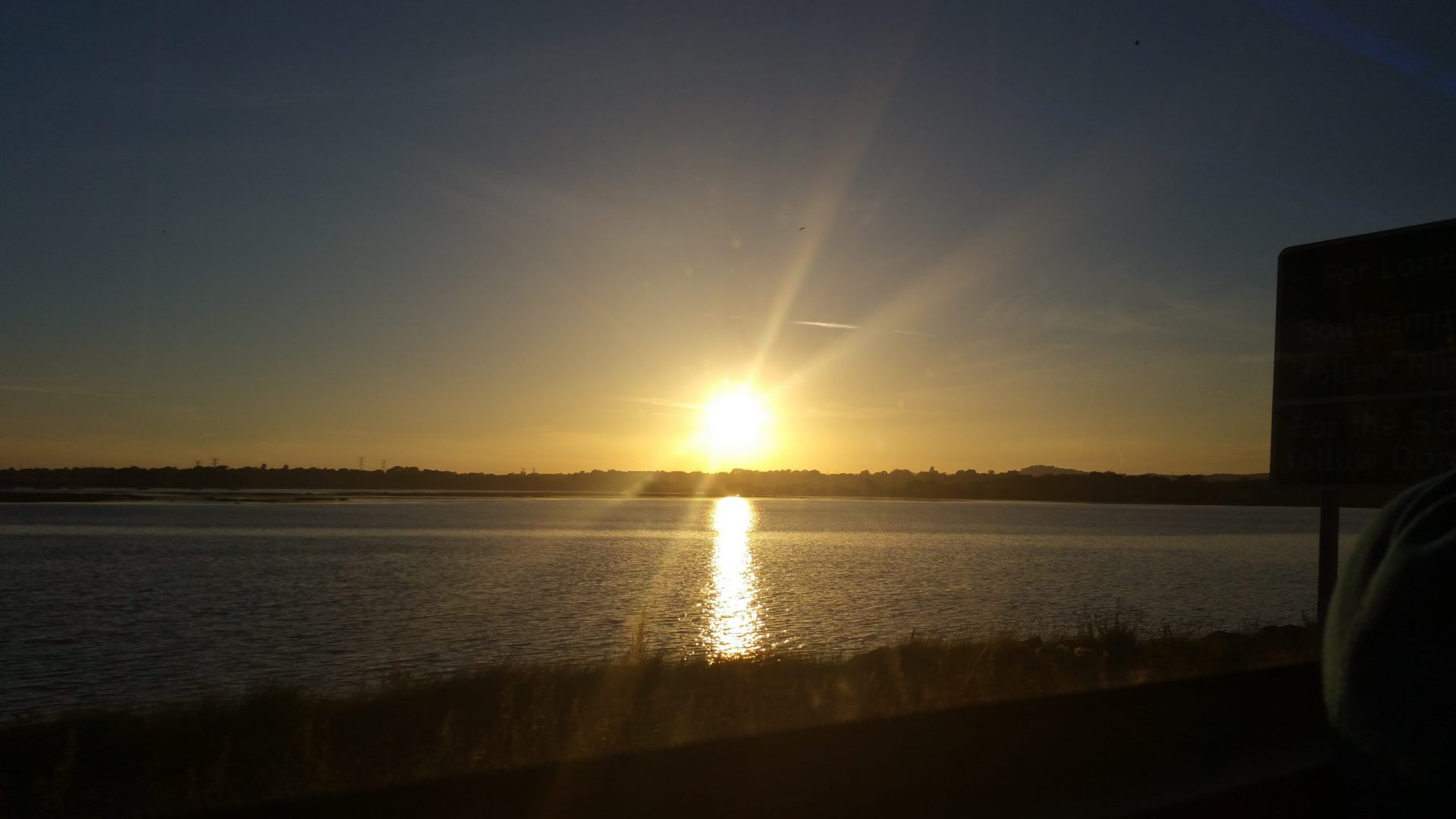 One of our favourite things to do is to jump in our camper van and explore somewhere new. We had not visited the south coast of England for a long time...
Read Review