Cunard Cruises WiFi Packages - How much do they cost?
We have now cruised on Cunard's Queen Elizabeth Cruise Ship twice and have used the WiFi and internet packages on board. Sadly Cunard do not offer WiFi included in their cruise fares and you have to buy their individual packages on board. In this post we cover all the options available.
Cunard Cruises WiFi and Internet Time Plans
To access the Cunard Cruises WiFi you have to download the Cunard Cruise App called My Voyage. We had difficulty accessing the app at first but after a quick trip to reception this was sorted.
Cunard Internet Plans that you can purchase on board –
Starter Plan – 30 minutes for $15.00, rate – $0.50/minute
Gold Plan – 120 minutes for $45.00 rate, – $0.38/minute, eligible after 2 voyages or 20 nights.
Platinum Plan – 240 minutes for $80.00, – $0.33/minute, eligible after 7 voyages or 70 nights.
Diamond Plan – 480 minutes for $135.00, – $0.23/minute, eligible after 15 voyages or 150 nights.
960 Plan – 960 minutes for $220.oo, – $0.23/minute
1920 Plan – 1920 minutes for $330.00, – $0.17/minute
The Cunard World Club benefits are shown above, for example we are Gold so were able to have 120 minutes complimentary WiFi, this is available once from the start of each voyage and only one per person per voyage, however you can purchase additional plans once your current plan reaches zero minutes.
Our biggest tip is make sure you log out each time you use the app. We both learnt the hard way and lost valuable minutes!
Accessing Cunard Cruises WiFi and Internet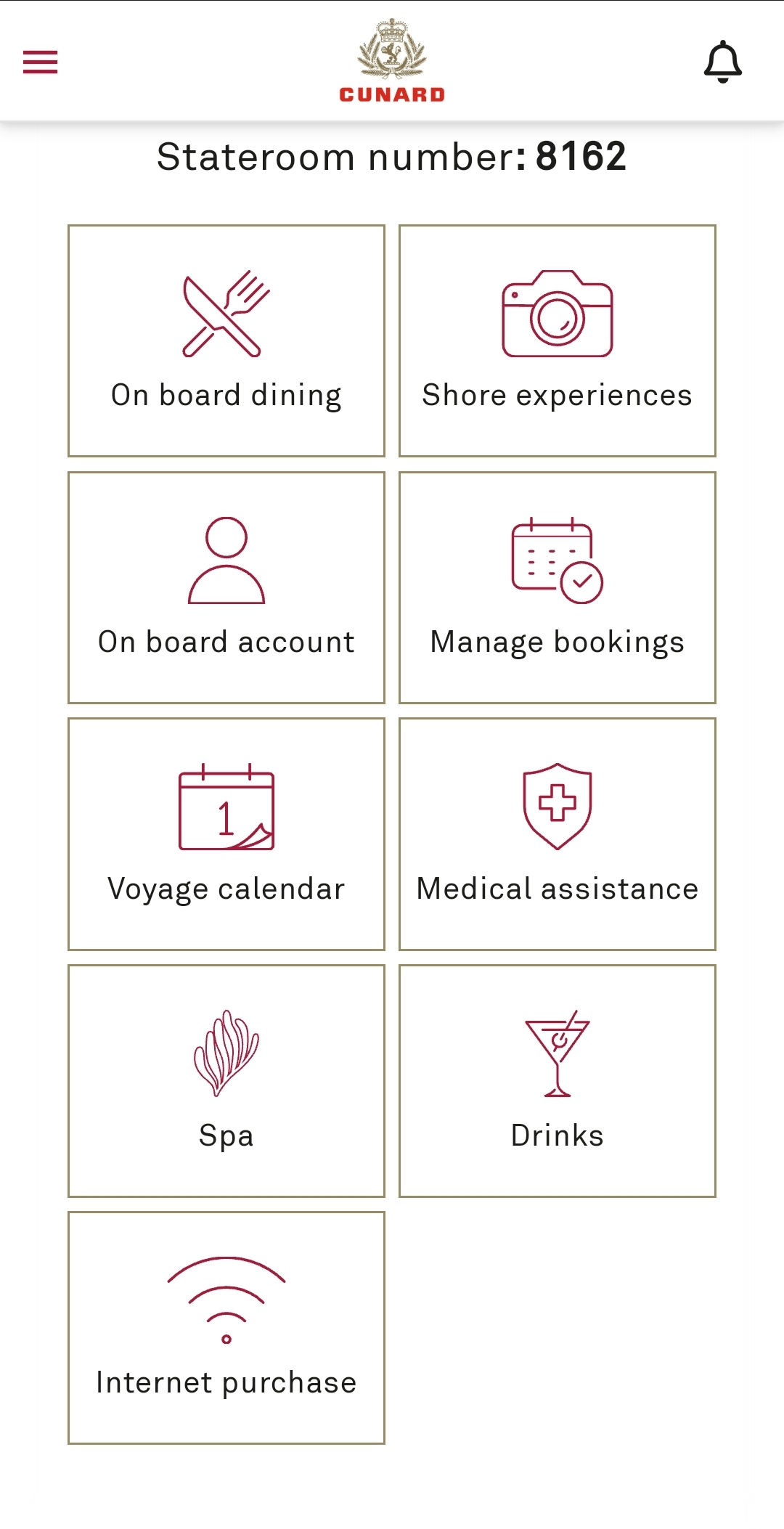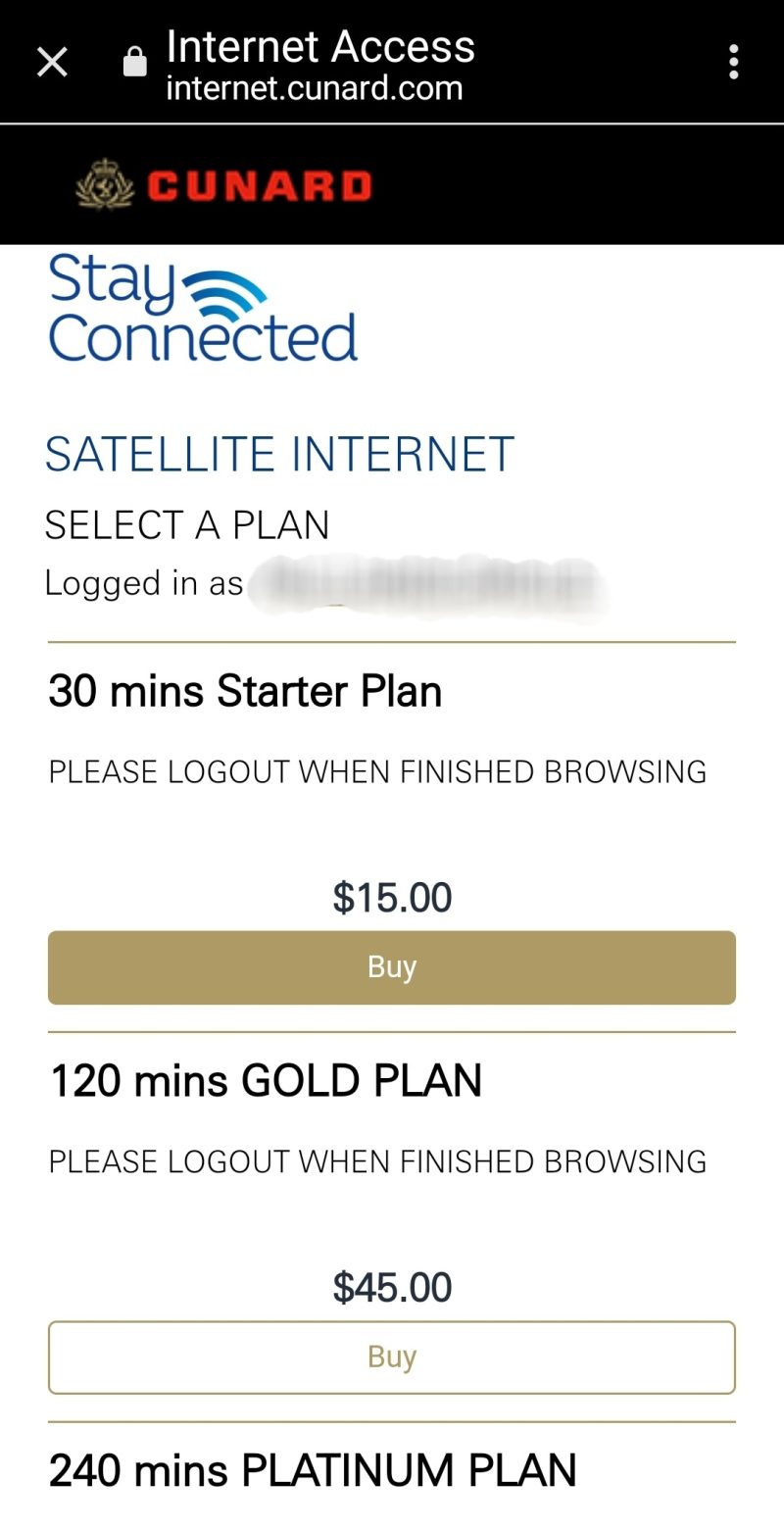 For further information the My Voyage App does enable you to access some free sites without having to buy a package. On our cruises the free sites we could access were – Cunard Line, My Account, Brochure Request, Cunard Competitions, Luggage Forward, My Cunard, Embassy – USA, UK GOV – Embassies and Portuguese Passenger Locator Card – as one of our ports was Lisbon. We would presume this would change to the relevant country that your cruise would be visiting.
Mobile Phone Roaming Charges
To save money on WiFi it is also worth checking with your existing mobile phone plan to see if you are able to use your data in the countries you are visiting at no extra cost. Our plans with Sky enabled us to do this which saved us using the WiFi time when we were in port. If your plan doesn't cover that particular country or region then you may be able to purchase an add on which could work out cheaper. You must always remember when ever you leave a port and are at sea that you turn off data roaming on your phone so that you don't incur an unnecessary costs and come home to a large telephone bill!
We have a video on our You Tube Channel which discusses all the WiFi Packages on Cunard and can be found below.
RELATED BLOGS
BBC Radio Gloucestershire – County Connections Interview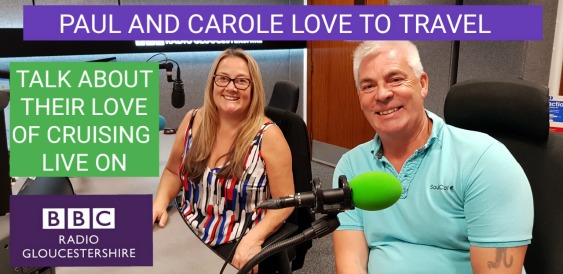 We were nominated by my hairdresser Geraldine O'Driscoll to be part of the County Connections Programme. In our county connections interview with Nicky Price on BBC Radio Gloucestershire we talk...
Read Review
Queen Elizabeth Deluxe Inside Cabin Tour and Review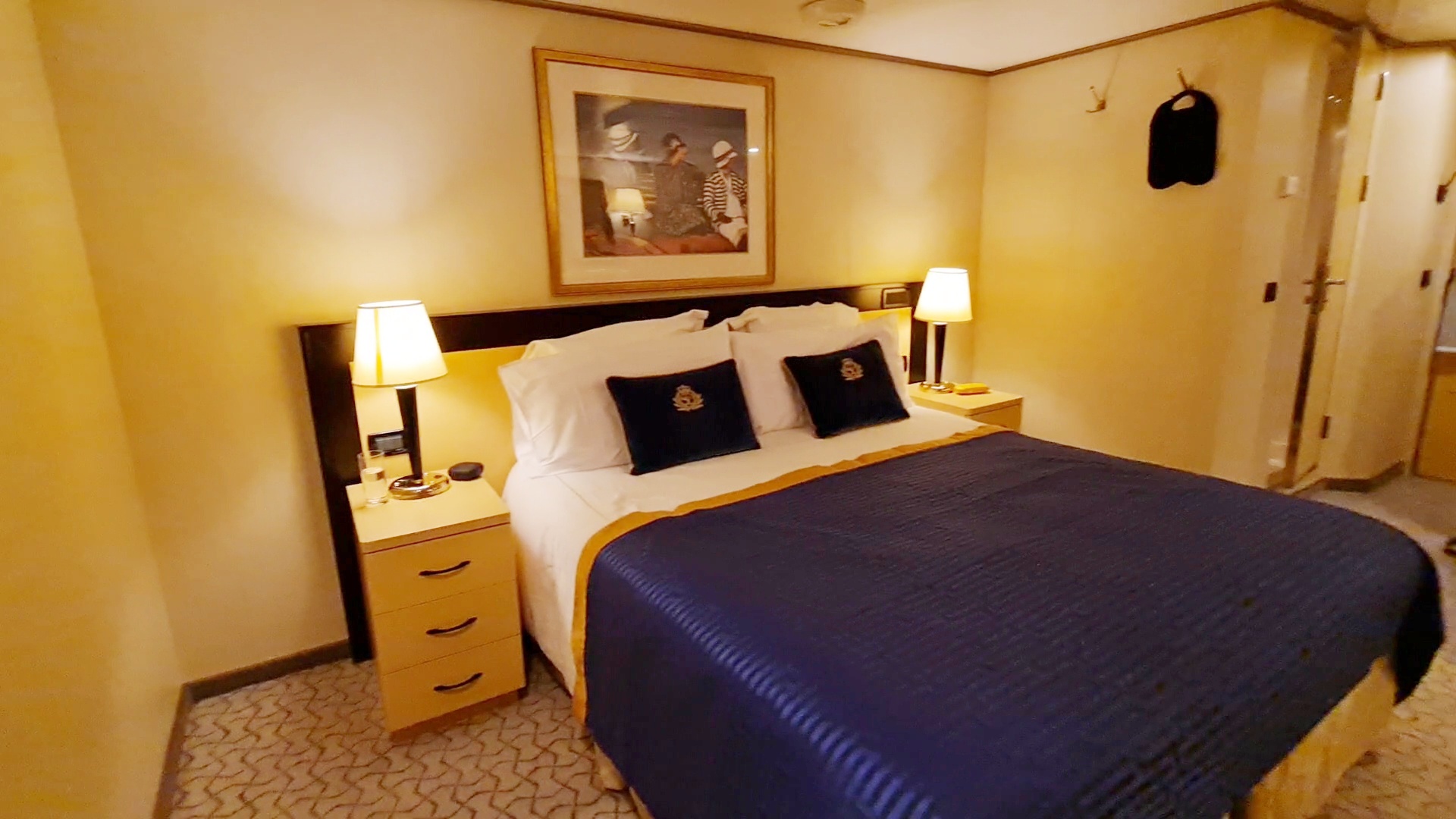 We spent 4 nights on the Cunard Queen Elizabeth Cruise Ship. We were travelling with friends and they stayed in a Deluxe Inside Cabin 6073. This cabin is situated mid...
Read Review
3 days of fun at the Sunshine Festival, Upton Upon Severn
We had been told about the Sunshine Festival by some good friends of ours and decided to give it a try, and we were really glad we did! The festival...
Read Review