What is it like to cruise on the Cunard Queen Elizabeth Cruise Ship - Here is our Review!
Embarkation and our first day on board - Cunard Queen Elizabeth Cruise Ship Review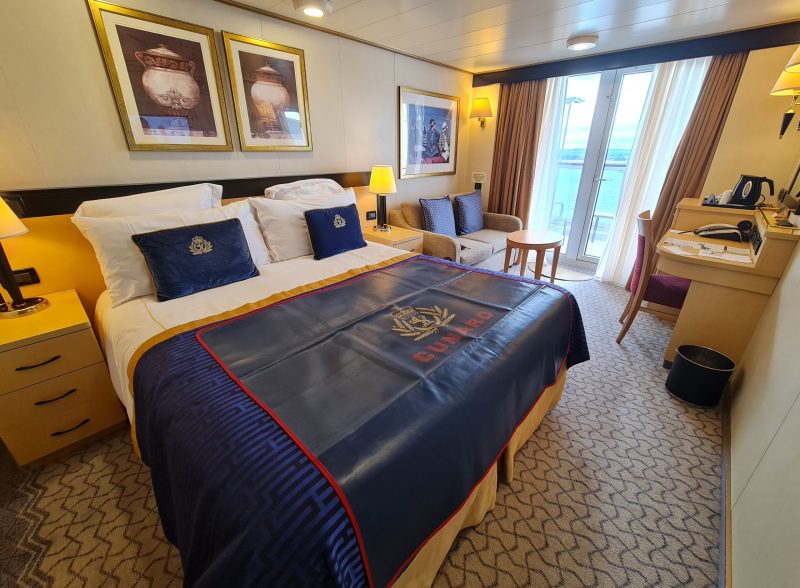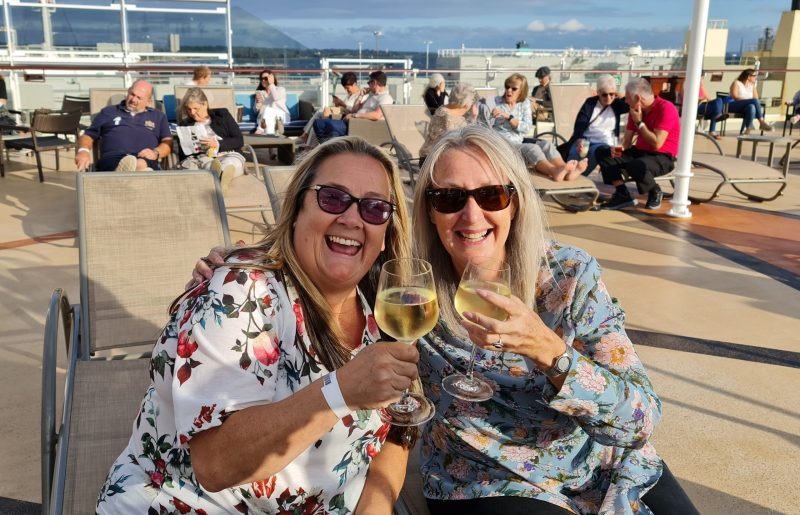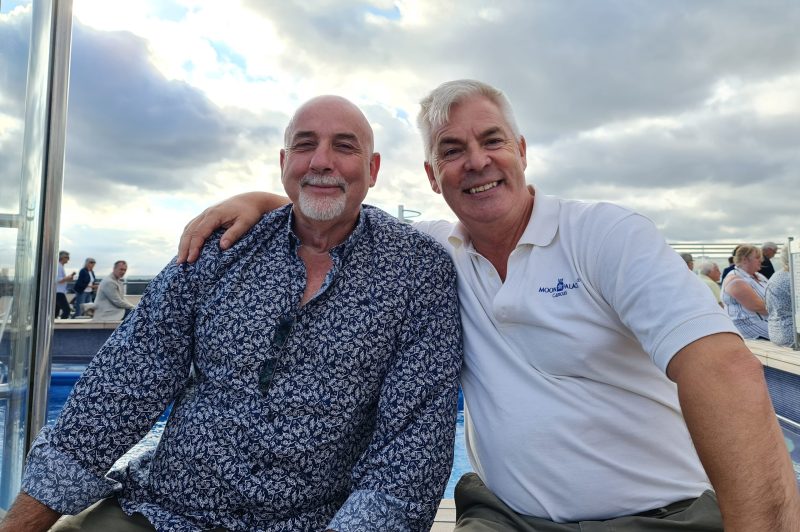 After a very slick testing experience and embarkation process at Southampton, we were on board by 1530. 
As we walked on to the ship we were welcomed by staff in traditional Cunard Uniform and a stunning peacock floral display. Looking around the beautiful wooden interior of the ship it certainly felt like we had been taken back to a different era of cruising.
We had booked a guaranteed standard balcony cabin and had been allocated a cabin on deck 8 towards the aft of the ship. To comply with the safety regulations we headed to our cabin to watch the safety video and report to our muster station which was really easy to do. First impressions of the cabin are really good, spacious with a sofa and decent sized balcony and lots of storage. We filmed a cabin tour which can be found at the end of this post.
After a walk around the top deck we met our friends at the Commodore Club situated right at the front of the ship on deck 10. A stunning lounge full of Cunard pictures and nostalgia. 
As we hadn't eaten since breakfast we  decided to go and find a snack. We headed  to the Golden Lion Pub which serves food but it was fully booked. So we went to the buffet to be told it had just shut at 4pm. We headed to the restaurant to also be told that food had finished there too and there are no other options for dining on the ship until 6pm. This was disappointing and a first for us as food on all our other cruises has never been hard to find!
While we were in the Britannia restaurant we decided to see where our table was for dinner and found that even though we had linked our bookings with our friends we were not sat on a table for 4 but 2 tables for 2 which were only inches away from another table. There were no closing of tables to promote social distancing that we had experienced on our previous cruises post pandemic. 
We decided to try to speak to the Maitre'd to see if we could change to a table of 4 but unfortunately this proved impossible. We asked the staff in the restaurant if we could speak to someone and we were told in a very rude and dismissive manner that we couldn't be helped and that we had to come back at 6om. After such a frosty response we decided to find someone else to speak to and was met with not only another rude response but also a shrug of the shoulders, and told to come back at 6. In all the 25 cruises (with the exception of MSC Opera in 2018!) we have been on we have never been spoken too like this. Appalled and pretty angry we decided to head to a bar!
At the aft of the ship on deck 9 is the Lido Pool. Here there was a celtic duo Shane Moran and Cameron Ross performing who were very good and we enjoyed a drink in the sunshine. Unfortunately the wind picked up and we were getting cold so we heading inside and found the Gin and Fizz bar. Must say after our dealings with the disappointing dining staff the bar service we recieved at both these venues was exceptional which was a relief. 
6pm arrived and we returned to the Brittania restaurant and spoke to a lady at the entrance. We explained our concerns regarding our allocated table but were told that she couldn't change it maybe we could sort it out tomorrow….a little exasperated we asked were there any other tables available at all in the whole restaurant that we could be moved too and after a few minutes she did reluctantly come up with a solution and we were allocated an empty table for the 4 of us. That was hard work but we got there in the end!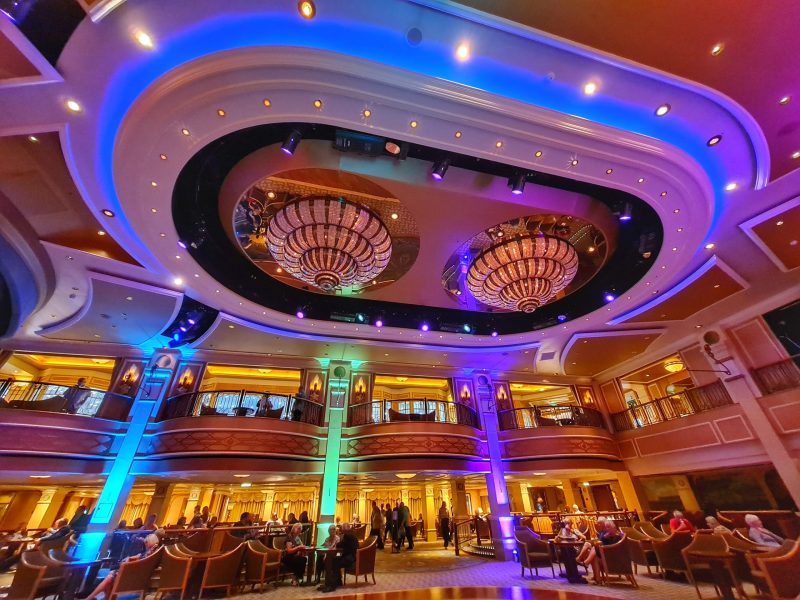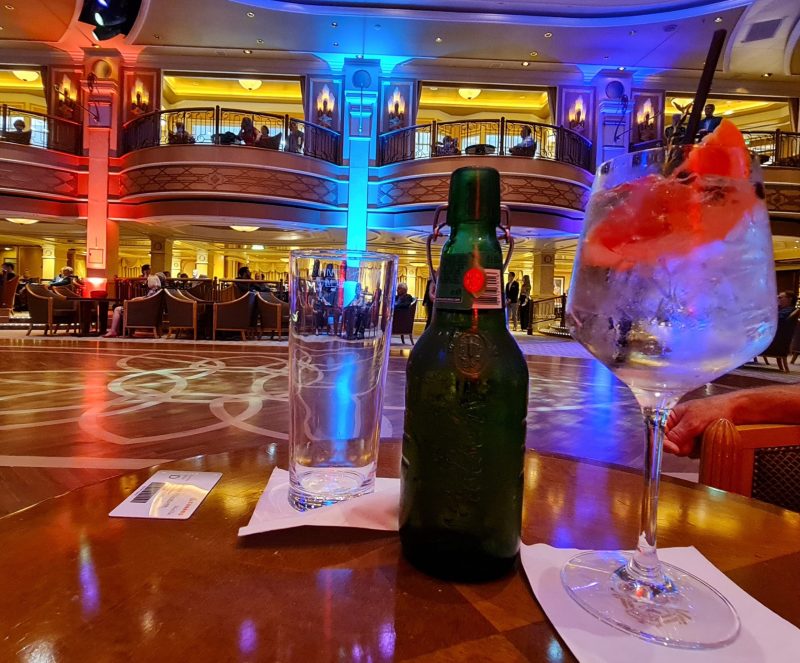 Our table 515 was next to the window over looking the promenade and our waiter Dave was a delight. We enjoyed a fabulous meal, starters of Rissoto of Wild Mushroons, Crab and Shrimp Skagen, Roasted Cauliflower Soup. Mains of Medallions of Pork and Palliard of Beef went down a treat. For dessert we had Sticky Mango Rice and Chocolate Marquise. We must say our actual dining experience as we sailed away from Southampton in the Britannia was superb and we left there very contented and full.
After dinner we found the Queens Room where house band Alchemy were playing. What a fabulous venue this is. We had a lovely time, listening to the band and watching some fabulous dancers too. So good to see dancing is back!
Excellent service in the Queens Room too and we had our first Perfect Serve Gins – Queen Victoria – which were delicious! The Bloody Mary's were good too. 
Then we went to the Golden Lion Pub to watch the live music and the Royal Court Theatre Orchestra were playing. Well we thought Cunard would be a quiet, stuffy affair but how wrong were we, the pub was rocking! Singing and playing a selection modern and old hits they had the majority of people in their feet. It was such a fun end to a fabulous night.
Believe it or not it was now nearly 0100 and Paul sniffed out some food. The Lido Buffet has snacks which are available until 0100 and Paul enjoyed a Cheese, Tomato, and Pesto panini and Chocolate pudding. Thankfully I spotted some cookies which I took back to the cabin ready for day 2!
After a disappointing start to the day, we have had the best evening and laughed so much with our friends Deb and Steve. Service has been exceptional and our first day definitely ended on a high.
Entertainment on board Cunard Queen Elizabeth Cruise Ship Review
I woke up at 0700 just in time to see the end of a lovely sunrise and managed to drag Paul out of bed 2 hours later in time to make it to the Lido for the buffet breakfast before it closed at 10:30. The choice and standard of food available was excellent, we both had a cooked breakfast with Paul finishing with what he described as the the most chocolaty chocolate muffin he'd ever had.
We then headed to reception to change some reservations as the app was being a tad unresponsive. This was quickly resolved so we then went to find the garden lounge which was showing the football. This was a decision that Paul would later regret as his beloved spurs sank to a miserable 3-0 defeat.
However, on a positive note the Garden Lounge is a lovely venue on deck 9, mid ship, just between the Lido Buffet Restaurant and the Pavillion Pool. We received fabulous service by Gary and Bogden with the added bonus of bowls of crisps and nuts provided with drinks.
Bingo was next, and our investment of $30 won us nothing! So we decided to try our luck at the quiz. Unfortunately another poor result with a dismal 11/20.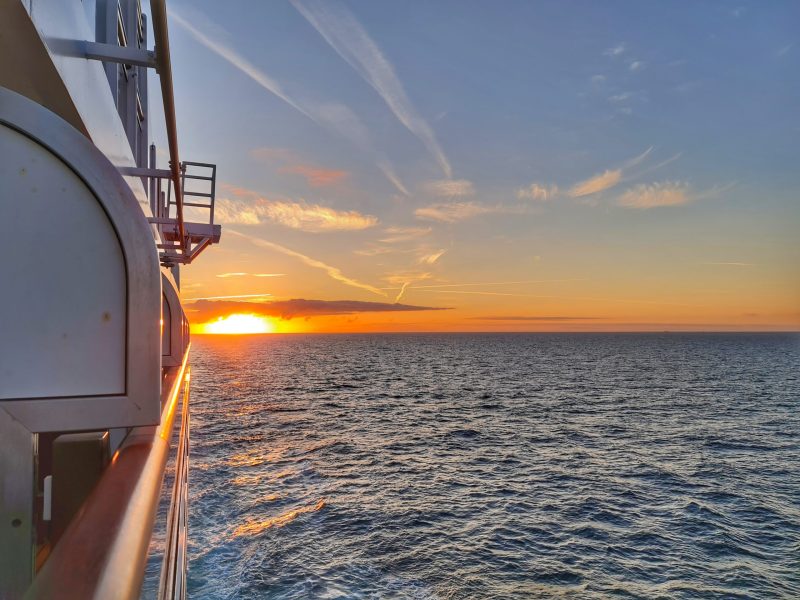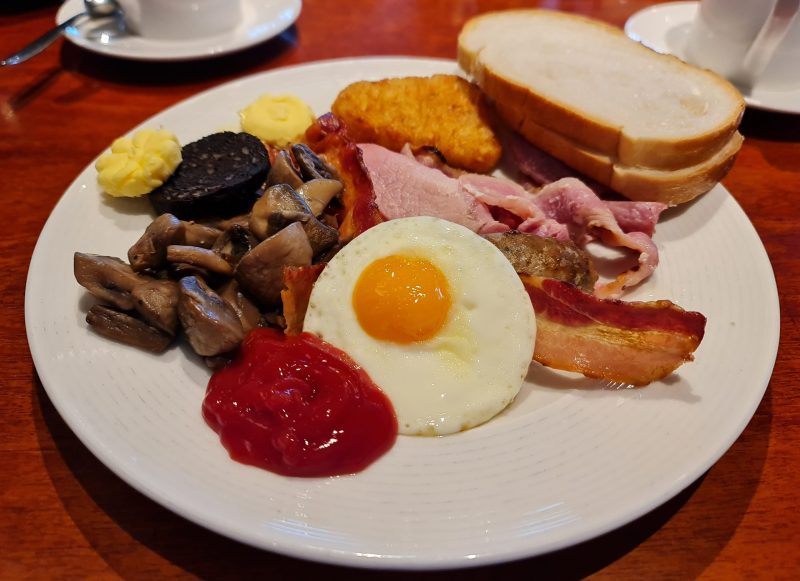 It was now time to get ready for the Black and White Gala Night. We put on our finery and went to the Britannia Restaurant for dinner. Starters of Madeira Duck Parfait and Golden Beetroot were delicious. I went for Beef Wellington which was cooked perfectly and Paul had venison with roast vegetables and creamy cabbage which he throughly enjoyed. The meal was finished with an excellent lemon soufflé with lemoncello sauce, and a chocolate brownie and service was excellent throughout.
With dinner done it was time for the Top Hat show at the Royal theatre. It was an enjoyable show but we were eager to get to the Queens Room as soon as it finished to watch the Big Band.
Big Band Night in the magnificent ballroom was such a wonderful experience. A 12 piece orchestra played Big Band Tunes from a bygone era and it was just magical. The dance floor filled up with excellent dancers and the professional dancers on the ship put on spectacular performance too. This was a very special moment!
Up next was Shaun and Cameron the Celtic Duo who were not only fabulous musicians but very funny too!  It was their last night on the ship as they were getting off in Liverpool tomorrow, which was a shame as we would of loved to see them again.
After a late night wander around the lit up Lido and Upper Deck we decided to have one for the road at the Commodore Club. A very stylish and comfortable area, with the added bonus of bring entertained by Clarolyn Maier, a very talented pianist and singer who covered Hits of Broadway to the Great American Songbook.
After such a fantastic night, we couldn't resist a little visit to the late night snacks at the Lido, where again the little pies and paninis went down well.
We are loving our time on the Queen Elizabeth and can't wait to see what tomorrow brings.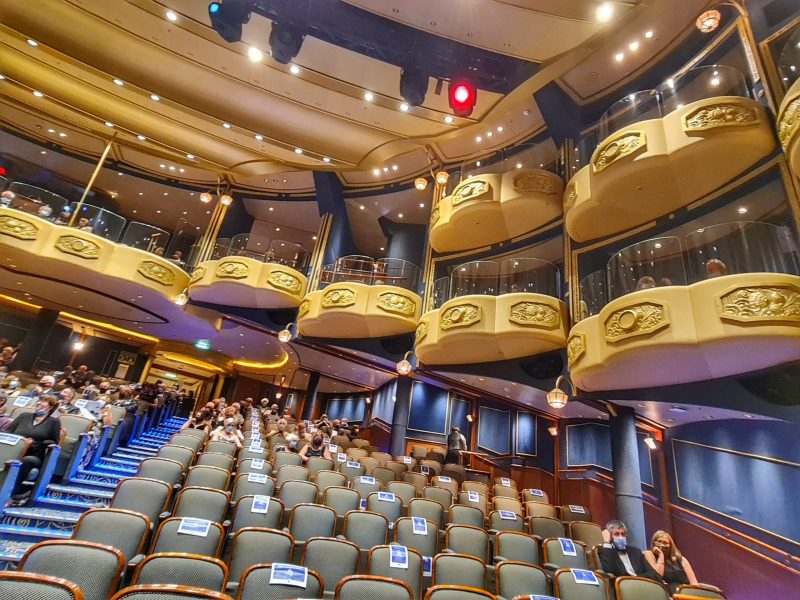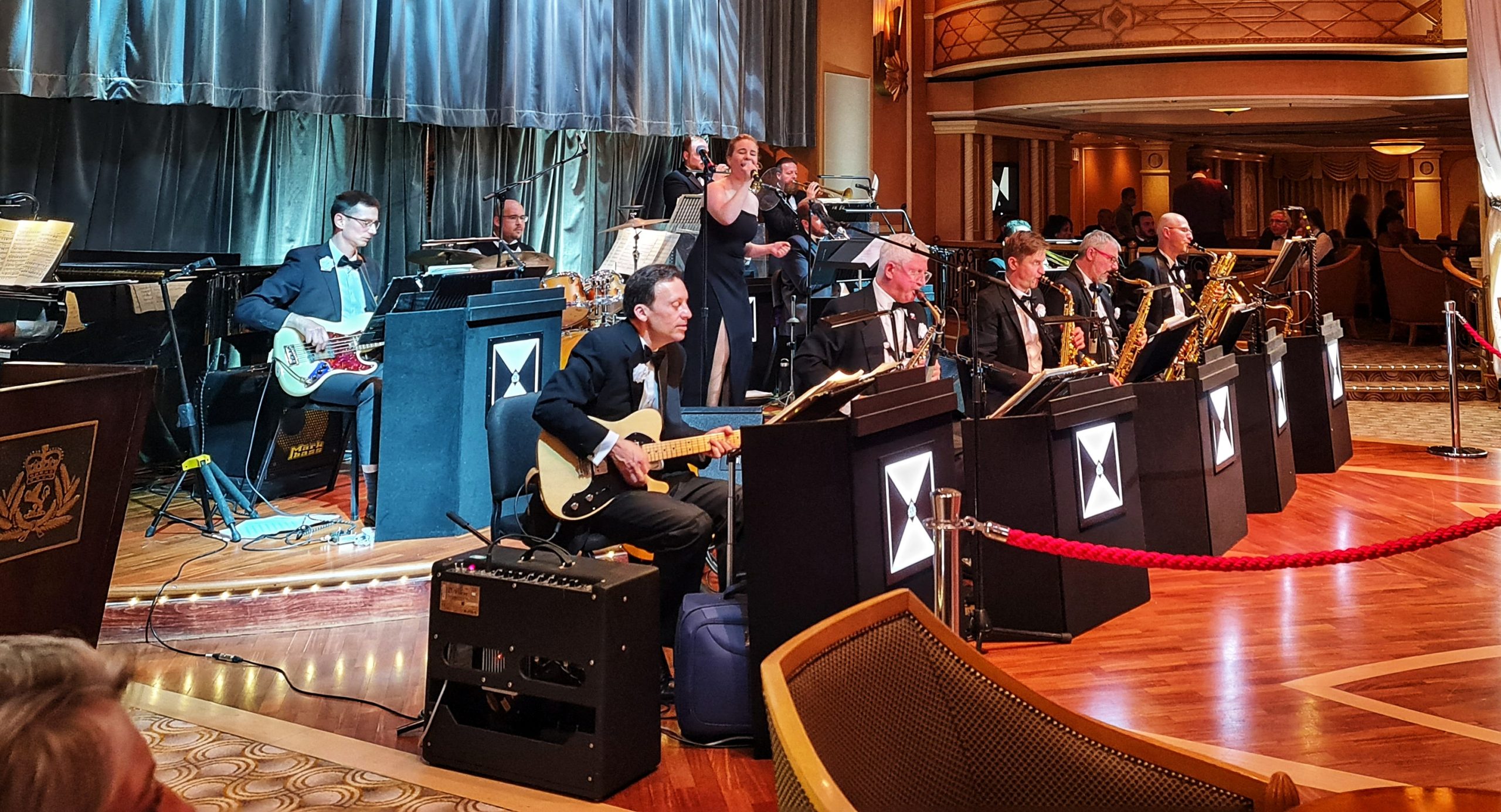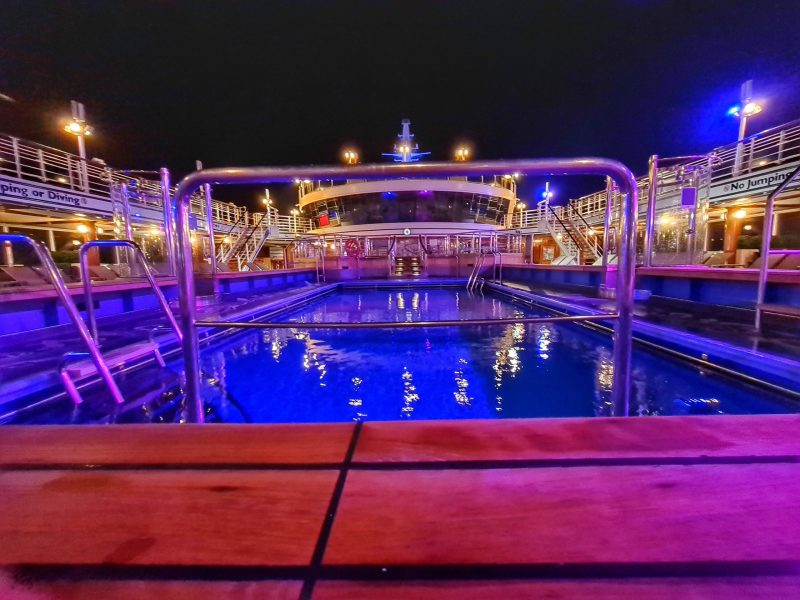 Cunard Queen Elizabeth Cruise Ship Review - Liverpool and our third day on board.
I woke at 0530 to find we had already arrived in Liverpool. Unfortunately the sky was drab and grey, so no sunrise photos to be had. However it was great to look just to the right and see the iconic Liver Building! 
On the Queen Elizabeth you can have breakfast delivered to your cabin free of charge. You just need to tick the items on the menu card and indicate the time you want it and hang it on the door by 0100. Our breakfast arrived as requested at 0930 and was thoroughly enjoyed.
We are planning on uploading a full tour of this beautiful ship to our You Tube Channel so after our leisurely breakfast we started filming some footage. We got as far as deck 2 and spotted Deb and Steve in the Golden Lion Pub. Feeling it would be rude not to say hi, we popped in. Steve pointed out that there were 6 types of Bloody Mary's on the menu. Not needing a lot of arm twisting we sampled one each and they were superb.
We dragged ourselves away from the pub and filmed some more for our ship tour and headed off to afternoon tea, we had booked this at reception the previous day as our app was not playing ball. 
We had heard such good things about the afternoon tea on Cunard but have to say we were fairly underwhelmed by what was on offer. No afternoon tea stand just a menu with a choice of sandwiches and cakes that came on small plates. The service was quite cold too. There wasn't anything particularly wrong with anything but it was just not what we expected, we could have gone to the buffet and got exactly what we had been served. Talking to friends there are occasions where afternoon tea is served in the Queens Room with Silver Service but unfortunately that didn't happen on our cruise.
The other frustrating thing was the dining room was virtually empty but they still sat two other couples about two feet away from our table. We understand it is more convenient for staff but with post covid social distancing being encouraged elsewhere, we thought this was a bit odd.
It was nearly time for sail away so we headed back to our cabin. We had a small bottle of bubbly as a welcome gift, every cabin receives one on Cunard. Deb and Steve bought their bottle up too and we enjoyed a sail away with bubbles from Liverpool on our balcony.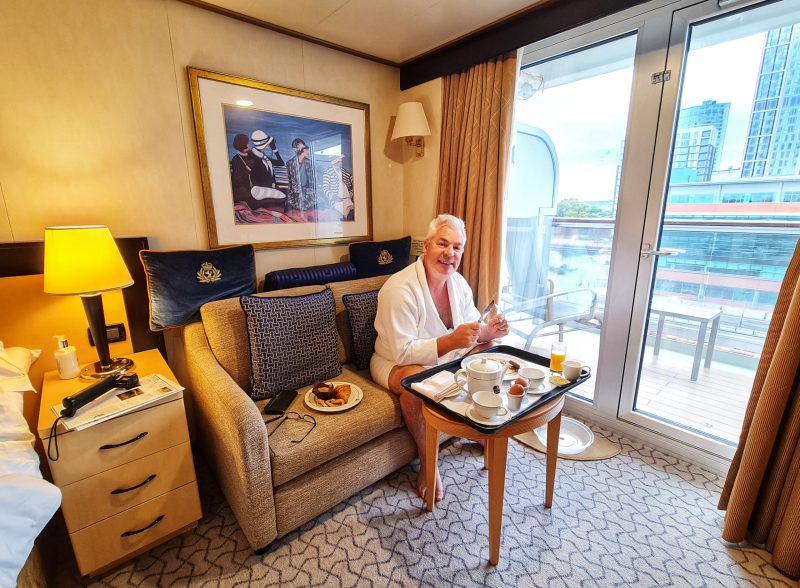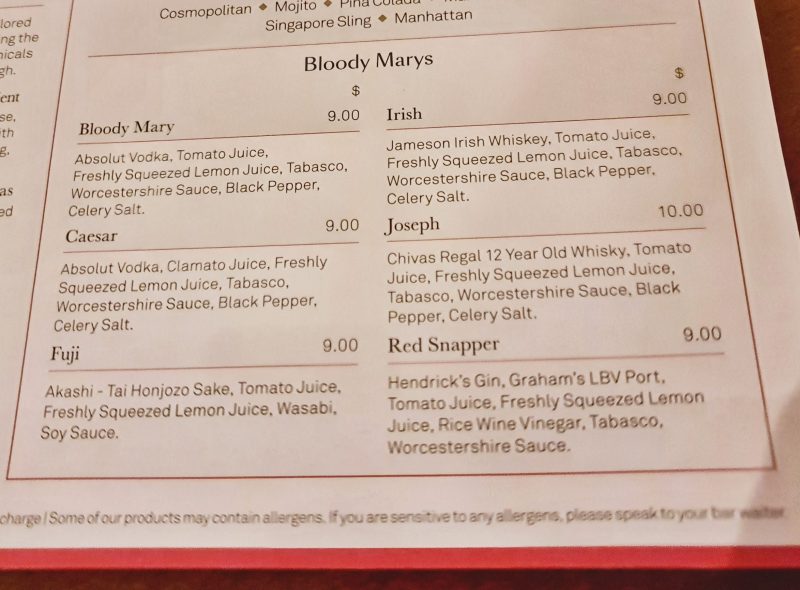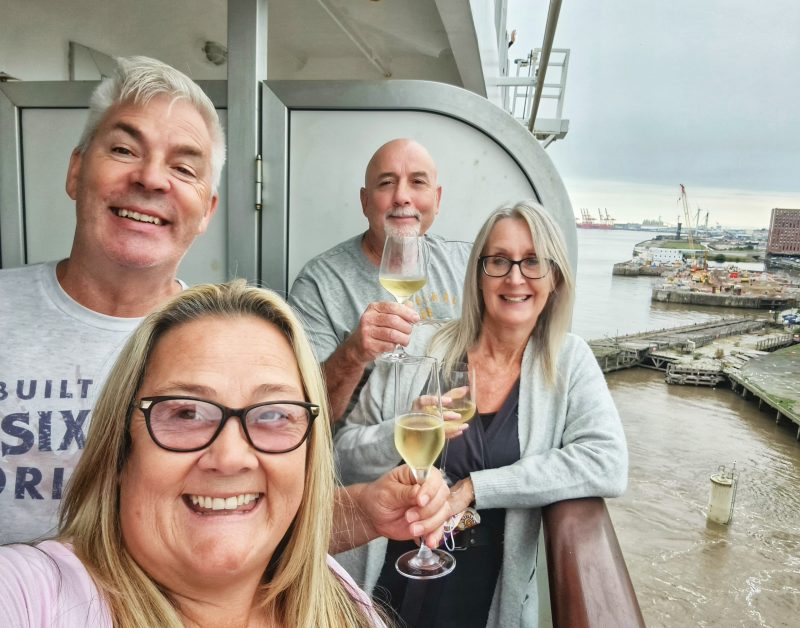 As we were sailing out to sea we went to the Lido deck as a Saxophonist and DJ were playing a set. It was great music to listen too but a little bit nippy. We were all given blankets and had a fab time! 
For dinner we headed to our usual table 515 and again recieved fabulous service from Dave and Michael. We started with Salt Beef Hash and Horseradish, followed by White Radish and Asian Slaw Salad. Then mains of Lemon Sole and Spinach, Feta and Mushroom Strudel. All just simply delicious. The sun was starting to set so I went for a walk around the decks to capture some photo's while Paul enjoyed a warm Bakewell Tart and Vanilla Custard. 
I met Paul, Deb and Steve in the Garden Lounge so we could watch the Dixieland Band. Great tunes from the deep south kept us entertained. Next stop was the Yacht Club on deck 10 where Amethyst Duo were playing. This is another a beautiful venue with a huge chandelier in the centre that changes colour.  
On the daily programme we noticed there was a quiz due to start in the Golden Lion Pub so decided to head to deck 2 to join in but unfortunately the pub was packed and there were no seats available. 
We walked next door to the Queens Room where the Orchestra where joined by the vocalists Jack and Ester. In hindsight we were so glad we couldn't get in the pub as we had a wonderful end to the evening. There was a table for 4 free just to the side of the orchestra which gave us a fabulous view of the dance floor and of the band. 
Playing popular songs in the style of the different genres of dances, they even inspired us to get up and Waltz! We had been practising in our small kitchen at home, we didn't disgrace ourselves but we definitely need more practice! 
The orchestra are just superb, they play such diverse music and are such fun to watch. We just loved the trombone version of Macerana! Tonight was such a fabulous night. 
By the time the entertainment finished it was the early hours again and guess what the boys were peckish! So up to the late night buffet which we just managed to catch before it closed where they enjoyed  pannini tuna melts and a cheese platter.
Cruising with Cunard has surprised us in so many ways and unfortunately this cruise is going way to fast.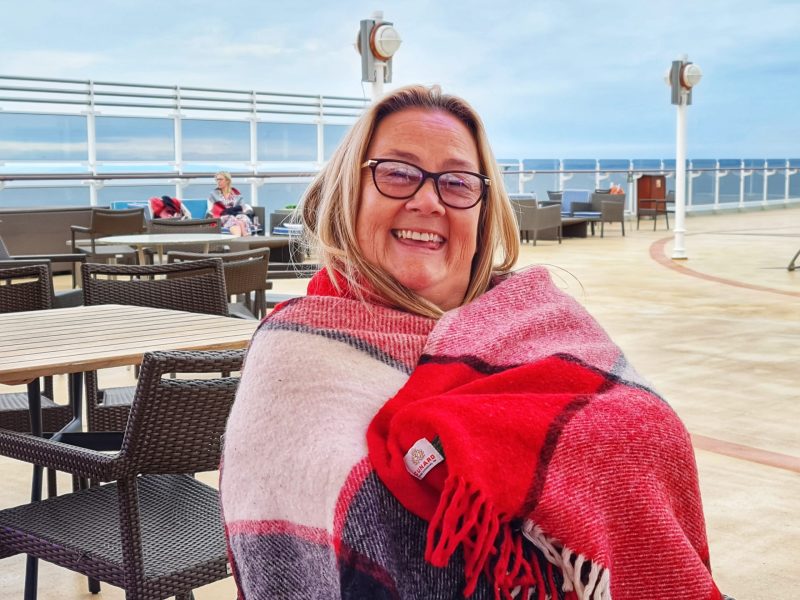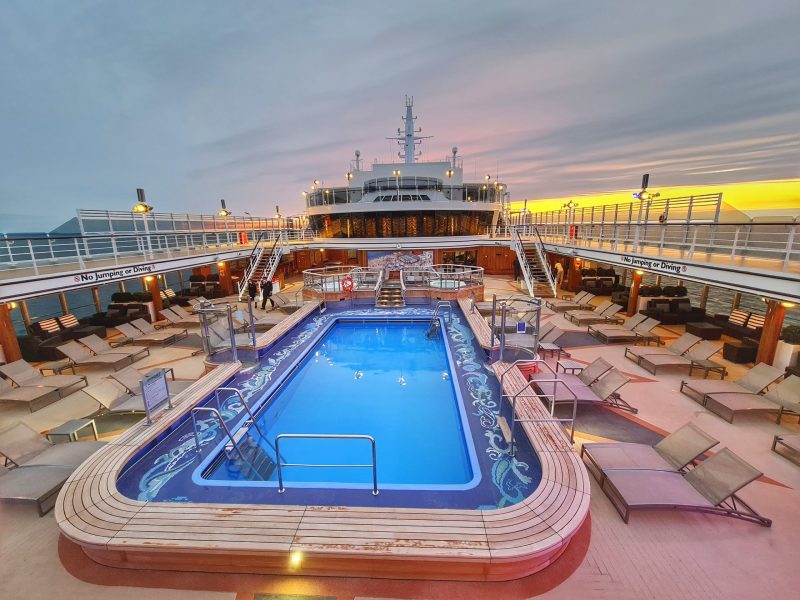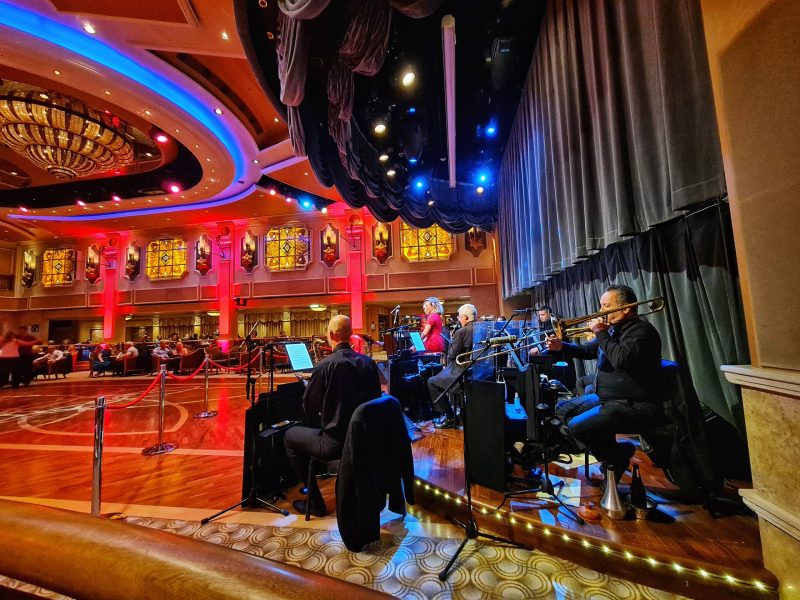 Cunard Queen Elizabeth Cruise Ship Review - Our last day on board.
We put the alarm on for 8 so we could get up for breakfast but quickly turned it off and woke up at 10! Still the Coffee and Godiva chocolates which are left on our bed each evening started the day well. 
John Peters was doing a talk this morning called 'Tornado Down'. For those that don't know of John he came to the worlds attention in January 1991 during the first Gulf War when his bruised and battered face flashed onto television screens around the world. His description of his experience was horrific, how he managed to keep mentally positive and how we can overcome even our worst fears and nightmares, is a true lesson to us all in what is important in life. It was an emotional and thought provoking presentation and I am glad I had some tissues in my hand bag! Cunard have enrichment talks every day and we are so glad we got the chance to see this. He was actually in the Theatre but the talk was televised throughout the ships bars and lounges which was great. 
Lunch today was in the Golden Lion Pub. Paul and I both had Ploughman's lunch and Deb and Steve both had Fish and Chips, which we all agreed was really tasty, The food in the pub is all included at no extra charge, it does get very busy so we recommend getting in early. 
As it was our last day on board it was sadly time to pack. Suitcases that you want to be taken off the ship have to be outside your Cabin between 5pm and 11pm. 
Packing done the boys decided that we should have another go at the bingo, as today was Snowball Jackpot Bingo Finale. So we headed to the Garden Lounge on deck 9. After a very tense time, we had 1 number on two tickets to win the jackpot of $760…..alas a lady on the next table got her number before us and won! 
Next up was the quiz where we scored a respectable 15, but sadly missed out on  winning a Cunard pen! Feeling a bit peckish the boys popped to the Lido restaurant and came back with a pepperoni pizza and some cakes and scones from the Lido Buffet Restaurant next door. It all went down very well.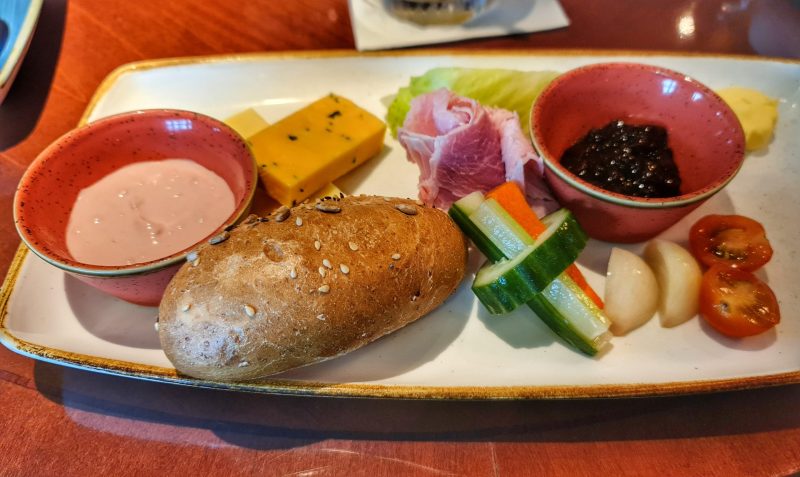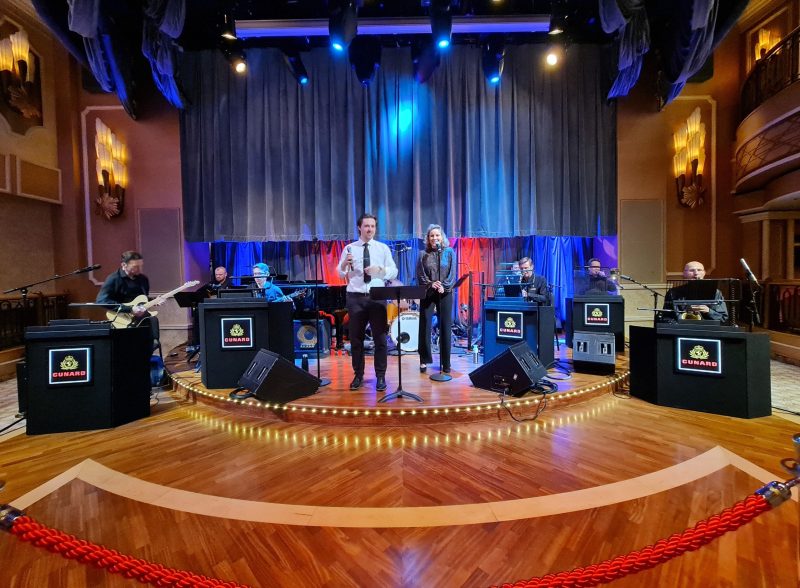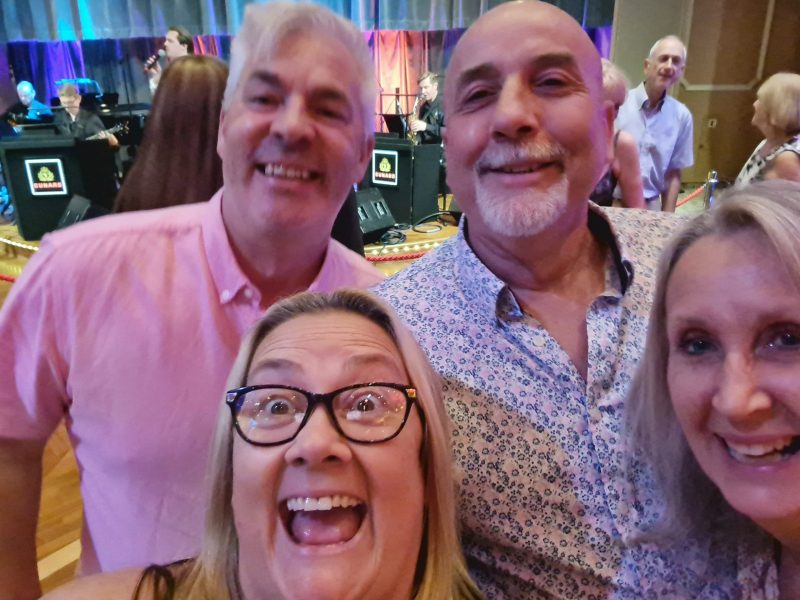 After the fabulous evening we had last night we all decided we wanted to get to the Queens Room early to get our front row seats by the band for Dancing in the Streets.While we were waiting we decided to play Crib, after a tense time the score was 1:1 then the band started! 
The Band with Jack and Ester played and sang hits of Motown, Soul and just really great party music. The dance floor was packed with everyone strutting their stuff, and the four of us happily joined them. The band did 4 sets over 3 1/2 hours and even after all that the whole of the Queens Room, including us were shouting for more. It was such a fun night that had sadly come to an end. 
Hungry again we paid our last visit to the late night snack buffet. More pies and cheese plates were consumed, as we all discussed what a fabulous time we had all had!
Our Verdict of our Cruise on the Queen Elizabeth Cruise Ship - Will we cruise with Cunard again?
Our cruise on the Queen Elizabeth has been full of surprises. After a frosty start we all agreed that we had had a very enjoyable time on board. The ship is elegant and sophisticated and takes you back to a bygone era which we loved. We knew that the standard of food and service was going to be excellent but what surprised us the most was the variety of entertainment on board and how much fun it was. We also filmed a vlog series on board which you can watch below.
We also were very impressed with the cabins that we booked. We stayed in a standard balcony cabin and our friends booked a deluxe inside cabin and you can have a look around both of these cabins in the videos below.
We had such a great time on the Queen Elizabeth that we have booked another cruise on this ship for December, we are also planning a transatlantic cruise on the Queen Mary 2 too! We are looking forward to seeing what this ship will look like at Christmas and we can't wait to be back on board!
Queen Elizabeth Cruise Ship Review - Cabins
Useful Links –
For more of our information about cruising with Cunard visit our Cunard Page here and
our Cunard You Tube Playlist here.
Visit Cunard's Website Here.
Planning a holiday, bucket list trip, cruise or honeymoon then we recommend using our travel agent Emma Otter of Travel Counsellors. She has found us some great deals and takes all the anxiety away of booking and coordinating complicated itineraries. Complete this form for a free quote and no obligation enquiry.
Find our favourite travel, cruise and motorhome accessories in our Amazon Shop.
Book your hotels with Booking.com. here.
Get answers to any of your travel or cruise related questions
Follow us on Instagram and send a message or Like and comment on our Facebook Page
and find us on Twitter here too.
You can also sign up for our newsletter by completing the box on our home page.
We are an Amazon Affiliate and this post contains affiliate links which means we may receive a commission if you click a link. While clicking these links won't cost you any extra money, they will help us keep this site up and running!
RELATED BLOGS
Our day out to the Welland Steam and Country Rally Worcestershire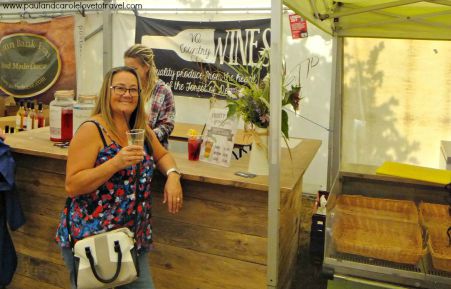 We had a great day and evening with family and friends at the Welland Steam and Country Rally. The Rally was first started in 1964 by a handful of Steam...
Read Review
10 Reasons to Cruise on the Anthem of the Seas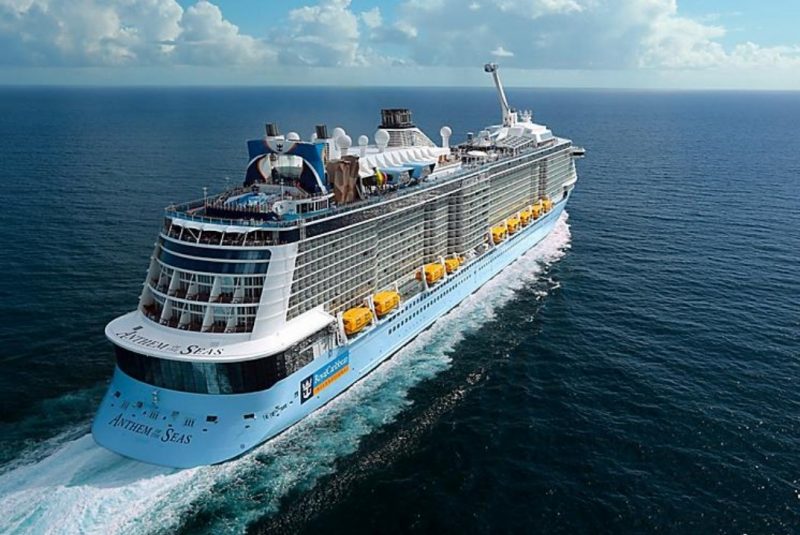 The Anthem of the Seas is a Quantum Class cruise ship owned by Royal Caribbean, who made it's maiden voyage in 2015. We have previously cruised with Royal Caribbean Cruise...
Read Review
Warners Holme Lacy Hotel Hereford Review
We have now stayed at Warners Leisure Holme Lacy Hotel in Hereford twice and had a great time on each occasion. Our first time was for a Tinsel and Turkey...
Read Review