Paul and Carole's Travel Round Up - 2020 the year of the COVID-19 Pandemic
Well 2020 did not pan out how we thought it would! This was going to be the year of experimenting with last minute bookings to see if they did save us any money. Unfortunately a COVID-19 Pandemic put a stop to that.
However, we did make the most of opportunities as they arose, staying strictly with in the government guidelines at that time. We did manage to explore parts of the world we had not intended to visit, so here is our 2020 travel round up!
January
The year actually started very well with us being featured in Imagine Cruising's 2020 Brochure. We were invited on a  fabulous trip with them last year, visiting Rome to watch a amazing concert in a castle with Katherine Jenkins. We both agree that this was one of best experiences ever, do read our review and see what Imagine Cruising have to offer. We would definitely recommend!
February
The month started off with a very short journey (less than 10 miles) but another first for us, we were asked by Visit Cheltenham to help provide media coverage for there annual Light up Cheltenham Event, Iconic Cheltenham buildings are lit up in this free family event, it really was great to be part of something so close to home.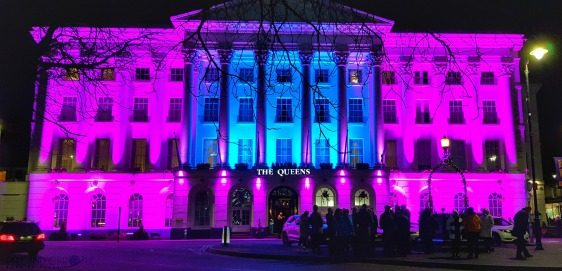 P&O Ocean Cruise Ship Review
The month was finished off nicely with our first cruise of the year on the P&O Oceana. Our scheduled ports of call were Hamburg (our first time visiting Germany) Amsterdam and Brugge, Storm Dennis played its part in what was an excellent cruise. If you want to know what cruising with P&O cruises is like then do check out our cruise ship review and vlog series. Unfortunately our plans then came to an abrupt halt, COVID appeared and the pandemic started. Lockdown arrived and it wouldn't be until July until we would travel again!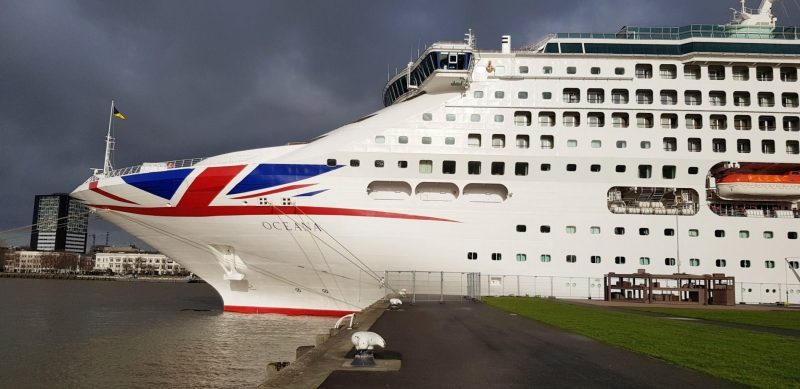 Post Lockdown Local Travel
As soon as we could leave the house in June, we followed all the government guidelines and started with a post lockdown tour at the end of May in our home city of Gloucester, followed by a trip out to Bibury in the Cotswolds and also a return trip to Westonbirt Aboretum where we were married 18 years ago!
It was so good to be out of the house, and doing something different from work! If you want to find out more about our home county of Gloucestershire then do check out our playlist here.



Lucksall Caravan and Camping Park, Herefordshire.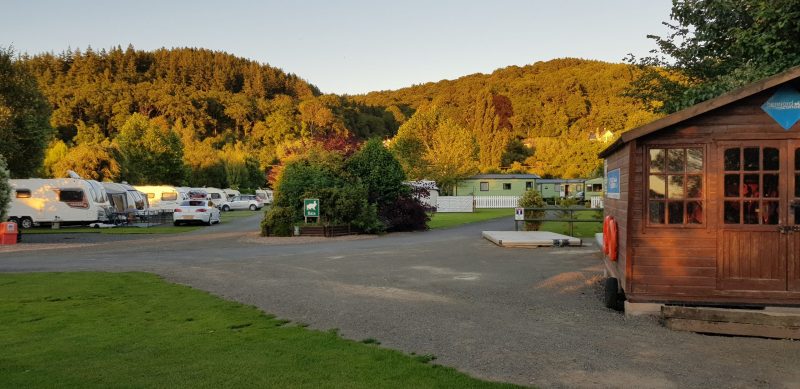 For our first overnight trip out post lockdown we headed to the next county of Herefordshire. We were so excited to be able to explore somewhere new and also get away for the first time in our 25 year old Motorhome.
This was a fabulous campsite right on the banks of the River Wye and spending time with family Nat and Al was priceless after such a long time in lockdown.
Watch our Vlog series here, this campsite is a great choice for exploring the beautiful county of Herefordshire!
Lucksall Caravan and Campsite Vlog Series
Watch Here
Townsend Touring Park, Herefordshire
We had such a great time at Lucksall that we wanted to see more of Herefordshire so we booked a pitch at the Townsend Farm Campsite.
This is a great campsite with excellent family facilities and the bonus of a fishing lake. It is also very close to the pretty villages of Pembridge and Eardisland, which are both on the Black and White Herefordshire Trail.
Watch our Vlog series here to see if this campsite is right for you.
Wysdom Touring Park, Burford, Oxfordshire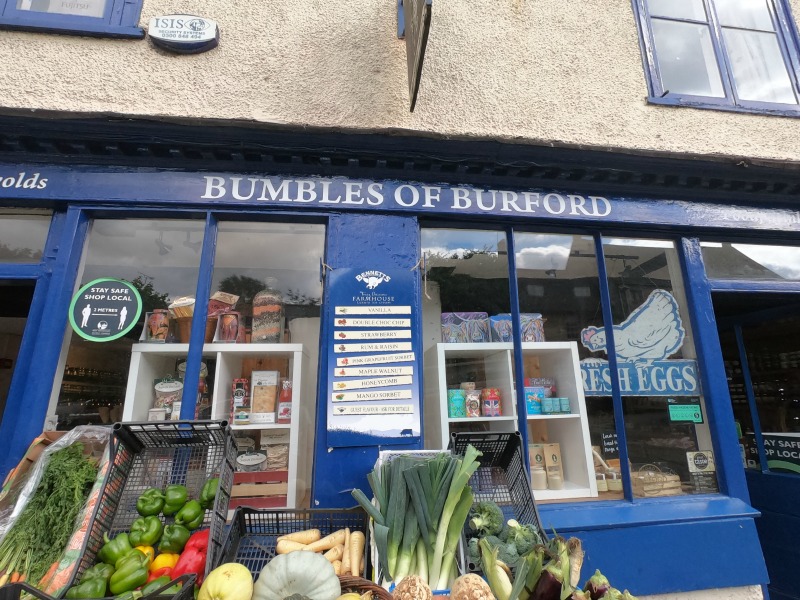 Burford is the gateway to the Cotwolds and this site, Wysdom Touring Park is the perfect place to stay. An adults only site that is within walking distance of Burford.
Our blog post review of Wysdom Touring Park explains why we will be staying here again, and our Vlog Series also shows you what Burford has to offer.
Sterretts Caravan and Camping Park, Symonds Yat West, Herefordshire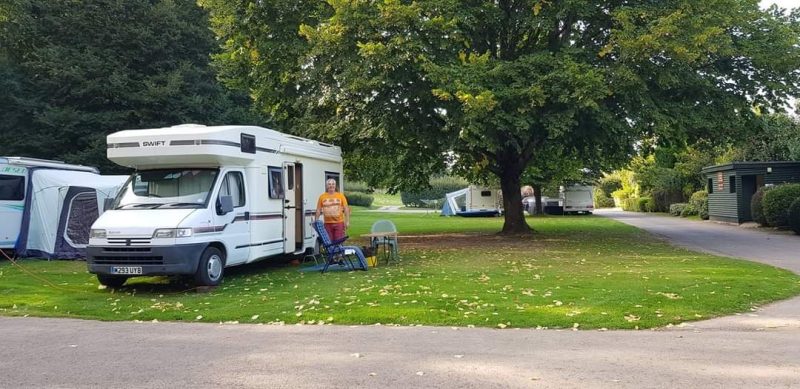 We loved our earlier stay at Lucksall Caravan and Camping Park by the River Wye so decided to head back to the Wye Valley. This time we stayed at Symonds Yat a place that we had both not visited since we were kids.
We chose Sterretts Caravan Park which proved to be a great choice. Check out our blog post review here and our Vlog Series to see why this part of the country is classed as an area of outstanding beauty.
With cruising still on hold and a lot of cruise ships anchored off the coast of Dorset, we headed off to Bournemouth for  a bit of cruise ship spotting. The weather was against us but we did manage to explore some of Bournemouth and see a few cruise ships too.
Check out our video here showing you what we got up to in our 2 day visit.
Southampton is the cruise capital of the UK, and has become one of our favourite cities to visit. We were also excited to meet up with some travel blogging friends too. We stayed at the Premier Inn West Quay, which was in the ideal location and we spent the 2 days eating our way around Southampton. Found out what restaurants we loved and ones we did not!
Plusterwine Farm Campsite, Woolaston, Gloucestershire
For many years we have travelled up and down the A48 in Gloucestershire visiting family and friends and we always drive past the Woolaston Inn, Nepalese Restaurant and say we must try that one day! Well that time had come and we booked a table and decided to stay at a campsite just a short walk away.
Plusterwine Farm Campsite, as it's name suggests is based on a working farm. With fabulous views over the River Severn it is a great choice.  Click below for a full review of this campsite and the Gurka restaurant too!
Drum and Monkey Pub Stopover Campsite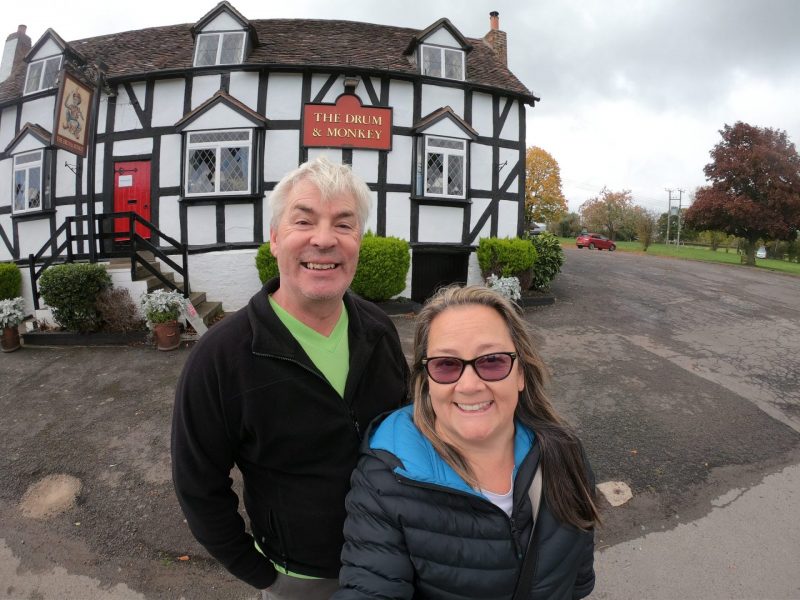 The Drum and Monkey Pub is located approximately 1 mile outside Upton Upon Severn in Worcestershire. It has a campsite attached to the pub which has toilet and shower facilities and pitches with hook up.
We had heard the pub food was really good, and if you have been following us for a while you know that we rarely turn down an invitation to try out a new pub!
Read our review and watch our two part vlog series to see what we thought!
Basingstoke, Hampshire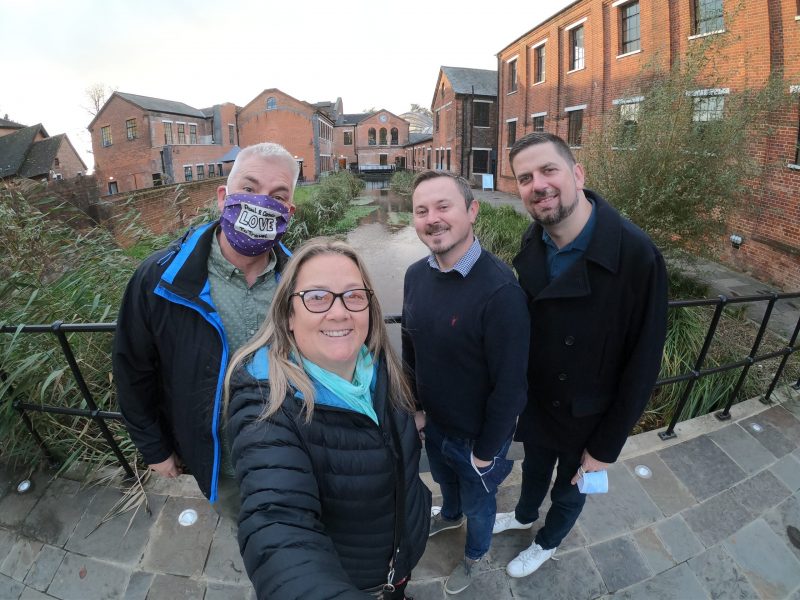 We spent a great weekend catching up with our friends Travel Blog Jamie and Matthew in Basingstoke. It included  some fabulous meals and a trip to the Bombay Sapphire Gin Distillery too.
We stayed at the Village Inn Hotel which was a great base, to find out more about this hotel check out our blog review and video tour in the link below.
Whitemead Forest Park
Whitemead Forest Park, is located in the heart of the Forest of Dean. We had the pleasure of spending two nights at this park in November. It is an idyllic location, with great facilities on site and also has a fabulous pub The Fountain Inn within walking distance.
We are currently putting a full review and vlog series together, however if you would like more information about this great park then do visit their website here.
Escape Hunt, Cheltenham, Gloucestershire
Escape Hunt has a new venue in Cheltenham and we were invited along to experience one of their Escape Rooms. Found in the Brewery Quarter there were different type of Escape Rooms to choose from and we chose Aladdin!
Find out how we got on by reading our review here!
So that was 2020! Considering we had a pandemic with ever changing restrictions we did manage to get in a few trips, 1 cruise, 3 hotel stays and 7 stays in our Motorhome. We must admit we have really enjoyed exploring our home country and look forward to being able to do some more in 2021.
We are currently in lockdown again in England which should finish the middle of February. As soon as we are able to travel again we will, and feel optimistic about what 2021 will bring!
Follow us on social media to find out what we get up too!
RELATED BLOGS
Marella Cruises Laundry Prices 2023
Marella Cruises cruise ships do not have laundrettes on board where you can do your own laundry, like you can with P&O and Princess. So if you want to have any of...
Read Review
Princess Cruises Spa Prices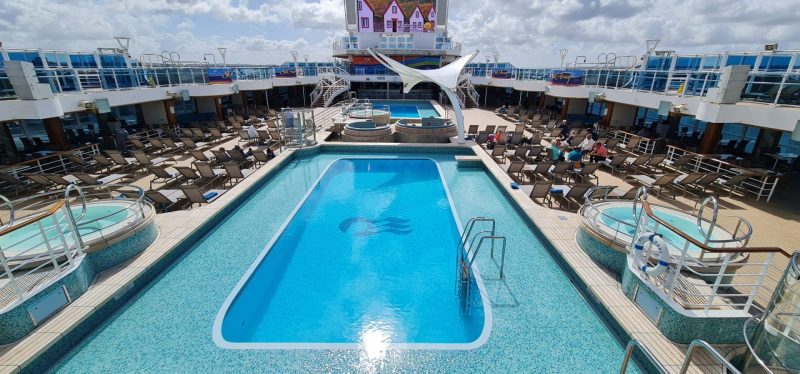 Princess Cruises has spa facilities on all of their cruise ships. If you are planning a pampering treat on your cruise this post details prices that you will need to...
Read Review
Marella Cruises Celebration Packages
Are you celebrating a special occasion during your cruise? Then one of the Marella Cruises Celebration Packages could be for you. Packages can be purchased prior to sailing using the...
Read Review