Enchanted Princess Cabins - How to choose the best one!
The Enchanted Princess is a Royal Class ship belonging to the Princess Cruises Fleet and can carry 3660 passengers. There are 1830 passenger cabins on this ship of which 81% have a balcony.
Enchanted Princess is coming to Southampton and we are hoping to get on board. Enchanted is the sister ship to the Sky Princess and Regal Princess, which are two ships we have cruised on. We have used our experiences of these ships and the deck plans to show which cabins on this ship will give you more for your money!
Choosing the right cabin can make or break your cruise holiday. In this post we look at inside, outside, balcony, mini suits and obstructed cabins on the Enchanted Princess and tell you which cabins we think are the best. We explain the reasons why and show you exactly the ones we would pick for our cruise on this Princess Ship!
Photo credits 📷 Princess Cruises
Enchanted Princess Cabins - Inside Cabins that we would choose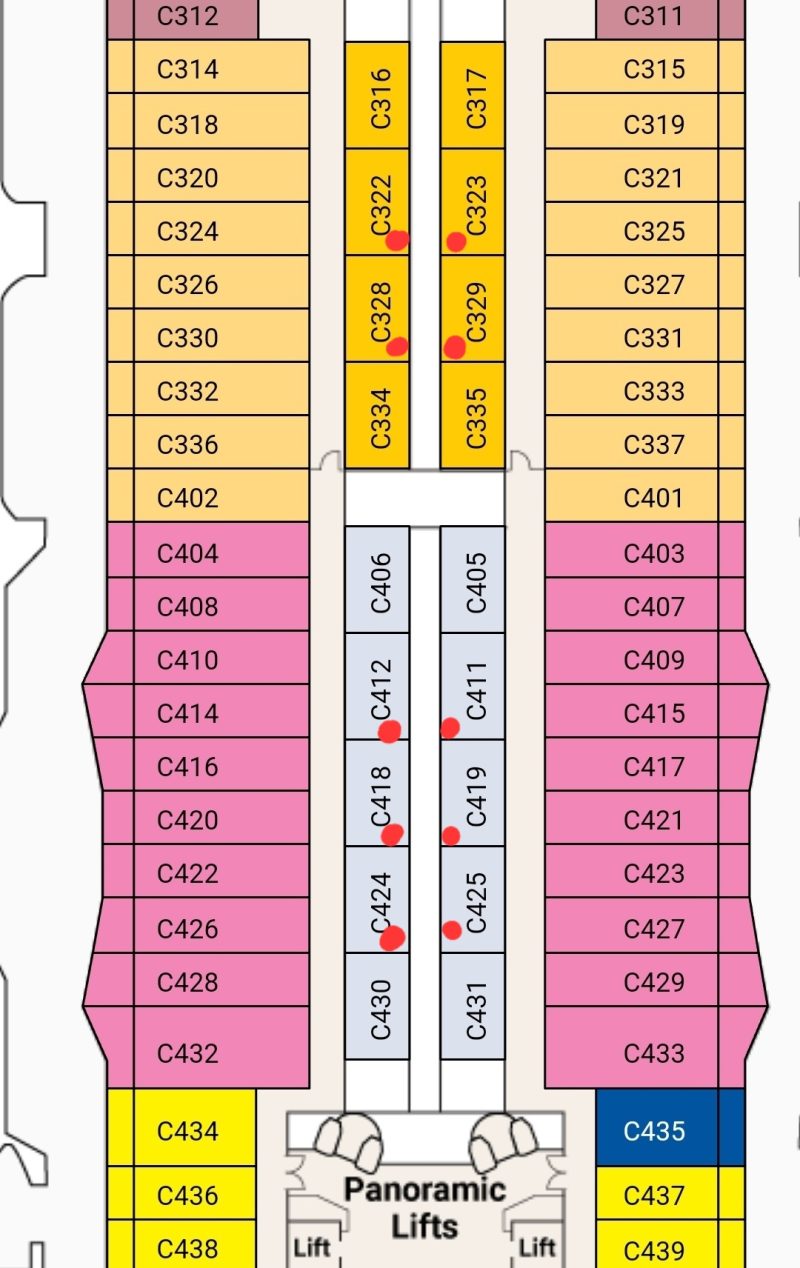 Inside cabins on the Enchanted Princess can be found on deck 8 right up to deck 16 and have an average floor space of 166-175 sq ft.
We wouldn't pick a cabin on deck 8 because it is right above the promenade deck which is where some bars and restaurants are situated. This means that you may experience some noise from these venues.
If you are worried about movement and seasickness then you should pick a cabin that is mid ship and on the lowest deck possible. Deck 9 (Dolphin Deck) cabins as pictured with the red dots – D426 and D427 would be a good choice as they are surrounded by cabins on all sides so will not get any noise from the lifts or any crew corridors or stairs which can be found in the white areas of the deck plan.
On Deck 10 (Caribe Deck) the cabins we would choose are shown in the next picture with the red dots. Cabins C322, C323, C328, C329, C412, C411, C418, C419, C424 and C425. All are surrounded by other cabins so unless you get noisy neighbours then you are fairly protected.
Some people book an inside cabin because it is the cheapest cabin on a ship and then click the please consider for an upgrade box. This is good as long as you don't mind ending up anywhere, however do read this post after too as it explains why a free cruise cabin upgrade is not always a good idea!
Enchanted Princess Cabins - Oceanview (Outside) Cabins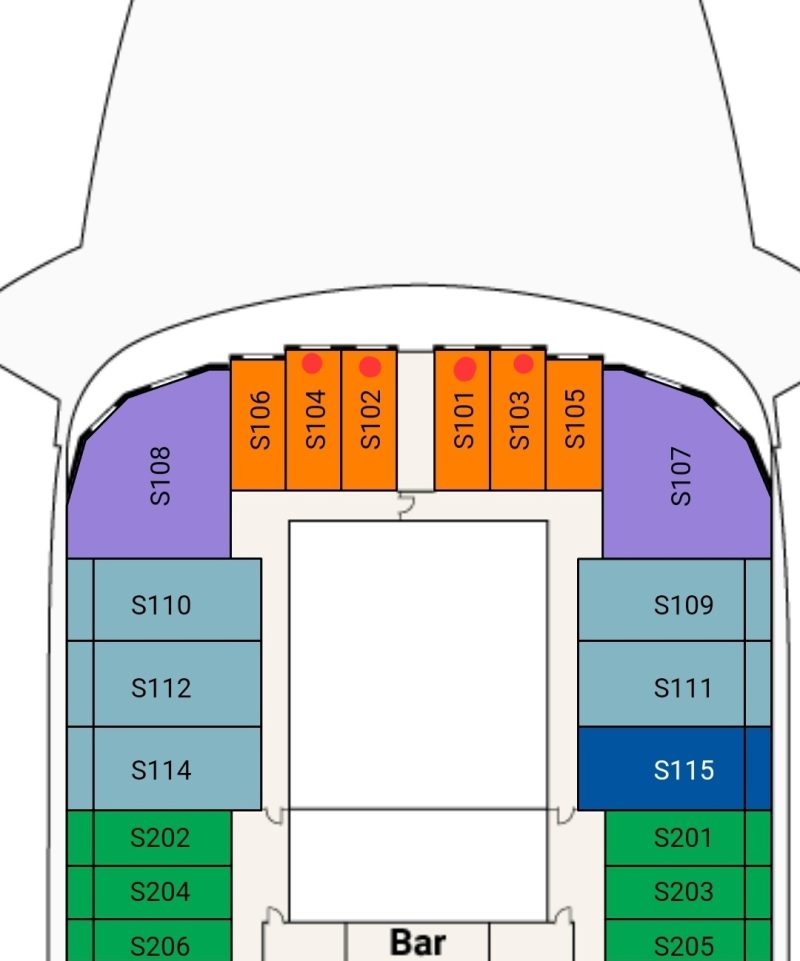 There are only 6 Oceanview cabins on the Enchanted Princess Cruise Ship. The deck plans state they are all 172 sq ft and right at the front of the ship on deck 17 (Sun Deck). All of these cabins are a Deluxe Oceanview cabins but as you can see from the deck plan it appears S104, S102, S101 and S103 are larger. So if you want a cabin with a forward facing window then we would choose one of these.
Being right at the front of the ship you will feel the movement of the ship more so if you are susceptible to seasickness then these cabins may not be for you!
Enchanted Princess Cabins - Standard Balcony Cabins we would choose
81% of the cabins on the Enchanted Princess have a balcony so there are plenty to choose from but there are some that have a bit more space for the same money.
On deck 16 (Lido Deck) there are cabins L302 and L301 that have an extended balcony due to being right next to the lifts and entrance to the sky pool area. There may be a lot of foot traffic past this cabin but the way the balcony is angled you would get some lovely forward views, so it depends what is important to you.
On deck 9 (Dolphin Deck) there are some standard balcony cabins on the sticky out bit of the ship under the Sky walk. As you can see in the picture with the 3 red dots cabins D420, D421, D424, D425, D428 and D429 all have extended balconies. For the same price as the other standard balcony cabins in yellow you get just that little bit more room!
Also on deck 9 (Dolphin Deck) there are also a selection of standard balcony cabins with larger balconies towards the aft of the ship, see picture below. Cabins D701, D702, D703, D704, D705, D706, D707, D708, D709, D710 are all a good choice, though being towards the aft of the ship you may feel slightly more movement.
D226 and D227 towards the middle of deck 9, are also good choices that have larger balconies.
On deck 8 (Emerald Deck) there are 3 cabins right towards the front of the ship that appear to have really large balconies, cabins E112, E114 and E118. Due to their position right at the front of the ship you will feel more movement and it is unclear from the deck plans what is below these cabins as it is crew area. A couple of things to consider if you are considering booking this cabin.
If you are travelling with family you can also open up your adjoining balconies too, which you can see in our review of a standard balcony cabin on the Enchanted Princess here –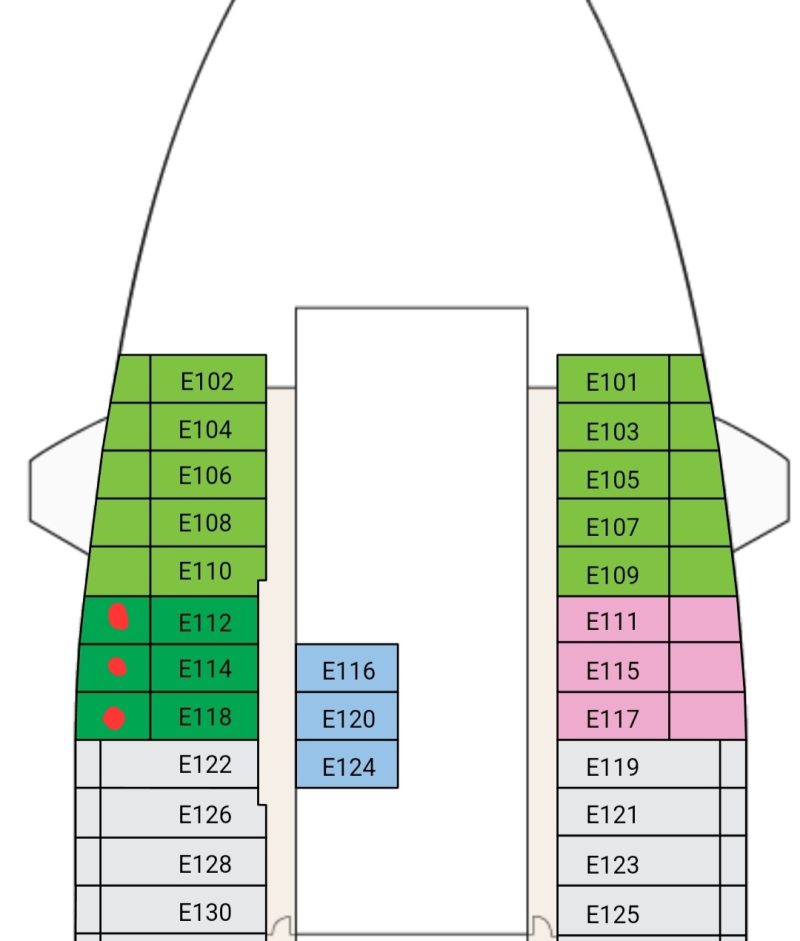 Enchanted Princess Cabins - Standard Obstructed Balcony Cabins we would choose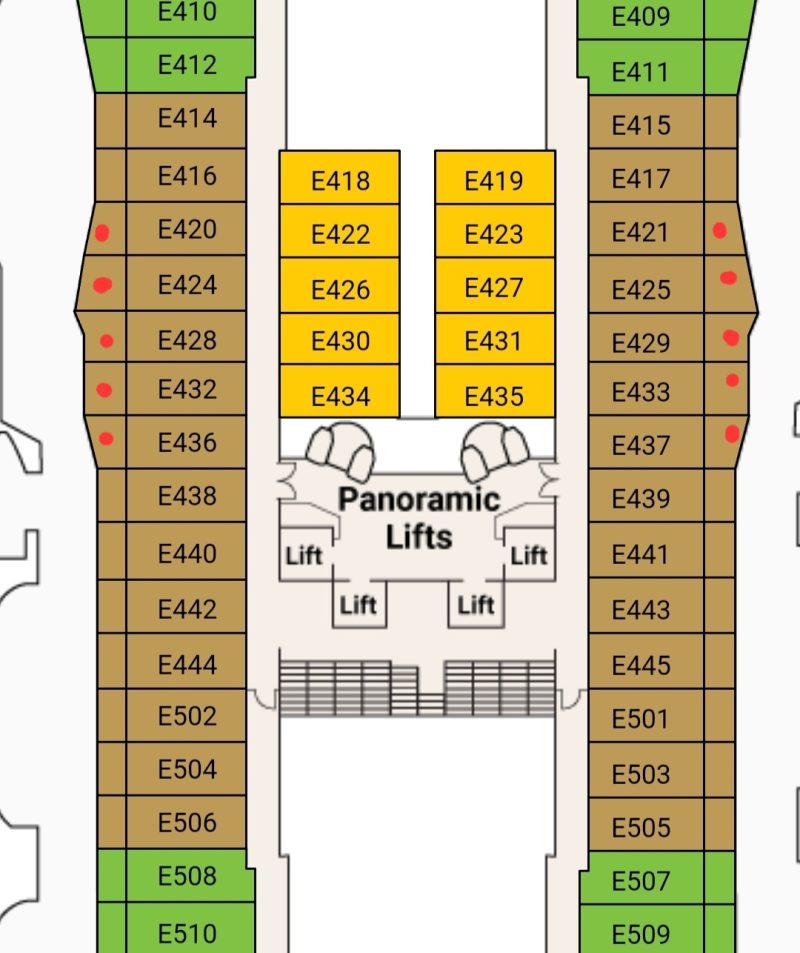 There are some standard obstructed balcony cabins on deck 8 which are situated on the sticky out part of the Enchanted Princess which will give you extra space if you want to book this grade of cabin. They are obstructed by the lifeboats but you should get a partial view. These cabins are E420, E421, E424, E425, E429, E432, E433, E436 and E437.
Enchanted Princess Cabins - Forward Facing Obstructed Deluxe Balcony cabins that we would choose
These are front facing cabins and are classed as obstructed balcony cabins as they have a metal balcony front not glass, so you will only be able to see over and not through the balcony.
These cabins are found on deck 15 (Marina Deck) and deck 16 (Lido Deck) right at the front of the ship with views over the bow. As you can see from the deck plans the balconies on cabins L102 and L101 are larger than all of the others so we would pick one of these.
Enchanted Princess Cabins - Obstructed Deluxe Balcony with larger balconies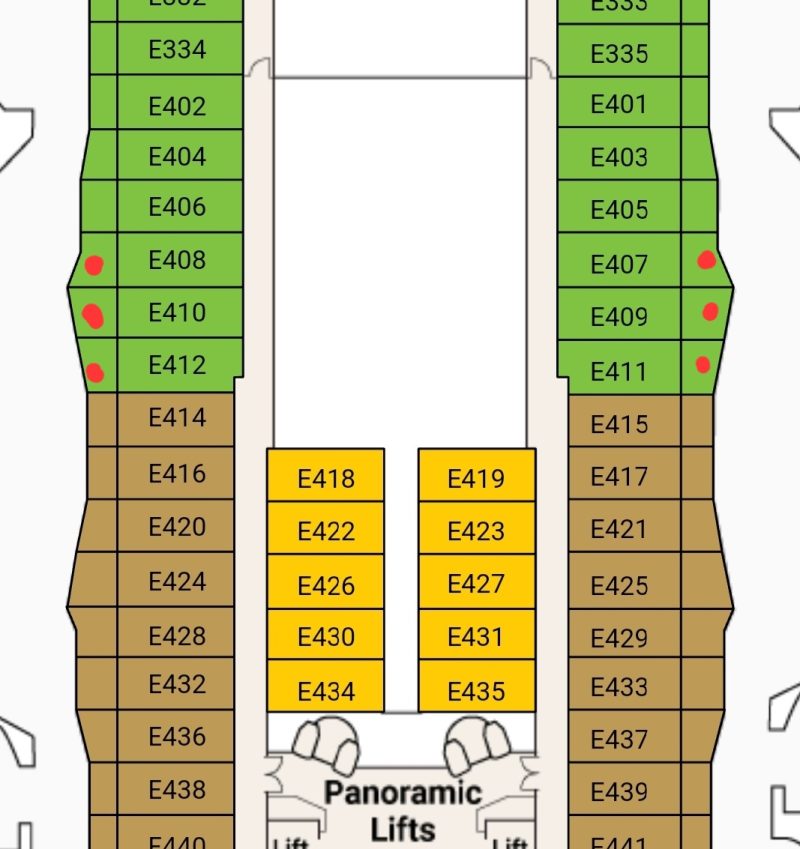 Obstructed deluxe balcony cabins on the Enchanted Princess are approximately 233 to 360 sq. ft in size including the balcony. This type of cabin is larger than a standard balcony stateroom, but they do have a partial or obstructed view from the balcony.
On deck 8 (Emerald Deck) there are a group of obstructed deluxe balconies side facing right at the front of the ship. These are described as obstructed because the balcony is metal not glass, which for us would not be a problem. The largest balconies as you can see by the red dots are E105, E106, E107, E108, E109 and E110. As mentioned above because there are no cabins below this deck noise from crew areas could be an issue.
Also on deck 8 there are another section of deluxe obstructed balcony cabins, E407, E408, E409, E410, E411 and E412. These are obstructed by life boats, it seems when you are sat down you can't see over the lifeboats but when stood up you can, but they all have larger balconies and would be a good choice as they are mid ship. The only other thing to consider would be that they are above the Piazza so there could be some potential noise from there.
Enchanted Princess Cabins - Premier Deluxe Balcony Cabins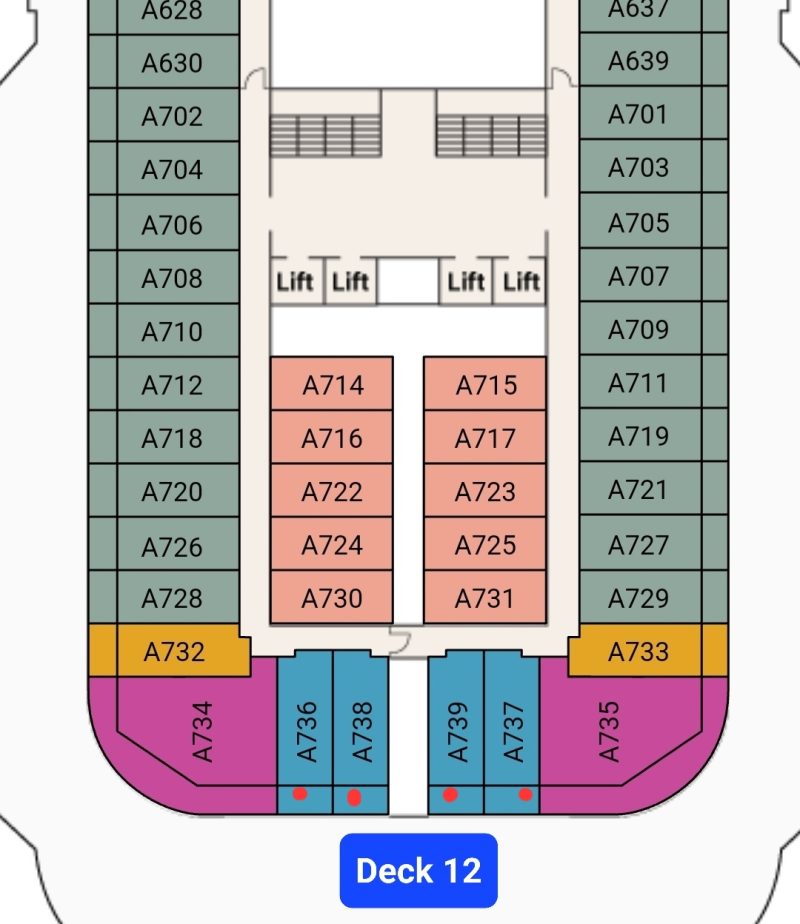 Premier Deluxe Cabins can be found on decks 8, 9, 10, 11, 12, 14 and 15 and are bigger with a floor space of between 242-312 sq ft. They can be found on the port and starboard side at the aft on deck 9 but otherwise all the other premier deluxe cabins are true aft facing cabins. Interestingly the balcony sizes are different with the cabins on deck 8, deck 10 and deck 12 being smaller. So if you want to book a premier deluxe balcony cabin pick deck 9, deck 11, deck 14 or deck 15. You can see the difference in the size of the balcony from the pictures above.
We stayed in a premier deluxe aft cabin on Enchanted Princess's sister ship Sky Princess, so if you watch the video below you will get an idea of the size of balcony, if you choose the larger one's as described above and what facilities this type of cabin has.
Enchanted Princess Cabins - Mini Suites we would choose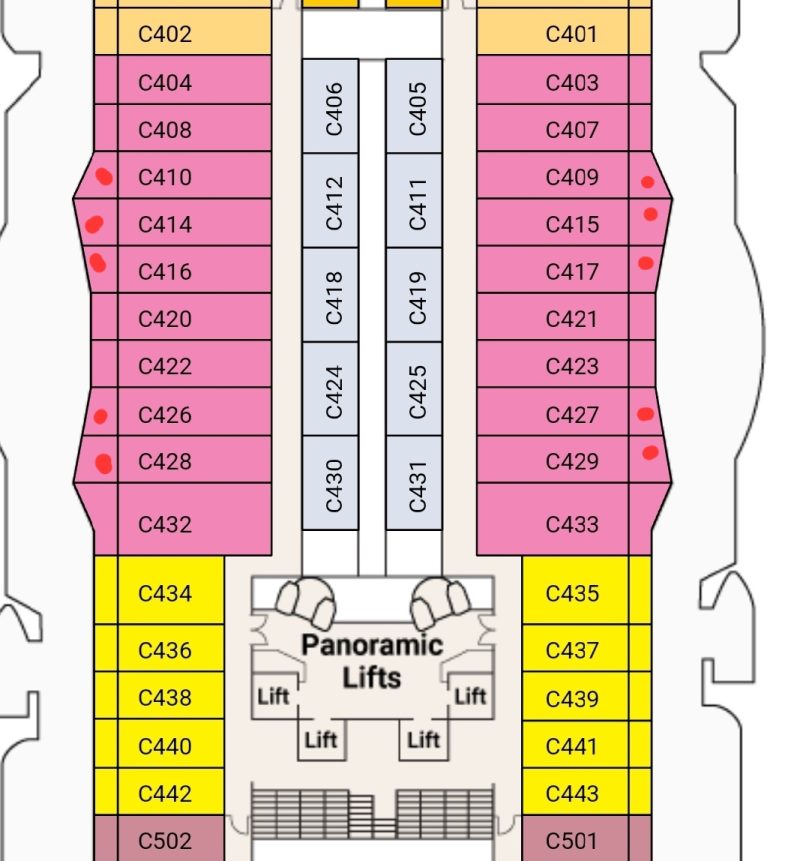 Mini Suites are a category above premier deluxe cabins and have a floor space of 299 sq. ft. including balcony. The added bonus with this cabin is you get a bathroom with a bath tub and a shower.
Mini Suites can be found on decks 8, 10, 11, 12, 14 and 15.
The mini suites with the larger balconies are those that are positioned under the Sky Walk on the sticky out bits.
They are found on deck 10, cabins C409, C410,C414, C415, C416, C417,C426, C427, C428 and C429.
Deck 11 cabins B409, B410, B414 and B415.
Deck 12 A409, A410, A414 and A415.
Deck 14 the cabins are R409, R410, A414, A415, A416 and R417.
There are mini suites on deck 15 (Marina Deck) with extended balconies but these are directly below the Sky Walk which could over look your balcony. We would pick the lower cabins first but would still pick one of these if the other decks were not available.
We stayed in a Mini Suite on Enchanted Princesses sister ship Sky Princess – you can have a look around this type of cabin in this video.
We hope this post has been helpful in highlighting what cabins give you that little bit extra without having to pay for extra on the Enchanted Princess!
We have lots of other Princess Cruises content so do visit our Princess Page here and visit the links below.
Paul's Dad and Brother stayed in an Accessible cabin on the Enchanted Princess so if you have additional needs this tour and review may be useful too.
Useful Links –
Ocean Medallion – What does it do?
Regal Princess Cruise Ship review – Seacation Vlogs
Cruise Ship Cabin Categories – How to pick the right one for you.
---
Planning a land based holiday, flights, bucket list trip, cruise or honeymoon then we recommend using these travel agents – they have both found us some great deals and using an agent takes all the anxiety away of booking and coordinating complicated itineraries.
Emma Otter of Travel Counsellors – Complete this form for a free quote and no obligation enquiry.
Dan Hammond of GoCruise&Travel who you can be contacted here by email – dan@gocruise.uk.com and telephone 01622 891895 and via their website here.
---
Find our favourite travel, cruise and motorhome accessories in our Amazon Shop.
Book your hotels with Booking.com. here.
Sign up for our NEWSLETTER by completing the box on our home page.
---
We are an Amazon Affiliate and this post contains affiliate links which means we may receive a commission if you click a link. While clicking these links won't cost you any extra money, they will help us keep this site up and running!
RELATED BLOGS
Celebrity Cruises Infinite Balcony Cabin Review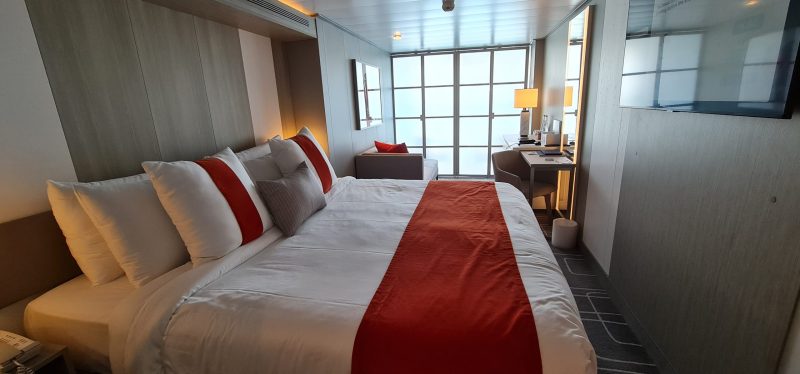 Celebrity Beyond is one of the Edge Class ships that has over 1000 infinite balcony cabins. Celebrity seemed to have pinned all their hopes on this new type of cabin...
Read Review
Chania Crete Cruise Port Information – Know before you go!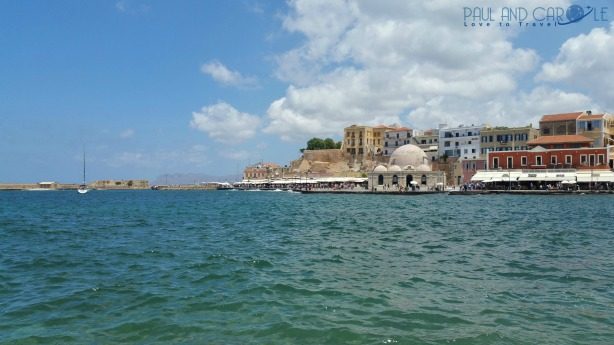 If you are cruising to Chania in Crete this summer, here are a few tips to help you make the most of your day! We also have travel tips for...
Read Review
Bath Marina and Caravan Park Review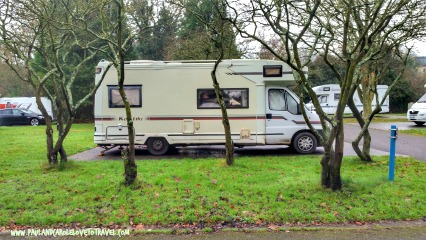 Campsite Review One of our favourite things to do is to jump in our camper van and get away for the weekend. A group of us enjoy going away together...
Read Review