Paul and Carole's Review of 2022
2022 did not start out the way we had planned. With the numbers of Omnicron Covid rising rapidly and restrictions on visiting ports and additional testing we decided to postpone our cruise with Paul's Dad John until April. Unfortunately there were no accessible cabins on the majority of sailings for John on Iona we booked Ventura instead.
Instead of cruising in January we enjoyed our time at home and time away in our Motorhome. We returned to one of our favourite cities Cardiff in Wales and stayed again at the Cardiff Caravan and Camping Park. We spent 3 nights with our friends Dick and Sal, exploring Cardiff and the Bay and sampling some delicious food.
I even got to meet Wales Strongest Man Gavin the Bull Bilton and as you can see I was very excited.
On the way home we decided to stop for one night in Tintern, Wales. There is a great pub that allows Motorhomes to stop over night as long as you have some drinks and food in the pub. You can read all about our stay at The Anchor Inn in Tintern here.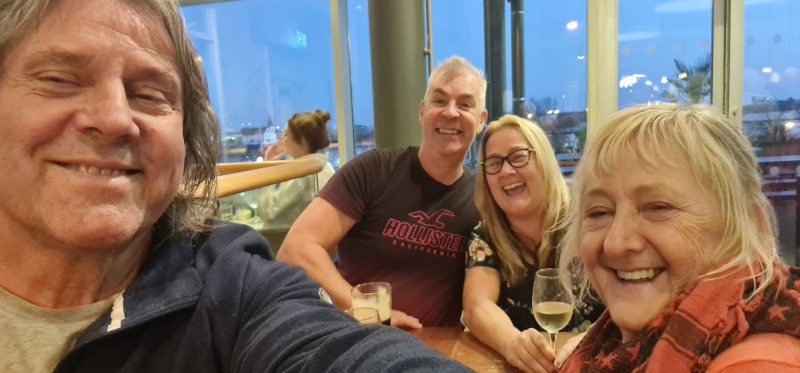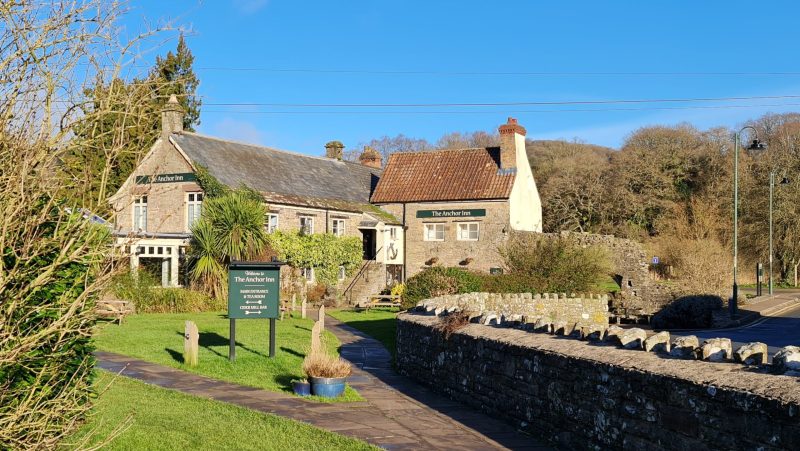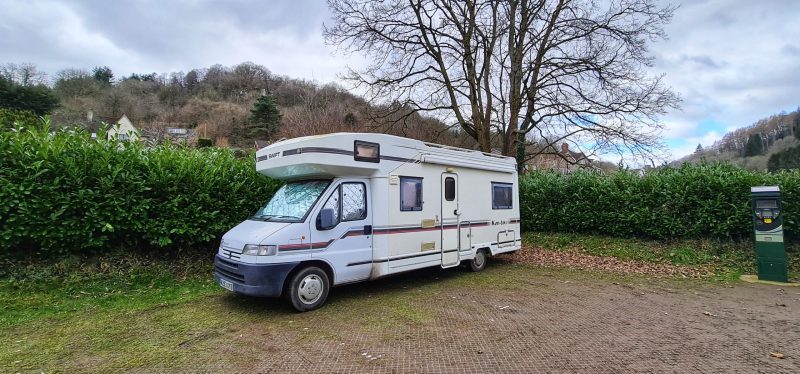 Queen Mary 2
After our excellent experiences on Cunard's Queen Elizabeth we booked a 4 night cruise on Queen Mary 2. We spent 4 nights in February cruising to Hamburg and had a fabulous time.
Watch our Vlog series below. Spoiler alert we loved Queen Mary 2 and have booked two more cruises on this ship, one in September to Norway with Paul's Dad and Sister and our first Transatlantic is booked for August 2023!
We stayed for one night prior to the cruise at the Novotel Southampton – check out all our Southampton Hotel reviews here.
We were hacked on Instagram!
March did not start well! We were hacked on Instagram and it proved nearly impossible to resolve. We thought we had everything in place to keep us safe on line, but we sadly did not. Find out why it happened and how you can prevent it from happening to you too!
Weekend in London
We spent a weekend in London celebrating my sisters birthday and we had a fabulous time. We chose to stay at the Travel Lodge Covent Garden because it was central and close to the Lyceum Theatre where we were going to see the Lion King.
It is a budget hotel and we had some concerns after reading some mixed reviews. In this video below we let you know if it was a good choice or not!
Do visit our London Hotels Page too to see what other hotels we recommend if you are visiting London.
Virgin Voyages Valiant Lady
After our superb time on Scarlet Lady last year we decided we would see what her sister ship Valiant Lady had to offer. We sailed from Portsmouth made a pleasant change from Southampton, we also incorporated a pre cruise stay at the Holiday Inn Express giving us the chance to explore a bit more of this famous naval town.
We have loads of Virgin Voyages content on our You Tube channel Click  here to view
You can also see what we thought of our Holiday Inn stay below.
Tui Isla River Cruise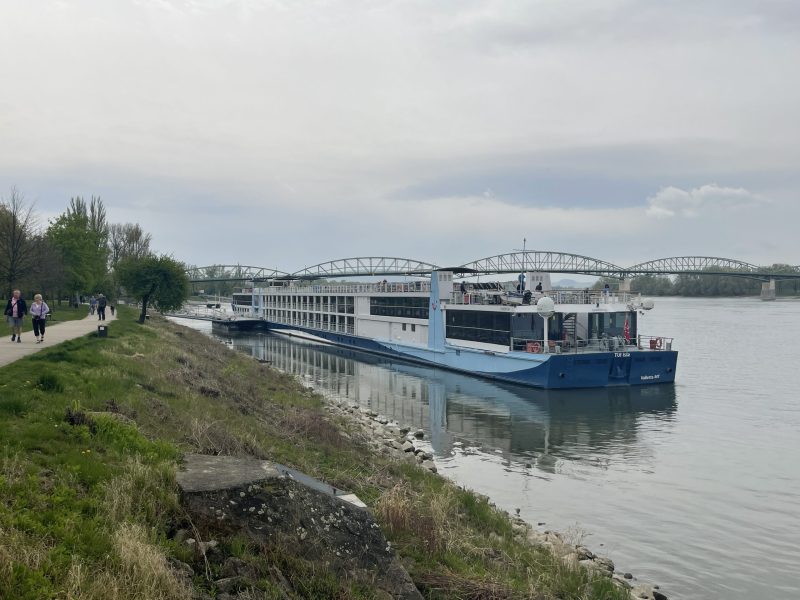 After many years of Carole trying to pursued me we finally headed off for our first ever river cruise on the Tui Isla river cruise ship, sailing from beautiful Budapest on the river Danube we got to find out how different river cruising is to ocean cruising, spoiler alert its very different but in a good way.you can find our review here.
We have also got a need to know this all about the differences between river and ocean cruising you can view it by clicking here
We have also got a full vlog series available that details our Tui river cruise experience.  click here to view
Marella Electric Sunsets.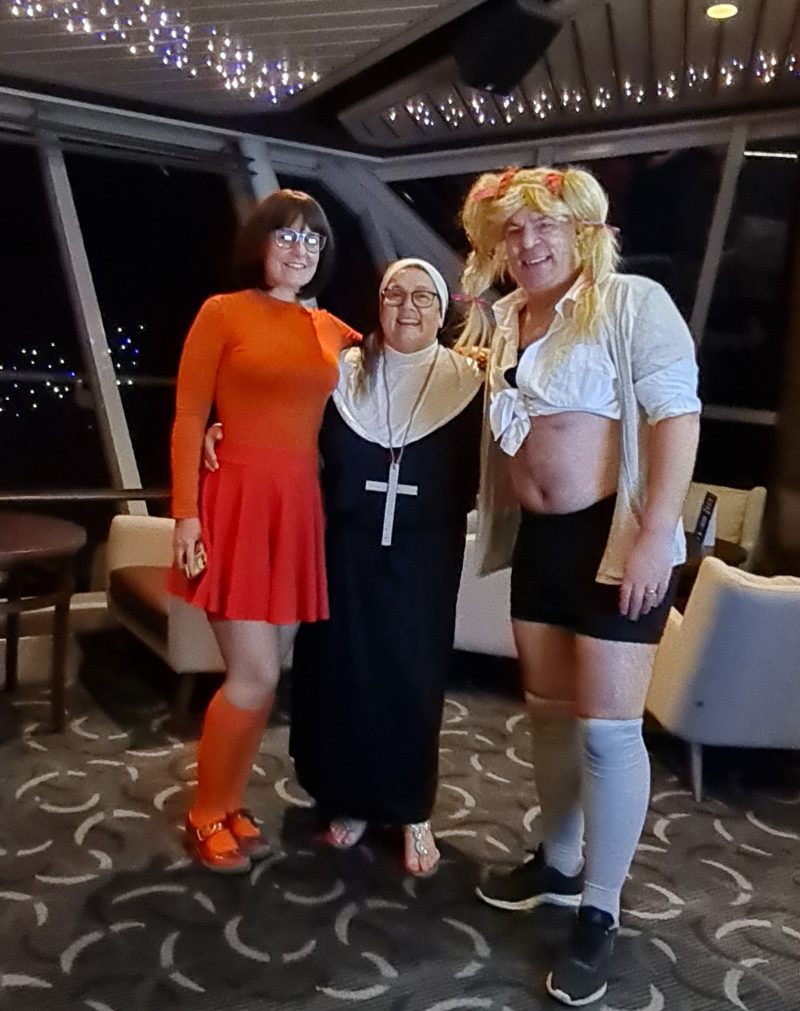 Marella Electric Sunsets is a weekender cruise celebrating all things music with original artists and tribute acts celebrating two different genres, this year it was all about the 90's and the 00's and as you can see i got well into the spirit of things with my Britney Spears rendition.
Sky Princess Cruise to Norway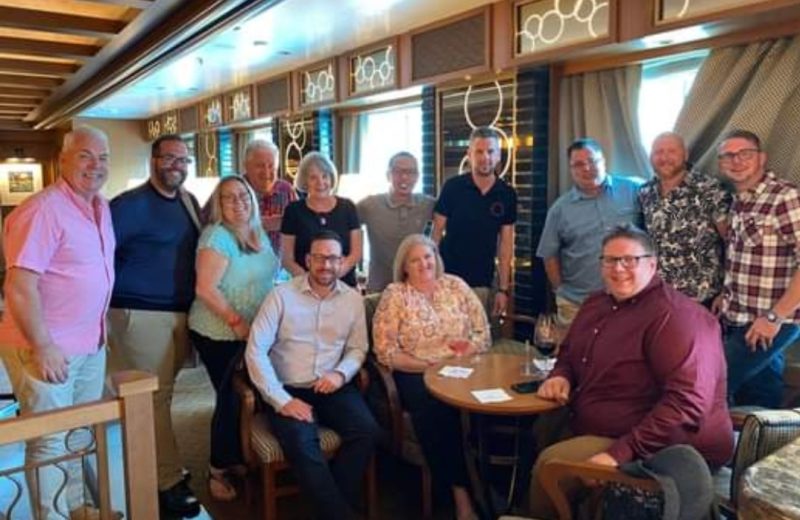 We love cruising, we love meeting friends,we love Norway and we love celebrating so this was perfect, we were celebrating our 20th wedding anniversary and were joined on the Sky Princess cruise ship by friends and fellow bloggers from Canada, America and even south Wales, find out all about it here.
Celebrity Beyond Cruise Barcelona to Rome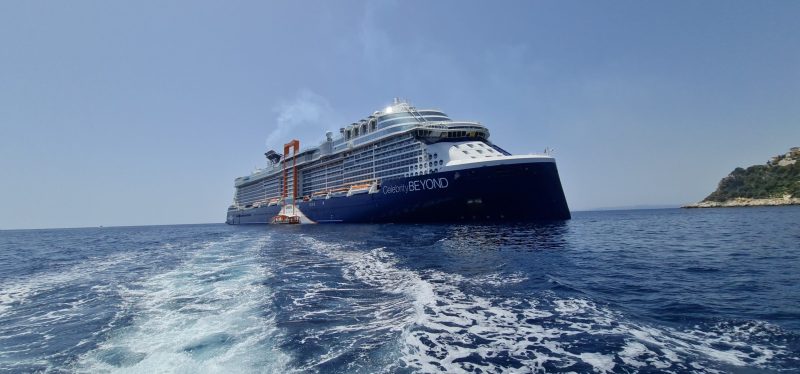 We hadn't sailed with Celebrity for quite some time so when the Celebrity Beyond was launched we really wanted to give her a try, With the now legendary captain Kate Mccue and her faithful cat Bug Naked at the helm the ship and cruise was everything we had hoped it would be apart from one major thing, find out what it is in the video below.
Sail Croatia
Another first for us when we set sail on the beautiful Sail Croatia's Queen Jalena, this ship has only 38 passengers, we island hopped around some amazing Croatian islands stopping everyday for a swim in the crystal blue waters of the Adriatic sea.
We did a full vlog series about our experience on this Elegant ship, you can catch the first episode below.
Enchanted Princess Cabins - Premier Deluxe Balcony Cabins
We did a family cruise in 2021 which we enjoyed so much we decided to do it all again this time on the Enchanted Prince, the Enchanted Princess is virtually identical to the Sky Princess and the Regal Princess so we didn't blog about our experience we did however do a tour of our cabin which shows the importance of why you should pre book your cabin especially when travelling with friends and family.
Queen Mary 2 Cruise to Norway
We know what you are thinking, Norway again but the truth is we don't think we will ever tire of cruising to Norway and cruising there on a Cunard ship makes it that extra bit special, we also did our first ever RIB ride, with the added bonus of being joined by Carole's sister Jayne plus the weather was fabulous to!
Avalon Vista River Cruise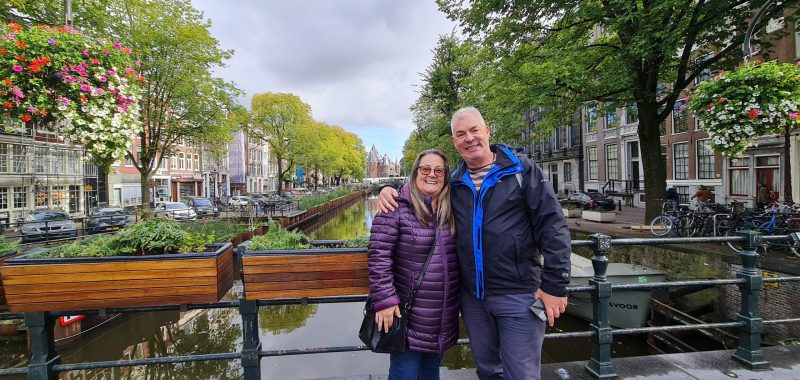 After avoiding river cruises for years  Carole got me on a second one in the space of a few months.
This time on the Avalon Vista, our cruise the Romantic Rhine took us from Amsterdam to Zurich, we did a full vlog series of our exploits, you can find the first episode below.
Cunard Queen Victoria
Queen Victoria is the only ship in the Cunard fleet that we had yet to sail on so this cruise meant that we had the full set(until Queen Anne is launched) we haven't vlogged about our experience yet but we did however get to tour the most expensive suite on the ship which you can view below.
As we are sure you are aware Cunard is one of our favourite cruise lines, we have loads of Cunard content from cabin reviews to drinks and spa prices which you can view by clicking here
Antigua
We haven't been on an all inclusive holiday for a good while and we haven't been to the Carribean  for almost 5 years so we thought it was about time we revisited, Carole use to visit Antigua back in her cruise ship working days but it was a first for me and also a new holiday company for both of us.
You can find out more about what we thought of Elite Islands Veranda resort and spa by watching the video below.
Warner Leisure Holidays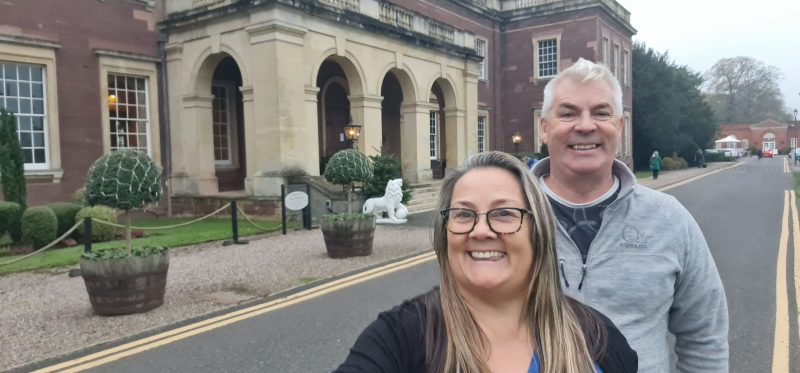 As you may know my dad cruises with us a couple of times a year but he has been finding it more of a struggle this year so we hoped a land based short break might be the solution.
Warners leisure hotels have sights all across the country, offer a package that includes accommodation, half board and daily entertainment at a great value for money price.
We travelled to Holme Lacy House Near Hereford (around 40 miles from Gloucester) with my dad, brother, sister and her husband, we didn't vlog about the weekend but we did put together a video tour of the three rooms we stayed in which you can view below.
Azamara Quest
Our final outing of the year was the big one a 25 night cruise on the Azamara Quest cruise ship from Singapore to Australia via Bali, Our vlog series is running as we speak and the first episode is available below plus our review video is also available to view below it really is a must watch!
We hope you enjoyed our annual review and with  plenty of things already planned, 2023 should be a cracker too!
Including bucket list trip number 2!!!!!
Want early access to our You Tube Videos and be the first to know when we book a cruise?
Join our Patreon Community here
Become a member of our You Tube Channel
---
Planning a land based holiday, flights, bucket list trip, cruise or honeymoon then we recommend using Dan Hammond of GoCruise&Travel who you can be contacted here by email – dan@gocruise.uk.com and telephone 01622 891895 or just complete our booking form here.
He has found us some great deals and using a travel agent takes all the anxiety away of booking and coordinating complicated itineraries.
---
Find our favourite travel, cruise and motorhome accessories in our Amazon Shop.
Book your hotels with Booking.com. here.
---
Get answers to any of your travel or cruise related questions
Follow us on Instagram and send a message or Like and comment on our Facebook Page
and find us on Twitter here too.
You can also sign up for our newsletter by completing the box on our home page.
We are an Amazon Affiliate and this post contains affiliate links which means we may receive a commission if you click a link. While clicking these links won't cost you any extra money, they will help us keep this site up and running!
RELATED BLOGS
Carnival Cruises Laundry Prices 2023
We recently cruised on the Carnival Celebration cruise ship, listed below is how much it will cost you to get your clothes laundered from press only, wash and press to...
Read Review
Village Hotel Basingstoke Review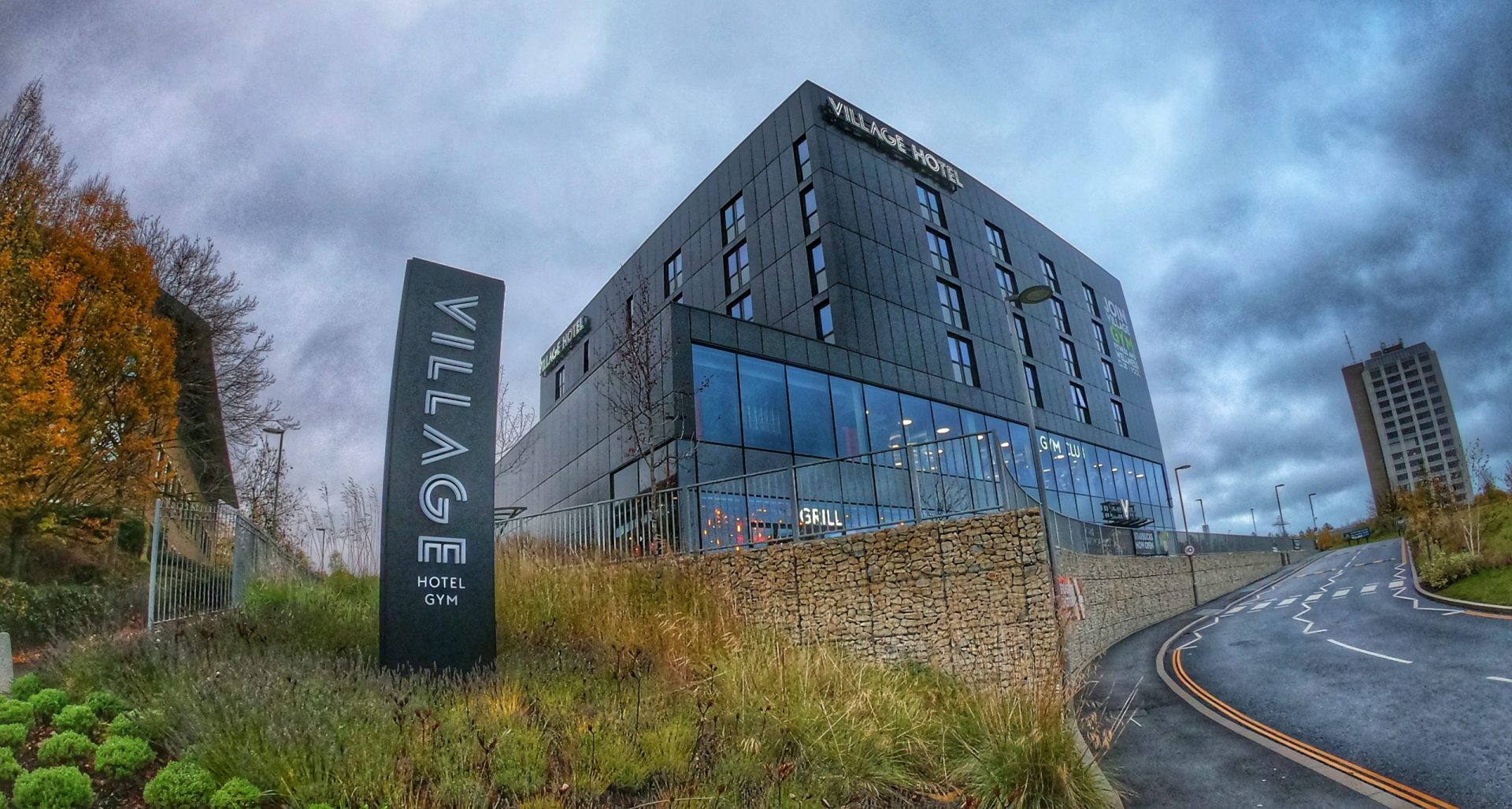 We stayed at the Village Hotel in Basingstoke whilst we visited friends for a weekend. Village Hotels Club are a lifestyle hotel brand that currently have 31 hotels in the...
Read Review
10 Reasons for cruising with Marella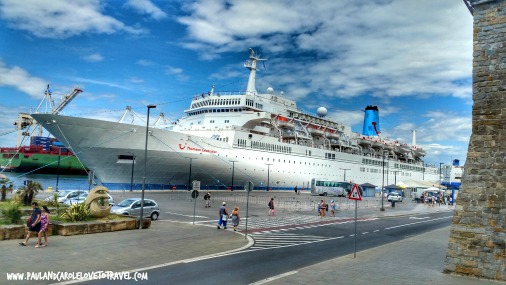 10 Reasons to Cruise With Marella If you have been following our blog it will come as no surprise that we love cruising and we have now cruised 20 times....
Read Review